Every wedding is an expression of love, commitment, and the unique personalities of you and your life partner. Flowers are one of the most enchanting and telling elements of your wedding celebration and can make a powerful statement when chosen correctly.
The right flowers can weave tales of romance, tradition, and individual tastes into your ceremony in ways that other decor simply can't. Each season brings its own array of blossoming flowers, and each carries its own distinct sentiments and aesthetics.
Whether you're planning a springtime celebration filled with fresh blooms, a summer affair under the sun, an autumnal gathering amidst the golden leaves, or a winter wonderland of snowy elegance, choosing the right flowers can take your special day to the next level. Gain insight into the ideal wedding flowers for any time of year with 60 flower options that perfectly complement the season.
Spring Wedding Flowers
Spring is the epitome of renewal, and what better symbolizes this fresh start than wedding flowers? If you're diving into the planning process for your spring nuptials, these popular flowers for a wedding are an excellent place to start.
Daffodils
Their trumpet-shaped flowers herald the joy of spring. Bursting like the morning sun, these yellow flowers capture the essence of a bright wedding day and make any bouquet radiate happiness.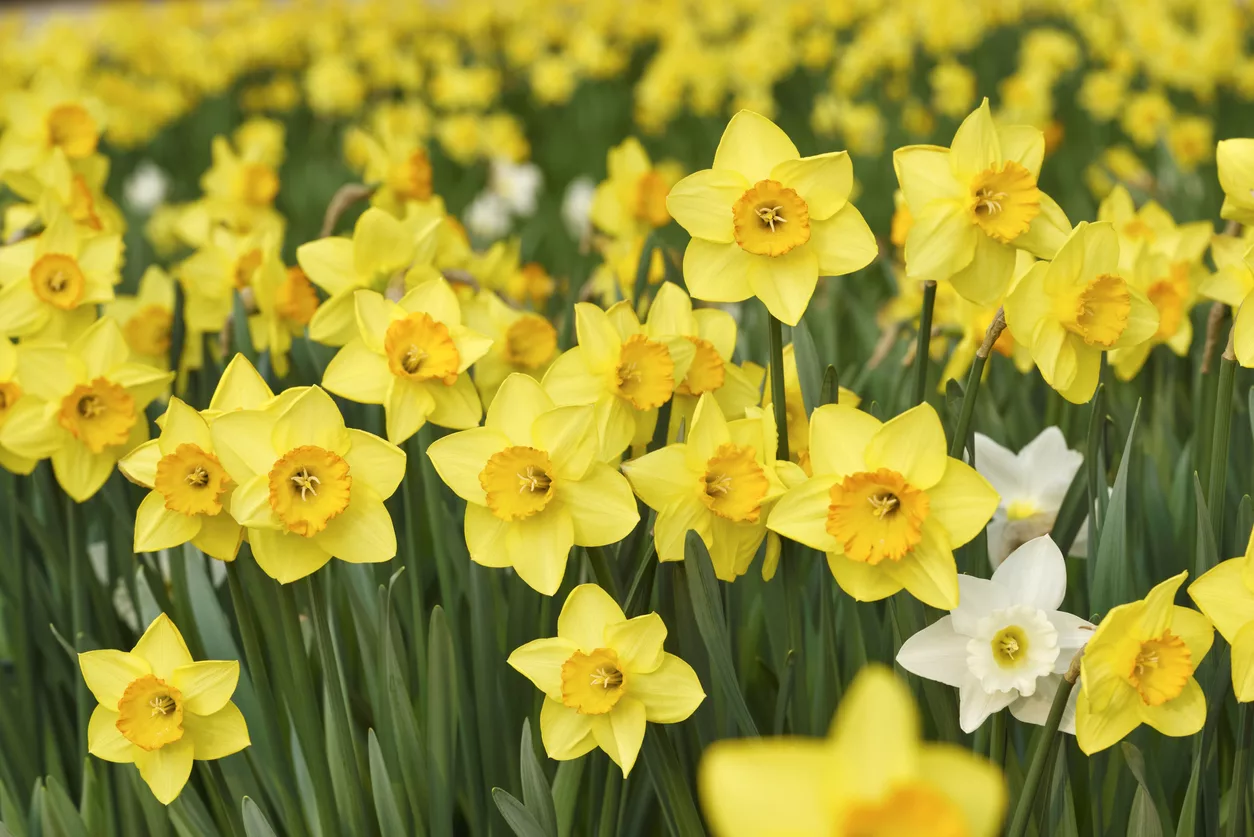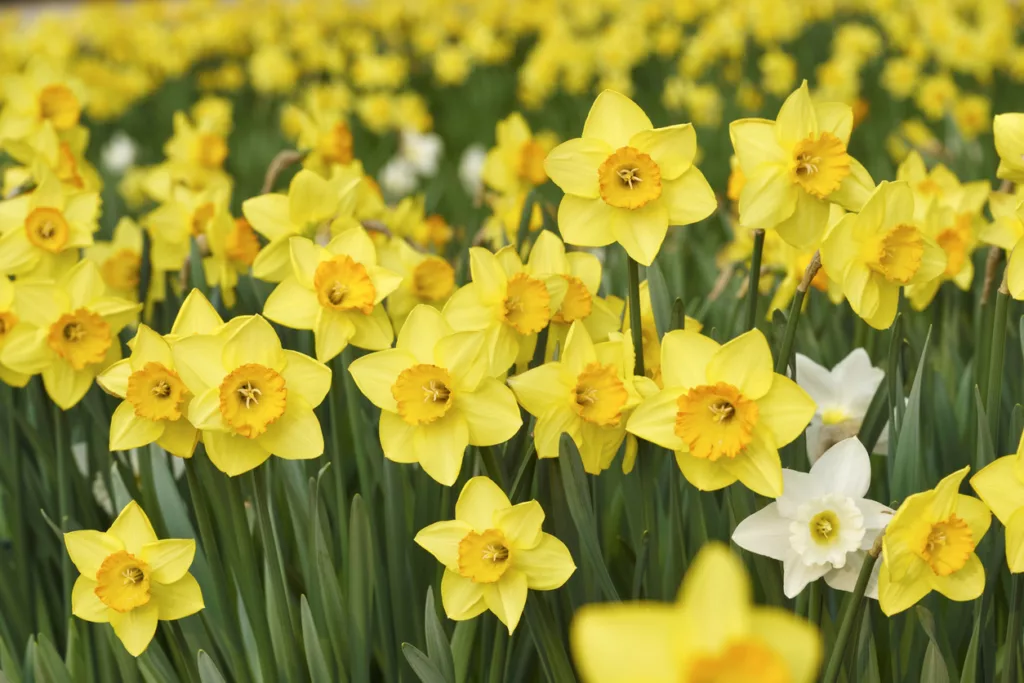 Tulips
Bursting with color and varying from classic white to stunning purple, tulips have become one of the most popular wedding flowers today. A favorite in bridal bouquets, tulips can turn weddings into dreamy affairs with their pastel tones and uniquely shaped buds.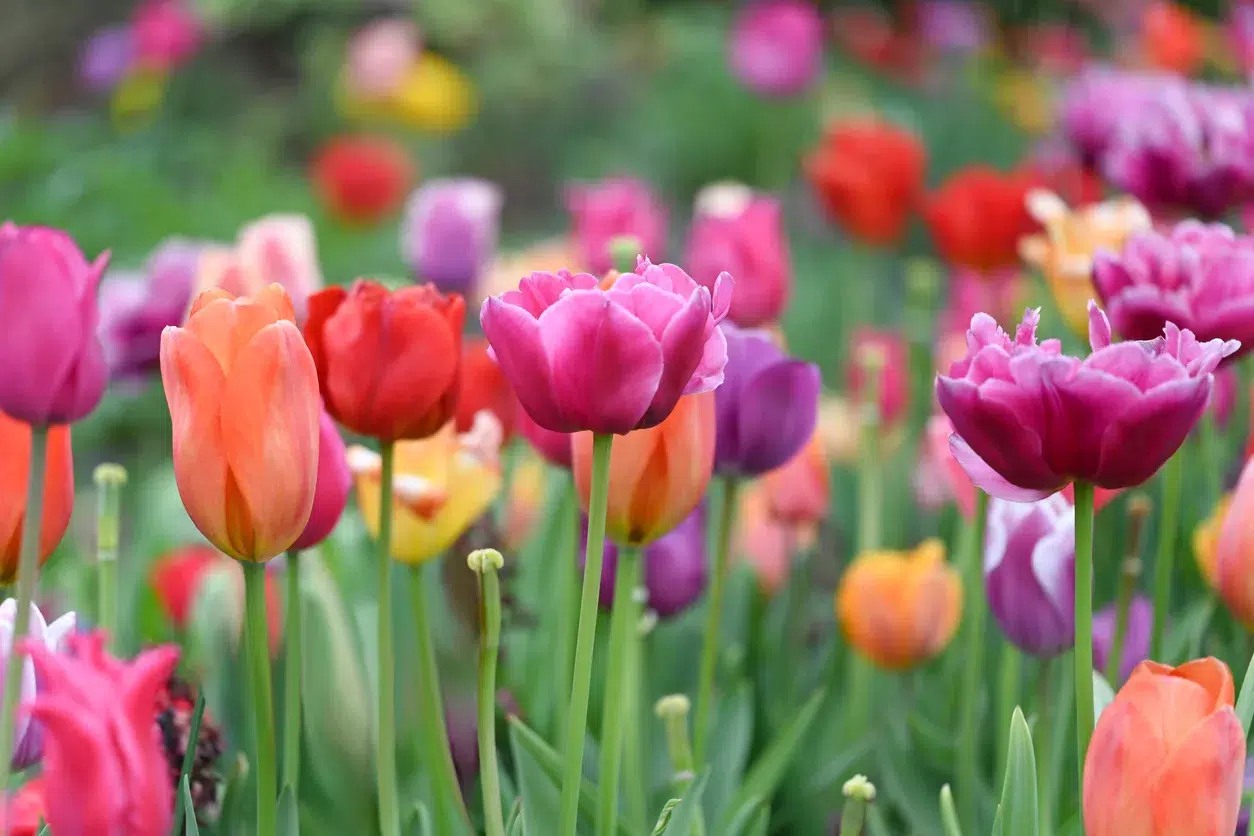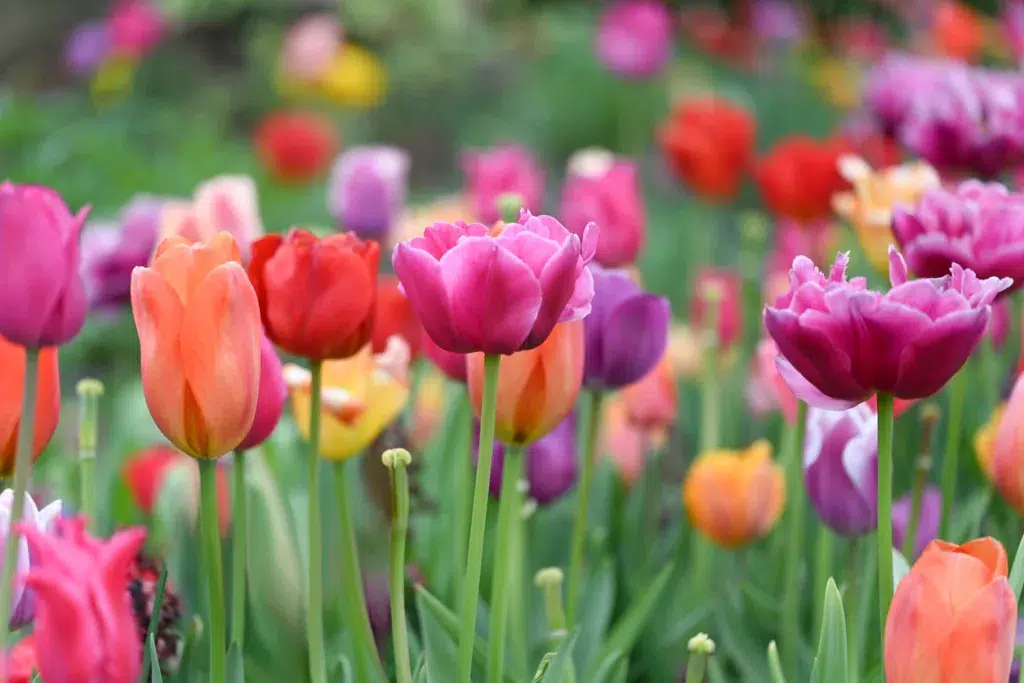 Hyacinths
These fresh flowers come with an enchanting scent that promises to make any wedding aisle feel like a path through a fragrant garden. They're also perfect for centerpieces, and can add a touch of aromatic wonder to your event.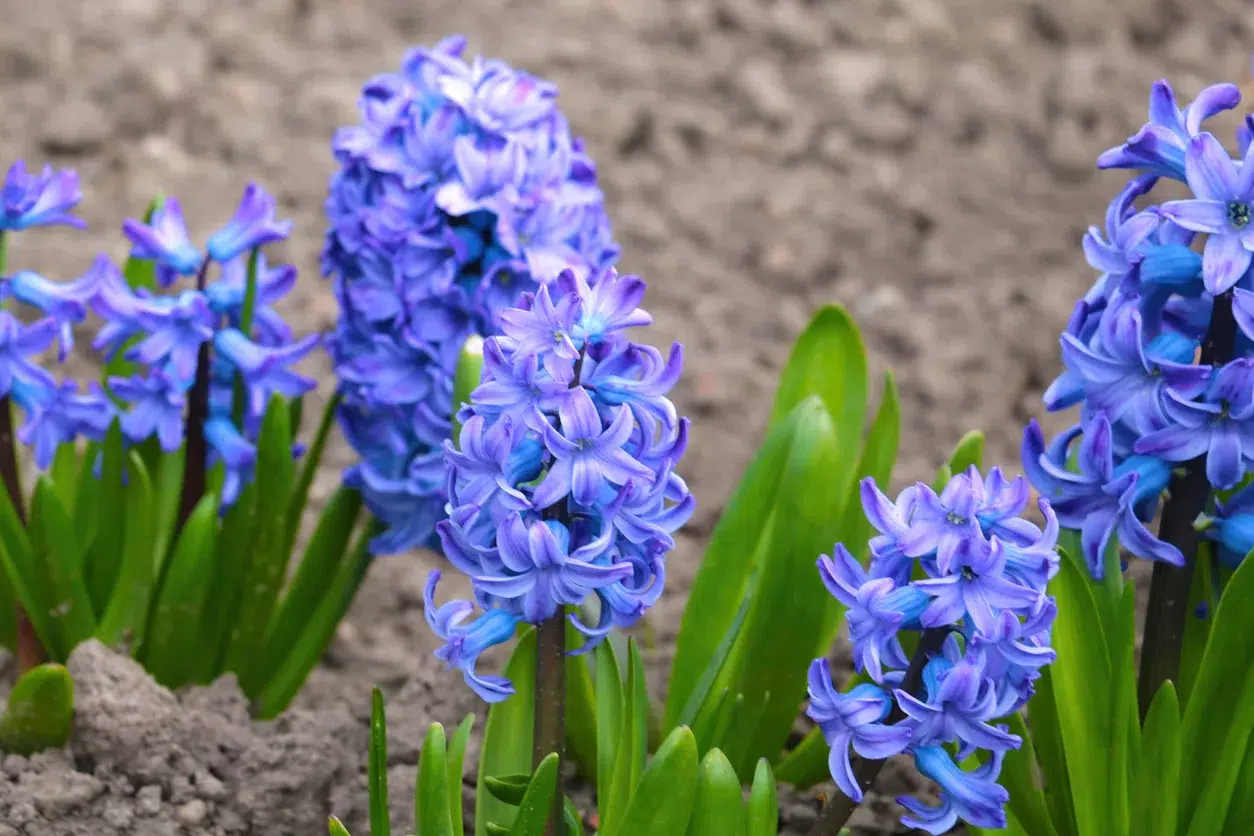 Lilacs
Lilac blossoms range from pale to pink and offer both dreamy colors and a scent that speaks of new beginnings.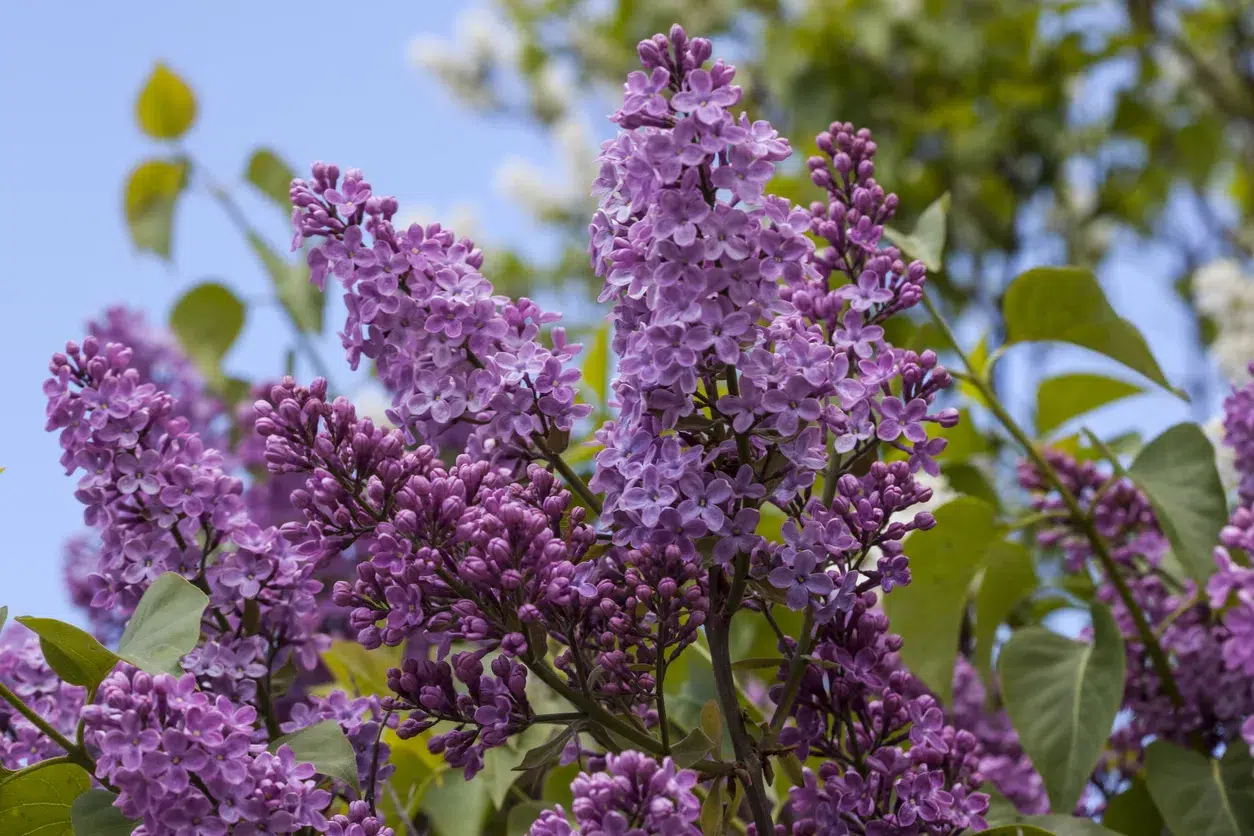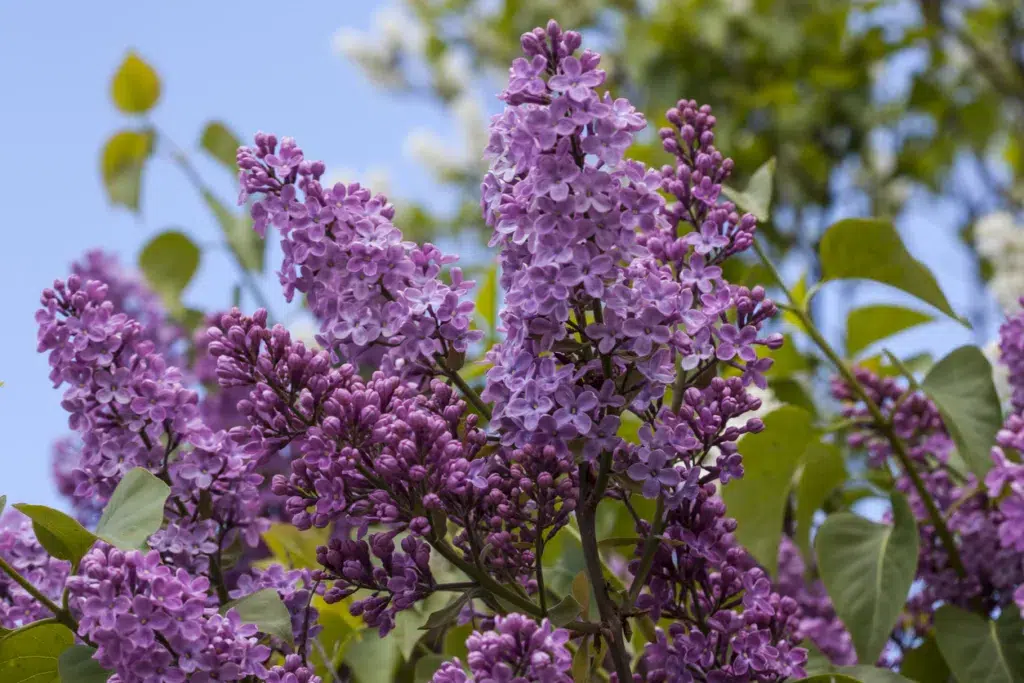 Peonies
Large and filled with romance, these blooms can transform any bridal bouquet into a statement of love and luxury. Compliment them with garden roses to elevate the sense of luxury and convey how the power of your love.
Sweet Peas
These delicate flowers wrap every spring wedding in an embrace of enchantment. Their soft colors and magical scent make them a top choice when it comes to bridal bouquet ideas.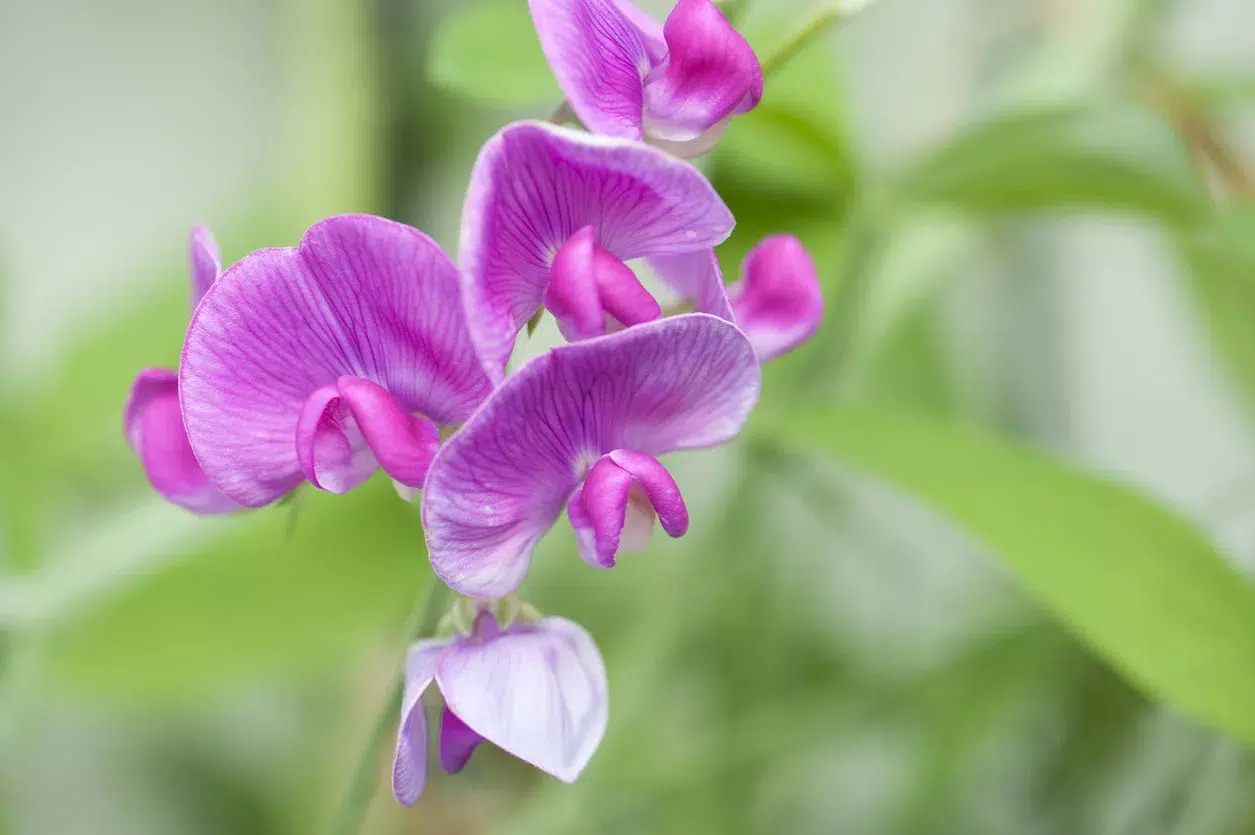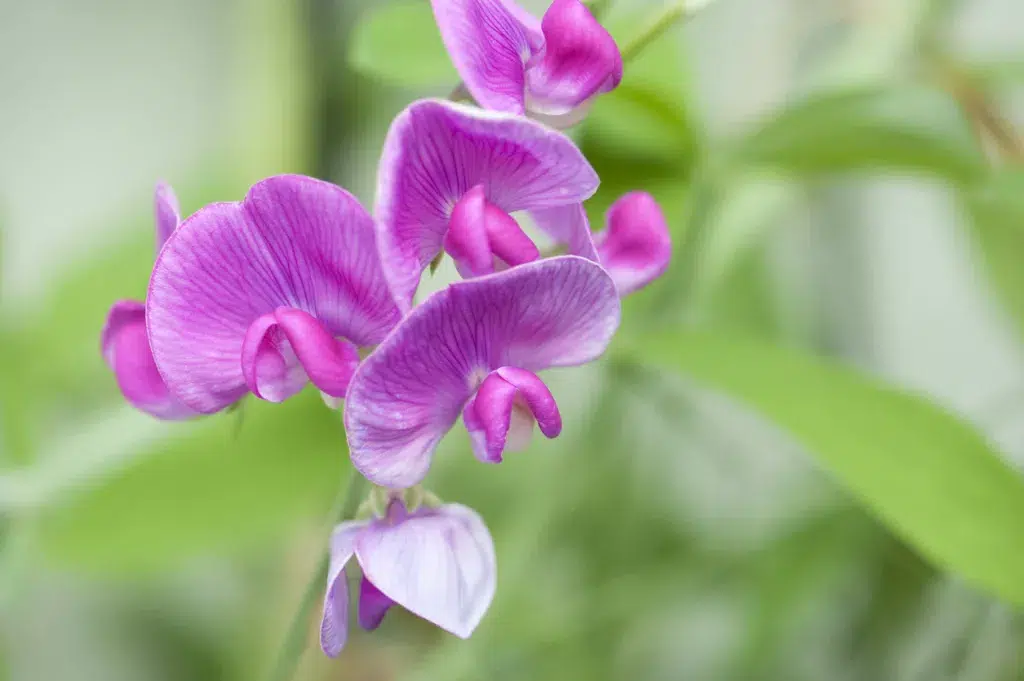 Cherry Blossoms
These delicate flowers paint a wedding scene with powerful colors that guests will remember forever. Perfect for boho weddings, their gentle beauty embodies spring in a way other flowers can't match.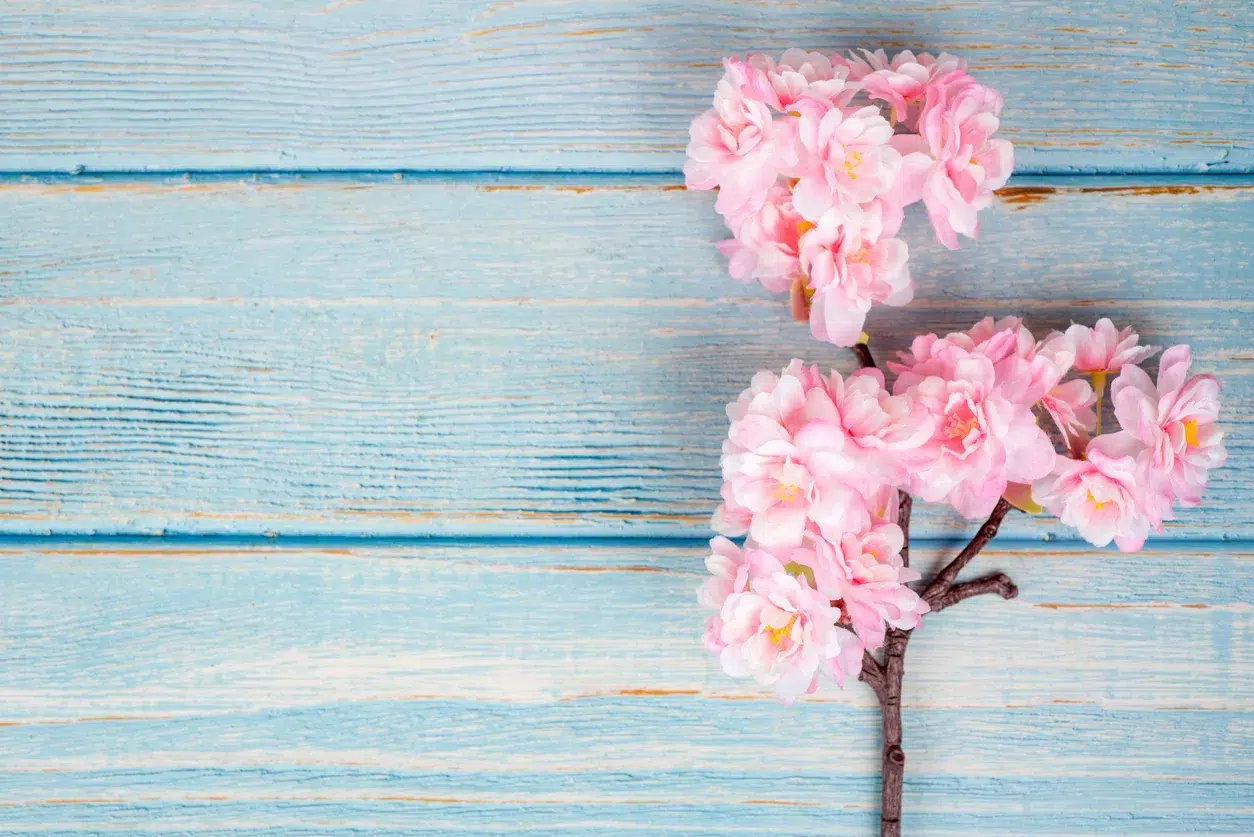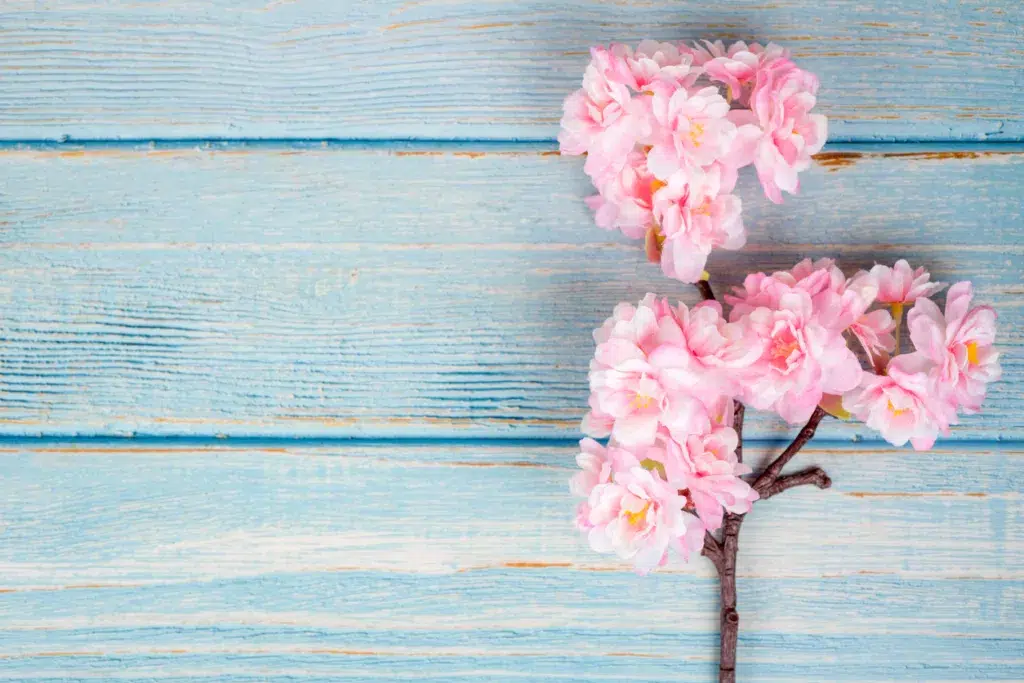 Azaleas
Available in lively colors like bright orange or peach, Azaleas introduce a vivid touch of nature's best to wedding bouquets while making a beautiful addition to your color palette on the big day.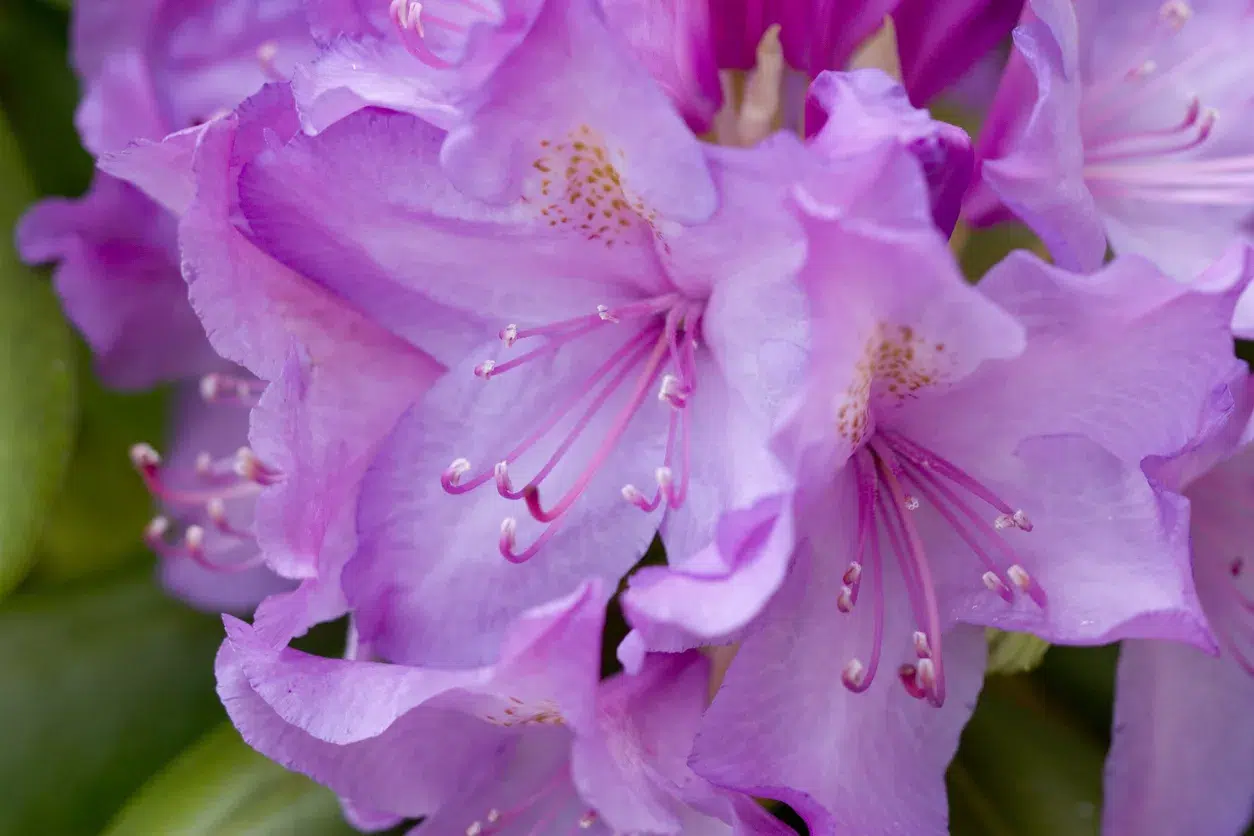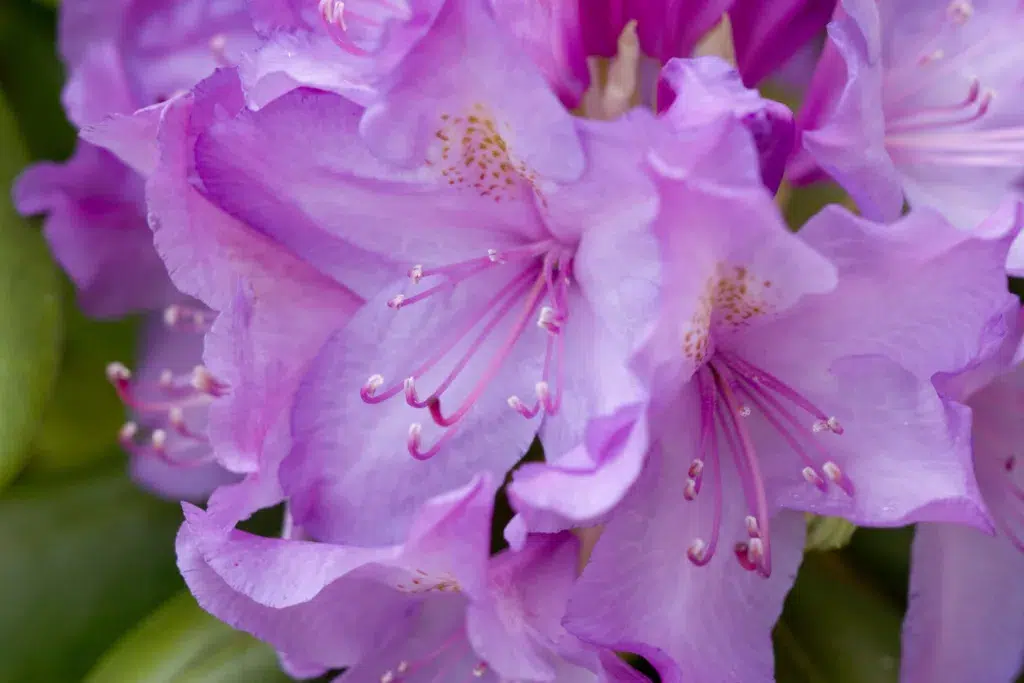 Gardenias
These pure white blooms often seen in gardens whisper tales of tranquil moments to capture a sense of peace and serenity on your wedding day. Complementing flowers like baby's breath or queen Anne's lace are great options for elevating their elegance.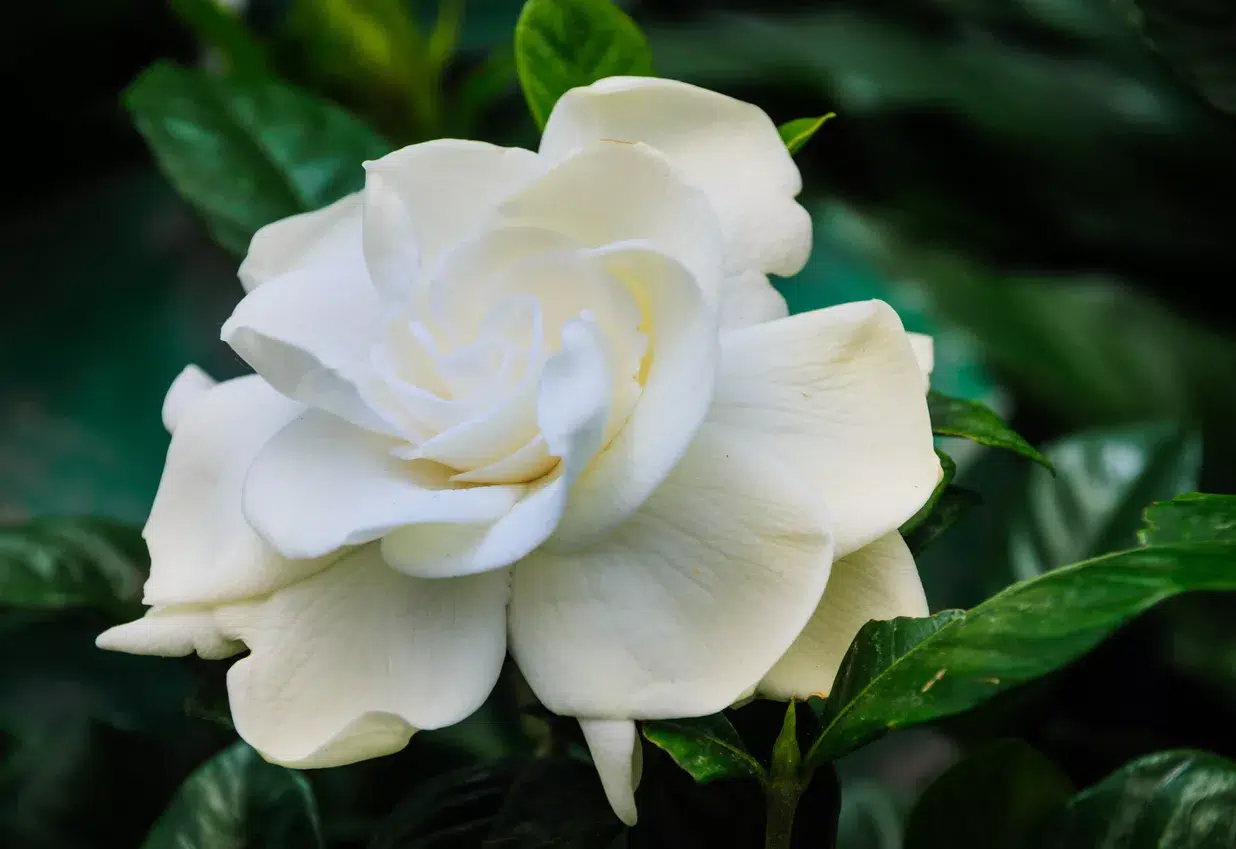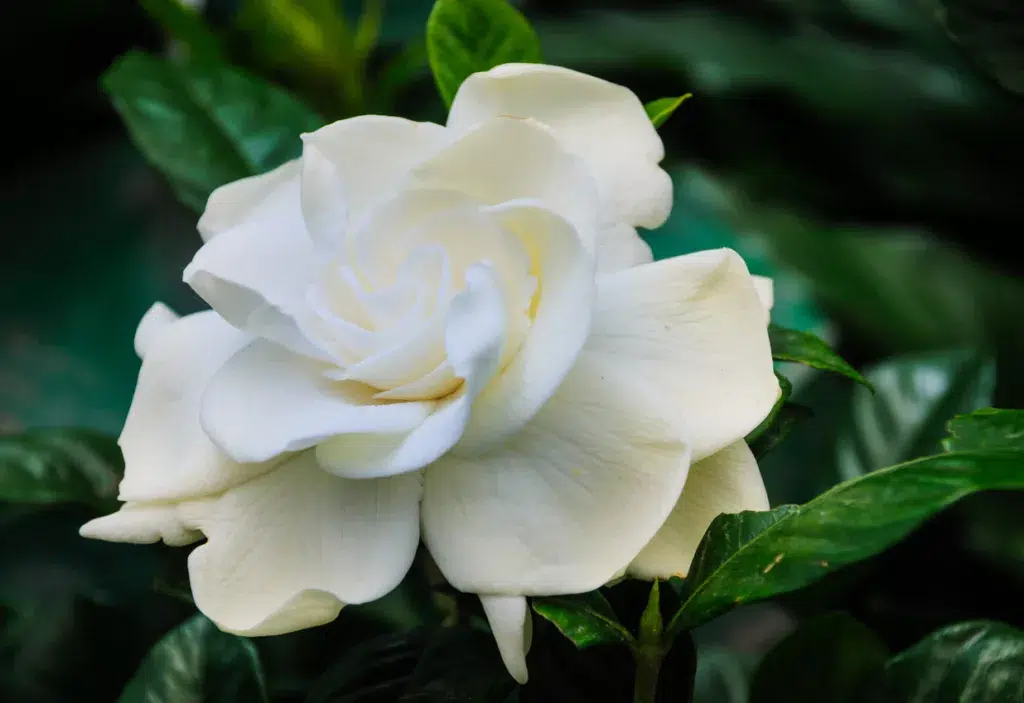 Bluebells
Bluebells bring woodland magic to any wedding theme by offering a touch of nature's mystique. Their vibrant hues and interesting shape are great for adding texture to any floral arrangement or bridal bouquet.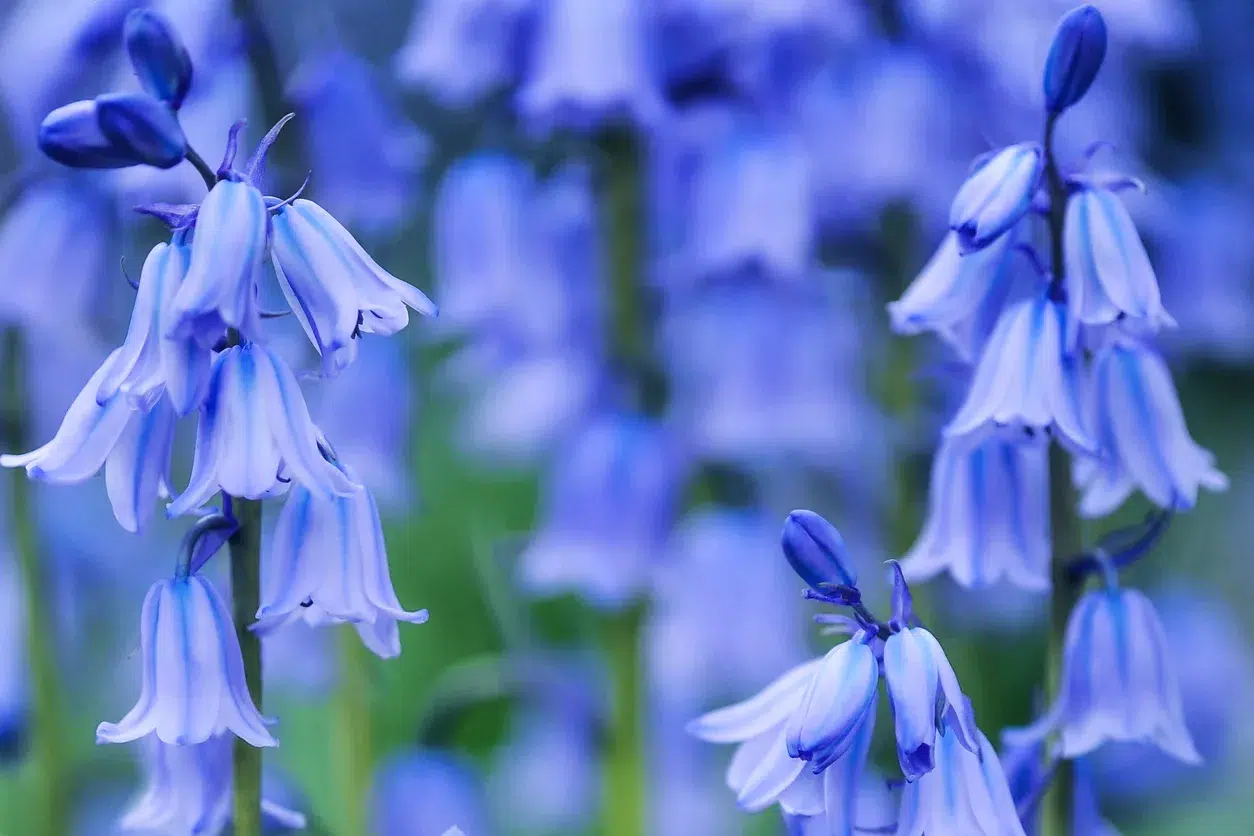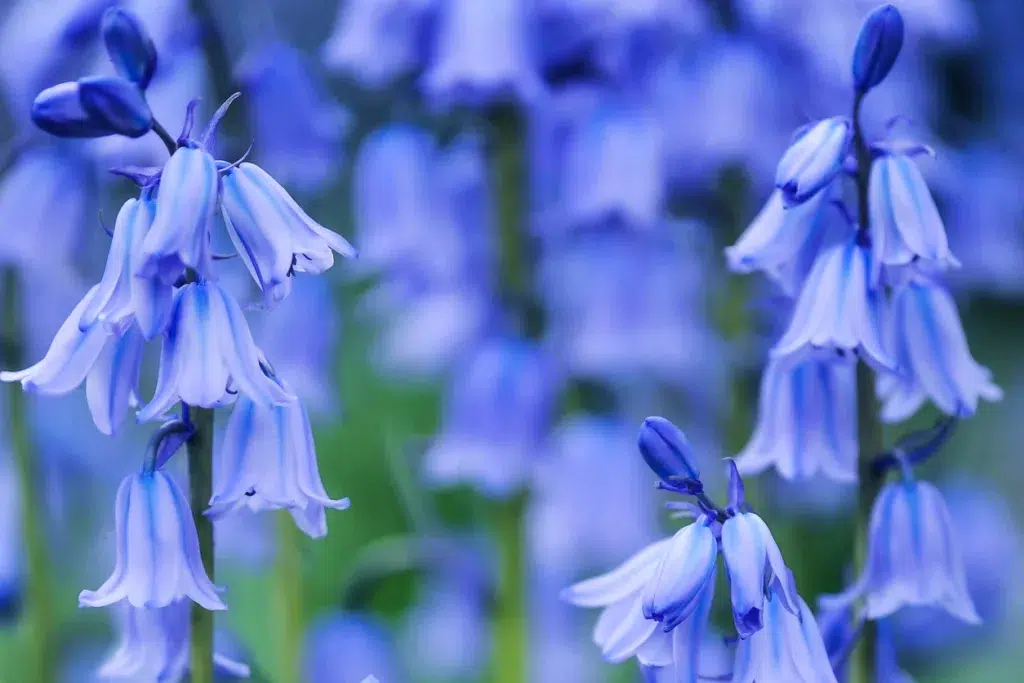 Ranunculus
The intricate layers of petals found on this flower have made it one of the most popular wedding flowers of the modern era. When paired with greenery like dusty miller or pampas grass, they're perfect for creating a sense of timeless elegance.
Primroses
Bright and cheerful, primroses sprinkle a touch of festive joy throughout wedding festivities. Perfect for boutonnieres or even as centerpieces, their bright faces tell stories of love's joy and the adventures that await newlyweds.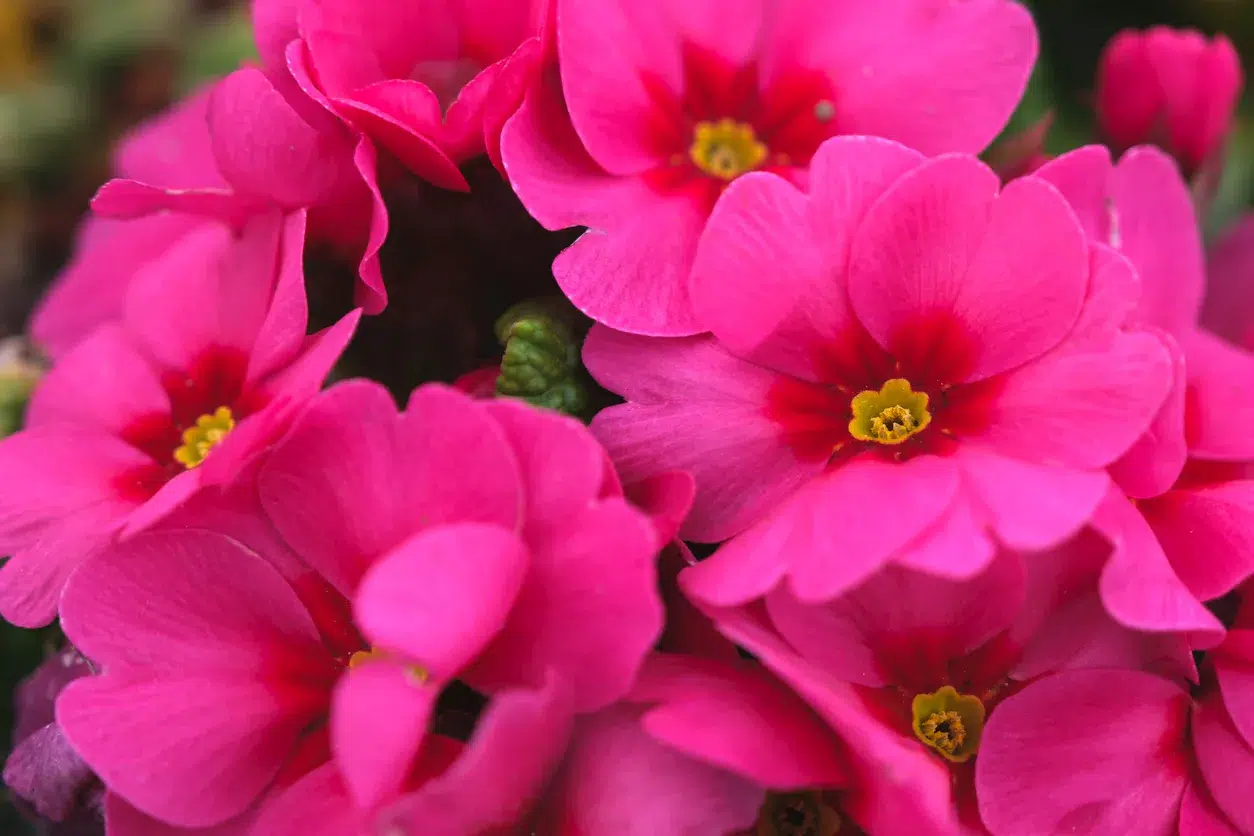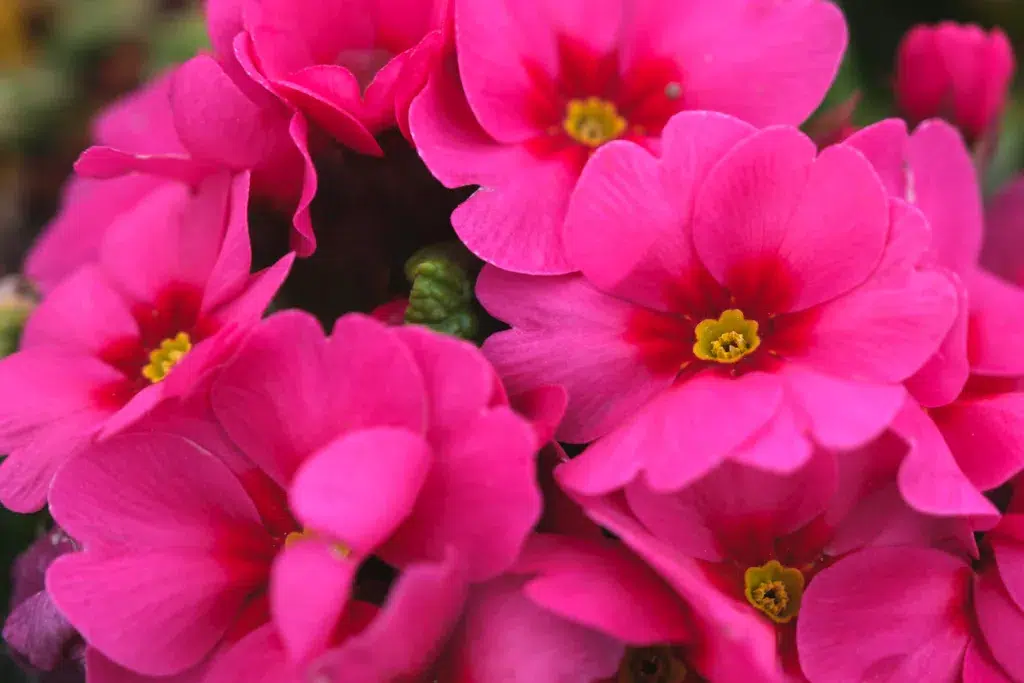 Freesias
Known in the flower industry as a "zest of happiness," their refreshing scent makes them a top choice among brides who love to smell flowers as much as admire them. If you're looking for unique wedding bouquet ideas, consider using this flower to add a splash of color and joy to your wedding celebration.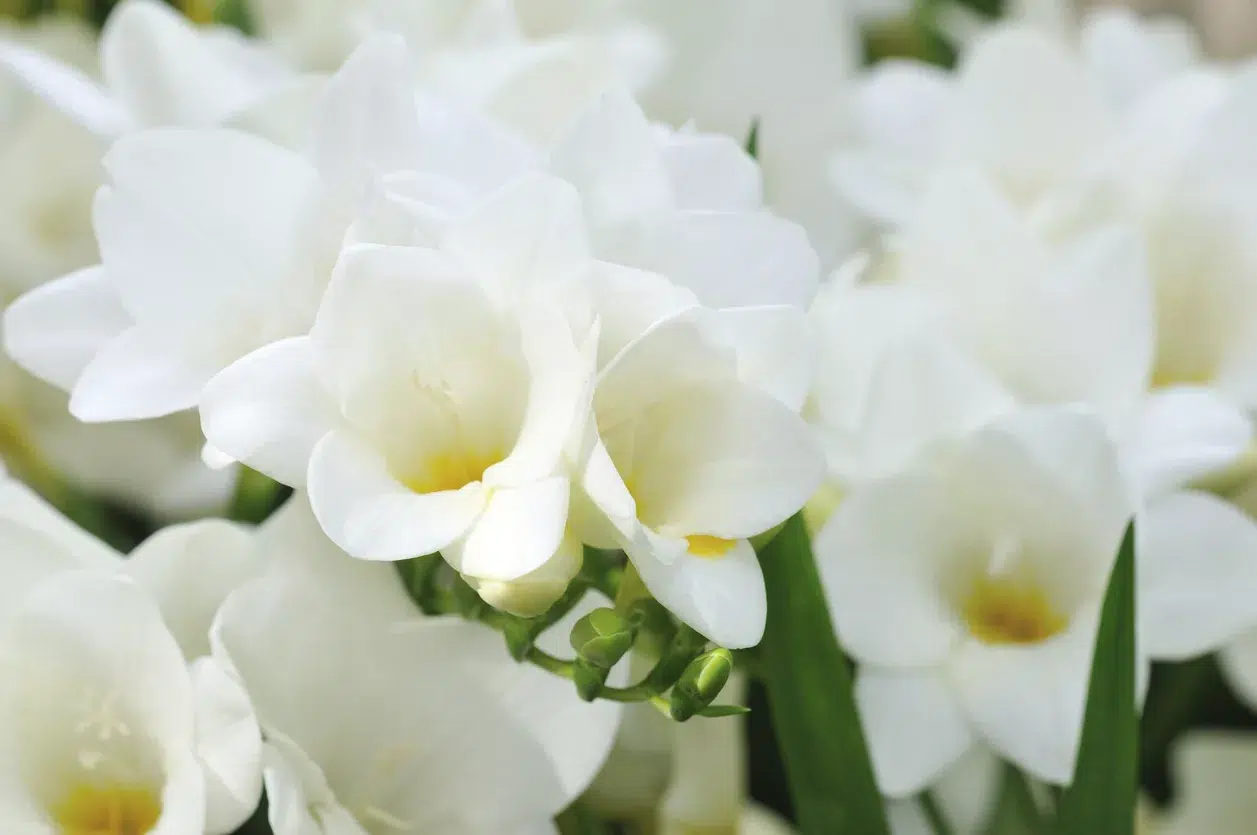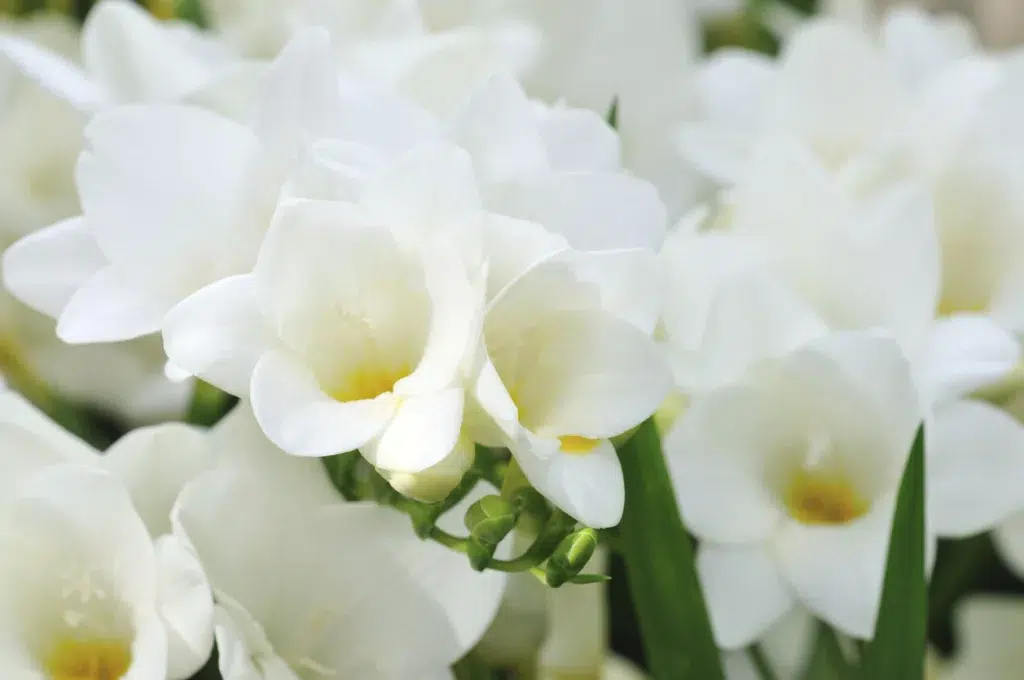 Dogwood Blossoms
This blossom's distinct shape and pattern brings to mind timeless beauty. It's perfect for any springtime wedding theme, be it classic or contemporary.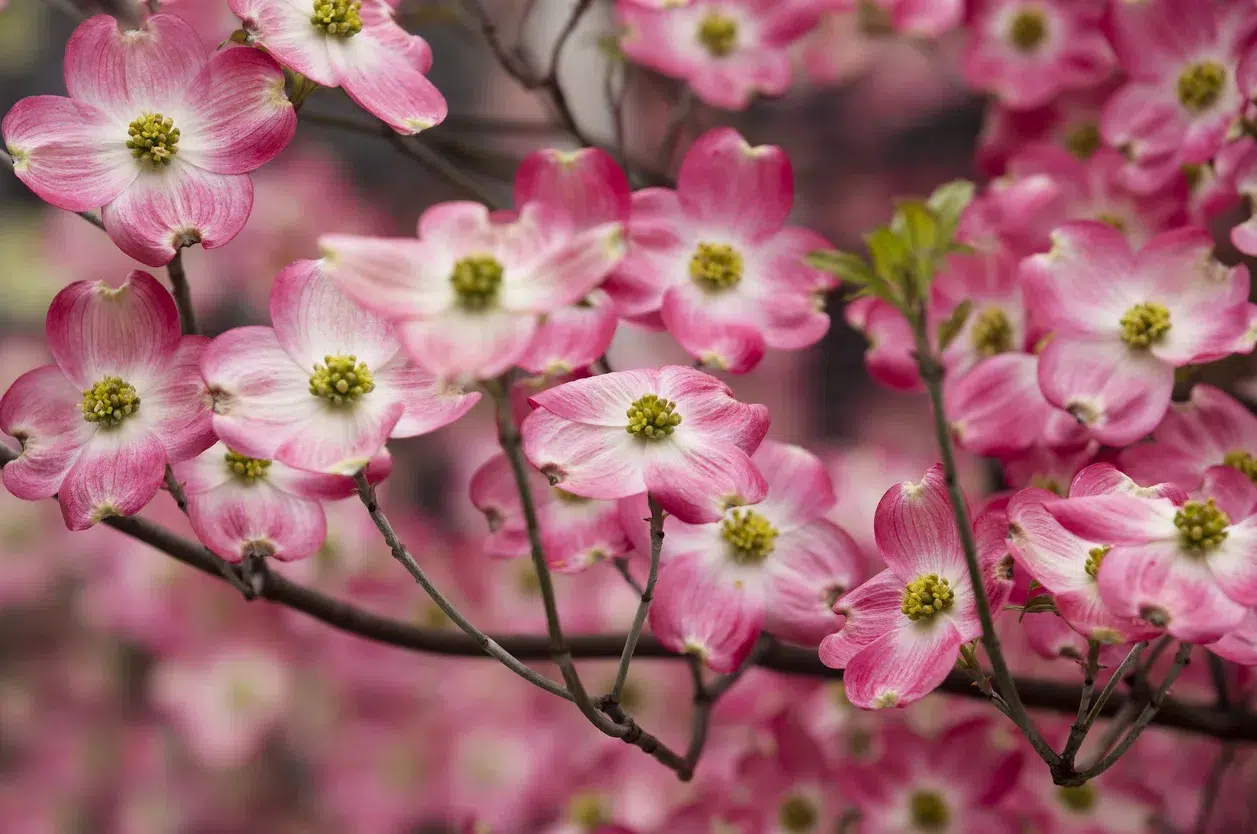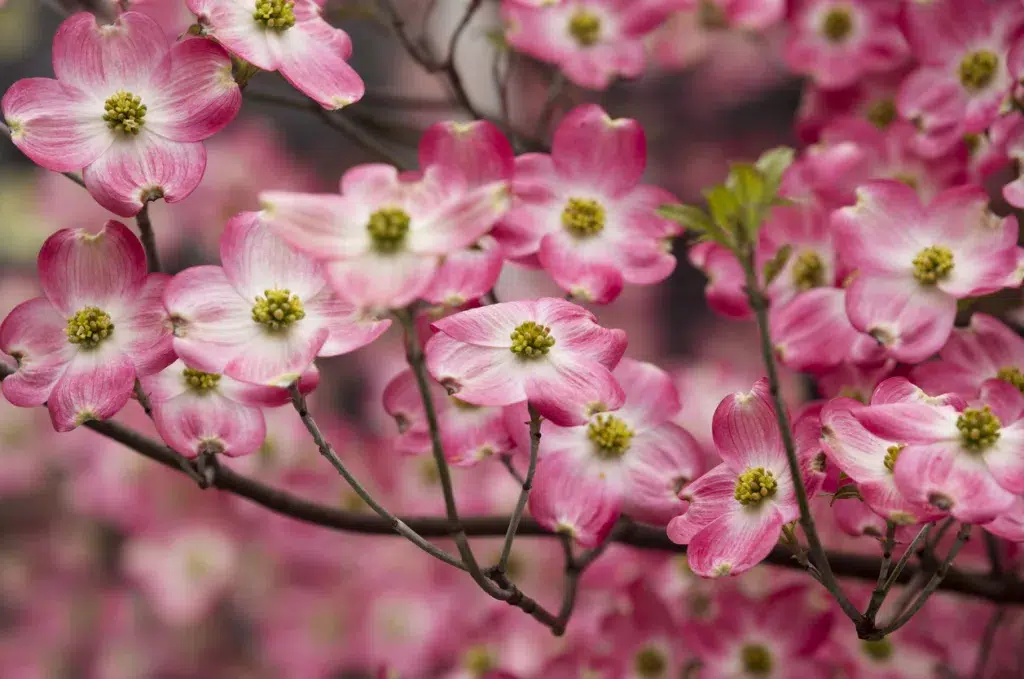 Magnolias
Fit for royalty, the magnolia flower's impressive size and beauty can make any bride feel like a queen on her big day.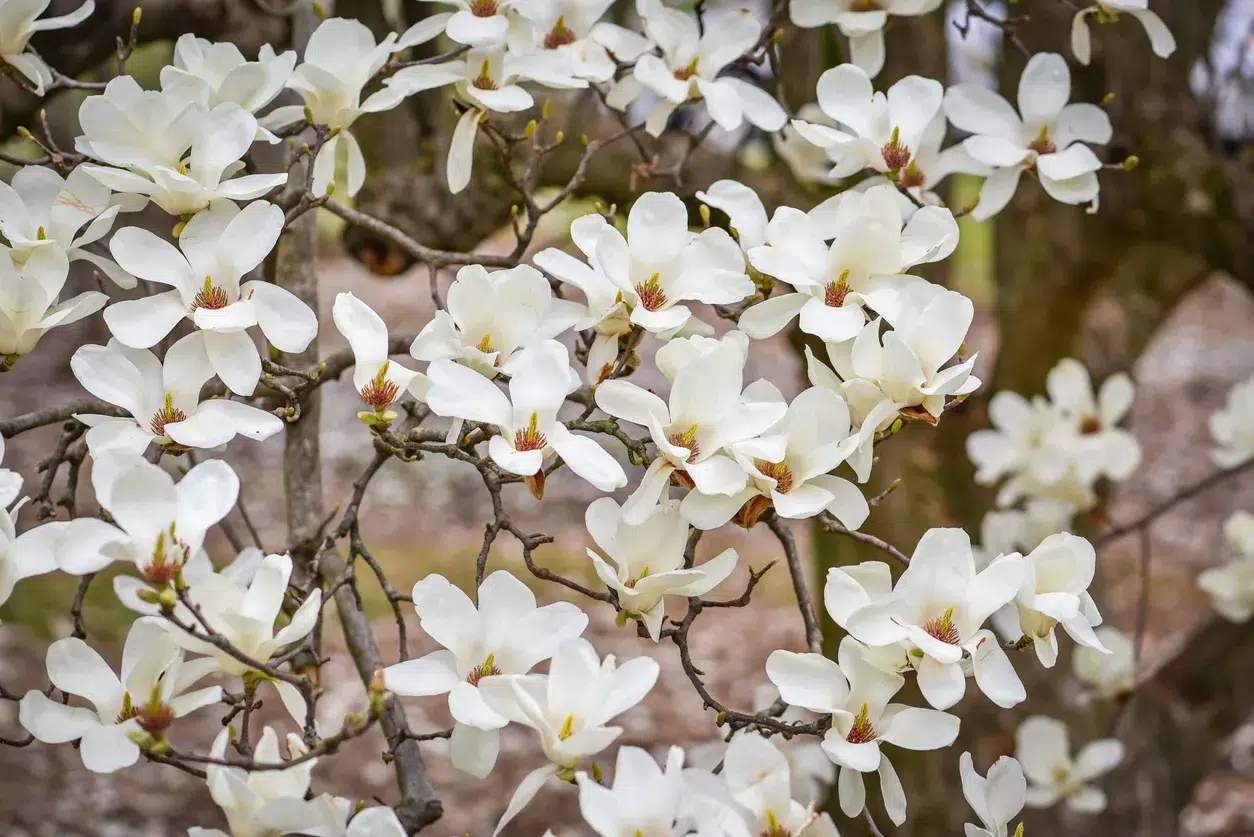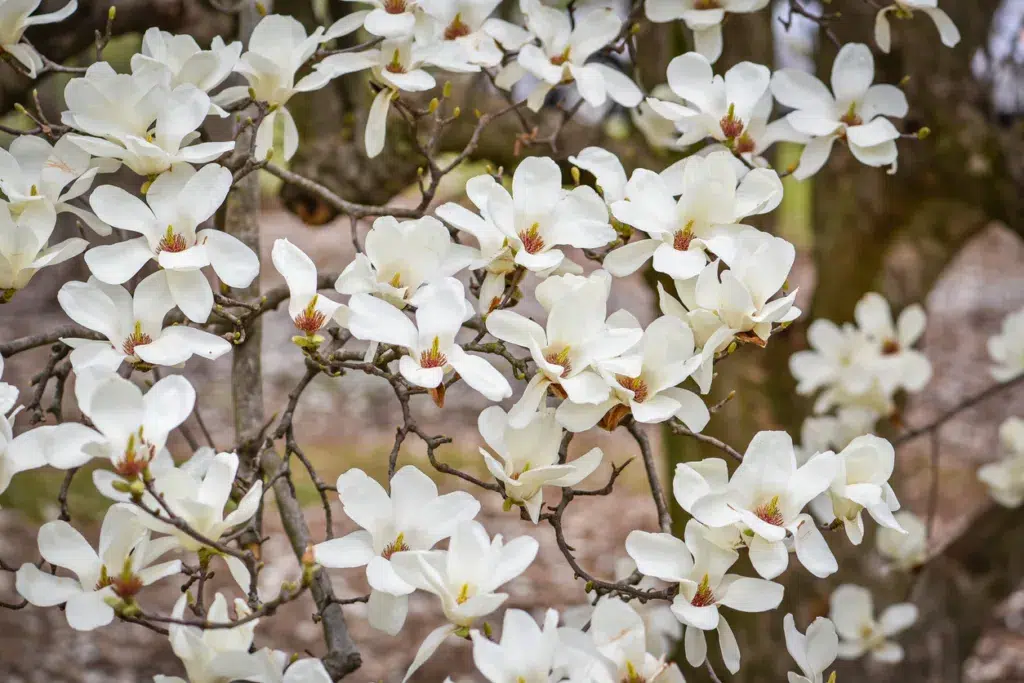 Lily of the Valley
Their tiny, bell-shaped blooms dance with elegance, offering sophistication and a touch of greenery to any floral arrangement, ensuring your wedding date is filled with charm.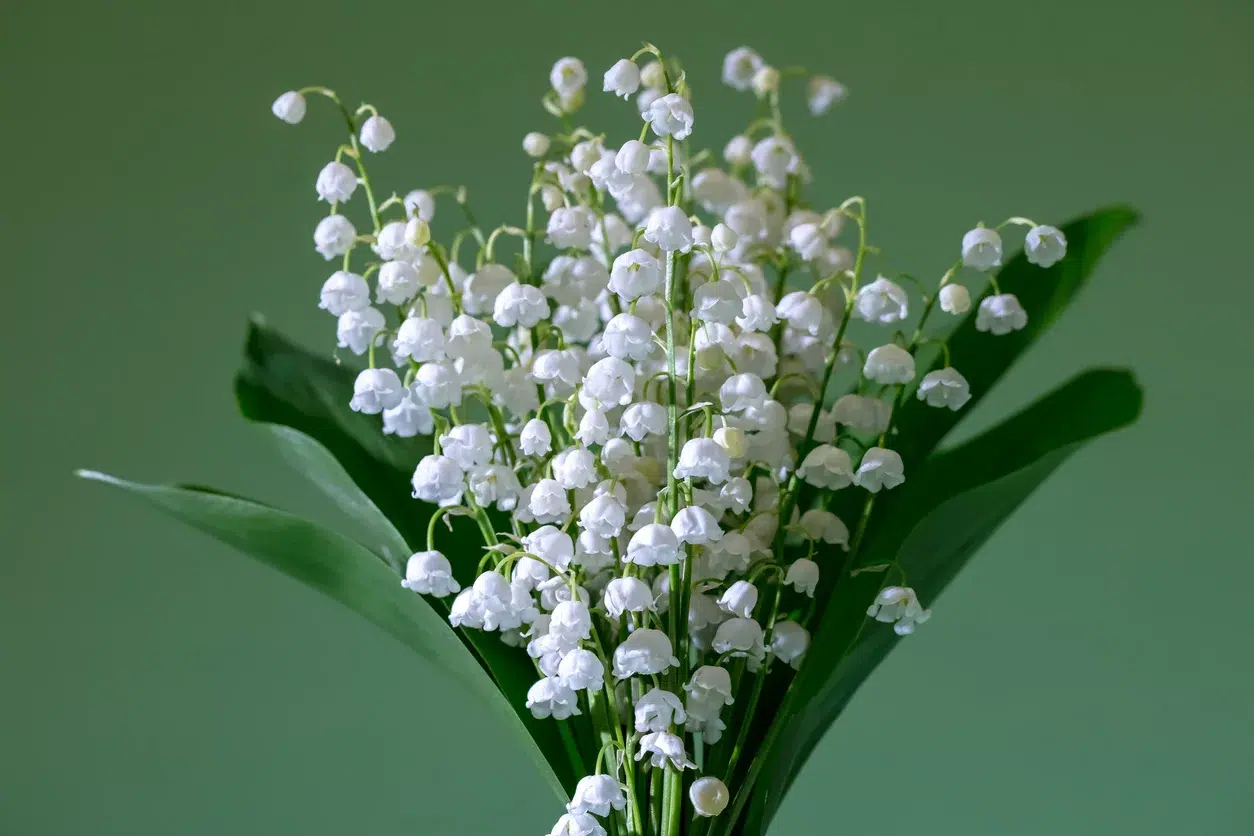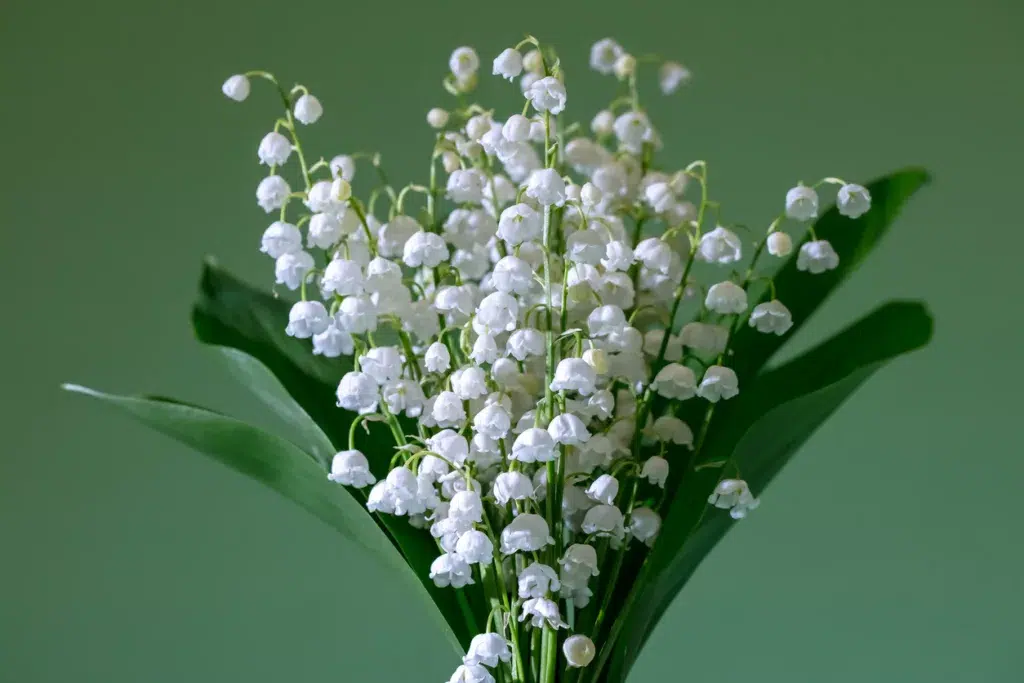 Irises
Standing tall and regal, irises can turn any wedding venue into a majestic garden. Their vibrant purple hue adds depth and drama to every bridal bouquet.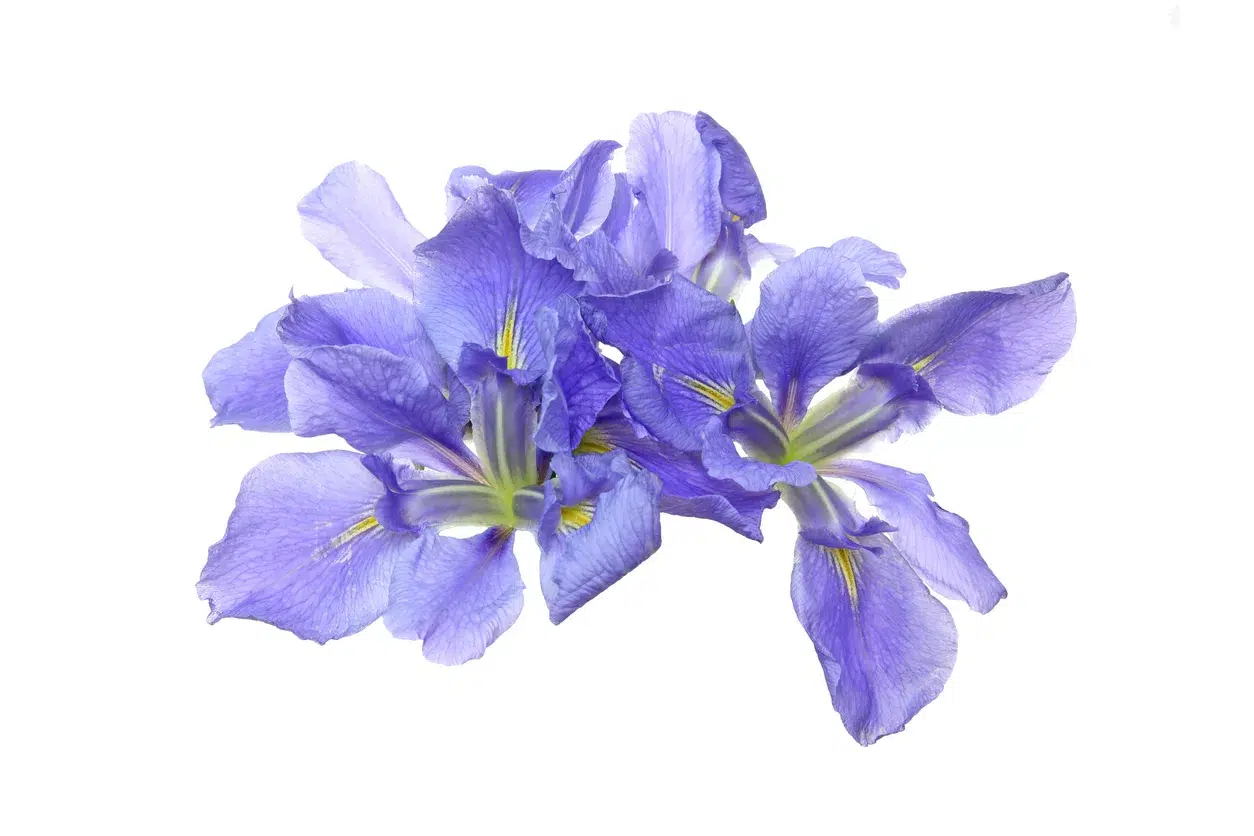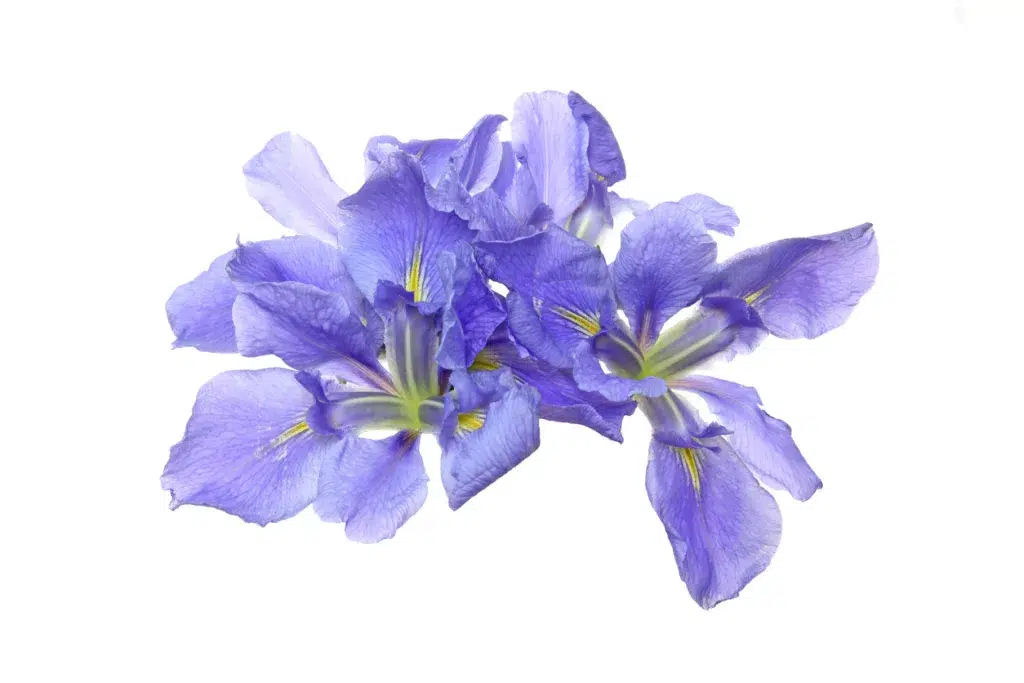 Pansies
Bursting with life and colors like bright orange, their sunny faces tell stories of love's joy and the adventures that await.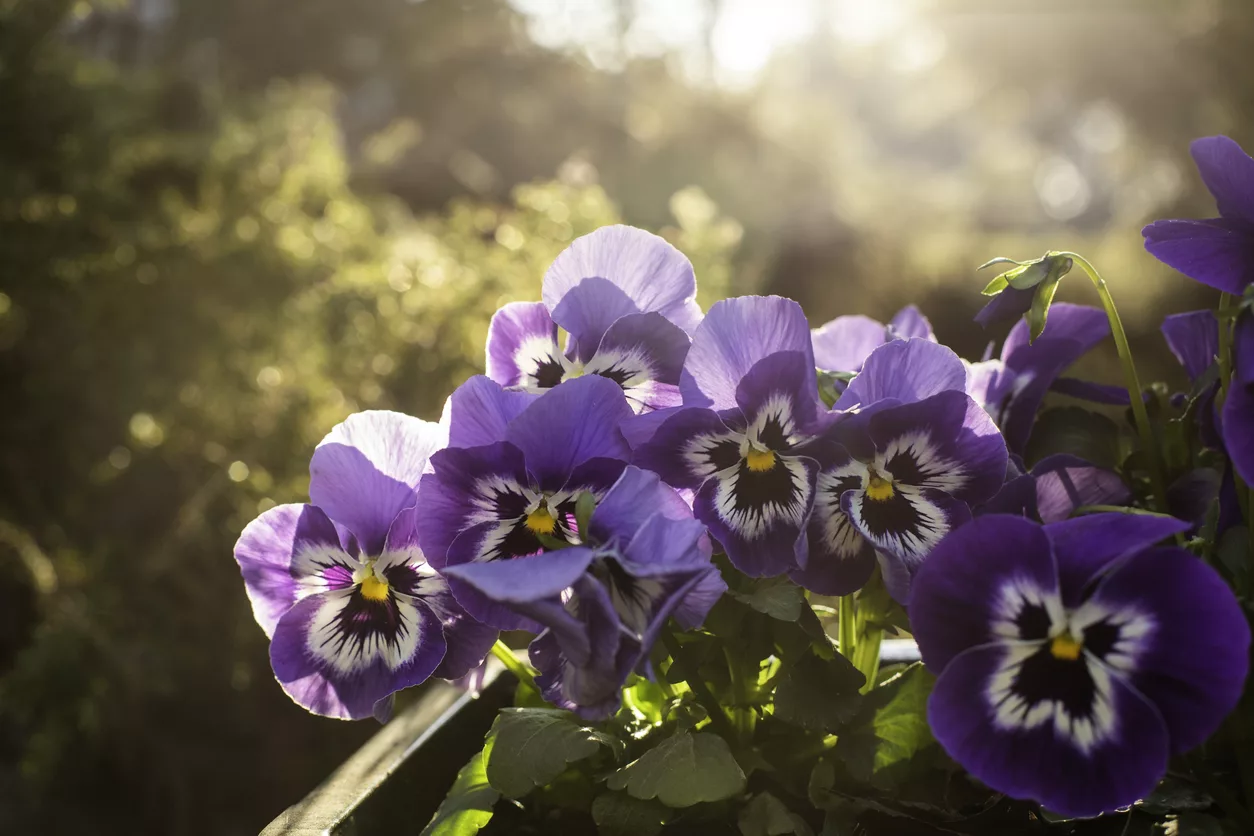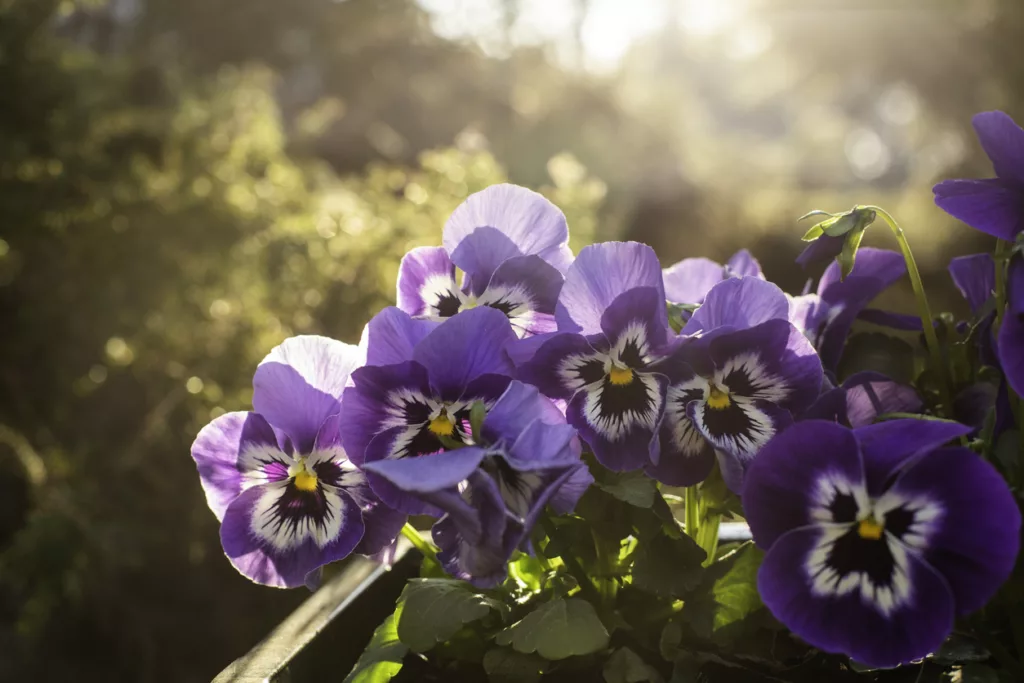 Camellias
A symbol of balance and harmony, camellias are the perfect choice for couples starting their journey together who wish to emphasize unity and understanding.
Anemones
Bold centers surrounded by soft petals emphasize the beauty of contrast and unity, making them a staple in modern wedding bouquets.
Summer Wedding Flowers
The summer season brings with it a plethora of flowers – and a vibrant palette perfect for those planning their summer wedding. Wedding flowers during this season are all about capturing the essence of sunny days, breezy nights, and the fervor of love in full bloom. Whether you're a bride planning her big day or a florist looking for inspiration, the summer blossoms below are sure to leave you enchanted.
Roses
Would it even be a wedding without some sort of roses? This flower is known for its timeless beauty, and the range of colors makes any summer wedding feel both classic and passionate. It's no wonder that they've remained among the most popular wedding flowers for so long.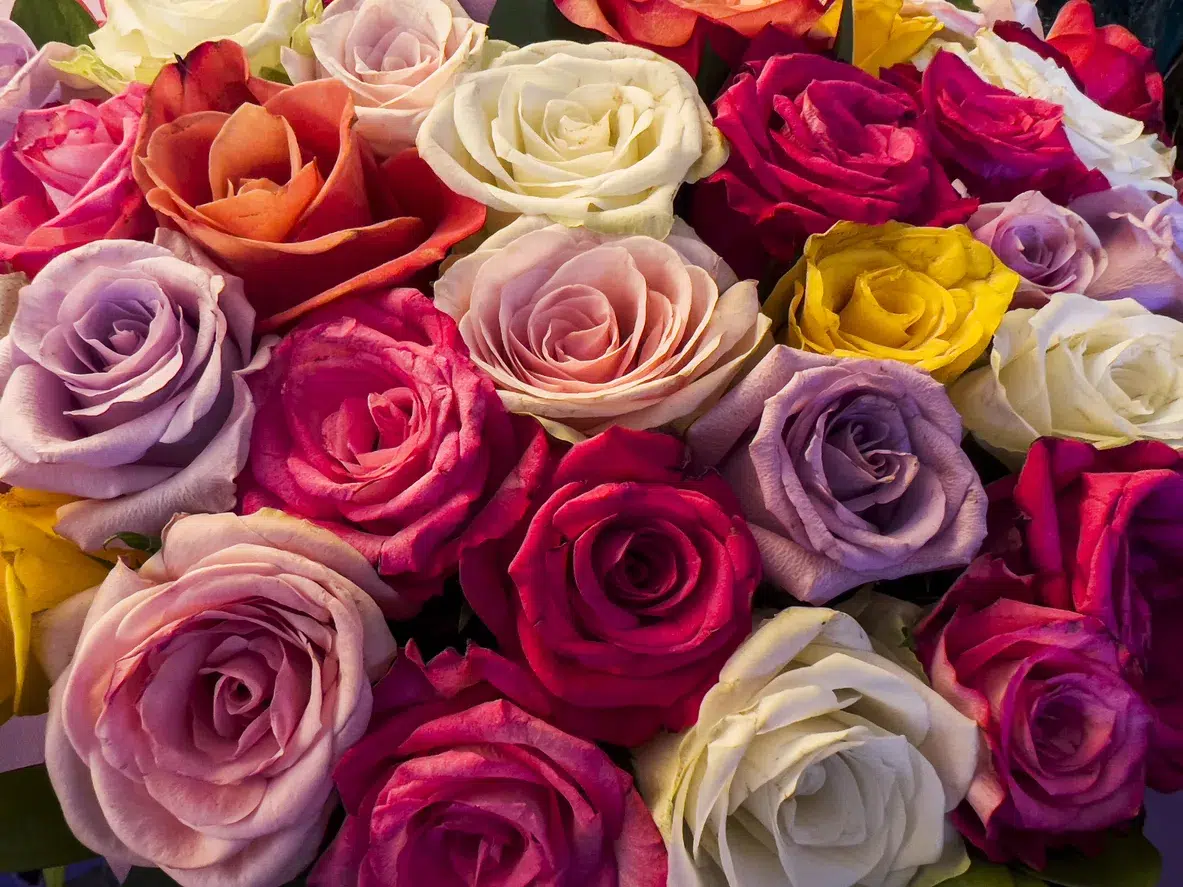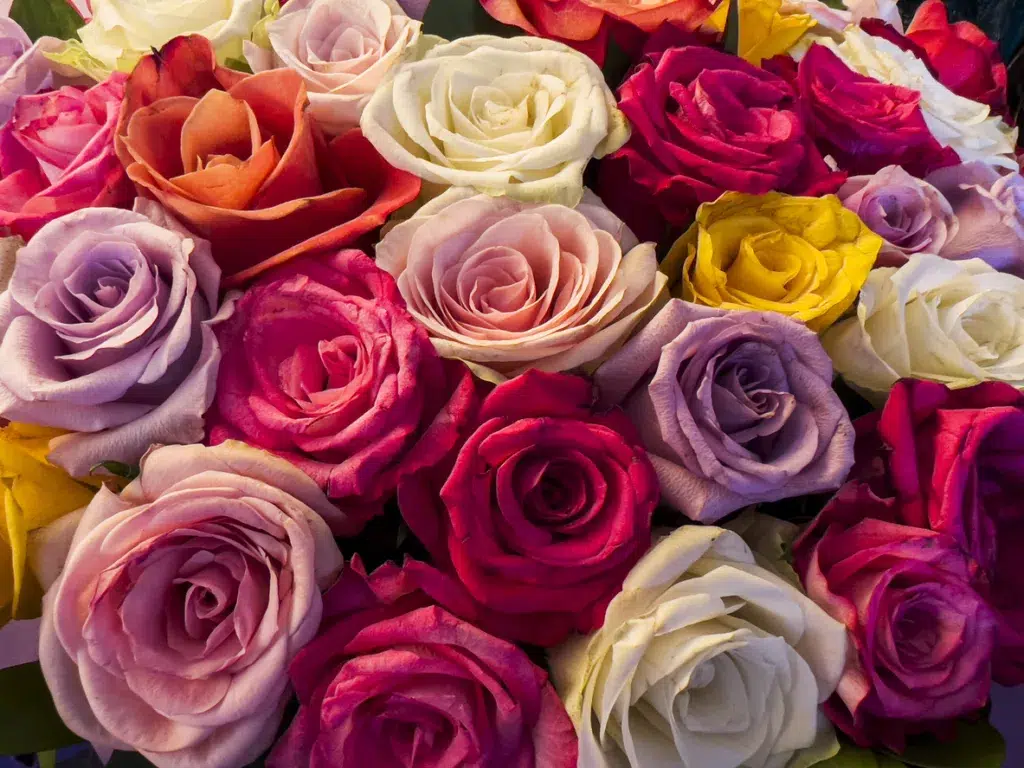 Sunflowers
Standing tall with their bright face, sunflowers infuse weddings with a golden glow that echoes the warmth of summer love. They're often paired with pale yellow dusty miller or the delicate baby's breath to create stunning summer flower arrangements.
Dahlias
Their intricate petals seem to go on forever and bring a lively burst of color to any event. Paired with the right greenery, dahlias make any wedding bouquet feel like a summer festival.
Zinnias
Their rainbow of colors captures the essence of summer gardens, creating a playful yet romantic atmosphere. For those looking for colorful wedding bouquet ideas, combining zinnias with other fresh summer flowers is a great recipe for a winning combination.
Gerbera Daisies
Cheerful and bold, these daisies have a knack for making every wedding feel like a sunlit celebration. Their versatility also makes them a staple in bridal bouquets, and they pair wonderfully with nearly any other flowers on the list.
Gladiolus
The gladiolus and its impressive array of colors demand attention. This blossom is capable of turning any flower arrangement into a monumental display of beauty.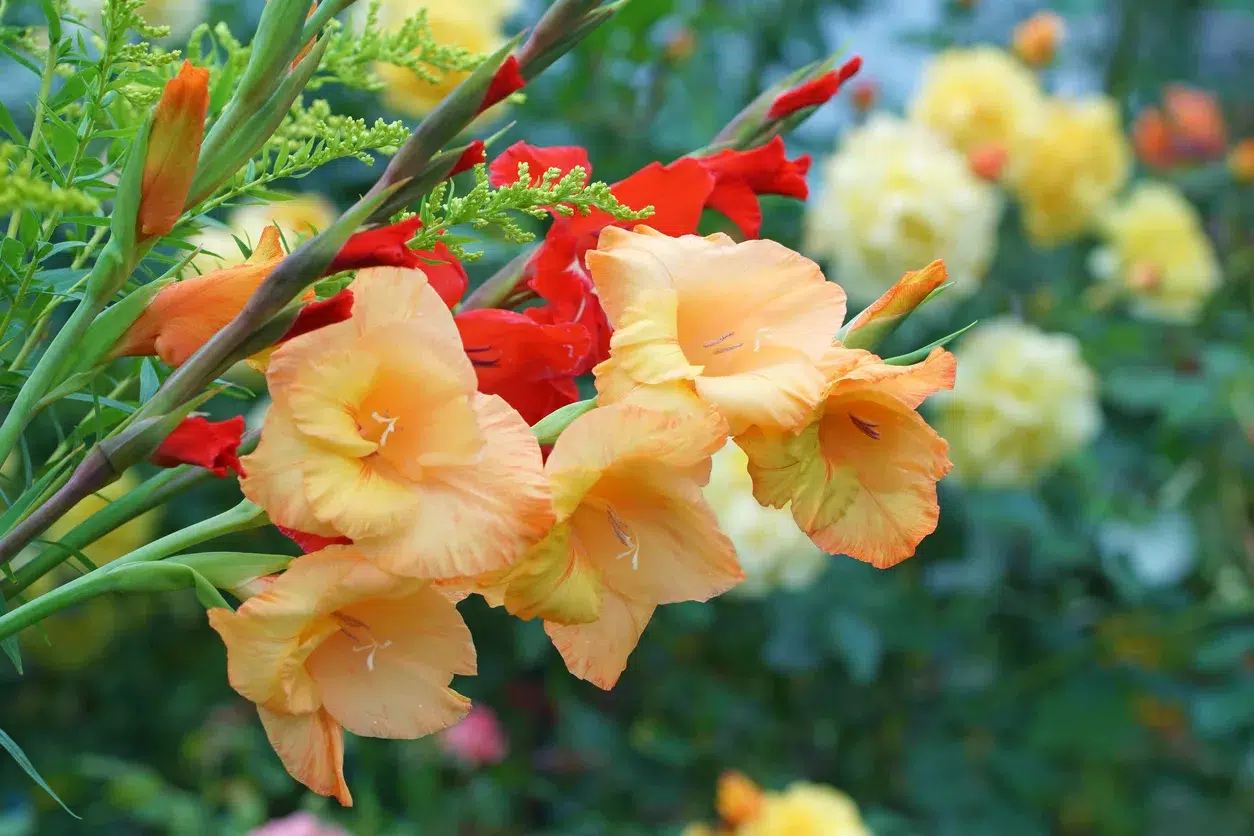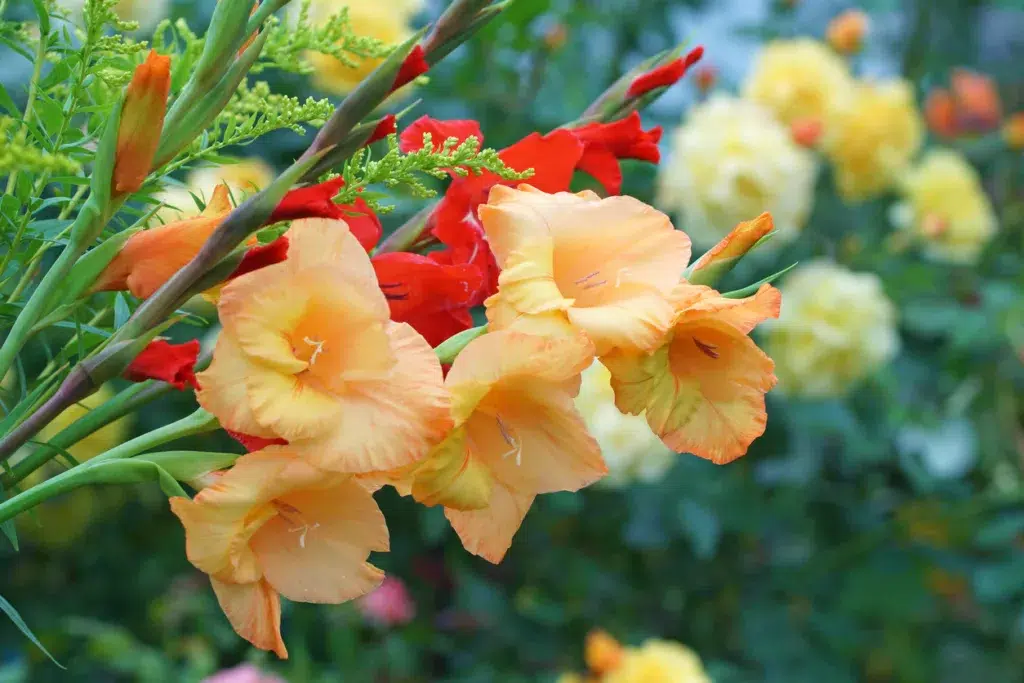 Delphiniums
Their deep blue shades, combined with other purple flowers, are reminiscent of summer evenings and sunsets. They add a touch of nocturnal elegance perfect for any summer wedding theme.
Lavender
Beyond their soothing scent and delicate purple flowers, lavendar promises a romantic and aromatic summer wedding experience. This choice is often recommended by industry experts for its dual purpose as both a decor and an aroma enhancer.
Marigolds
Radiant in golds and oranges, marigolds are the key focal point of many modern floral arrangements. They're great for uplifting everyone's spirit and creating a sense of harmony that fits the orange warmth of summer.
Snapdragons
These delicate flowers have unique shapes and colors, blend whimsy with elegance, and capture the imagination of all attendees. Let's face it: they look like something straight out of a fairytale!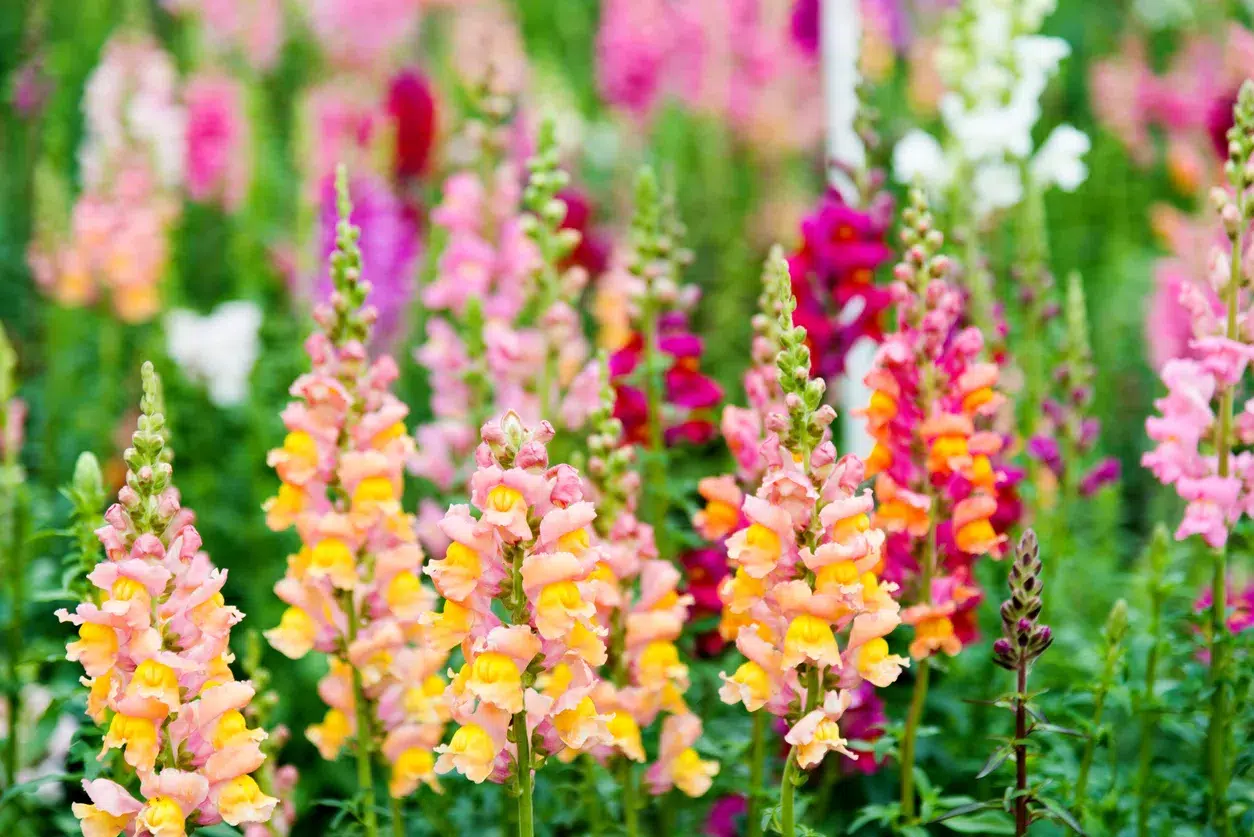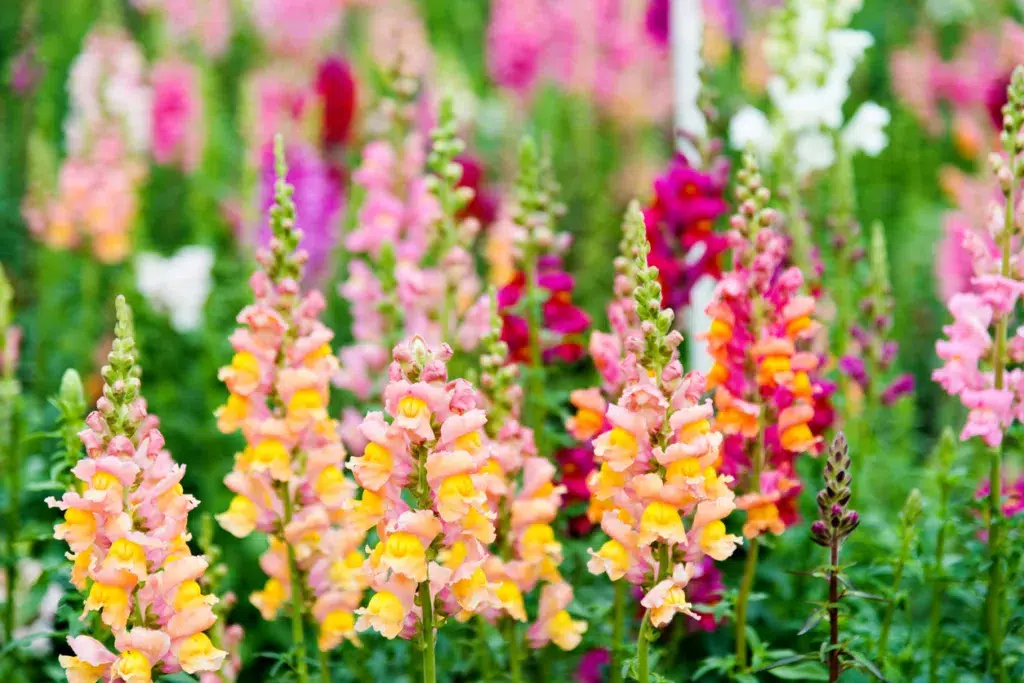 Chrysanthemums
Their lush fullness make any summer bouquet feel abundant while showcasing nature's generous side. When combined with carnations, they represent love's many layers in bridal bouquets.
Shasta Daisies
Infusing arrangements with simplicity and radiance, these daisies reflect the pure joy of love. Their white petals offer fresh contrast that can often be seen in wedding bouquet centerpieces.
Hydrangeas
These blooming beauties are like little clouds that make any bouquet feel dreamy and lush. Hydrangeas have become a favorite in the last few years, especially for boho weddings.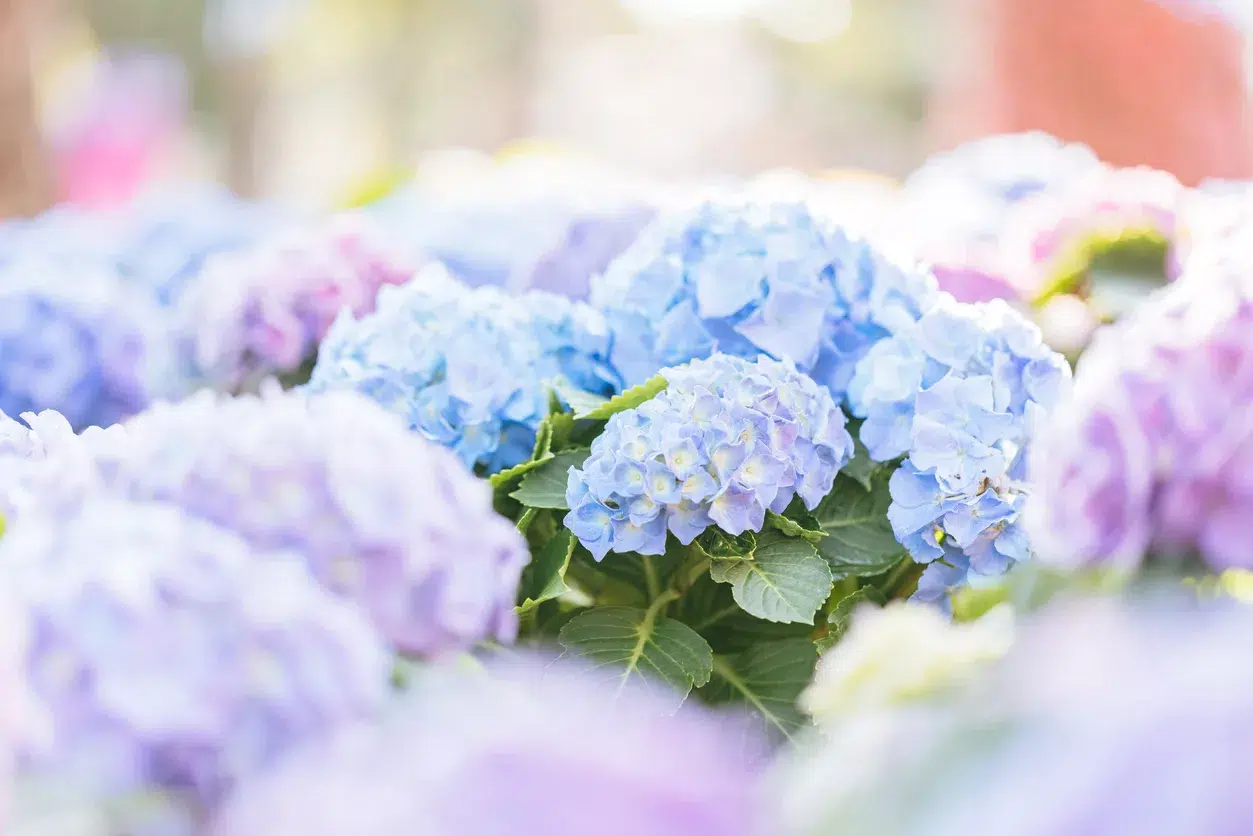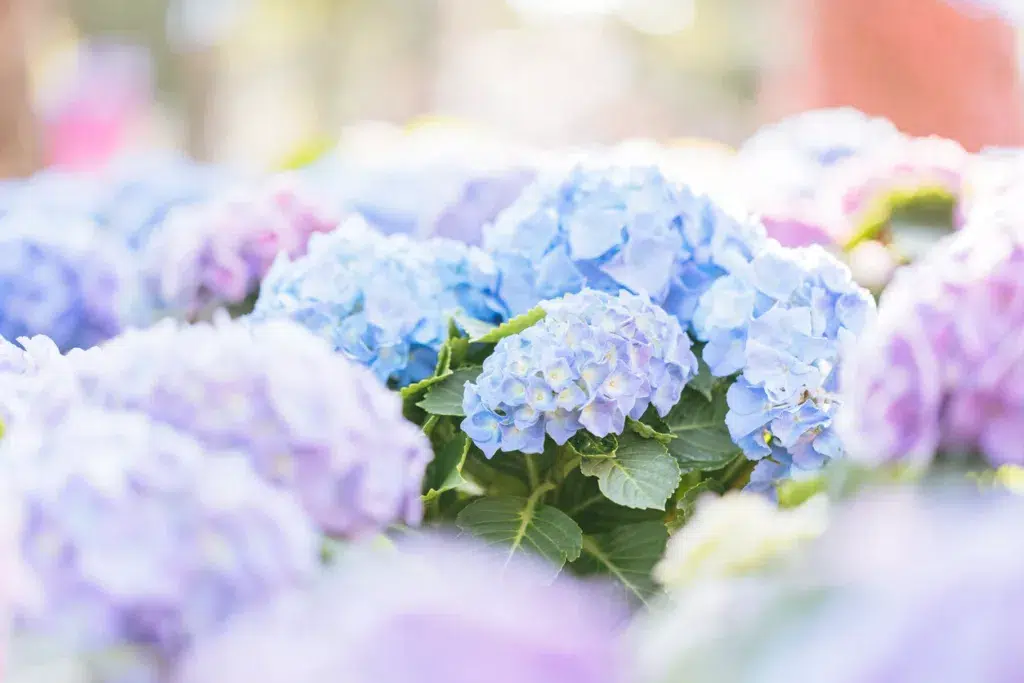 Globe Amaranth
From their whimsical forms and bright colors to their inviting charm, these flowers each have a unique way of echoing the vibrant energy of summer love.
Peonies
Blooming generously in summer, peonies add a luxurious romance to any wedding ceremony. Their opulent petals make every bridal bouquet feel all the more special and grand.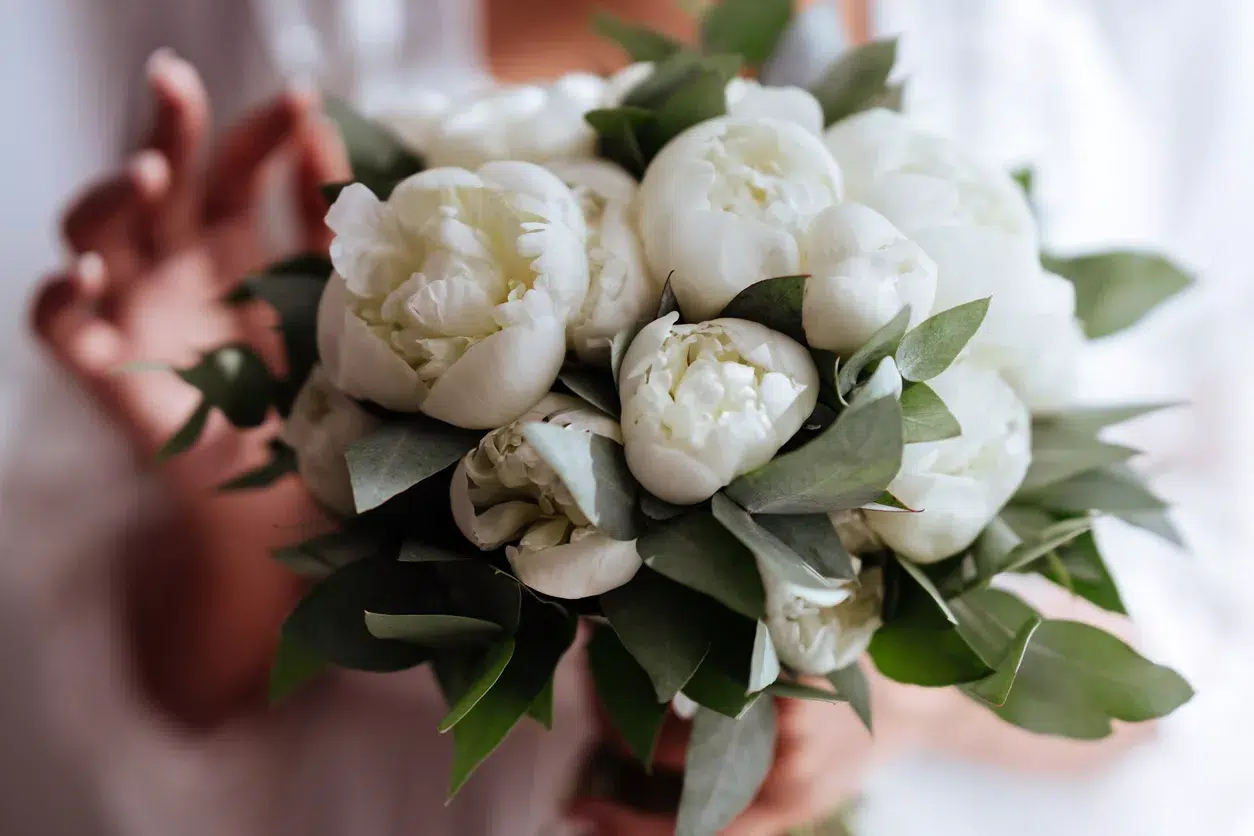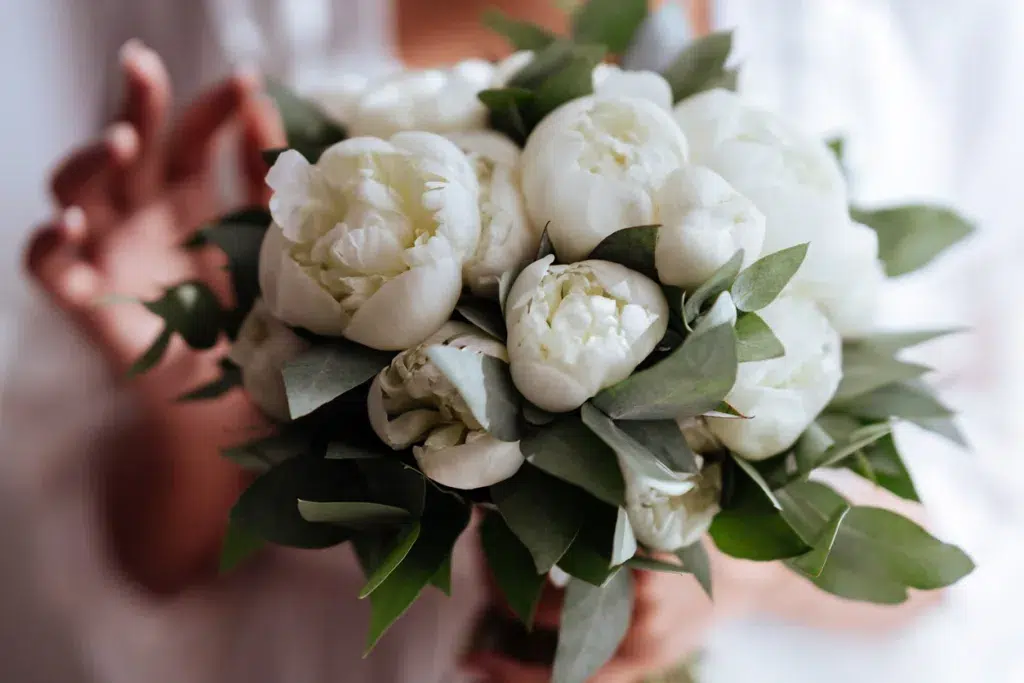 Cosmos
Cosmos flowers lend a magical touch to the ambiance of summer weddings. Their dainty petals hold hues of pink, white, and maroon that dance gracefully in the wind, embodying the lighthearted joy of love's celebration. The simplicity and charm of cosmos mirror the ease and bliss of true love brings.
Lisianthus
Adorned with tender petals that gracefully unfold, lisianthus blooms bring an air of elegance to wedding ceremonies any time of the year. Their soft colors range from white and blush to deep purples.
Gaura
The delicate blossoms of gaura stand as symbols of purity and enduring love. The subtle white and pink blooms add a touch of beauty that perfectly represents the dance of love and unity.
Rudbeckia
Radiant petals with a deep chocolate hue in the center mirror the warmth and richness of your affection.
Larkspur
Spikey colorful blooms of blue, pink, and white echo the depth and expanse of emotions that fill your heart as you take your first steps down the aisle.
Fall Wedding Flowers
Autumn is a season of transformation offering an array of wedding flowers that capture the essence of the transition from vibrant summer to the serene winter. Whether you're an inspired bride or a florist seeking the perfect bouquet, fall's bounty brings endless possibilities.
Dahlias
Bursting with layers of petals, dahlias are nature's tribute to autumn. Their warm tones and festive flair provide depth to any bouquet, embodying the season's richness.
Sunflowers
Sunlit days and bountiful harvests come to mind with sunflowers. Their majestic stature infuses autumn weddings with a golden aura, acting as the quintessential flower for the season. These flowers are just as suitable for fall weddings are they are for summer ceremonies.
Chrysanthemums
Full-bodied and rich, chrysanthemums encapsulate autumn's luxurious and relaxed vibe. Paired with the right greenery, bouquets that include this flower sing with seasonal opulence.
Asters
Lighting up fall arrangements with petals that radiate like stars, they transform every wedding into an enchanting event. Combine them with delicate flower choices like heather for a truly ethereal effect.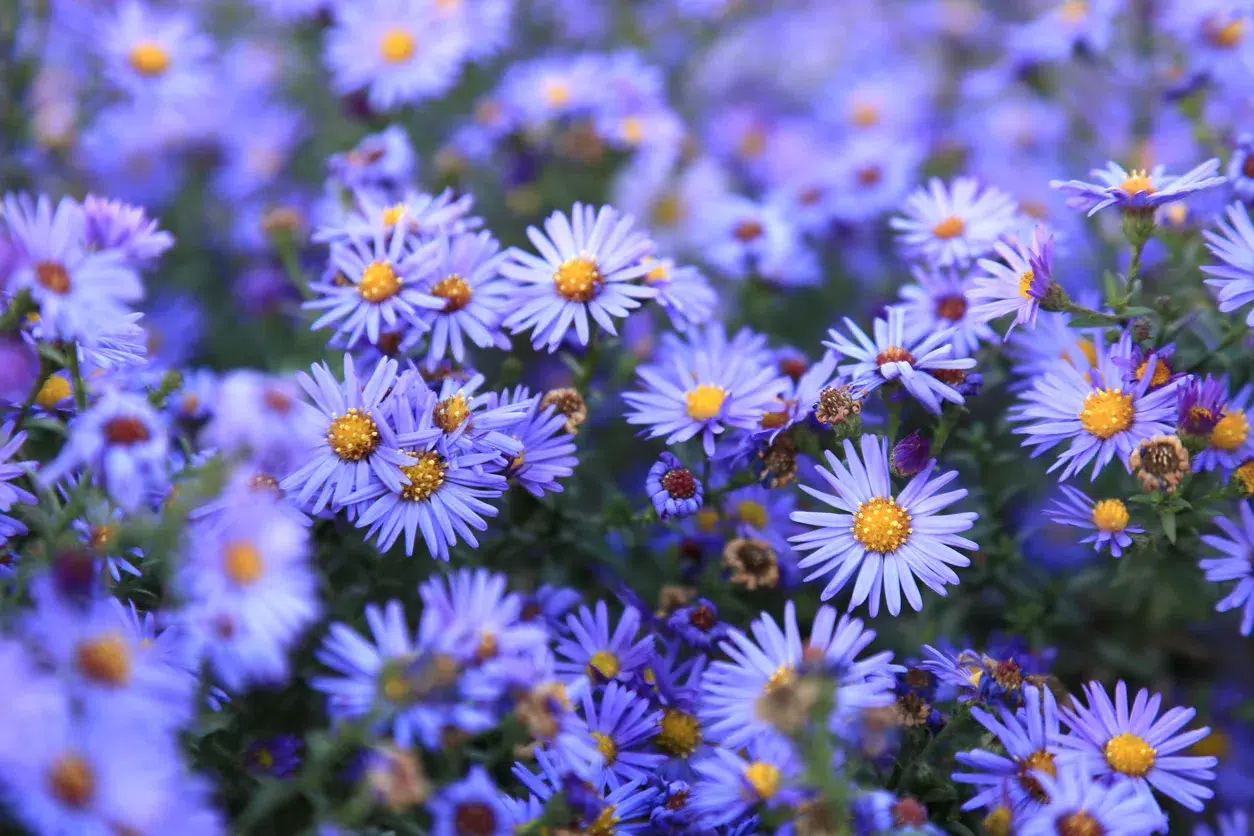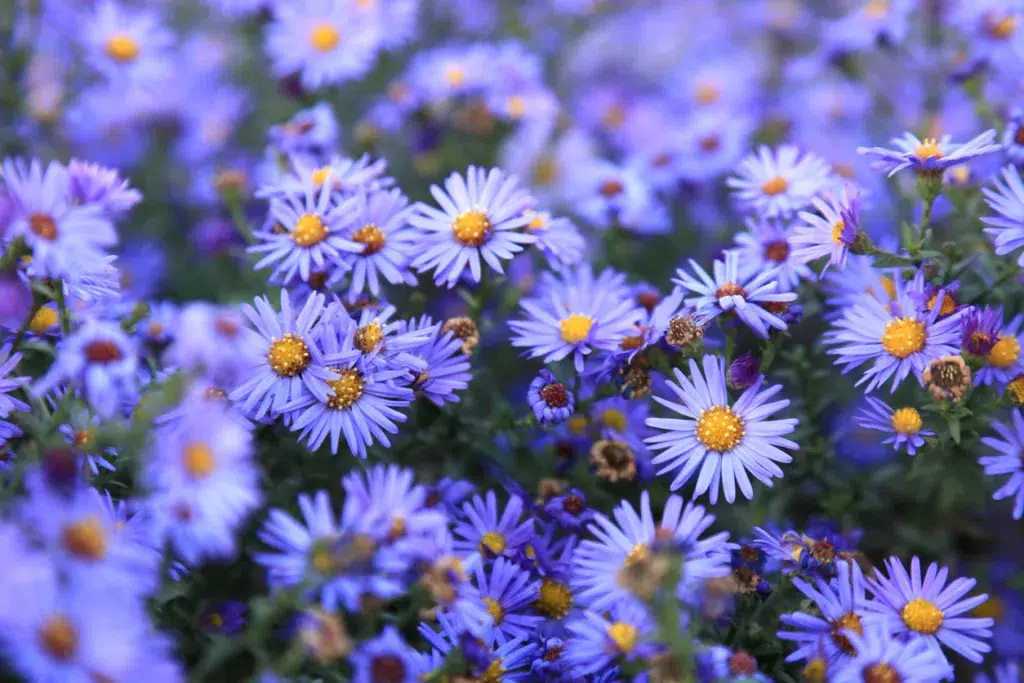 Marigolds
These blooms, with their warm, sunlit hues, capture the spirit of fall festivities and echo the tones of the season.
Zinnias
Just like an autumn sunset, zinnias paint your wedding with splashes of color. Their playful nature evokes memories of autumn celebrations.
Celosia
With unique textures ranging from feathery plumes to intricate crests, celosia introduces a touch of whimsy to fall flower installations. If your goal is to get guests talking about the beauty of the ceremony, celosia is a great option.
Sedum
The lush petals of sedum tell a tale of timeless romance and tradition. The perfect addition to the traditional couple's ideal floral arrangement.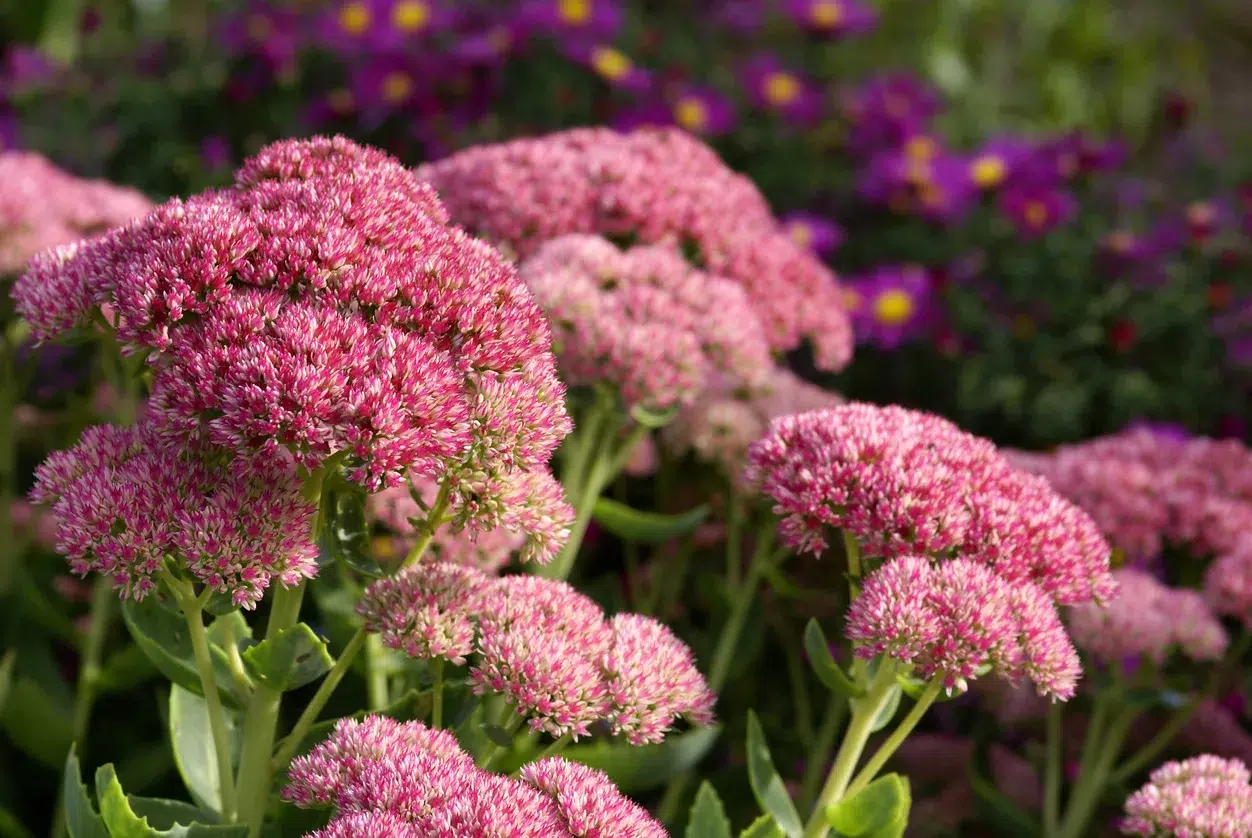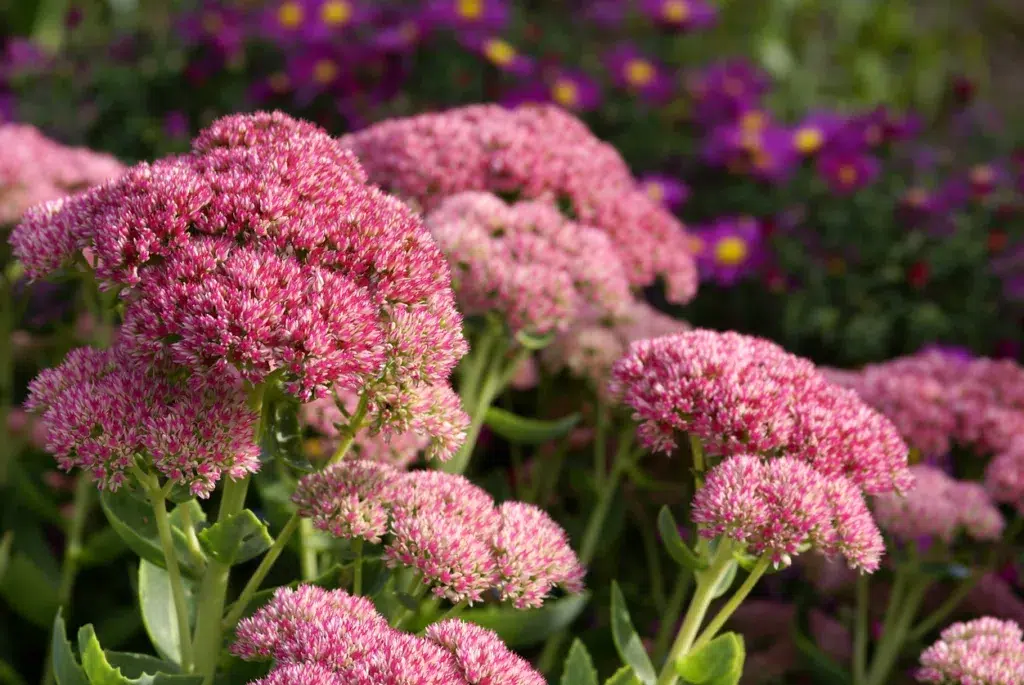 Helenium
Their warm shades and wild forms transport wedding settings to serene autumn fields to capture the season's free spirit and rustic charm.
Echinacea
From vibrant berries to bold blooms, they introduce varied textures and colors that echo autumn's untamed beauty.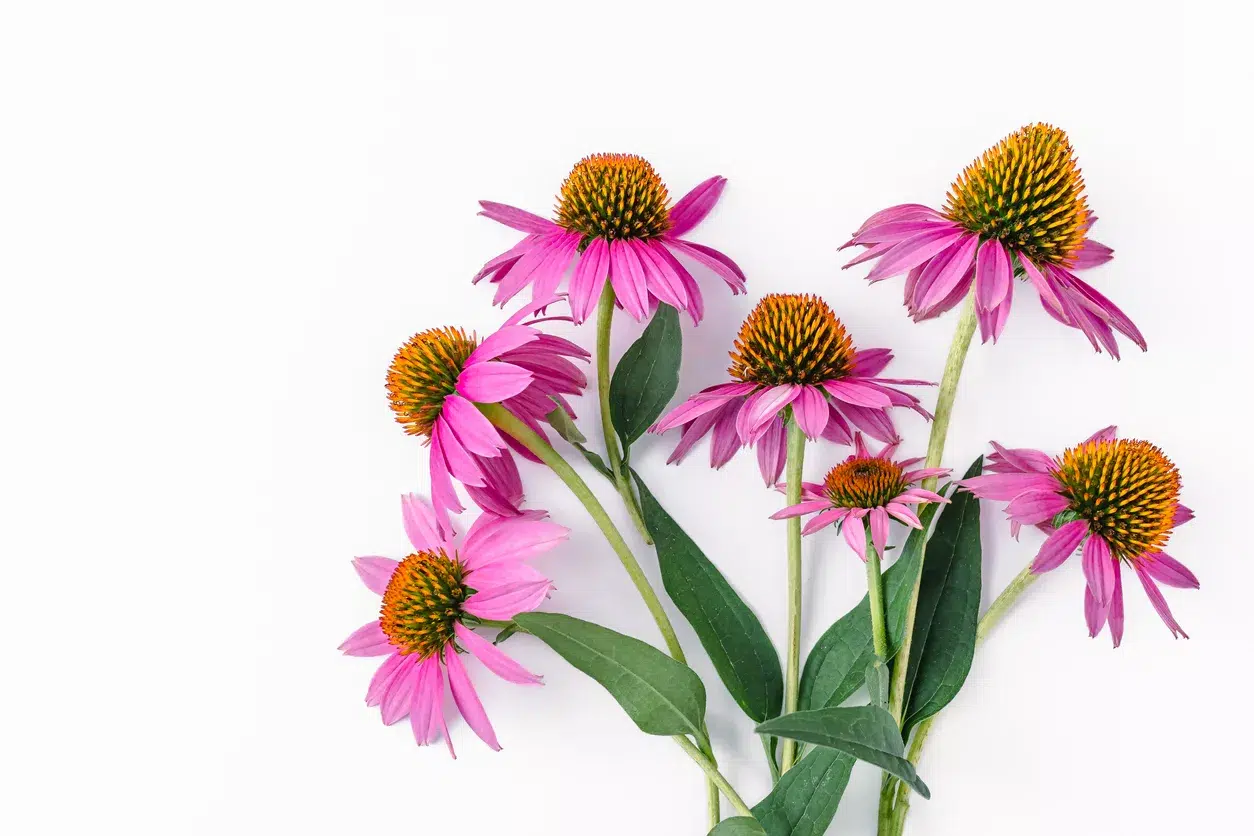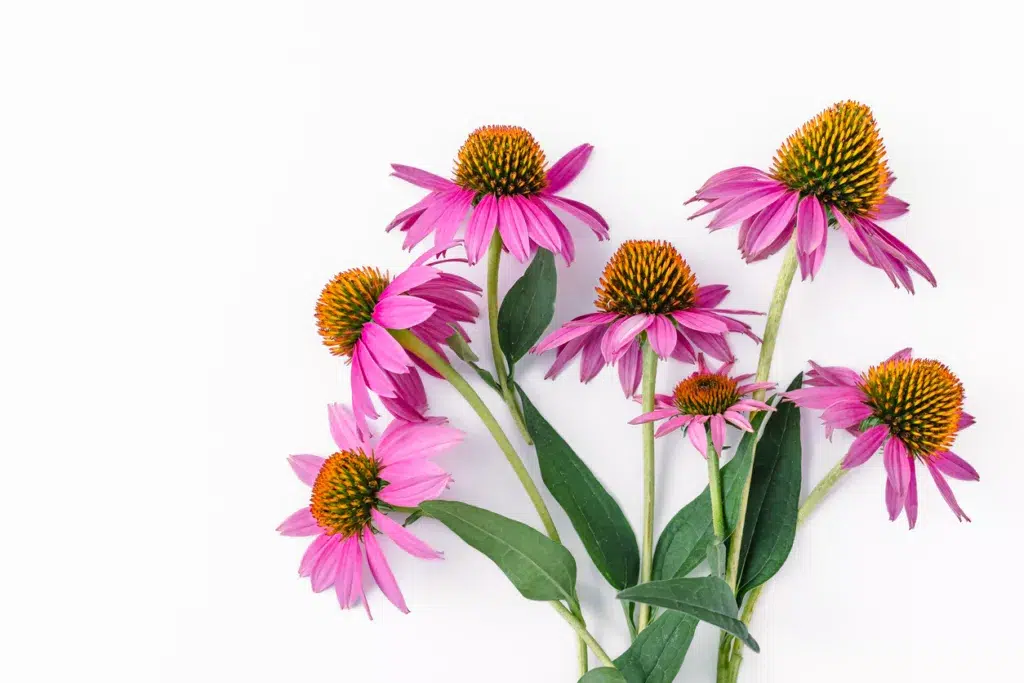 Ornamental Grasses
Incorporating ornamental grasses like pampas grass into arrangements adds movement and grace that calls to mind memories of gentle fall winds.
Ginkgo Leaves
Their golden fans elegantly highlight all floral arrangements. These ancient leaves bring history and romance to modern love tales.
Berries
Infusing bouquets with a festive charm, berries hint at the winter celebrations just around the corner, providing a perfect transition element in centerpieces.
Oak Leaves
The deep, earthy tones of oak leaves paired with the delicate blossoms of heather whisper tales of misty autumn mornings and tranquil forest strolls.
Scabiosa
Their intricate centers captivate guests and add intrigue to fall bouquets. Perfect for those seeking something different in their wedding flower choices.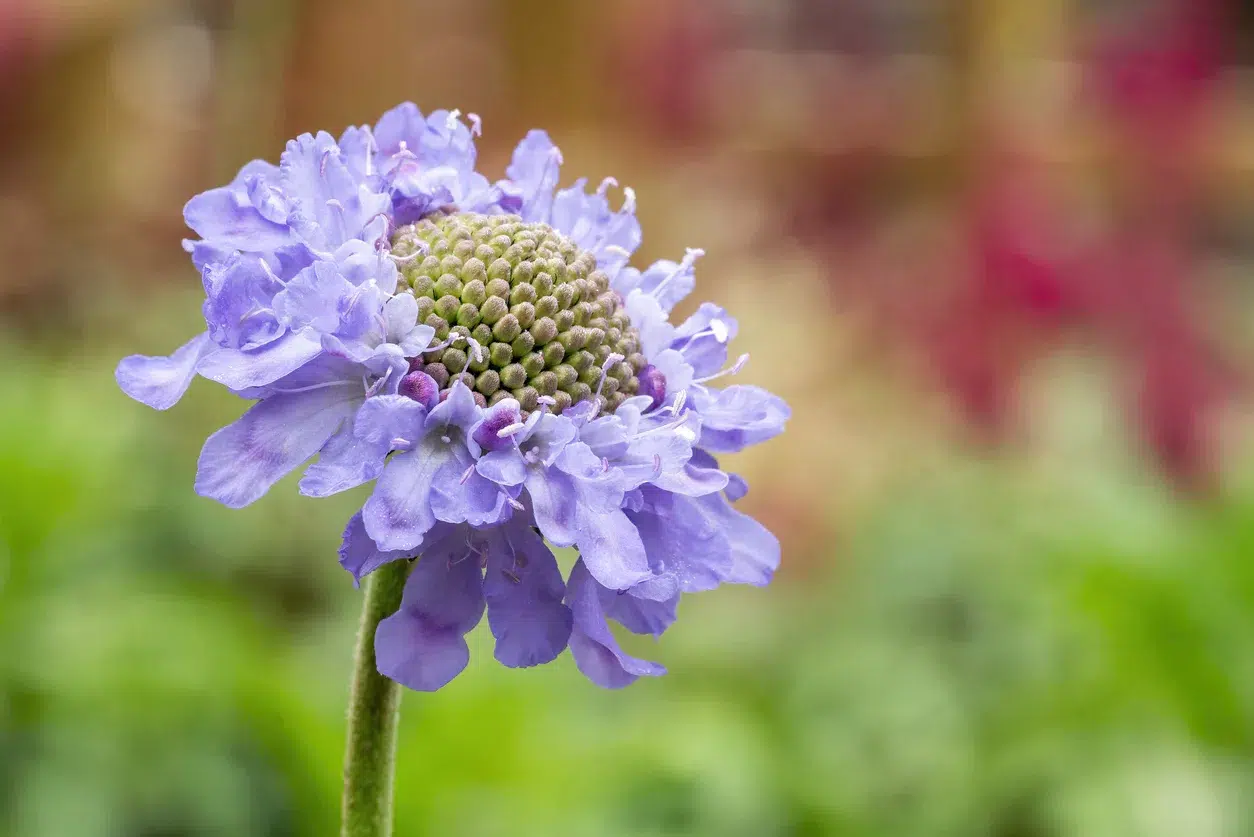 Japanese Maple Leaf
The Japanese maple adds to a picturesque setting for fall weddings. The leaves boast rich hues of red and purple, symbolizing your transition into marital bliss. Their poetic elegance weaves serenity and deep affection into any wedding bouqet.
Physalis
Known for their enchanting lantern-shaped flowers, physalis illuminates the aura of every fall wedding with a mystical allure. A delicate yet vibrant orange hue perfectly captures the beauty of the colors of the changing seasons while conveying a sense of protection and tender care.
Solidago
Solidago is a symbol of strength and growth. Its slender stems hold many tiny blossoms that dance in the breeze. A favorite for rustic weddings, solidago makes a statement: that your love triumphs over every challenge and blooms brighter with each passing season.
Amaranthus
Amaranthus provides a touch of regal splendor. Cascading tendrils adorned with tiny, dense flowers convey a sense of the wild and the majestic. Each strand symbolizes untethered passion.
Calla Lilies
Calla lilies bring a sophisticated allure to fall weddings. The gentle curve of their stems and soft, striking blooms narrate a silent ode to the tenderness of love.
Winter Wedding Flowers
With its crystalline landscapes and cozy evenings, winter paints an ethereal backdrop for weddings. The season's floral offerings encapsulate the charm and warmth of the season. Whether you're a couple in the midst of planning or seeking the perfect idea for a winter bouquet, here's a guide to the treasures that winter has in store.
Amaryllis
Tall and elegant, amaryllis stands as a beacon of warmth during a season known typically for cold, crisp weather. Its rich hues bring a warmth that makes winter weddings radiate with grace and charm.
Anemones
With their stark contrast between dark centers and luminous petals, these flowers mirror winter's dramatic beauty to add a touch of drama to any bouquet.
Camellias
Their velvety presence speaks of winter's quieter moments. In the midst of celebrations, camellias introduce an element of serene grace that makes any bride look calm, cool, elegant, and collected.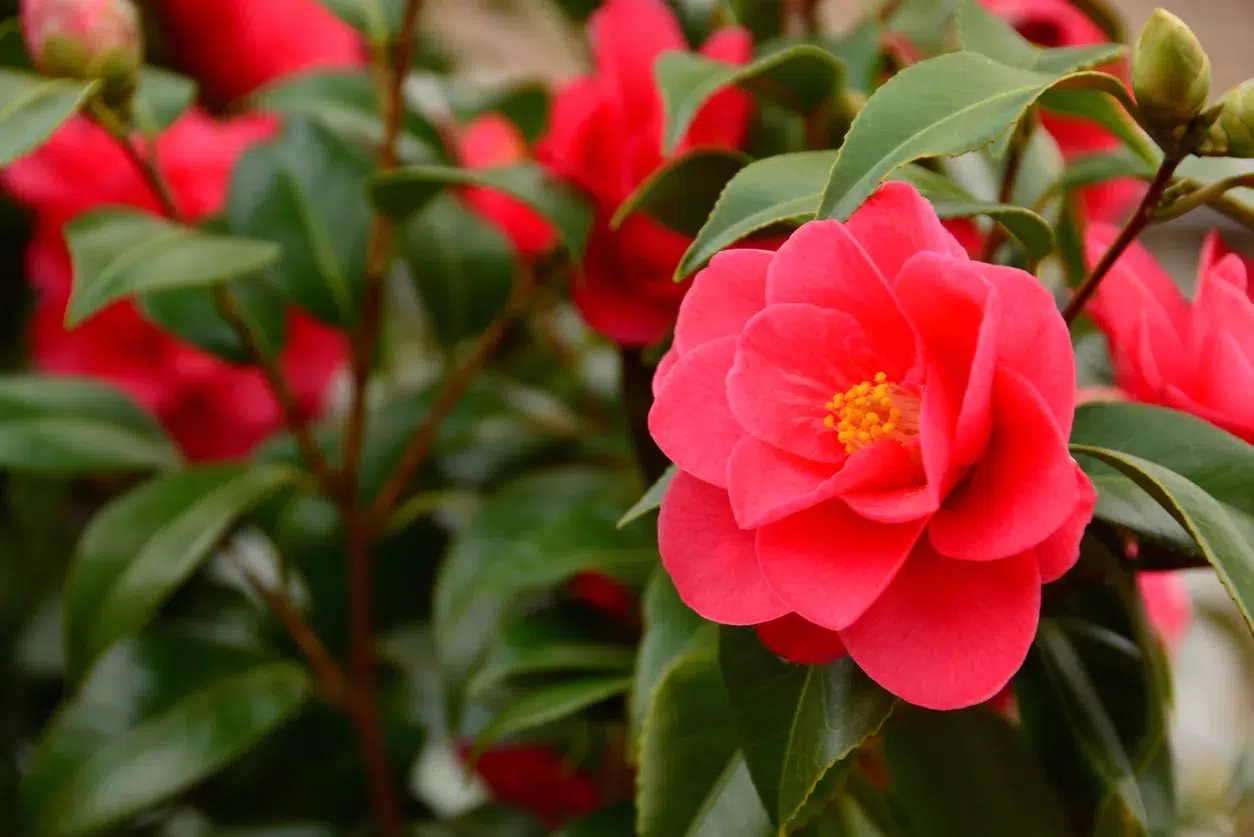 Holly
Symbolizing festive cheer and eternal love, holly brings both a festive spirit and a sense of timeless devotion to winter nuptials.
Mistletoe
Beyond mere tradition, mistletoe captures winter's magic. Its delicate beauty stands as a testament to romance and moments filled with winter's enchantment.
Paperwhites
Much like the stars that twinkle in the winter sky, paperwhites symbolize a love that shines and endures even in the coldest of times.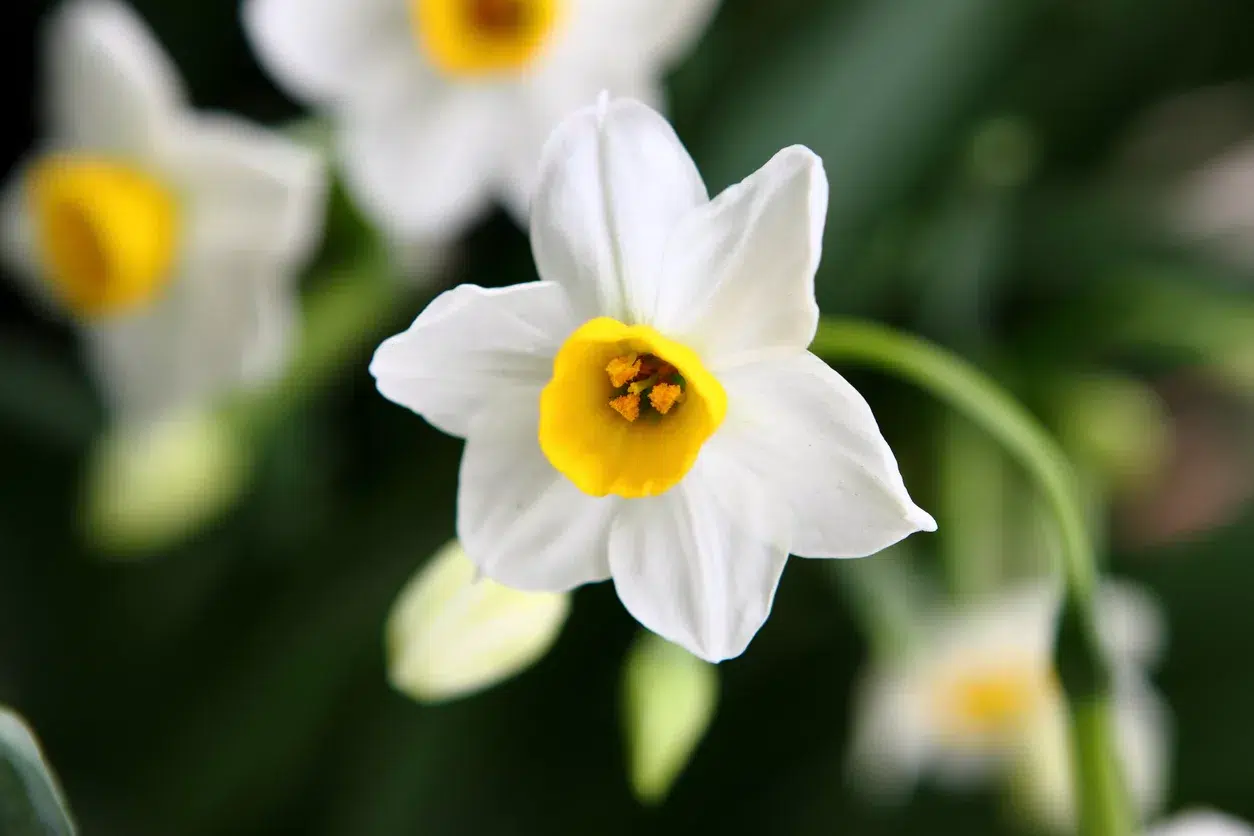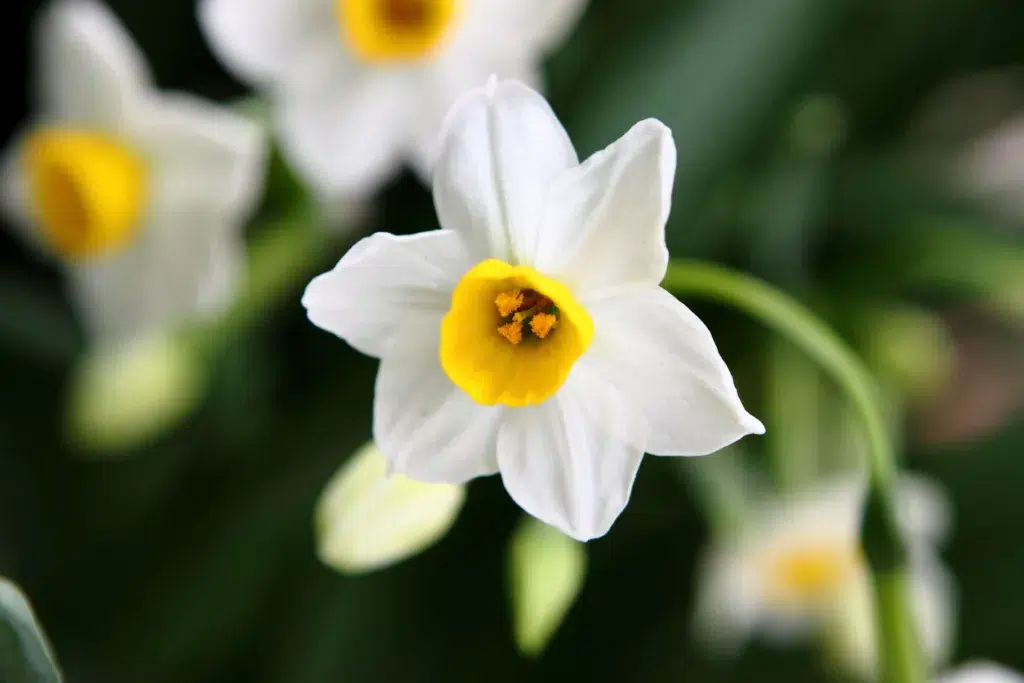 Poinsettias
Their bold, festive presence speaks of the holiday season's passion and joy. Paired with other event flowers, they evoke the quintessential winter celebration.
Snowdrops
Symbolic of hope, warmth, and new beginnings, snowdrops resonate with the essence of winter and bring floral arrangements to life with emotion and color.
Pine Cones
An unconventional yet beautiful choice, pinecones echo the rustic charm of winter cabins and the aromatic embrace of forests to ground your wedding in nature's authenticity.
Eucalyptus
Silvery hues and a fresh aroma embody winter's crisp essence. Whether complemented by hydrangea, jasmine, or other blooms, eucalyptus adds a refereshing touch to any winter bouquet.
Ranunculus
The beauty of their many layers adds depth and emotion to arrangements, and they're available in a range of different colors.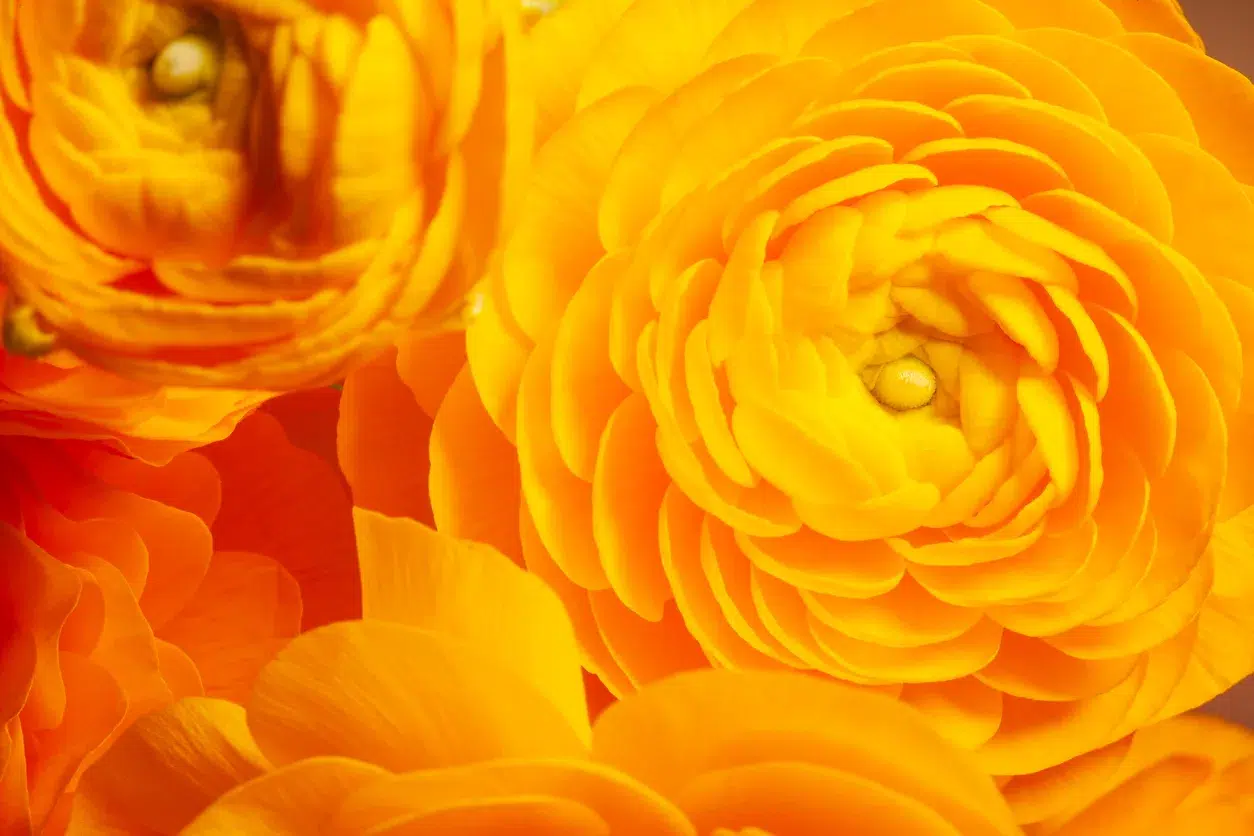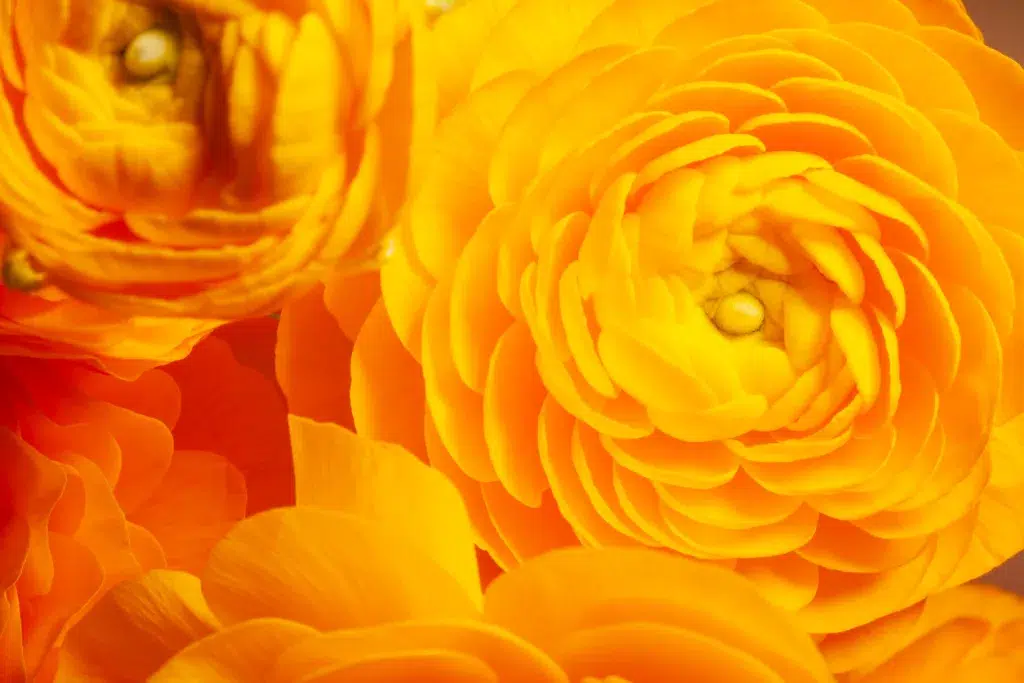 Star of Bethlehem
Lighting up winter bouquets, their starry form stands as a symbol of guidance, love, and hope amidst the chill.
Tulips
From the promise of spring's rebirth to the delicate charm of tiny blossoms, these flowers encapsulate the season's diverse beauty and the coming of spring.
Cedar Leaves
Evoking images of cozy firesides and timeless elegance, using cedar leaves in bouquets can make your celebration feel grounded in warmth and tradition.
Hellebores
Hellebores grace winter weddings with subtle elegance. Their gentle petals often come kissed with hues of green, white, or purple, bringing warmth and charm to the cold season and symbolizing lasting love.
Cyclamen
Cyclamen's heart-shaped petals add a dash of color and romance to the wintry ambiance. Each bloom stands as a testament to love's ability to flourish even in the chill of winter.
Silver Brunia
The soft grey tones of silver brunia introduce a touch of serene elegance to winter weddings. Their spherical shape and muted color palette showcase the quiet strength and timeless charm of love that stands firm.
Waxflower
Waxflower bring a sprinkle of vitality and fragrance to the winter season. Star-shaped flowers and rich greenery capture the essence of a love that blossoms, radiates, and perfumes every moment with grace, even in the harshest of winters.
Alstromeria
Alstroemeria's intricate blossoms, adorned with rich colors and patterns, stand out amidst winter's embrace. Each flower is a reminder of love's complexity and beauty.
Heather
Sprawling branches adorned with small, vibrant blossoms, bring life to the stark beauty of winter. A symbol of protection and good luck, heather's hearty nature and colorful display represent love that brings warmth and color to even the chilliest days.
Choose The Perfect Flowers For Your Wedding
Choosing the perfect flowers for your wedding, regardless of the season, is an essential step in creating a memorable atmosphere for your special day.
Every season offers a unique palette of floral wonders, from the radiant hues of spring to the cozy warmth of winter blossoms. Whether you are drawn to the sunlit vibes of summer or the rustic allure of autumn, there's a flower that captures the essence of your love story and the mood you wish to set.
This article provides a glimpse into the floral treasures each season has to offer. Couples and planners alike can find ample inspiration to make informed decisions. As your big day gets closer, choose blooms with colors, connotations, and presentations that reflect the power and intensity of your love.
Have you chosen your wedding flowers and are ready to push on through the planning process? Download our ultimate wedding planning checklist below, then schedule a tour to discover what makes The Dallas Oasis such a unique venue.