When it comes to wedding food, most couples are looking for something classic and timeless. But whether looking for traditional meal ideas or something more unconventional, there's no reason you can't get a little creative with your 3-course meal! Here are some unconventional (and unforgettable) menu ideas for your guests.
The meal options below are broken down into 3 main categories: appetizers, main courses, and desserts. Mix, match, or add your own ideas to the list to create a unique 3-course meal you and your guests will fondly remember. Whether you are looking for something extravagant or simply want to mix things up a bit with a unique dessert, we have you covered. Let's get started!
Appetizers
Appetizers are often an afterthought. But they shouldn't be! Your guests will be arriving at your reception hungry, and you want to make sure they're satisfied before the main course is served.
When considering appetizers, always remember to avoid anything too heavy or messy. Stick with bite-sized options that are easy for guests to eat and won't fill them up before the main course.
As for presentation, opt for elegant plating to add to the overall luxury feel of the wedding menu. Don't forget about offering options for guests with dietary restrictions (vegetarian, vegan, or gluten-free) as well. Here are six delicious wedding appetizer ideas that are sure to wow every guest.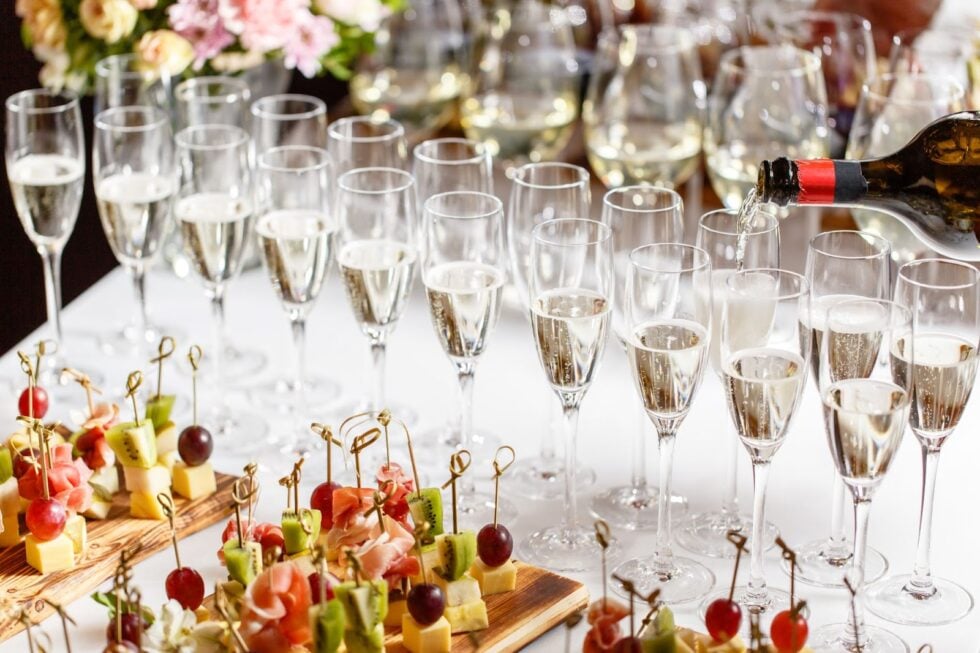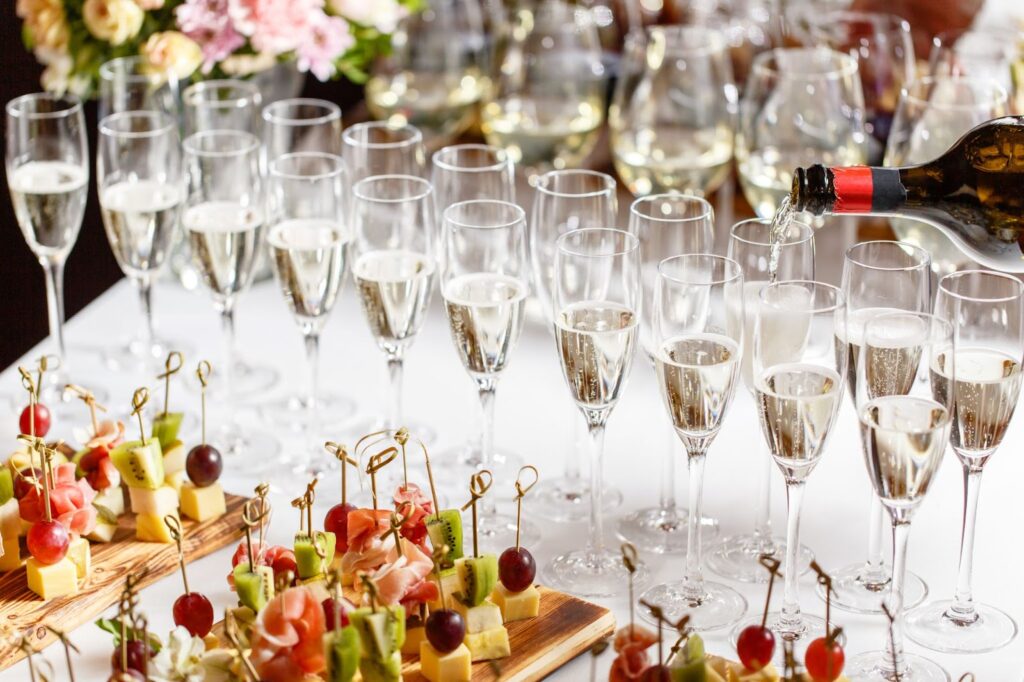 1) Lobster & Shrimp Cocktail with Bloody Mary Sauce (Gluten-Free)
This dish is elegant, simple, and packed with flavor. The shrimp and lobster are both perfectly cooked, and the bloody mary sauce adds a touch of spice. If you're looking for something a little more traditional but with some flare, these cocktails are a great option.
2) Pecorino & Truffle Honey Crostini (Vegetarian)
Pecorino and truffle honey crostini is an unconventional but luxurious appetizer that's sure to impress.
Crispy slices of baguette topped with creamy Pecorino cheese and drizzled with a truffle-infused honey create a rich combination of sweet and savory flavors. This appetizer also presents beautifully and is sure to wow your guests
If you're looking for an impressive and unique appetizer for your wedding menu, look no further.
3) Prosciutto-Wrapped Figs with Gorgonzola Cream (Gluten-Free)
This luxurious appetizer is sure to get your guests' mouths watering, and it's a great way to set the tone for an unforgettable evening.
The combination of sweet figs, savory prosciutto, and creamy gorgonzola is simply heavenly, and your guests will be talking about this appetizer long after the wedding is over.
If you're looking for wedding appetizer ideas that are out of the ordinary, prosciutto-wrapped figs with gorgonzola cream definitely fit the bill.
4) Prosciutto-Wrapped Melon with Balsamic Glaze (Gluten-Free)
For something a little lighter (plus a gluten-free option), try prosciutto-wrapped melon with balsamic glaze.
The melon's natural sweetness is enhanced by the balsamic glaze, making it a refreshing and elegant option for your guests.
5) Grilled Vegetable Skewers with Pesto Dip (Vegetarian)
Grilled vegetable skewers with pesto dip are a fun and elegant option that will have your guests asking for more. The best part about this appetizer is that it can be easily customized to fit any dietary restrictions.
If you're looking for something truly unique, try using unconventional vegetables like kohlrabi, parsnips, or rutabaga.
6) Goat Cheese Crostini with Fig Jam (Vegetarian)
This delicious, unique appetizer will have your guests raving. The sweetness of the fig jam complements the rich goat cheese perfectly and the crispy crostini provides a delightful contrast in texture. Whichever option you choose, your guests are sure to be impressed!
Main Courses
As for main courses, try to offer a mix of meat and seafood options as well as at least one vegetarian option. Don't forget about options for those with dietary restrictions, such as gluten-free or vegan options.
Below are five creative main course ideas that are sure to satisfy everyone. Choose from these dishes or use them for inspiration when searching for ideas for the perfect meal on your big day.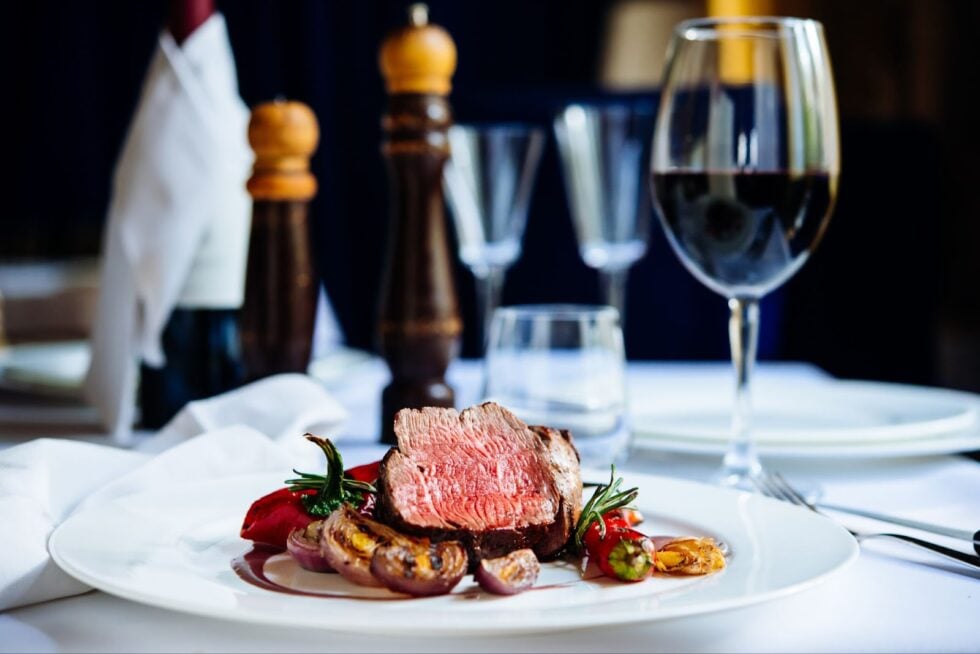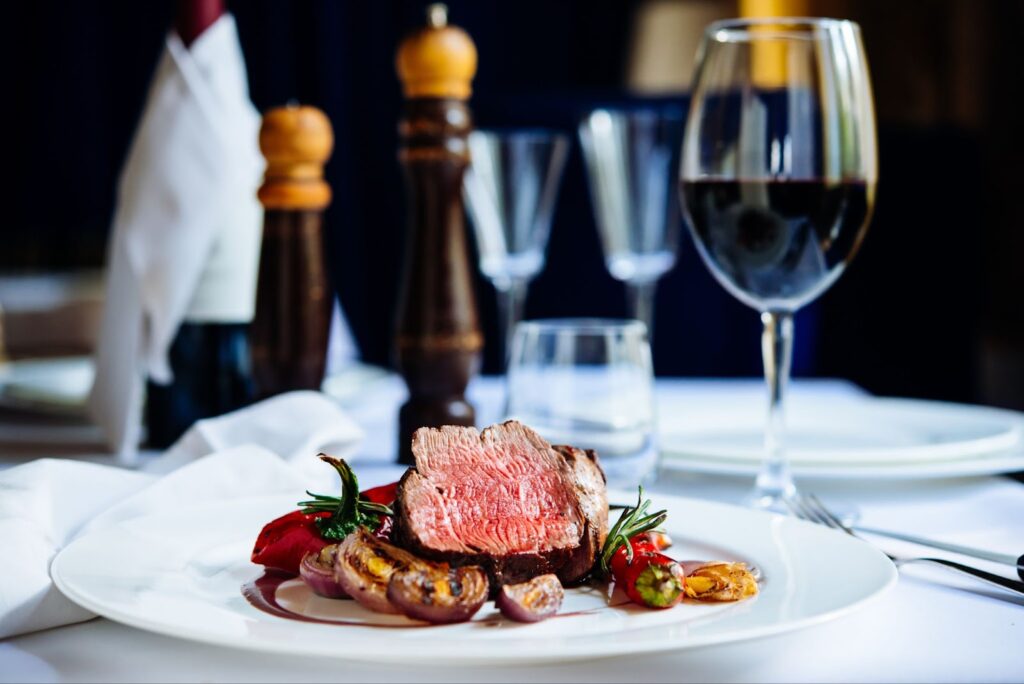 1) Roasted Rack of Lamb with a Mint Jelly Glaze (Gluten-Free)
This dish is luxurious, nutritious, and hearty, making it the perfect choice for the main course.
A rack of lamb is an elegant addition to any 3-course meal. The lamb is roasted to perfection and then glazed with a mint jelly, giving it a delicious flavor that's both sweet and savory.
2) Seared Scallops with a Lemon Buerre Blanc Sauce (Gluten-Free)
Seared scallops with a lemon buerre blanc sauce makes an imaginative and delicious main course option for weddings.
Guests will love scallops that are seared to perfection and then covered in a rich and creamy lemon sauce.
This dish is a more adventurous main course option that's sure to stand out and make your wedding menu memorable.
3) Filet Mignon with Wild Mushroom Demi-Glace
One classic option for an unforgettable main course is filet mignon with wild mushroom demi-glace. This delectable dish will please even the most discerning palate.
The filet mignon is cooked to perfection and topped with a rich and savory mushroom demi-glace. The wild mushrooms add an interesting earthy flavor that complements the tender steak perfectly.
This dish is a timeless option that always makes a lasting impression on wedding guests and leaves them ready for dessert.
4) Grilled Vegetable and Tofu Kebabs with a Pesto Drizzle (Vegetarian & Gluten-Free)
These flavor-packed kebabs are the perfect main course for your spring or summer wedding.
The combination of grilled vegetables and tofu is both unique and delicious, and the pesto drizzle adds an extra touch of flavor. The kebabs can be served as is, or with a side of rice or quinoa.
For a truly luxurious experience, pair them with chilled white wine!
5) Roasted Salmon with Dill Cream Sauce (Gluten-Free)
The key to making this dish is to use fresh, high-quality ingredients. The salmon should be wild caught and the best cream is found at a local farm. The dill should be fresh, not dried. And of course, don't forget the lemon!
This dish can be easily scaled up or down depending on the size of your wedding, and will have guests talking long after the wedding is over.
Desserts
End the meal on a sweet note with one of these decadent 3-course wedding menu dessert ideas. Rather than going the traditional route with a three-tiered cake, get creative and serve something unexpected.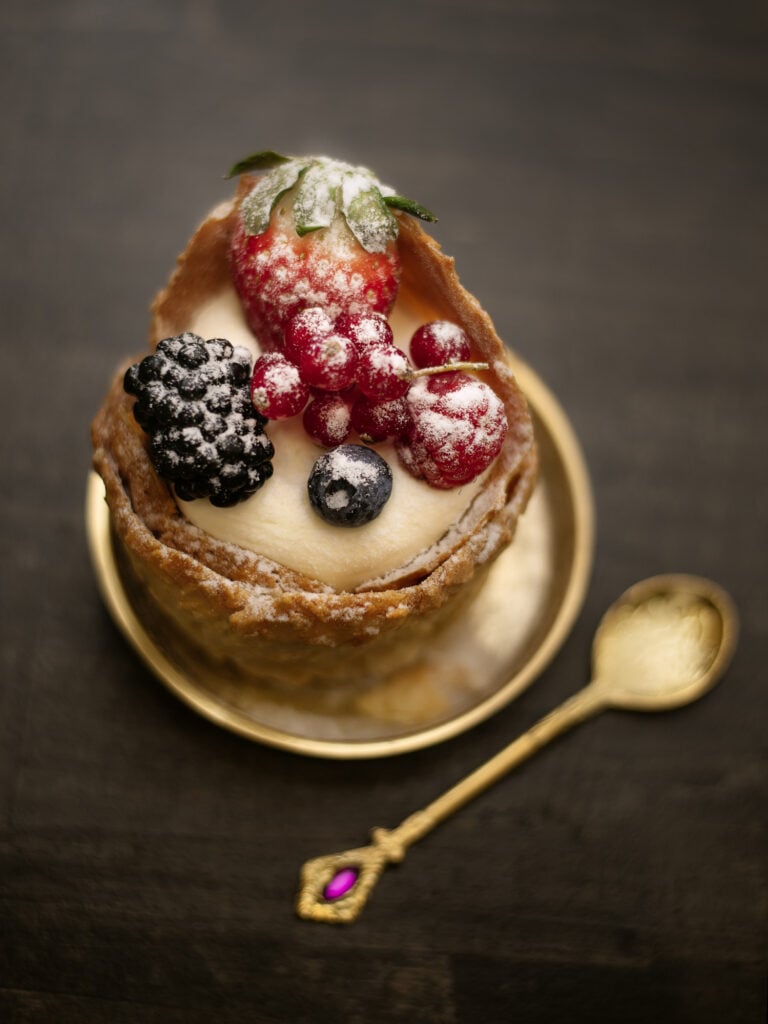 1) Mini Crème Brûlée's with Fresh Berries
Crème brûlée is a classic, elegant dessert option that never disappoints. Serve mini versions for individual servings and top with fresh berries for added sweetness and color.
2) Chocolate Mousse with Raspberry Sauce
Satisfy any chocolate lover's cravings with this decadent dessert. Rich and creamy chocolate mousse is topped with a sweet and tart raspberry sauce, creating the perfect balance of flavors.
3) Flourless Chocolate Cake with Thyme-Vanilla Bean Ice Cream
This gluten-free dessert option is indulgent and decadent, and the addition of the thyme-vanilla bean ice cream adds an extra touch of herbal sweetness that nobody can resist.
4) Lemon Tart with Raspberry Coulis
This tart is made with a shortbread crust and a tangy lemon filling. The raspberry coulis adds a touch of sweetness and brightens the flavor of the lemon.
If you are looking for a unique and delicious way to end your wedding meal, consider impressing guests with this lemon tart or something similar.
5) Tiramisu Trifle Cups
The tiramisu trifle cup is a luxurious and classy dessert that consists of layers of coffee-soaked ladyfingers, rich mascarpone cream, and chocolate shavings – the perfect way to end your wedding day on a sweet note!
6) Chocolate Lava Cakes with Vanilla Crème Anglaise
Chocolate lava cakes with vanilla crème anglaise are an elegant and delicious option for a wedding dessert.
The chocolate lava cake is a rich and decadent cake filled with molten chocolate, then topped with vanilla crème anglaise which is a light and airy custard sauce. This combination of flavors is known to please even the pickiest palates.
Create Your Ideal Wedding At Dallas Oasis
When planning a wedding menu, couples often want to choose dishes that will impress and delight their guests. But with so many options to choose from, it can be difficult to decide on the perfect 3-course meal.
Mix and match suggestions from the list above for thousands of meal combinations that are sure to impress even the most selective palates.
Dallas Oasis is the perfect location to host the wedding reception of your dreams. Contact us today and schedule a tour for a firsthand look at everything our private estate has to offer.