Indian wedding mandap is the main focus of all wedding ceremonies and also serves as the center of attention and decoration. It is also the place where everyone's eyes are at your event. It is decorated in accordance with the theme and color scheme that is decided by the couples. 
It's typically an oval-shaped one or a four-pillared cube to the center of the ceremony in which you exchange vows and express your affection and love to each other. It's the stroll down the aisle to the Mandap that will be one of the most significant moments in your life, with your groom waiting on your wedding ceremony mandap. 
Here's a glimpse of the different Indian wedding mandaps that also reflect the different styles of our nation. Find out more about the ways each is decorated and the specific cultural significance they bring to the context of a wedding.
Popular Indian Wedding Mandaps By Regions
Tamil Wedding Mandap
Tamil Wedding Mandaps are usually ornamented using coconut leaves and accented with vibrant textiles. Flowers are also a part of the tale. The same fabric is used to make an aisle with carpeting that the couple can walk along. 
Gujarati Wedding Mandap
Steel Ghadas are kept on all sides of the Mandap to decorate and also as a lucky charm. 
Bride's maternal uncle strolls through the aisle, where she meets with the bridegroom at the altar. And after that, the priest will perform the wedding ceremonies. You will never see an Indian wedding mandap more traditional or cultural than this one. 
Bengali Wedding Mandap
A Bengali mandap decoration design is, without a doubt, the most crucial part of any wedding decoration. It will make your celebration even more beautiful because they are exquisite and stunning. Whether using red, yellow, or orange flowers, you can use your imagination to combine various flower colors to give the wedding mandap a regal appearance.
Marathi Wedding Mandap
The groom first goes to his Marathi mandap, keeping his head covered in traditional caps. The groom then puts on Mundavalya and waits for the arrival of his wife. The aunt of the bride's mother takes her through the aisle to the Mandap, where a priest is singing sacred songs to begin the wedding ceremony.
Assamese Wedding Mandap
The Assamese wedding mandap is known as Morol and is typically decorated with banana leaves, mango leaves, and flowers. Such Indian wedding mandaps are certainly green and are an elegant way to delight your guests at a private wedding at a destination.
Rajasthani Wedding Mandap
The kind of Mandap perfect for a wedding themed on royalty that is elegant and has an appealing look of the past. When these wedding ceremonies are being performed, four family members hold swords around all four points of the Mandap.
Punjabi Wedding Mandap
Traditionally, the Mandap is decorated by the bride's family with silver and red elements of decorations. These colors represent prosperity, and the four columns of the Mandap symbolize the groom's parents and the bride's parents. A mandap is a beauty in a Punjabi wedding. 
Himachali Wedding Mandap
A mandap traditionally at a Himachali wedding ceremony will be decorated with elements of nature, such as banana leaves and coconuts. Kalash is filled with water and garlands made of mango leaves, and flowers and it is supported by four pilasters. 
Kannada Wedding Mandap
Mandaps play a significant role in Kannada wedding ceremonies. For areas that are covered but not entirely closed, an open Kannada mandap is ideal.
Nair Wedding Mandap
The Mandap of the Nair wedding is of particular importance and is accompanied by a set of guidelines to ensure its authenticity and significance. All objects related to rituals are used to decorate the mandap. 
Stylish Indian Wedding Mandaps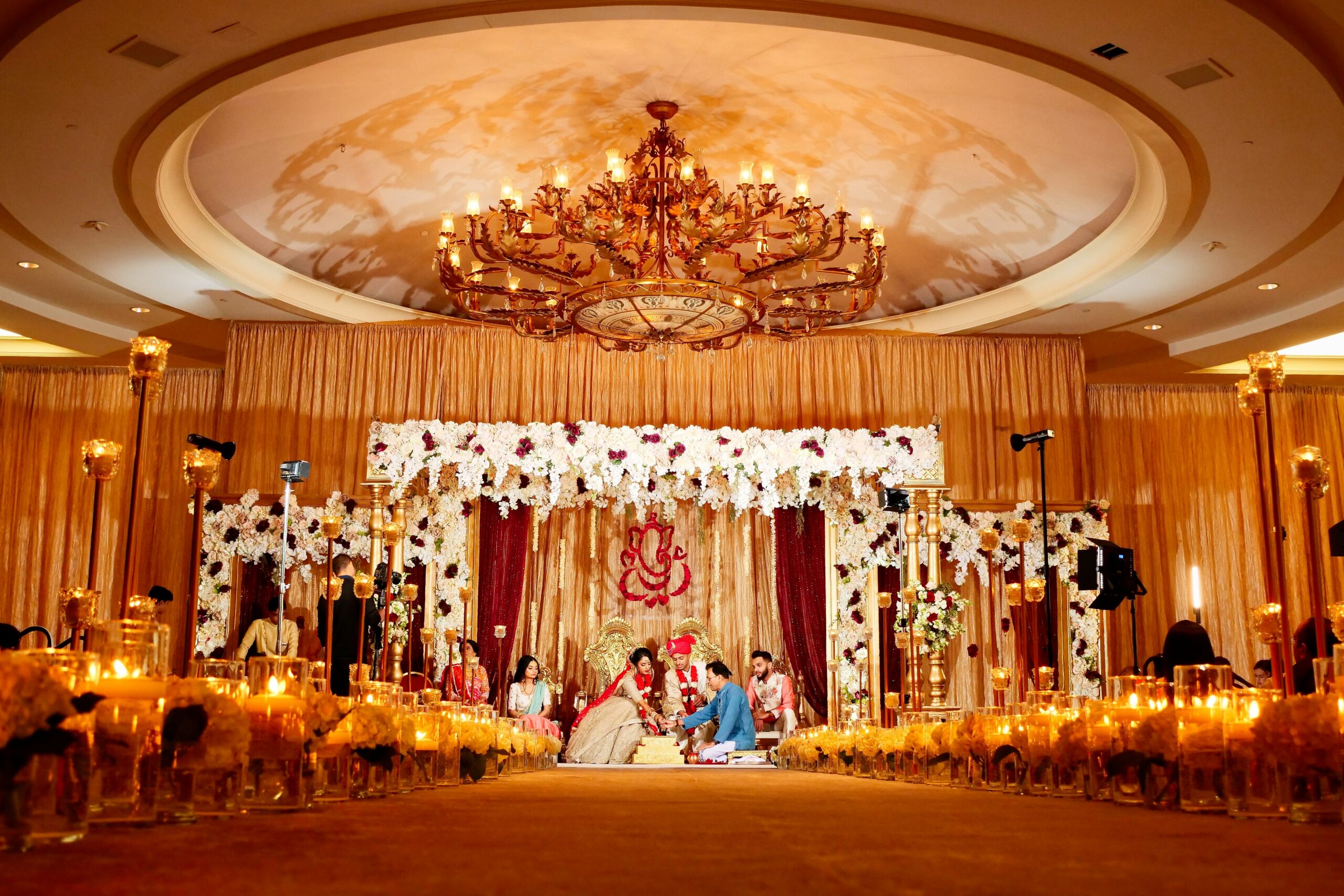 Wooden Mandap with Marigolds
This mandap idea is for couples who want to keep their Mandap simple and only want to decorate it with tiny marigold garlands.
Indian wedding Mandap With Sunflowers
A mandap with sunflowers has the most powerful visual impact. It doesn't need to use a lot of flowers in order to create a huge impact. 
Mandap Design Using Pink Flowers
Pink flowers add a touch of whimsy to the otherwise simple Mandap. Pink flower decorations on a mandap appear much more illustrious than other flower decorations. 
Mandaps in Gold and Red
This mandap idea will create a vibrant setting for the ceremony focused on red, orange, and gold. Use Mandaps in the colors of gold and red to incorporate these colors into your wedding ceremony. 
Pinkish Ombre Simple Mandap Decoration
From the tiny things to the luxurious design. It's a Simple Mandap Decoration that has all the great things that make it an ideal bridal stage décor. 
Pastel Clouds to Mandap Decoration
Simple Mandap in pastel colors is a wish that must be realized. Ask that your wedding decorator be gracious enough to utilize your favorite colors for the event.
Floral Chandelier Simple Mandap Decoration
This is an original and straightforward Indian wedding mandap decoration. In addition, the beauty of this design is that it's enclosed in an aisle of flowers. It is everything you need to make it the perfect backdrop for your wedding day.
Fort Style Hot Pink Hindu Wedding Mandap Decoration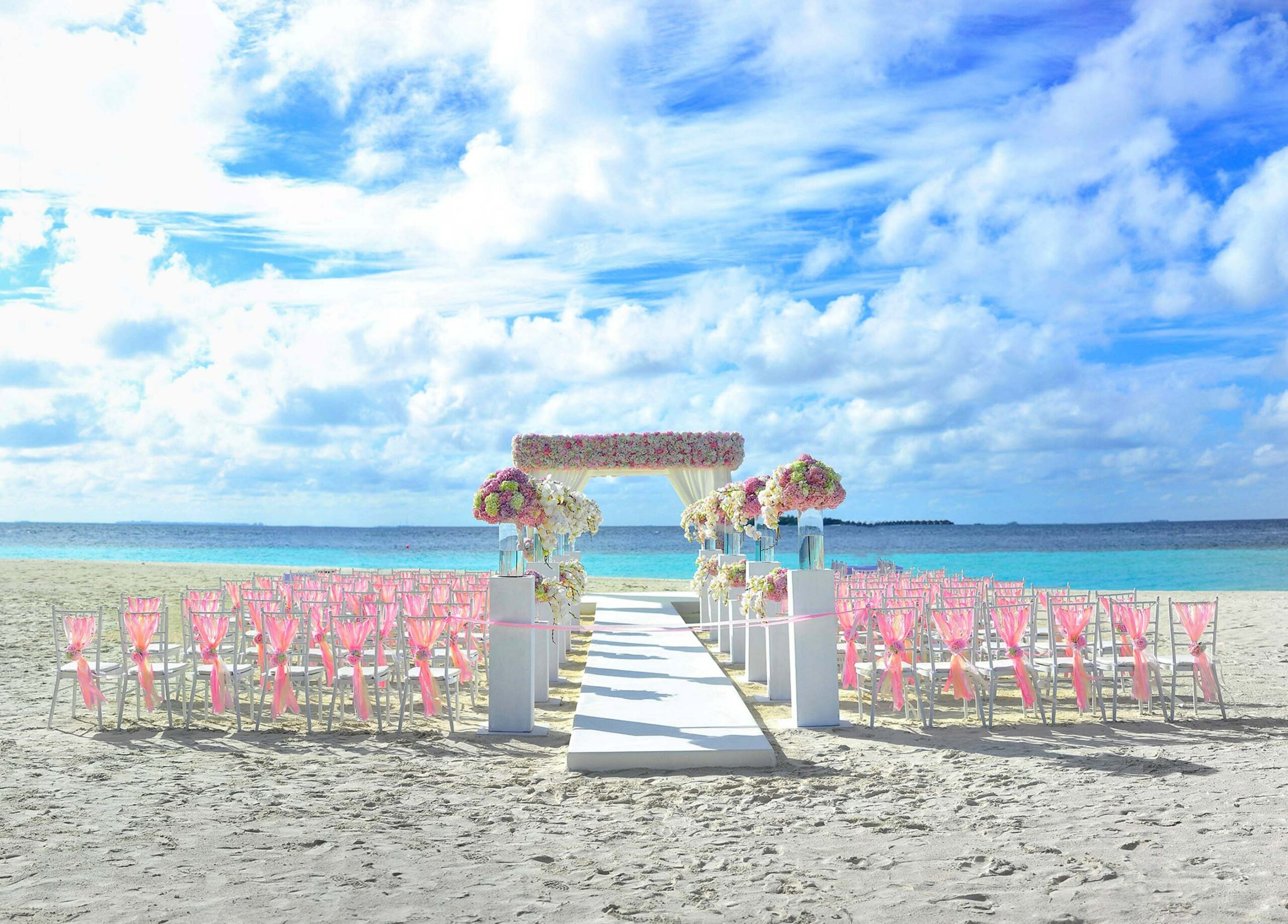 This simple mandap decoration makes greater sense in an area that is a palace or has tropical beach vibes! It's wonderful and features gorgeous flowers.
Marigold and Simple Mandap White Decoration
Wedding decorations are always insufficient without the proper quantity of Marigold flowers. If you put these beauties on the level of a Simple Mandap Decoration, you will experience their importance to make your day more memorable.
Floral Square Hindu Wedding Mandap Decoration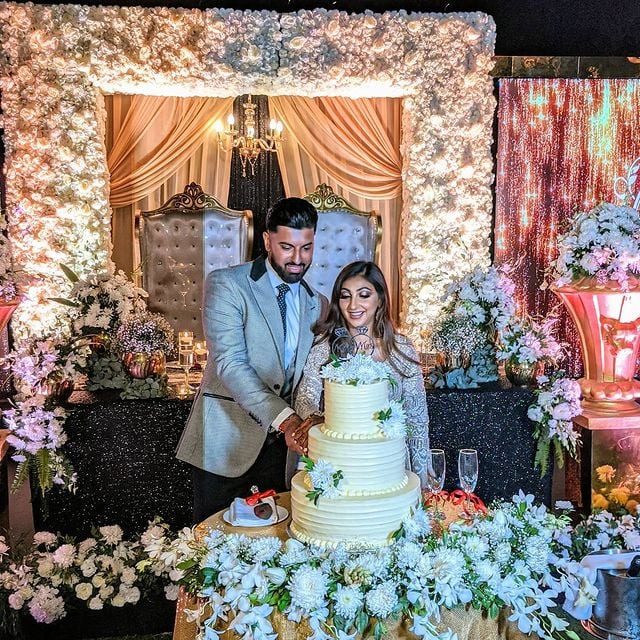 The most important aspects of this specific Simple Mandap Decoration lie around the beautiful details on the four corners of the rectangular. 
Simple and Under the Sky Mandap Decoration
It is only outdoor, and the appeal that is This Simple Mandap Decoration lies within the area. Beginning with the simple white flowers and everything else, you can be considered a near-perfect representation of Indian Wedding Mandap Decoration dating back to The Vedic Times.
Floral Tassels to make a simple Mandap Decor
Floral Tassels are among the best things for a simple Mandap Decoration. This particular design is the most stunning and well-known assortment of ornaments. 
Orange Tent Style Hindu Wedding Mandap Decoration
A Wedding Mandap Decoration like this one deserves to be at the forefront. Beginning with the stunning yellow tent, and moving on to the beautiful and well-maintained collection of designs, this model offers the best of both worlds.
Traditional Flower Mandap Design
Chandeliers, crystal chandeliers built from concentric circles of flowers, were a hit in 2021 and are expected to remain the most sought-after choice. This year, traditional flowers were utilized in new ways. 
All White Mandap
Today the all-white mandap style is preferred by all couples who wish to be elegant. Some couples prefer adding some red for a striking contrast in daytime weddings, and evening weddings feature plenty of creams and golds.
Latest Trends In Indian Wedding Mandaps
Mandap with Linen Draping
The altar is supported by birch logs covered in white draping. This one is trendy among couples. 
Wooden Mandap with Red Linen Draping
The vibrant draping provided a great contrast to this Mandap that was made out of heavy brown logs.
Wooden Mandap with White Wedding Stage
The simple wood pergola was transformed into an impressive Mandap for the South Asian wedding ceremony by the dramatic floral accents.
Wooden Mandap with Floral Decor and Rug
The Mandap's platform gave a cozy feeling. White floral arches or white domes of flowers are among the other options you can choose from.
Birch Mandap Draped In Orange Marigolds
During this ceremony, garlands of orange and yellow marigolds dance exquisitely in the wind. Attending a wedding with a design that resonates with people is lovely.
Wedding Ceremony Mandaps & Greenery
Pampas Grass Mandap Decorations
Pampas grass brought an edgy vibe to this Wedding. This is why the greenery of your choice is an excellent choice for decorating your wedding location.
Greenery and Hydrangea Flowers Mandap
The couples pick the lush style of white hydrangeas in bloom and plenty of greenery for their wedding mandap decorations.
Petite Wedding Green Floral Motifs
Although most mandaps are big so that the couples and their parents are able to comfortably fit, brides-to-be who choose this design are planning for a smaller wedding venue.
Mandap covered in loose greenery Vines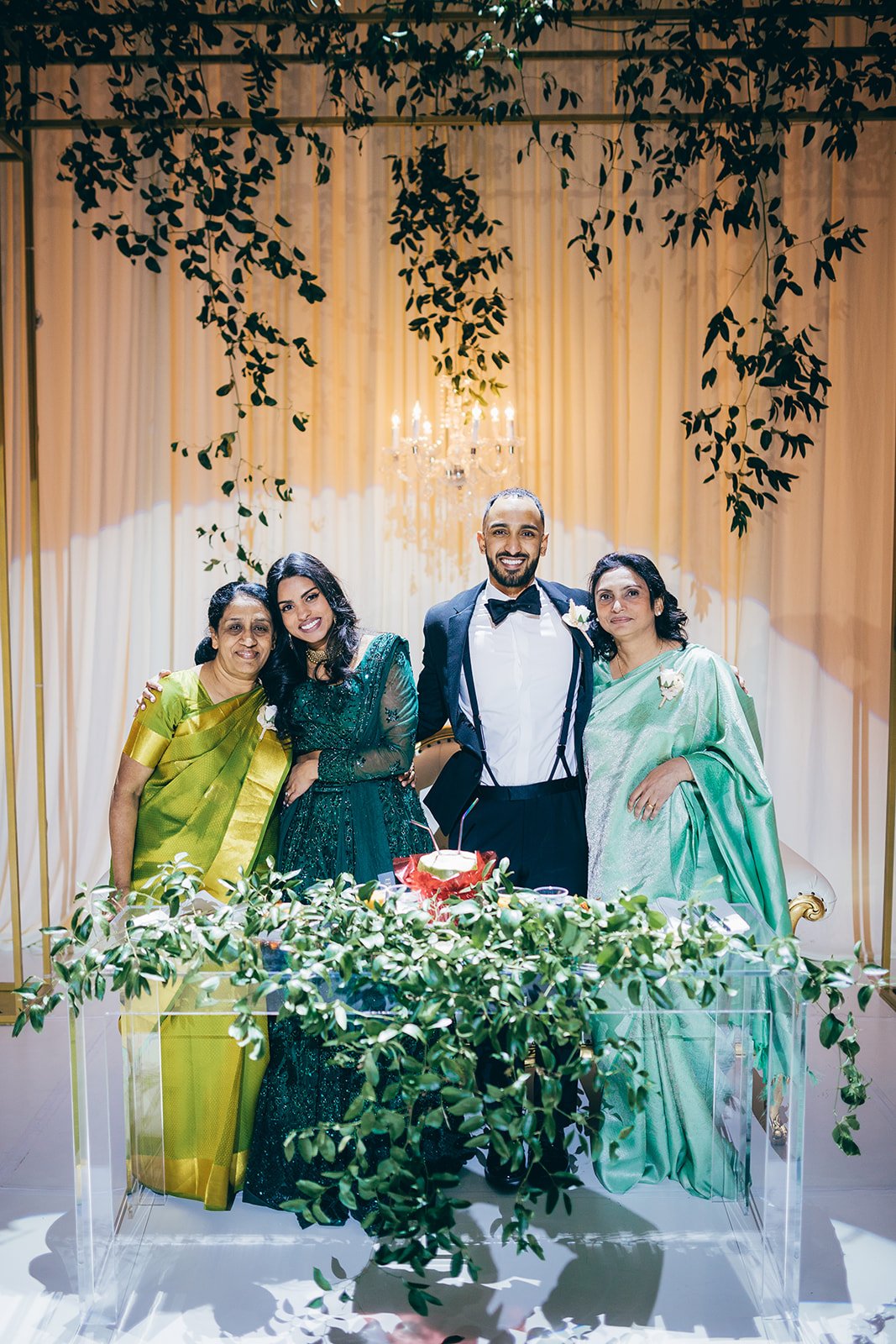 Green weddings are all the hype right now, so go ahead and simplify your wedding mandap with loose hanging vines for an elegant and classy feel! 
Natural Mandap with Hops Accents
If you are a beer lover, think about the use of hops in your wedding ceremony, just like most couples nowadays do. 
Draping Over Romantic Floral Mandap
Blush fabric was a perfect match for the lush flowers that adorn this mandap. This unique mandap design was seen in couples looking for a more modern interpretation.
Floral Mandap on Red Wedding Stage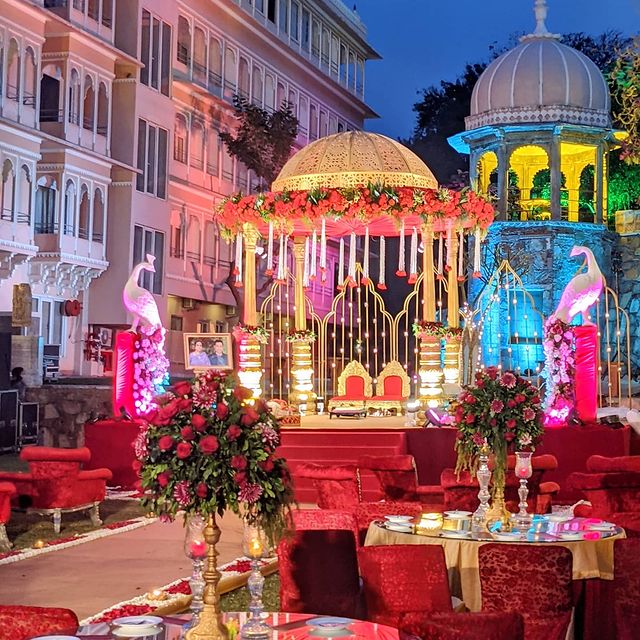 Mandaps are usually set on top of a stage so that guests can be able to see what's happening. If you're choosing to add a stage to your ceremony, pick a red one!  
Floral Mandap Beneath Chandelier
On the brown brick wall of the venue, orange marigolds seem at home. The couples choose the red stage to mix with this vibrant Mandap.
Mandap with Peacock chairs and Wicker Chandeliers
Rattan peacock chairs, as well as an array of wicker chandeliers, gave the look of boho to the wedding ceremony.
Yellow Mandap to be used for ceremonies in the Round
The bright yellow fabric made the structure stand out from the surrounding greenery. A wedding decorator will put together this design as the centerpiece to complete the decor of the Wedding.
Indian Wedding Mandap with Dramatic Red Draping
In order to blend the Mandap into the other areas of the space for the ceremony, the draping is extended from the structure and hung over the guests' chairs.
Marigold-Covered Mandap
This style is suitable for tropical-themed weddings. The couples choose an array of colors that include bright blues and yellows that enhance the tropical setting.
Mandap String Lights Under String
Although an Indian wedding mandap on its own can be a powerful anchor to a wedding ceremony, the string lights and chairs arrangement around a circle also bring guests at the central point of the ceremony.
Mandap with A Draping Accent and Chandelier
If you are planning a wedding venue with striking design elements, such as chandeliers, you should consider incorporating them into your wedding decorations to ensure a seamless wedding ceremony.
Fabric Mandap with Greenery Garland Border
To add a touch more to white Indian wedding mandaps, florists hang a greenery garland around the edges of their drapes.
The wedding ceremony is an ideal example of tradition and will hold an indelible place. It is possible to incorporate elegant and flowing elements that contribute to its beautiful look. We hope you got the perfect Indian wedding mandap idea for your wedding.