Dallas, Texas is home to some of the most beautiful and luxurious garden wedding venues in the country. But the best is The Dallas Oasis, where couples experience a unique, lush, and inviting setting for their wedding day.
The venue hosts several different outdoor spaces suitable for all types of events, including a pool with a patio surrounded by flowers and trees, an open outdoor space for the ceremony, and the unique feature of its own waterfall and an accompanying space large enough to fit over 500 guests comfortably.
Hosting a wedding at this luxurious garden wedding venue is truly an experience you and your guests will remember for years to come. Let's explore why The Dallas Oasis could be the perfect venue for you!
1) The Setting
When planning your big day, one of the most important aspects is finding the perfect location. After all, the setting of your event is what sets the mood and tone for the rest of the day. This is where The Dallas Oasis really shines!
It's essential to find a place comfortable and inviting enough to make sure that all of your guests are having a great time — no matter what the weather decides to do! A garden wedding venue provides the perfect setting for an intimate and romantic celebration, but if the weather turns our couples don't need to worry because the grand ballroom can become a dreamy, romantic space to retreat to instead.
Additionally, you can customize our outdoor event spaces according to your desires.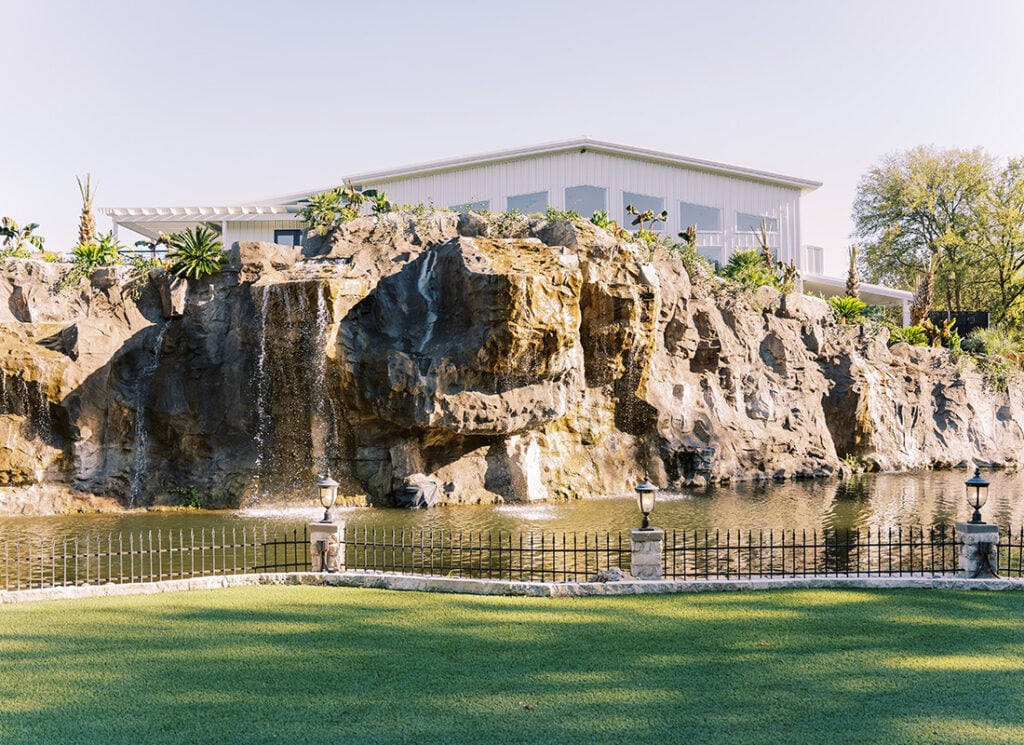 Whether you want an outdoor ceremony by the waterfall, a grand reception in the poolside pavilion, or an elegant cocktail hour on the patio overlooking the garden grounds, you can have it all at The Dallas Oasis.
With the natural beauty of lush greenery and gorgeous flowers surrounding you, it's easy to feel completely swept away on your special day. These natural elements provide some shade on those hot summer days and create stunning opportunities for photos and memories that last forever!
2) Unforgettable Features
In addition to having different outdoor spaces perfect for any type of event or celebration, Dallas Oasis also offers beautiful architecture. Posh design choices make this space more vibrant than any other location the city has to offer.
For instance, the pool patio area is surrounded by colorful flowers and green palm trees. Patio furniture is classic, comfortable, and inviting — it's like something straight out of an island paradise!
Aside from the picture-perfect waterfall, there's another open outdoor space available where couples can host their ceremony in a tranquil, romantic environment — whether they wish to celebrate under clear blue skies during sunset or under twinkling starlights when night falls.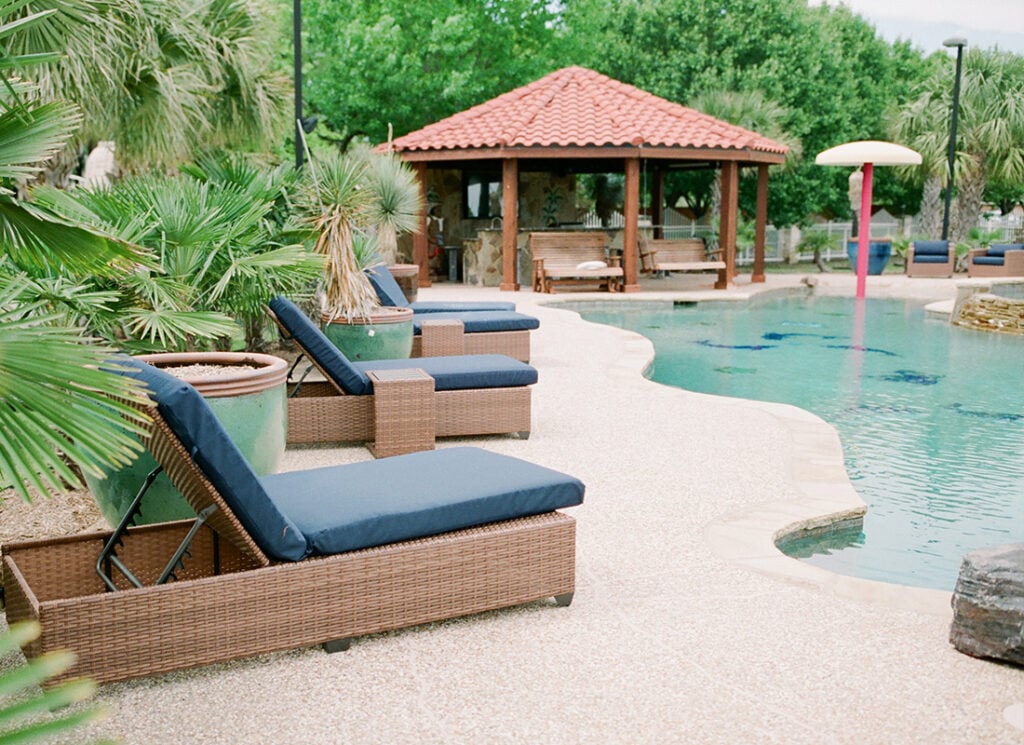 Plus, you can customize every aspect of your ceremony in whichever space you choose to create the special day you've dreamed of! The outdoor spaces at Dallas Oasis are large enough to accommodate everything from advanced lighting setups and projection mapping in the grand ballroom to Hindu ceremonial fire displays.
3) A Stress-Free And Relaxing Outdoor Environment
The stress associated with planning any special event can often be overwhelming. But when hosting your big day at the Dallas Oasis, all of that stress melts away.
Our experienced staff makes every couple we host the center of attention and does what it takes to ensure everything runs smoothly from beginning to end.
We can help recommend different vendors like catering companies or DJs as you begin planning your outdoor wedding. On the day of the event, we want you to spend less time worrying and more time making memories, which is why we provide accommodation and setup services for tables, chairs, decorations, and more.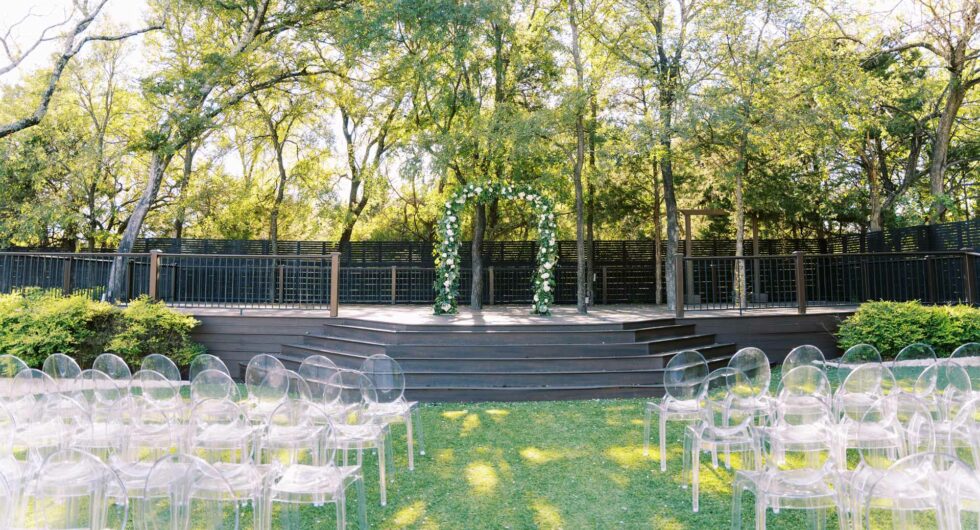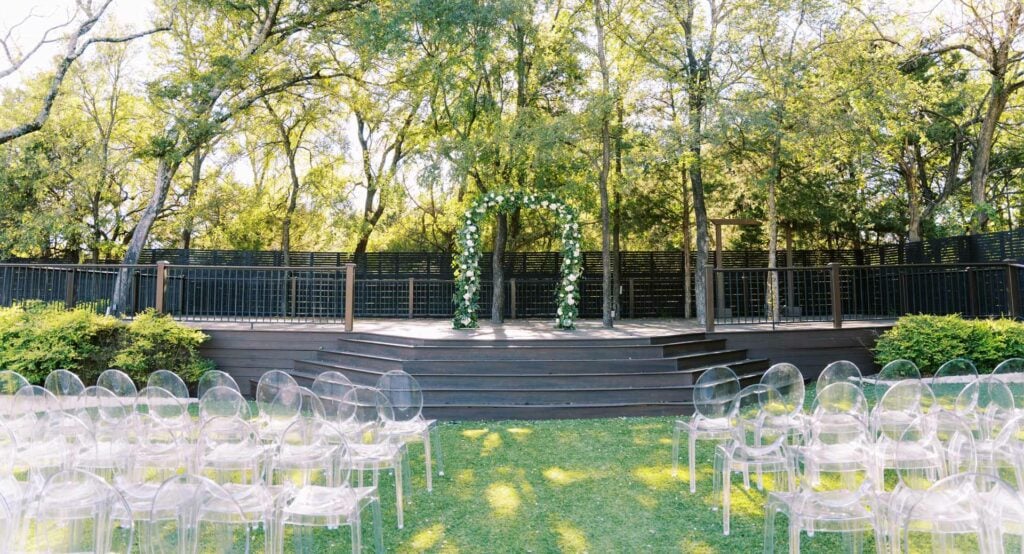 Our team will do whatever it takes so that you can relax knowing that everything has been taken care of before even stepping foot into your idyllic garden oasis!
Dallas Oasis Is The Perfect Garden Wedding Venue For You
Hosting a wedding in an outdoor oasis like The Dallas Oasis allows couples an opportunity unlike any other.
Enjoy nature while celebrating love surrounded by family & friends without ever worrying about being too far away from urban amenities or sacrificing luxury.
From its picturesque natural elements that perfectly complement wedding photos and videos — to its multiple outdoor spaces ideal for ceremonies, receptions, and more — this venue offers everything necessary (and so much more!) to ensure every couple's special day runs perfectly smooth and stress-free!
If you're looking to host your garden wedding or event in a truly exceptional space, Dallas Oasis has exactly what you've been searching for. See more pictures of our beautiful gardens in our gallery, or schedule an in-person tour to experience Dallas's most luxurious space firsthand.