Planning a wedding is a journey filled with choices, and the devil's often in the details. Picking the right centerpiece can set the mood for your entire wedding venue. Whether you're going for rustic charm or modern elegance, we've got you covered with 65 unique centerpiece ideas for five of the most popular wedding themes.
Rustic Wedding Centerpieces
Imagine stepping into a wedding that brings the countryside comes to life. Picture an old barn venue adorned with string lights, giving off a soft, romantic glow as the sun sets.
Wooden accents, antique decor, and a feel-good, homey vibe create an intimate, unforgettable setting. This theme is about embracing nature, showcasing earthy tones and organic textures that make everyone feel cozy and welcomed. If rustic is your wedding style, choose a centerpiece from the list below!
1. Mason Jar With Lights Or Candles
Lighting up your reception tables with Mason Jar Candles is a great way to add a sensation of coziness and intimacy to any wedding day. Fill them with tea lights or taper candles to make them unique. This simple but stunning centerpiece pairs beautifully with plants like seeded eucalyptus and garden roses.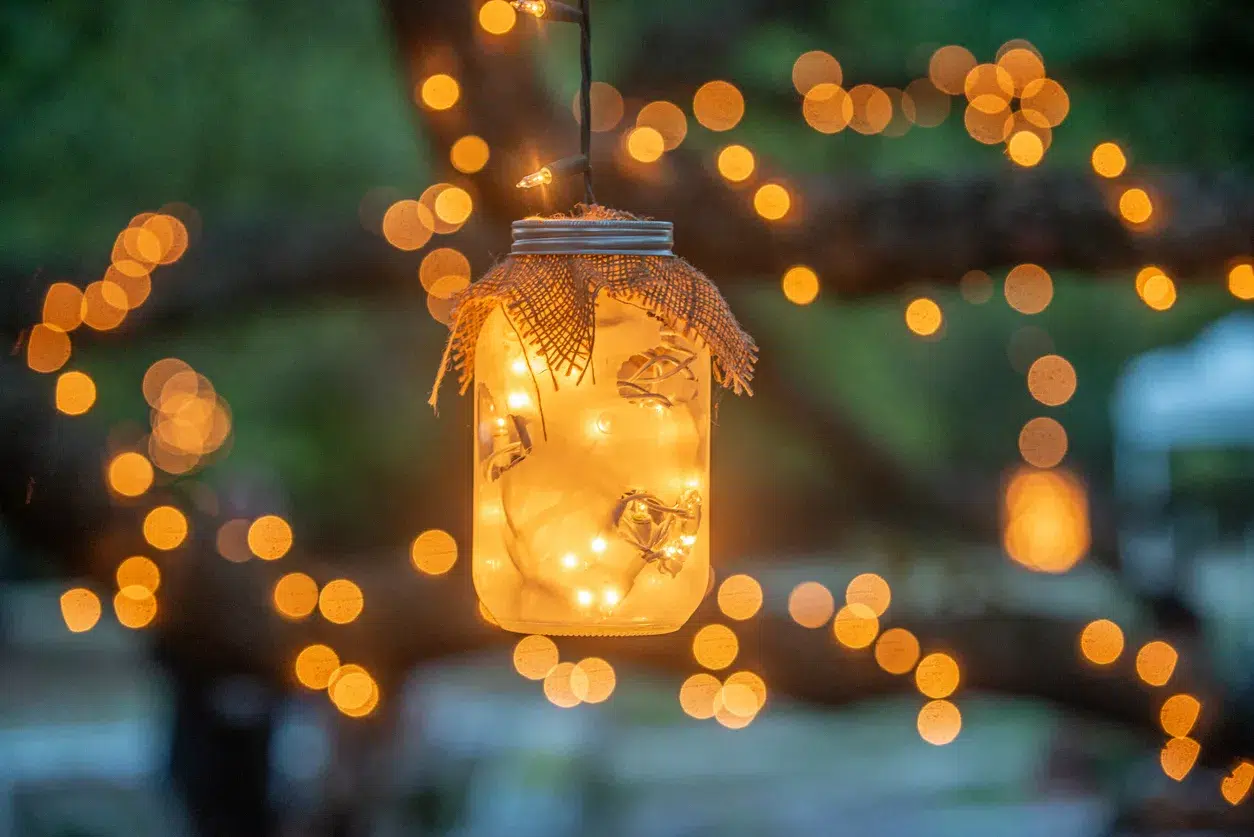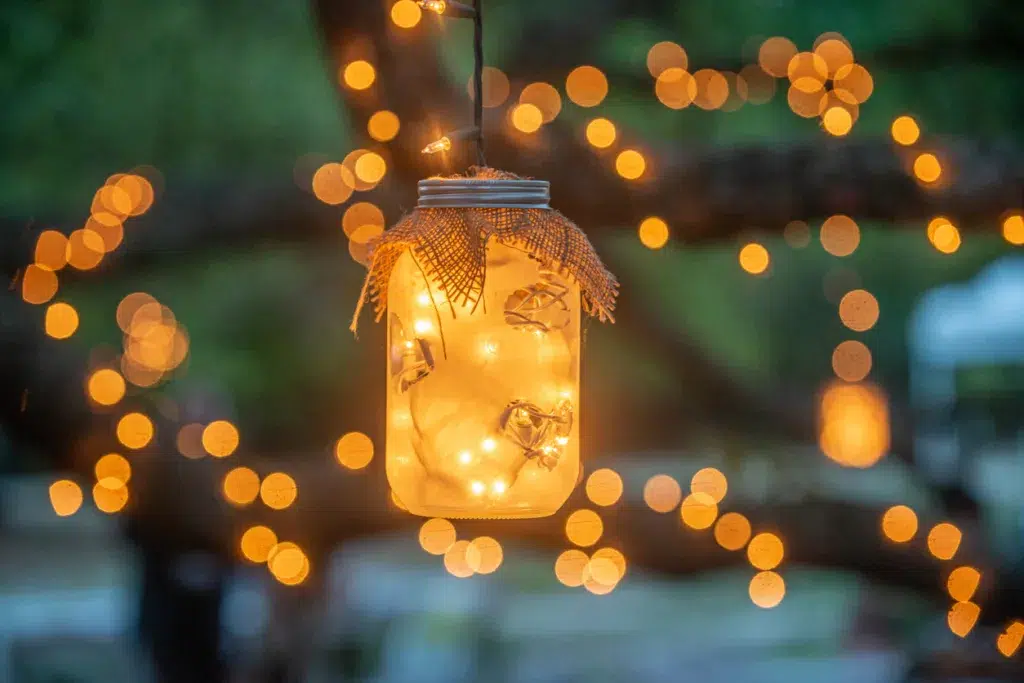 2. Wood Slab & Greenery
Going for a more lush look? Then, use a wood slab as the base of your centerpiece and surround it with lush greenery and floral arrangements. Roses and wildflowers are a perfect fit if you're looking to add a pop of color. This sets a natural mood that perfectly matches the tranquil wedding ceremony vibe.
3. Antler Accents
Incorporating antler accents amidst your floral centerpieces is the perfect way to create fresh new visual interest. Balance the rugged against the beautiful by adding elements like hydrangeas or pink tulips to create an elegant style that is hard to match.
4. Burlap & Lace
Lay down burlap and lace runners across wooden reception tables for added texture, then top them with bud vases filled with simple but beautiful blooms like roses or cherry blossoms. You'll be left with a gorgeous centerpiece that casts vintage vibes.
5. Vintage Lanterns
If the vintage vibe is exactly what you're going for, lanterns provide another fantastic centerpiece option. Despite traditional belief, they don't have to hold lightbulbs! Fill each lantern with flower petals of your favorite color to create a centerpiece that makes a statement. These work perfectly in just about any garden wedding setting.
6. Tin Pail Flowers
For a playful touch, place wildflowers in tin pails. Throw in some pampas grass for texture, and you've got yourself an arrangement that screams simple elegance. This centerpiece brings to mind the carefree feelings of childhood. It's the perfect idea if you and your soon-to-be have been together since high school (or earlier)!
7. Chalkboard Table Numbers
If you're seeking simple yet beautiful centerpiece ideas, chalkboard table numbers surrounded by small floral arrangements may be exactly what you're looking for. Add a few palm leaves for greenery, and you'll add a fresh pop of fresh color to each table. Bonus points if you leave chalk so your guests can doodle – a great option to keep children occupied if any are attending your wedding.
8. Hay Bale Decor
Show off your country style with a miniature hay bale at the center of each table. Top them with a sprinkle of green florals like jasmine vine to bring your tables to life. Besides, what's more rustic than a hay bale?!
9. Mini Pumpkins
Hosting an Autumn wedding? Then, these make for the perfect centerpiece, especially when paired with assorted greenery and a color palette featuring warm hues. You can find pumpkins in so many shapes, sizes, and colors, that the texture possibilities are nearly endless.
10. Twine-wrapped Bottles
Wrapping glass bottles in twine and filling them with simple wedding flowers like garden roses or hydrangeas is an excellent way to create a visually stimulating centerpiece. Mix contrasting colors like green and pink to add a fun touch of elegance to your special day.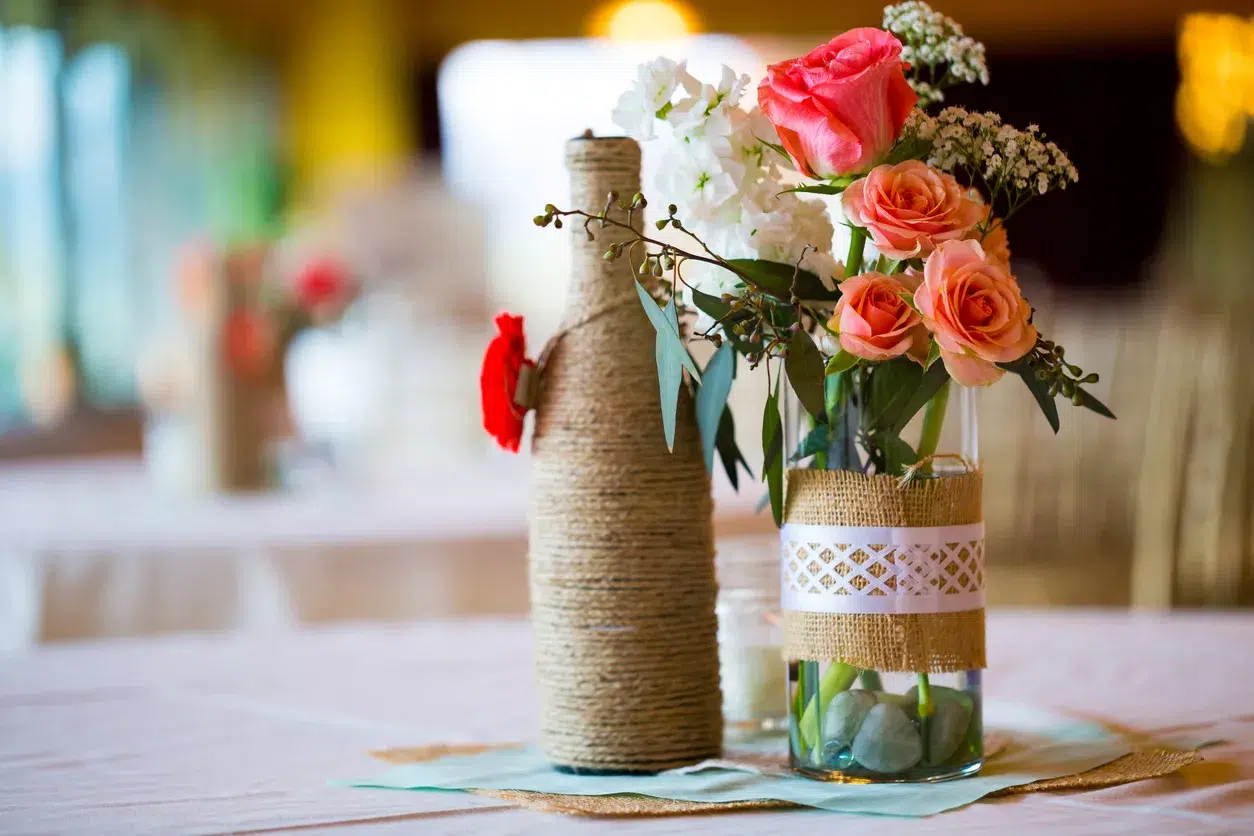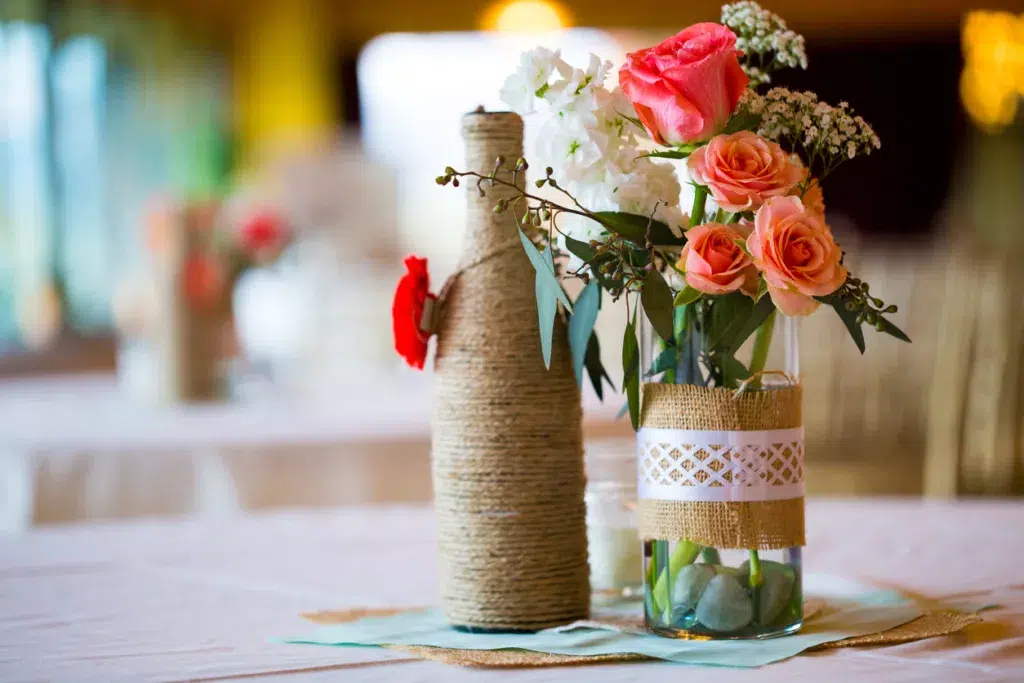 11. Mini Wooden Barrels
Use mini wooden barrels as vases for your floral centerpieces. Roses, tulips, and wildflowers are a great match. The color of the flowers contracts perfectly against the earthy hues of a miniature barrel to create a rich color palette for any wedding, any time of year.
12. Cowboy Boot Vase
Unconventional but charming, a cowboy boot vase filled with colorful blooms and pampas grass is sure to grab attention. This unique centerpiece will fits perfectly into the rustic theme of your wedding reception.
13. Rope Knots
Last but not least, rope knots bring a unique look to your reception tables that's hard to get from any other centerpiece. Mix them with small floral arrangements with classic blooms to create a harmonious blend of natural colors and textures.
Beach Wedding Centerpiece Ideas
Picture azure skies, gentle waves, and a sandy altar. Your guests are seated on wooden benches made of natural driftwood, and the salty sea air fills their lungs.
The atmosphere is laid-back and luxurious. Flip-flops replace formal shoes and the sunset provides the ultimate backdrop. This theme leans into the beauty and serenity of the ocean, creating an intimate setting that's casual, classy, and romantic – all at the same time.
14. Sand & Seashell Jar
Kick off your coastal vibe with sand and seashell jars. Fill glass bottles with layers of colored sand and top them off with a few small seashells. Rose gold accents on the bottle's rim can add an elegant touch.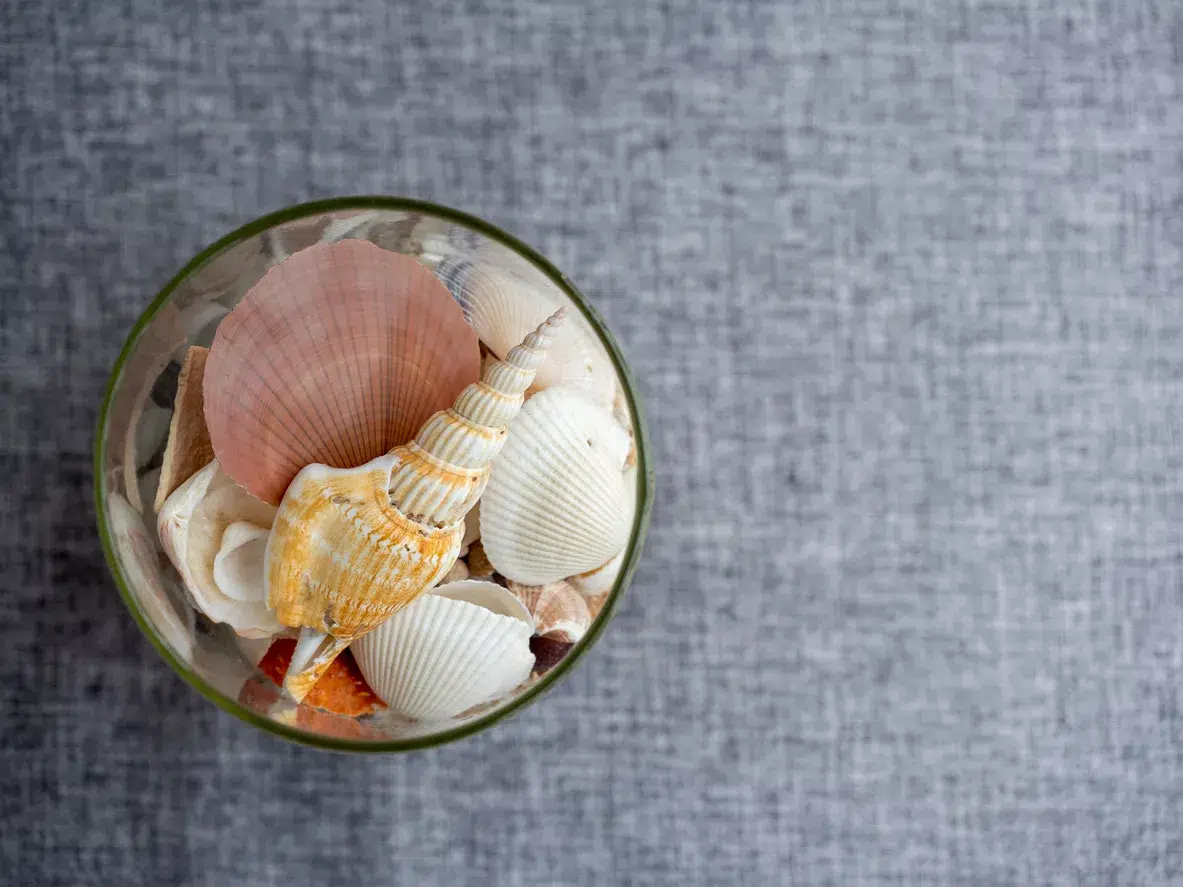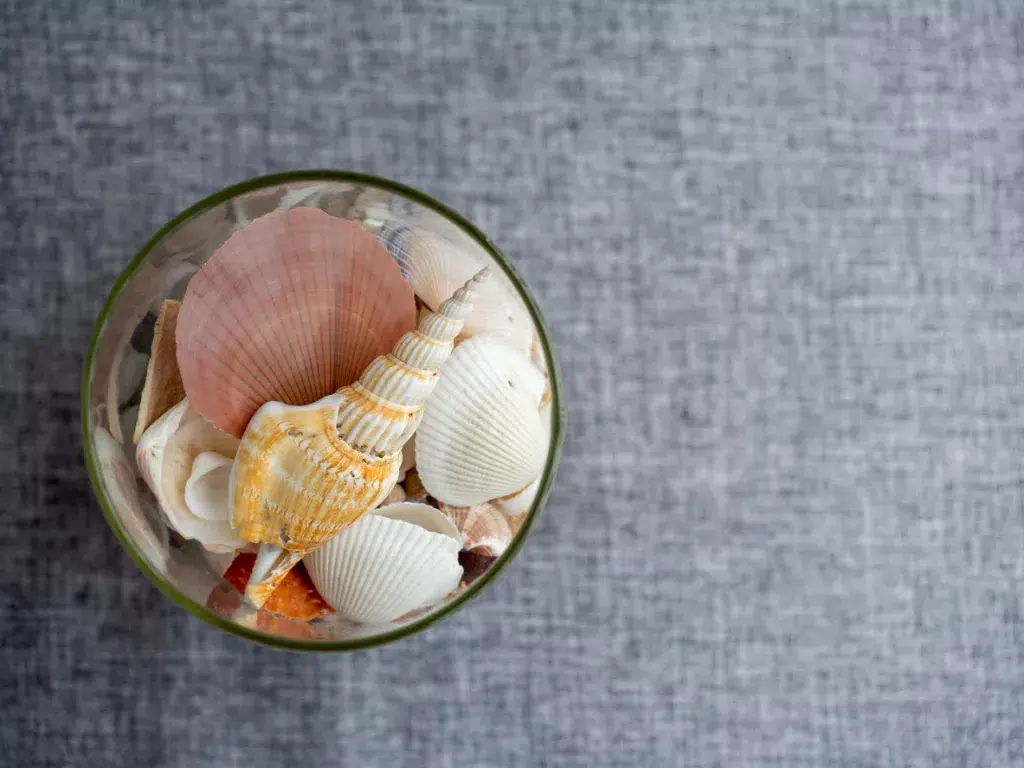 15. Driftwood Art
Go natural with driftwood art. Incorporating elements like starfish and twine can elevate this simple yet impactful centerpiece to the next level. Place it in the middle of the table for a dash of beachy elegance.
16. Coral Sculptures
Make a statement with coral sculptures. They're eye-catching and blend well with the beach setting. Pair them with smaller features like tea candles to create a look and feel that balances out-of-the-oridinary and practicality.
17. Beach Glass Decor
Colored beach glass can create a stunning visual effect. Arrange them in clear vases and watch how they catch the sunlight, providing a magical atmosphere. If you're looking to add an extra twist, place LED lights in the middle of the glass to mimic the effect of light moving through water.
18. Miniature Boats
Steer your decor in a whimsical direction with miniature boats. Whether they're sailboats built in bottles or models of speedboats, they bring a playful element that fits the beach theme perfectly while also saying, "Let's have some fun."
19. Fishing Nets
For a touch of authenticity, hang or drape fishing nets over the table. You can even tuck in some statement flowers or tiny LED lights for added effect.
20. Tiki Torches
Can you even call it a beach-themed wedding if it doesn't have some sort of tiki torch? Mount a torch in the middle of the table to offer practical lighting as the sun sets and add a tropical flair to your special day.
21. Starfish & Twine
Go for a simple yet beautiful effect with starfish tied with twine. Lay them flat on the table or hang them from the back of chairs to incorporate the sea's treasures into your decor.
22. Message in a Bottle
Get sentimental with a message in a bottle centerpiece. You can also place a notepad and pen below the bottle to encourage your loved ones to leave messages or wishes for you and your partner. This option is perfect because it can serve as both decor and a keepsake.
23. Seafoam Candles
Keep the color palette beachy with seafoam candles. Placed in glass holders, these candles emit a soft, ethereal glow that complements the natural surroundings.
24. Beach Pail Favors
Get creative with beach pail favors filled with tiny treasures. These make for a fun centerpiece, and can also make a cute takeaway gift for your guests.
25. Sea Glass Mosaics
Create stunning table displays with intricate sea glass mosaics at the center. You can pick up some sea glass here, and choose a color scheme that complements your wedding's palette. It adds a level of refinement and artistic flair to the table settings to elevate the overall aesthetic of the reception.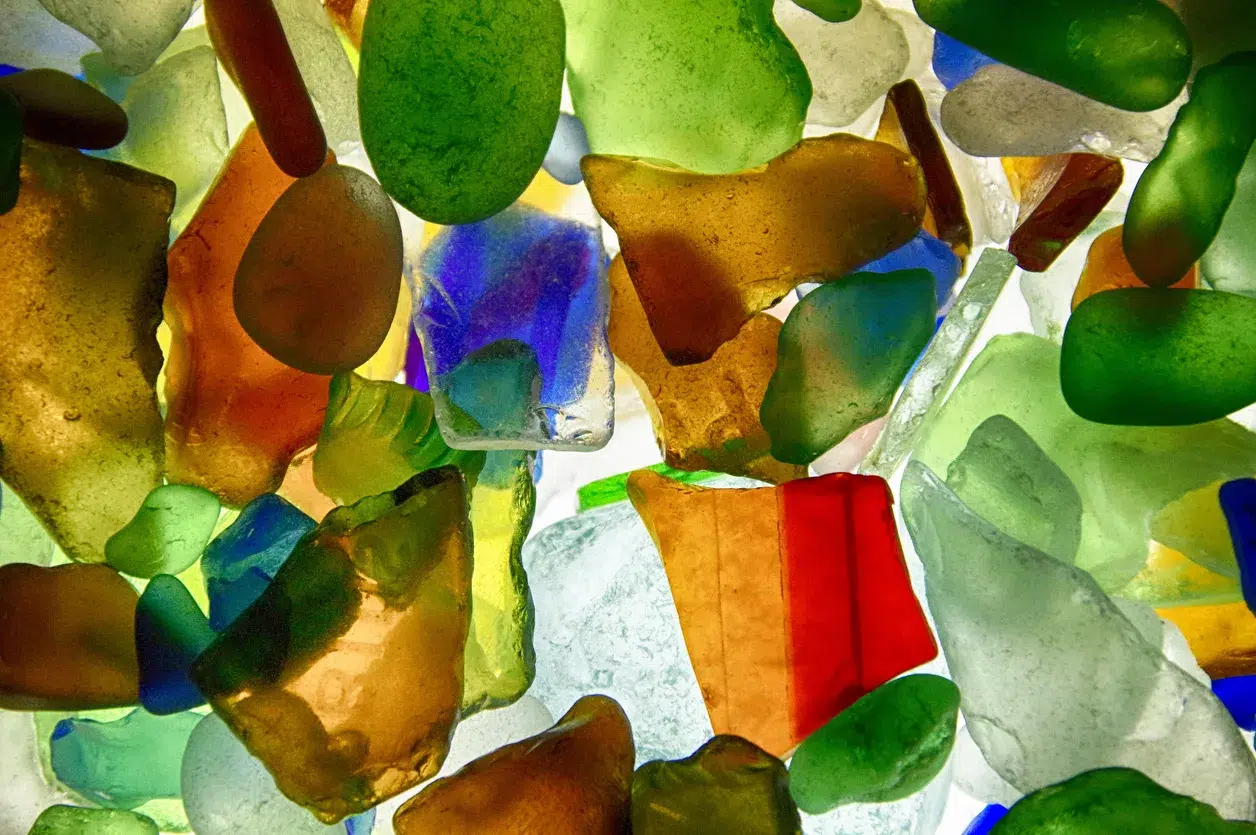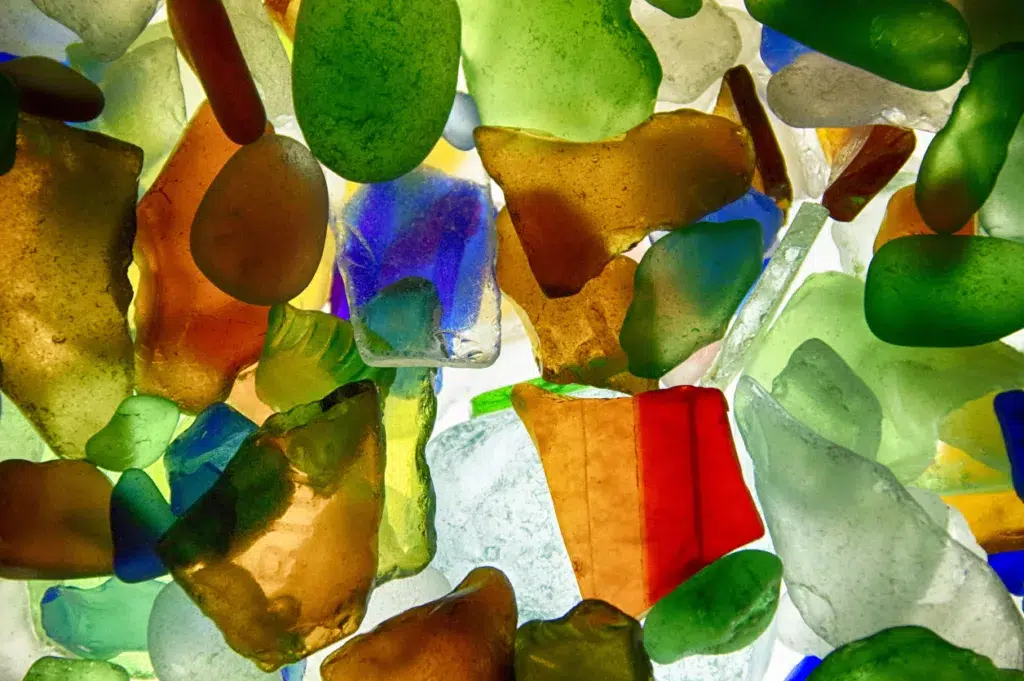 26. Lighthouse Miniatures
Round out your coastal theme with lighthouse miniatures. They're charming and functional, serving as both decor and table number holders.
Centerpieces For Classic Romantic Weddings
Imagine walking down an aisle lined with candles and rose petals. The room smells like fresh flowers and love songs play softly in the background. A chandelier hangs overhead, scattering light like diamonds.
You've chosen every detail to evoke emotion and create a sense of fantasy, where love takes center stage, and the mood is unapologetically dreamy. Here are some classic centerpieces for romance-themed weddings.
27. Rose Petals & Votives
Nothing screams romance like a scattering of rose petals complemented by the soft glow of votive candles. Classic blooms like roses in shades of red or pink are perfect for setting the mood. Surround these with tiny votive candles to create an ambiance that's undeniably warm and welcoming.
28. Crystal Chandeliers
Crystal chandeliers are the epitome of opulence and romance. If your venue allows, consider hanging miniature chandeliers above reception tables for a grandiose feel. The light refracting through the crystals adds a layer of fantasy to your special day.
29. Heart-shaped Balloons
Get playful with heart-shaped balloons. They're simple, but their shape speaks volumes about the theme of the day. Tie them to the back of chairs or let them float above tables tethered by satin bows for a youthful and playful touch.
30. Floating Candles
Create an ethereal environment with floating candles. Place them in elegant glass bowls and add some rose petals to the water for extra romantic flair. These can serve as stand-alone pieces or as one individual component of a larger arrangement.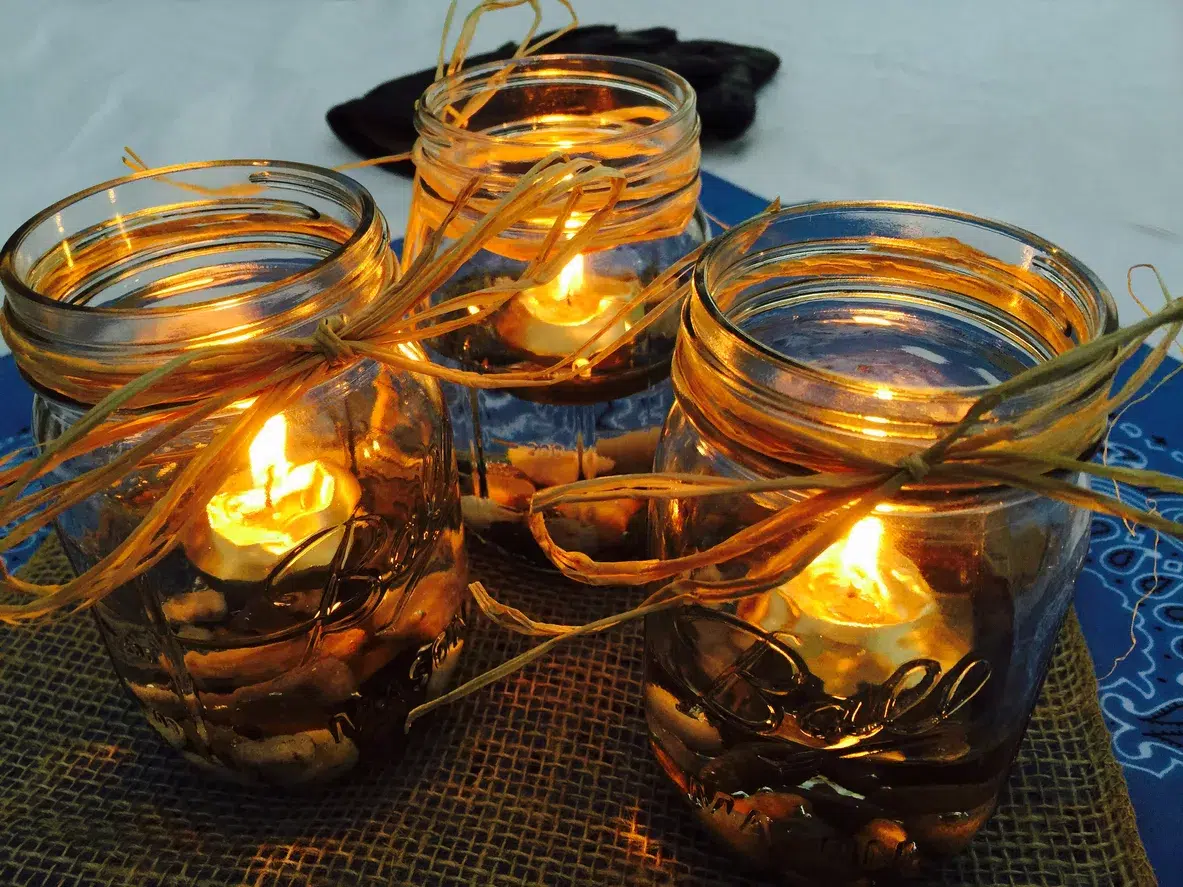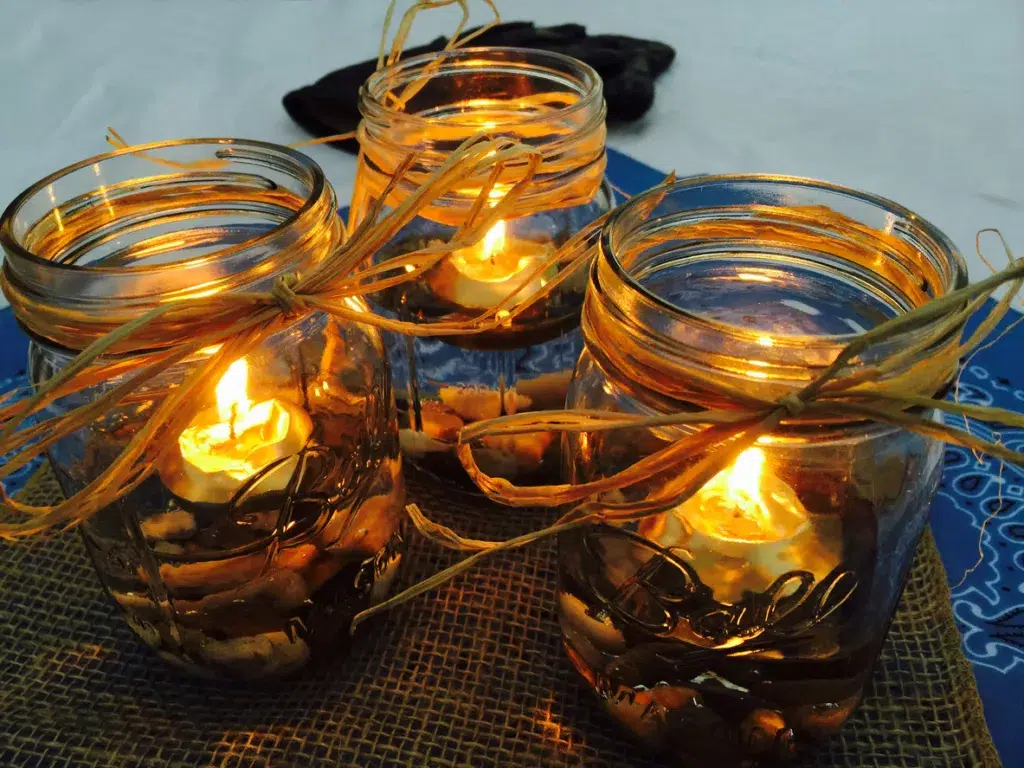 31. Swan Figurines
Swans choose their partners for life, making them a fitting symbol for a wedding. Consider using elegant, hand-crafted swan figurines as part of your table décor. They pair beautifully with floral arrangements and add a touch of grace and fidelity to the ceremony.
32. Lush Peonies
Peonies are plush, luxurious, and utterly romantic. A vase filled with lush peonies is simple but speaks volumes. For elevated elegance, try tying a satin bow around the vase to harmonize your color palette.
33. Satin Bows
Satin bows offer a soft, tactile element that enhances any centerpiece. Tie them around vases or large bows to serve as the actual centerpiece. Then, fill them with your favorite flowers and surround them with small votives or crystals.
34. Cherry Blossom Branches
Cherry blossom branches reach upwards, creating a natural canopy of soft pink over the table. Their height projects a sense of elegance, and their delicate shape epitomizes the romantic aesthetic. Place them in tall vases to draw the eye upward.
35. Candelabras
Candelabras bring a touch of old-world charm and elegance to any romantic wedding. Choose ornate styles to really emphasize the romantic theme, and adorn them with small wreaths of flowers or crystal strands for extra glamour.
36. Eiffel Tower Models
Bring a little Paris, the City of Love, to your wedding. Mini models of the Eiffel Tower make for eye-catching and romantic centerpieces. Pair them with other simple wedding centerpieces like roses or peonies to round out the look.
37. Crystal Heart Sculpture
A finely crafted crystal heart sculpture makes for an insanely elegant centerpiece. This option radiates elegance and love from every angle. Place it on a mirrored base to magnify its glow when hit by candlelight or spotlight and make it a focal point that speaks straight to the romantic theme.
38. Dove Sculptures
Doves signify peace and love—two of the most important elements of any long-lived marriage. Consider placing small dove sculptures around your main floral centerpiece or even as stand-alone pieces amidst a scattering of rose petals.
39. Velvet Boxes
Consider small velvet boxes as part of your centerpiece for a tactile addition. They can hold sweet treats for guests or double as ring boxes for those looking to catch the bouquet.
Bohemian Wedding Centerpiece Ideas
What could make your wedding more mystical than tying the knot in a whimsical garden setting or a cozy wooded enclave?
Picture a mix of vibrant colors in an area adorned with tapestries and cushions for guests to sit on. String lights hang from the trees, creating a magical glow.
The vibe of a Bohemian bride is relaxed yet celebratory, tapping into the free spirit and creative energy that her lifestyle embodies. Here are 13 perfect centerpiece options for the bride who wants to feel connected to nature while showcasing her free spirit.
40. Dreamcatchers
Dreamcatchers offer more than just something pretty to look at. They bring a touch of spirituality to your big day. You can have them as standalone pieces or combine them with elegant flowers like roses and peonies to create a unique arrangement. Try placing a small dreamcatcher in the center of each table, then surround it with candles and greenery to set a whimsical, ethereal vibe for your wedding reception.
41. Macramé Hangings
Macramé adds texture and intricate design to any setting. Handcrafted art like pairs well with an assortment of colorful flowers. For practical use, consider hanging small pieces of macramé under the table number signs to tie the whole design together.
42. Terrariums
Terrariums are a modern, eco-friendly choice that captures the essence of a bohemian wedding. These small glass containers can be filled with assorted greenery and even feature miniature figures or keepsakes. Consider adding a layer of sand or tiny pebbles at the bottom for a desert vibe, then top with air plants or succulents. It's a low-maintenance option that your guests can also take home as a after your special day.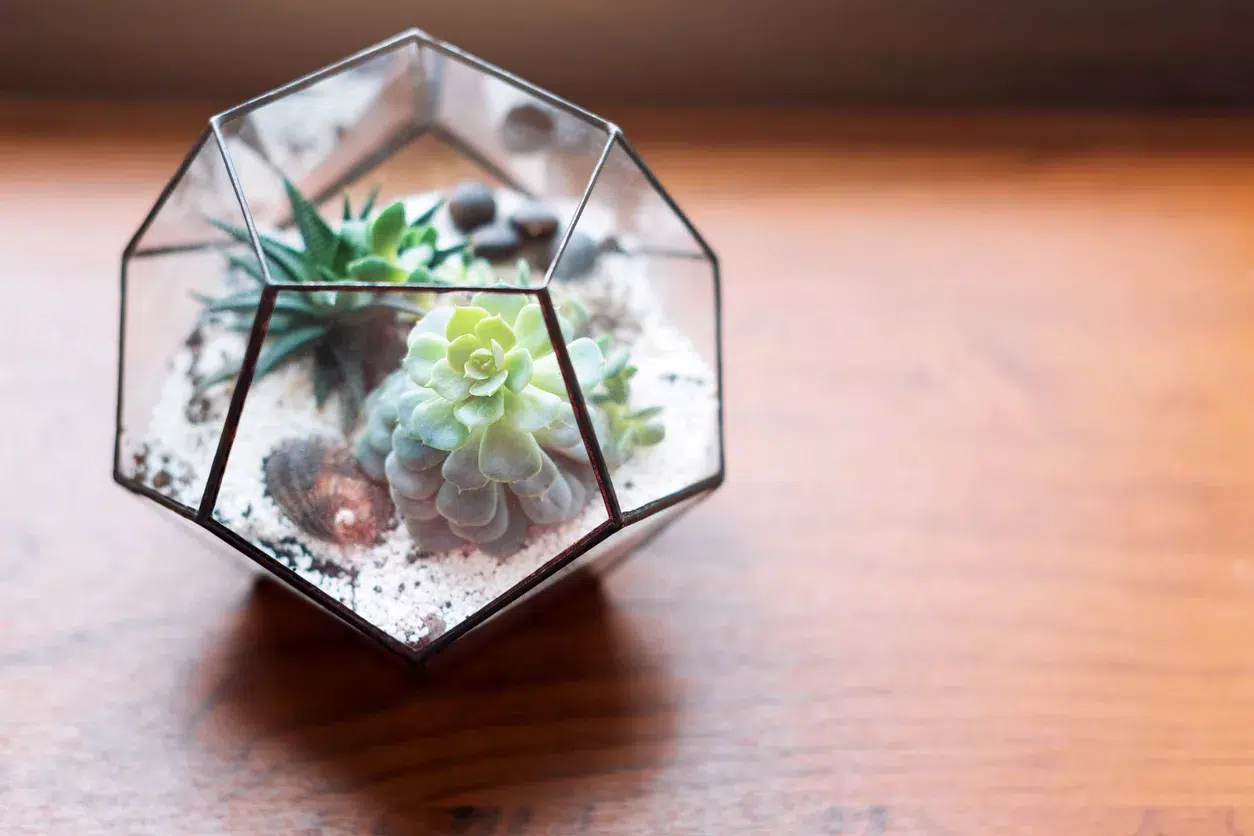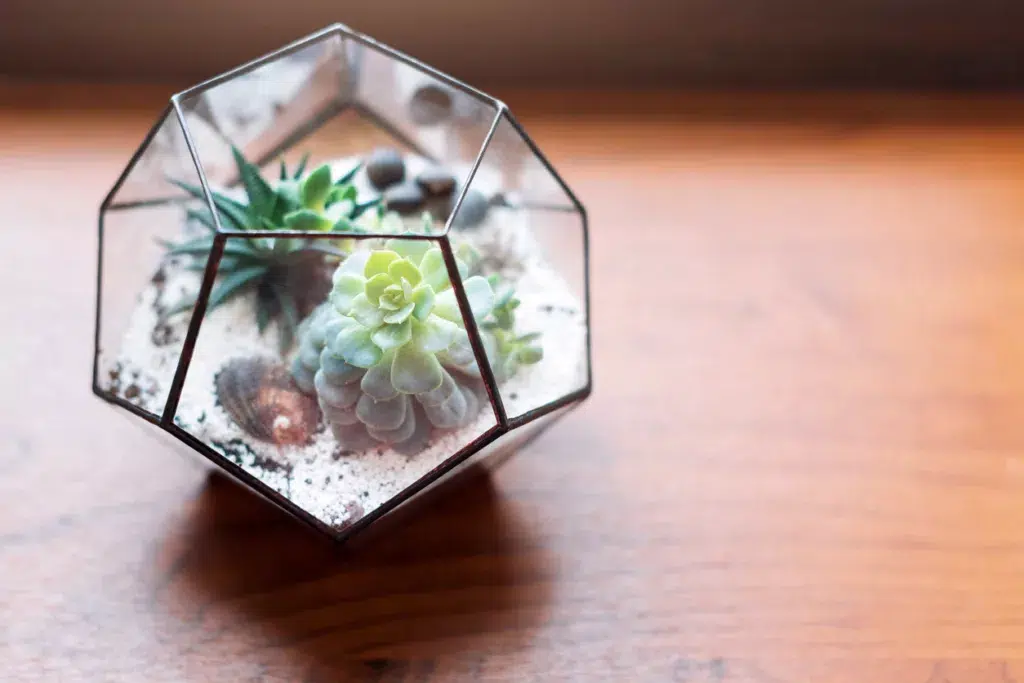 43. Fringe Banners
Made from fabric or paper, fringe banners bring in a playful, festive element to any wedding reception. These banners can be customized to match the color palette of your wedding. Hang them on the edge of the reception tables or drape them over chairs for added flair. They pair well with just about any green plants and simple floral arrangements like wildflowers or hydrangeas.
44. Sage Smudge Sticks
Infuse your wedding with a sensory experience by incorporating sage smudge sticks. Place a stick next to each centerpiece and invite guests to light them briefly to cleanse the space, adding a ritualistic and spiritual element to your boho wedding that makes it totally unforgettable.
45. Air Plants
Air plants are a trendy and easy-to-care-for option that make for great centerpieces both by themselves, and when combined with other options from the list, like terrariums. Air plants are especially striking when placed in a colorful glass bottle.
46. Hand-painted Stones
Hand-painted stones can serve as unique place cardholders or table markers. You can personalize them with guests' names or your wedding date, adding a custom touch to your reception tables. They can also be a keepsake for guests to remember your special day.
47. Moroccan Lanterns
Illuminate your tables with the warm glow of Moroccan lanterns. These ornate pieces can serve as a standalone centerpiece or be integrated into larger floral arrangements. The intricate patterns cast beautiful shadows that create a romantic, campy atmosphere.
48. Mismatched Vintage Vases
For a truly unique look, opt for mismatched vintage vases. Fill them with a variety of flowers and greenery to achieve a whimsical, unplanned vibe. The varying shapes and colors of the vases add tons of visual interest and a sense of eclectic style to every table.
49. Cactus Pots
Create some southwestern flair by using cactus pots as centerpieces. These can be small enough to serve as individual guest favors or large enough to act as a statement centerpiece. Pot them in colorful containers that complement your wedding's color scheme.
50. Rattan Furniture
Think outside the box by incorporating rattan furniture into your centerpiece setup. Small rattan pieces like stools or trays can elevate your arrangements – literally and stylistically. Place your flowers or candles on top for a multi-dimensional centerpiece that captivates from all angles.
51. Tapestry Pieces
Tapestries can serve as table runners or be hung as backdrops. Choose designs that feature natural textures or mystical symbols to truly embrace the bohemian theme. They add a layer of intricate detail and provide a rich, visual backdrop for photos. You can also use smaller tapestries and cloths to create colorful wraps for potted plants and make their natural hues stand out.
52. Feathers & Beads
Include feathers and beads in your floral centerpieces for a touch of the exotic. These can be woven into arrangements or laid out on the table for added flair. They're the perfect fit for the free-spirited vibe you're going for.
Modern Wedding Centerpieces
Picture an upscale venue with sleek architectural lines, monochromatic color schemes, and high-tech lighting.
The decor is minimal yet impactful, featuring statement pieces that double as conversation starters. The overall look is clean, chic, and utterly contemporary, reflecting a lifestyle that values sophistication and attention to detail.
You'll love the centerpieces listed below if this sounds like your style.
53. Ceramic Art Pieces
Modern design meets elegance with ceramic art pieces. These sculptural elements bring a unique, artsy feel to your wedding reception table. Place them among a bed of simple wedding centerpieces, like white flowers, to draw attention without overpowering the space.
54. Stainless Steel Sculptures
Stainless steel sculptures offer a blend of industrial chic and luxury. You can opt for abstract shapes or more recognizable forms. These sculptures are conversation starters that add visual interest and align perfectly with a modern wedding aesthetic.
55. Miniature Water Fountains
Water features aren't just for gardens. Miniature water fountains can serve as a focal point that brings a calming, yet captivating, element to your tables. Add LED lights for extra drama, and watch the water shimmer as it flows.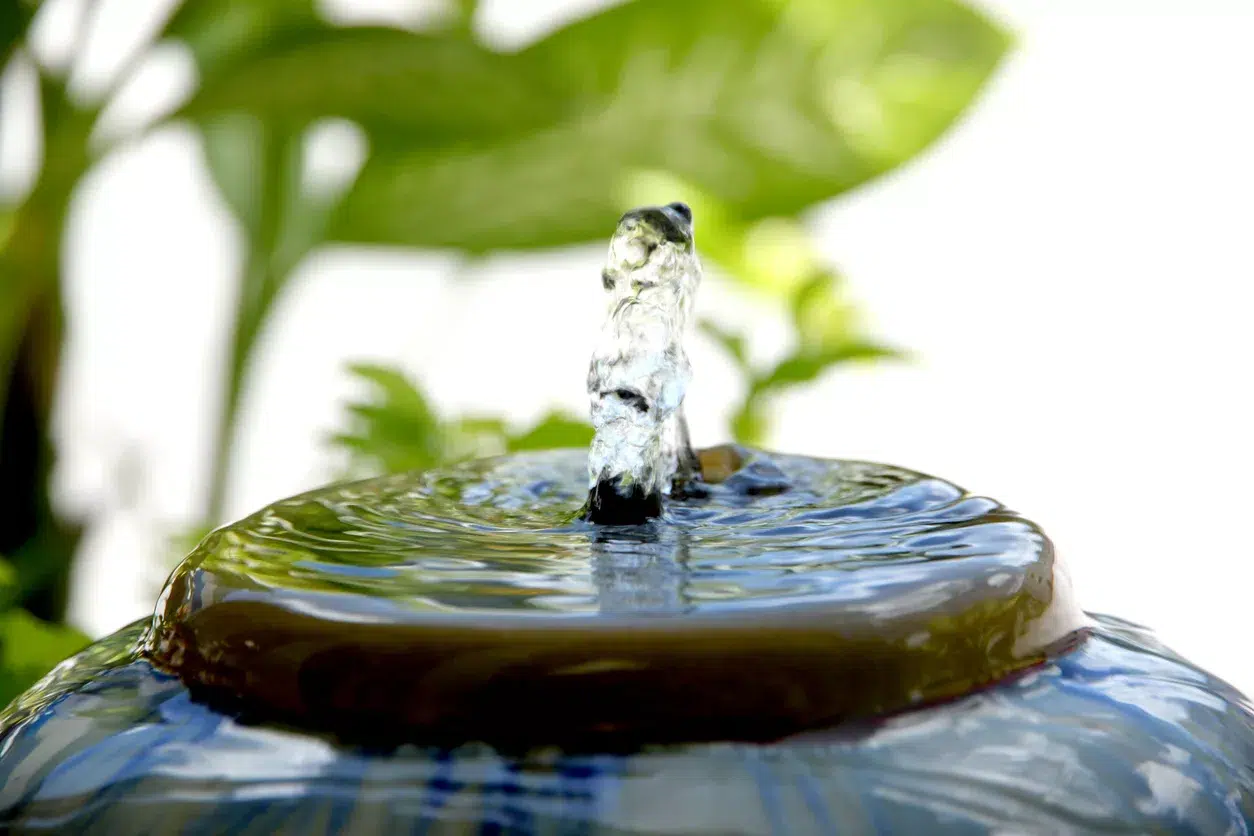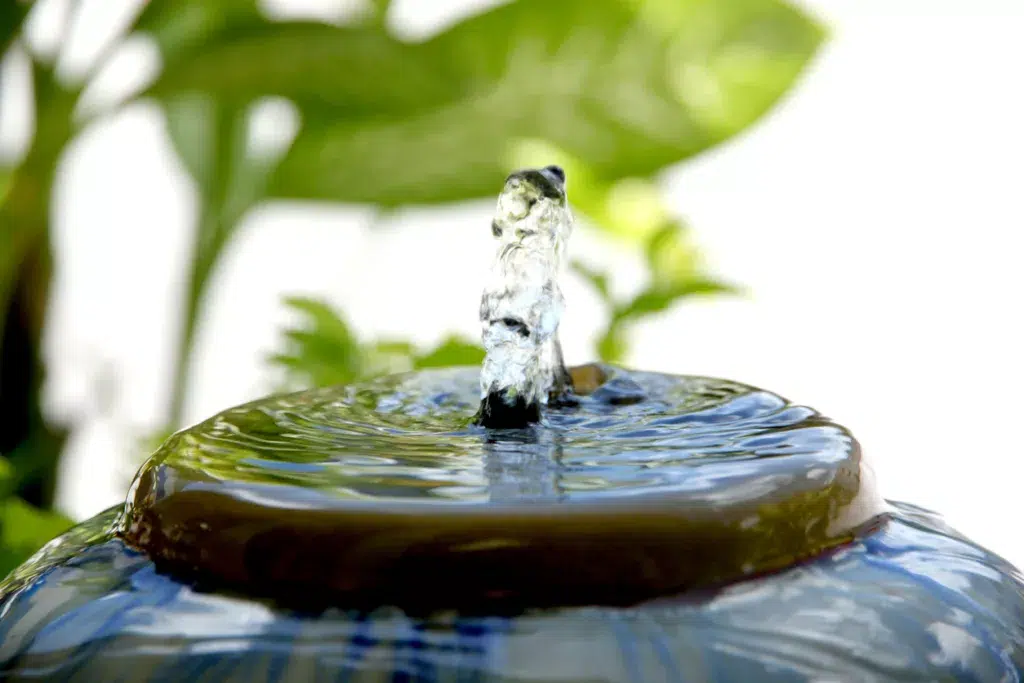 56. Tapered Candles in Metallic Holders
Add some height and light to your tables with tapered candles in metallic holders. The metallic sheen works beautifully in a modern setting, and the flicker of candlelight adds warmth and romance to the reception atmosphere.
57. Orchid Arrangements
Orchids are the epitome of modern elegance. Use them in simple but impactful arrangements, perhaps even under a glass cloche, to maintain a clean and refined look. Their exotic appearance adds a layer of sophistication that's hard to match.
58. Glass Cloches with LEDs
These aren't your grandma's cloches. Filled with LEDs, these glass covers can be placed over flower arrangements or any other artistic elements to spotlight each table's centerpiece and immerse your guests in a cozy yet modern feel.
59. Oversized Martini Glasses
Make a statement with oversized martini glasses as centerpieces. Fill them with water and float candles on top, or create a floral arrangement with elegant roses and hydrangeas. They're sure to catch eyes and spark conversation.
60. Minimalist Planters With Succulents
If your aesthetic leans more towards minimalism, consider miniature planters filled with succulents. They add a touch of green to your tables without drawing too much attention and compromising on modern style. Opt for planters in monochromatic tones to keep things sleek.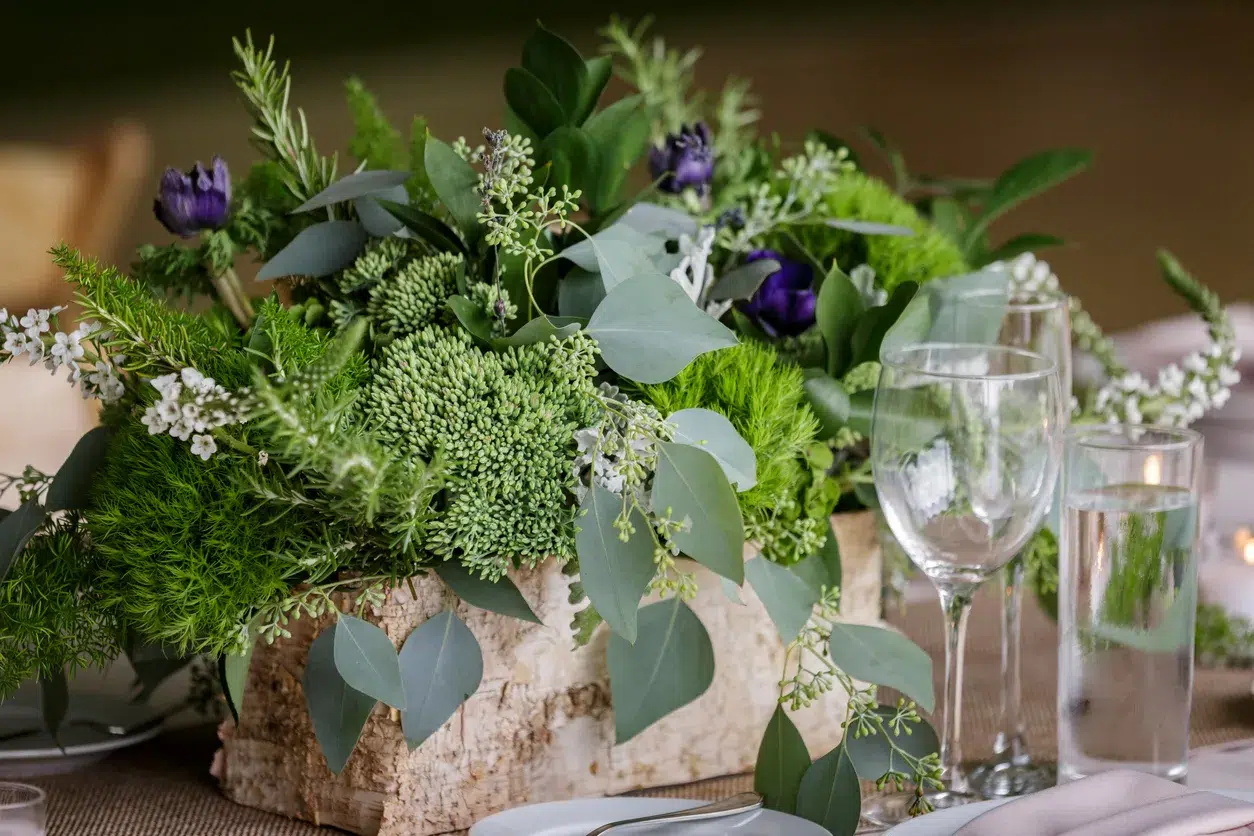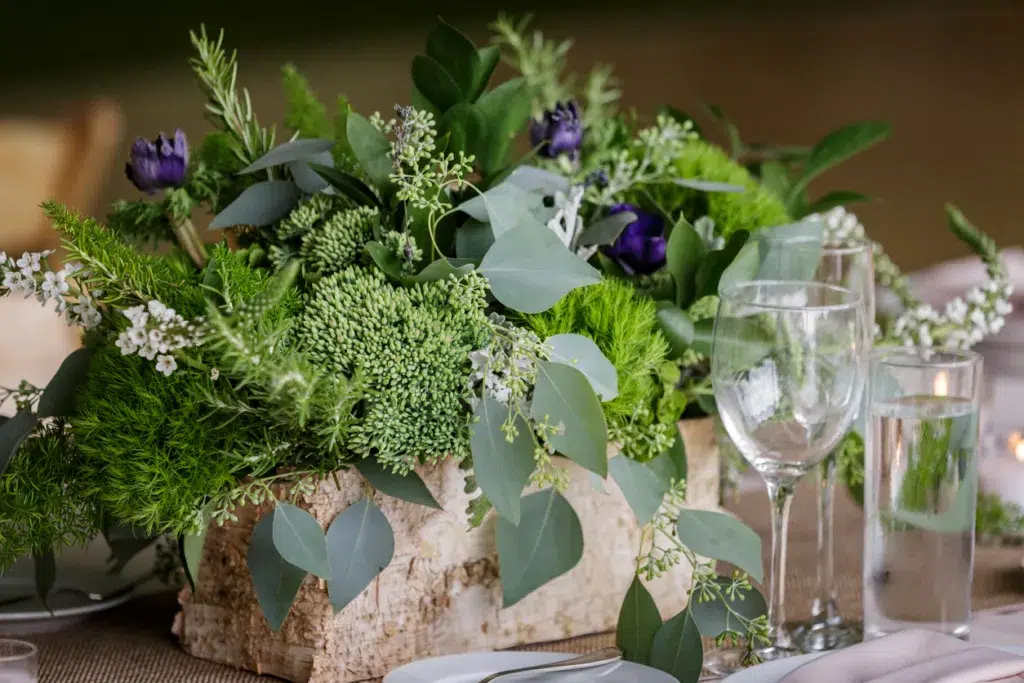 61. Floating Candle Bowls
Floating candle bowls are a simple but effective way to add both light and a design element to your wedding reception tables. Use rose gold bowls to incorporate a hint of color, and add a couple of elegant flowers like roses to the water for a floating garden effect.
62. Crystal Spheres
Scatter a few small crystal spheres around your main centerpiece, or use one large sphere as a standalone statement piece. Their clear, reflective surface plays beautifully with light.
63. Angular Metallic Vases
These geometrically inspired vases give floral arrangements a contemporary, structured look. Filled with simple white flowers or assorted greenery, they're the perfect balance of form and function for any modern wedding theme.
64. LED-lit Flower Boxes
Illuminate your tables with LED-lit flower boxes. Place them as a border around your main centerpiece, or use them as the centerpiece itself. Choose flowers in colors that pop against the LED lights for a striking visual contrast.
65. Agate Slices with Calligraphy
Last but not least, consider using agate slices with beautiful calligraphy as table numbers or place cards. They bring in a touch of natural beauty while still aligning with the modern theme. Plus, they make for great keepsakes for your guests.
Mix And Match To Create A Wedding Centerpiece That's Uniquely You
Let's face it; your wedding should be as unique as you are. The list above offers more than 60 options to fit different popular wedding themes, but don't be afraid to mix it up.
Feel free to take elements from one theme and blend them into another for a personalized touch. Get those creative juices flowing, and don't hesitate to put your own spin on these ideas to make your big day truly unforgettable.
To learn more about how you can plan the perfect wedding at the perfect venue, download our ultimate wedding planning checklist below, then come out for a tour. We'll show you all of the unique features that make The Dallas Oasis the classiest venue in Texas.