It's wedding dress shopping time, after choosing your wedding color scheme,  and you are so excited to pick the dress that will make you feel like someone out of a fairytale! But… you don't know where to begin so you can bring that vision to life… don't worry, it's totally understandable since there are millions of dresses out there.
And you've come to the right place for help! In this article we'll go over wedding dress fits, body types, how to know it's the right one, and who to bring.
Let's get started so you can get shopping confidently!
Know Your Body Type
 Know your body type. This is my number one, most highly emphasized step. I have seen so many brides with absolutely stunning bodies completely squash their shape by wearing the wrong-shaped dress.
The bottom line is that as women, we're all made differently, our bodies are not made from cookie cutters, and since this is the case, a fishtail dress, for example, is not going to make every bride look good, if you don't have a body shape that a fishtail compliments, the dress will be highly unflattering––no matter if you're a size 0 or size 14.
Are you a pear, apple, rectangle, inverted triangle, or hourglass body shape? If you're unsure what your body type is, read this article by Oprah.com: Match Your Shape It will help you get a better idea of this.
Know Your Shapes and Styles
So now that you know your body shape, you'll need to know which dresses are the most flattering for your body type.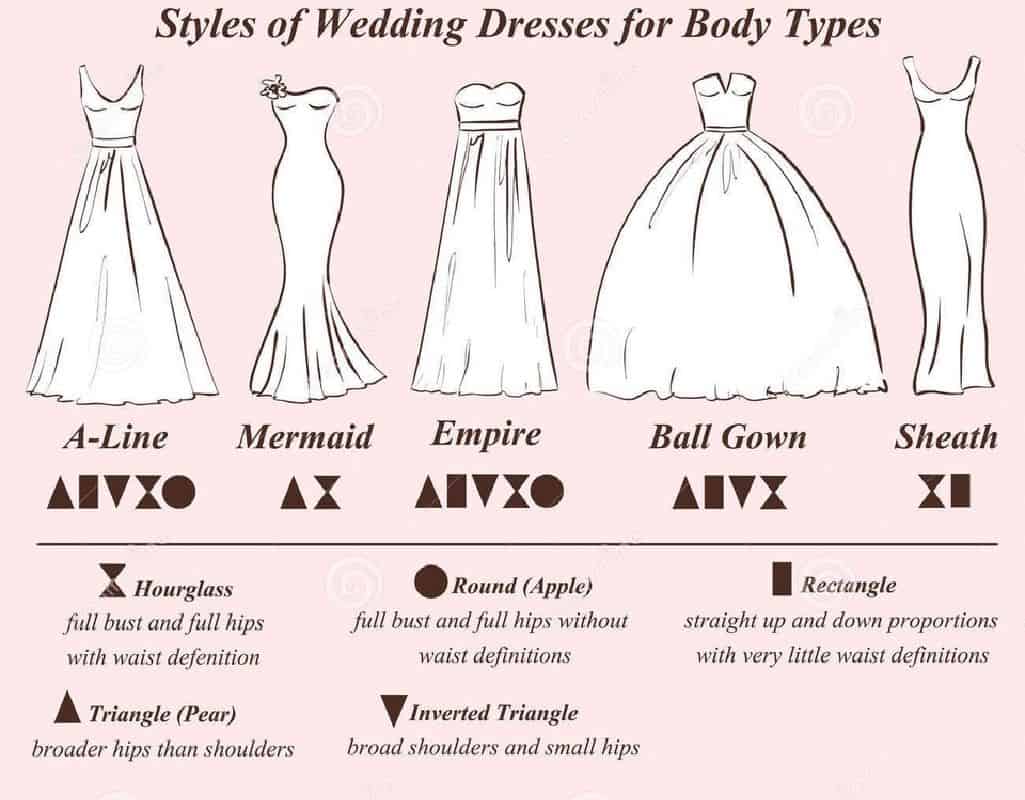 There are 5 basic wedding dress styles to choose from:
Empire Silhouette
A classic dress that comes in at the chest and flows loosely down – a beautiful fit for all figures.
A-line Silhouette
A-lines are another fantastic option that flatters all body types, for those whose waists aren't quite defined, the A-line creates the illusion of a smaller waist, and for the bride who has a noticeable waist, this shape helps to emphasize it.
Ball Gown Silhouette.
The ball gown is flattering for almost all body shapes as it creates the illusion of hips, for those with apple shapes it probably won't be your best option because the ball gown does nothing to give you a shape, you need something that will give a more defined waist and less fabric on the bottom.
Sheath Silhouette
The sheath silhouette is a very relaxed and flowing dress that shows off every curve and carefully displays your figure. This is a great style for hourglass and rectangle shapes as it even flatters your thin figure
Mermaid Silhouette and Trumpet Silhouette.
The mermaid is a very form-fitting dress with the trumpet following closely behind, only a little looser, beginning at the knees. Women with the hourglass and inverted triangle will look fantastic showing off their curves in this one. Brides who are not as comfortable wearing dresses that hug their stomachs should probably stay away from this one, as it emphasized the waist very strongly.
Who to Bring Shopping With You
It's very important to know who to bring shopping with you because the people who come can change the entire experience, for good or bad.
Bring friends and family who are closest to you and keep it small. Bring someone who you know will be honest with you, because they can see what you can't. But make sure that you don't bring a negative nancy.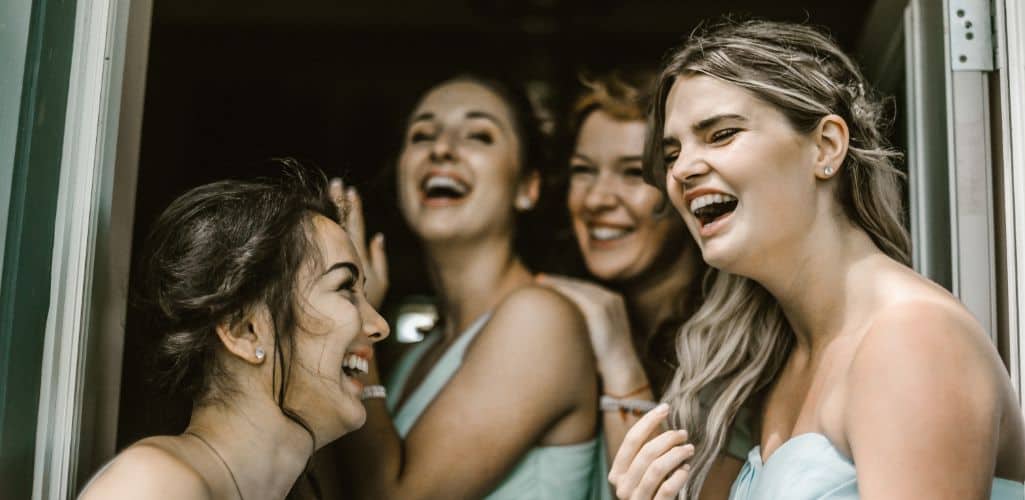 There are just some people whom you can't please, you don't want to have to worry about every dress you're excited about being shot down. Choosing your dress is fun, which means you need to bring the people who will make you feel like the star of the show!
Enjoy the process and have fun trying on wacky dresses while you're at it.
How You Know It's the Right Dress
Have you ever watched Say Yes to the Dress, and wondered, how brides KNOW the dress they choose is the one when they're in a store with thousands upon thousands of dresses?
Same here, I've wondered it many times, and it is an especially hard question to answer for our indecisive brides––I mean, there's just so many options, how do you know you're getting the best one?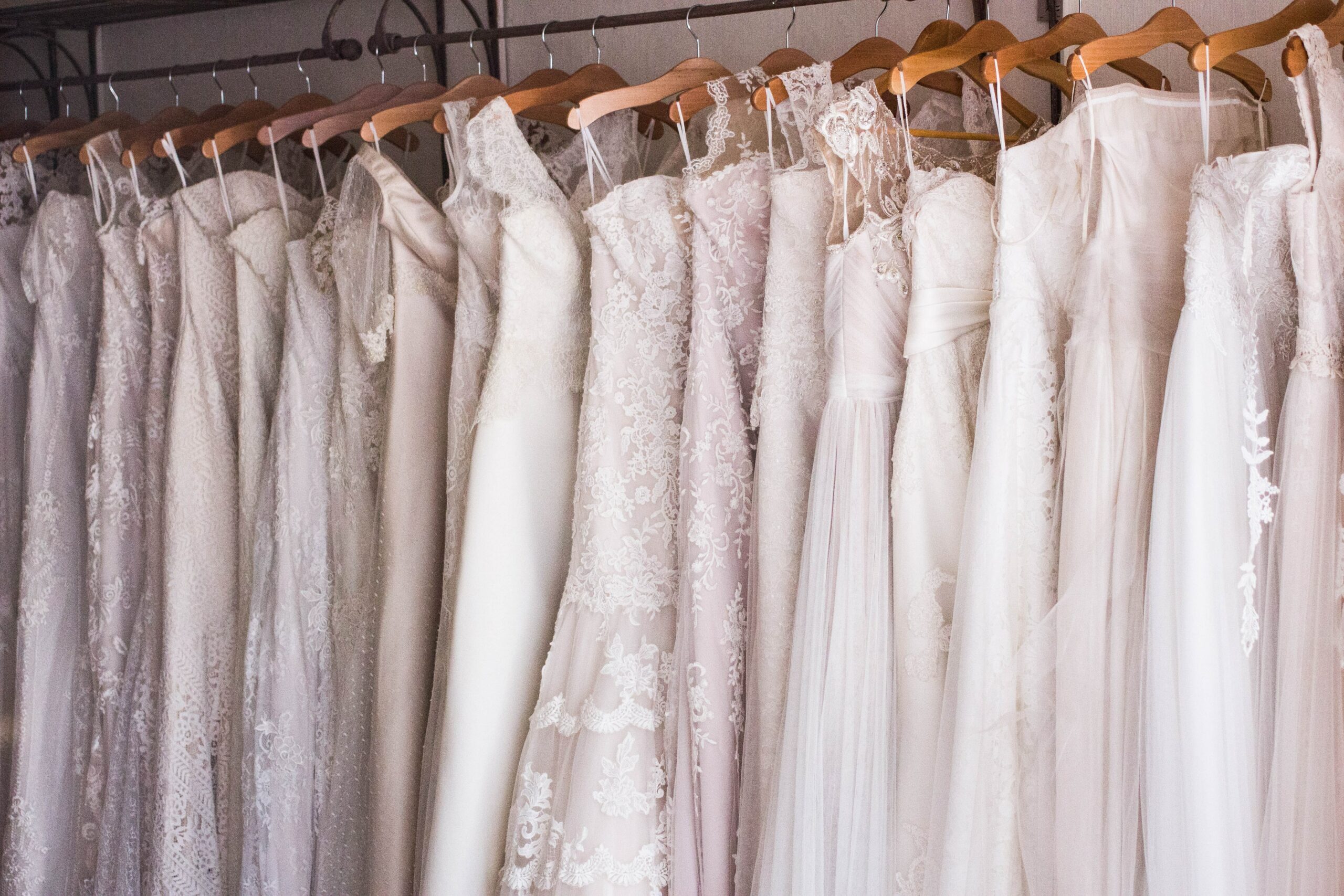 The answer is, it's about what you want, not what others want. So, if you're dreaming about walking down the aisle with people dissatisfied in your dress, remember how you feel when you are standing on a pedestal in the middle of a bridal boutique.
Do you feel beautiful? Magical? Stunning? If this is how you feel in your dress, say yes and snag it!
Get the dress that makes you feel like a princess and that will tell your guests who you are on your big day! 
Just a Few Tips Before You Go
Remember that when you're choosing your dress it's good to look at the silhouette that you like, but be willing to give that shape up for one that is more flattering so you can look back at all your photos and love every angle.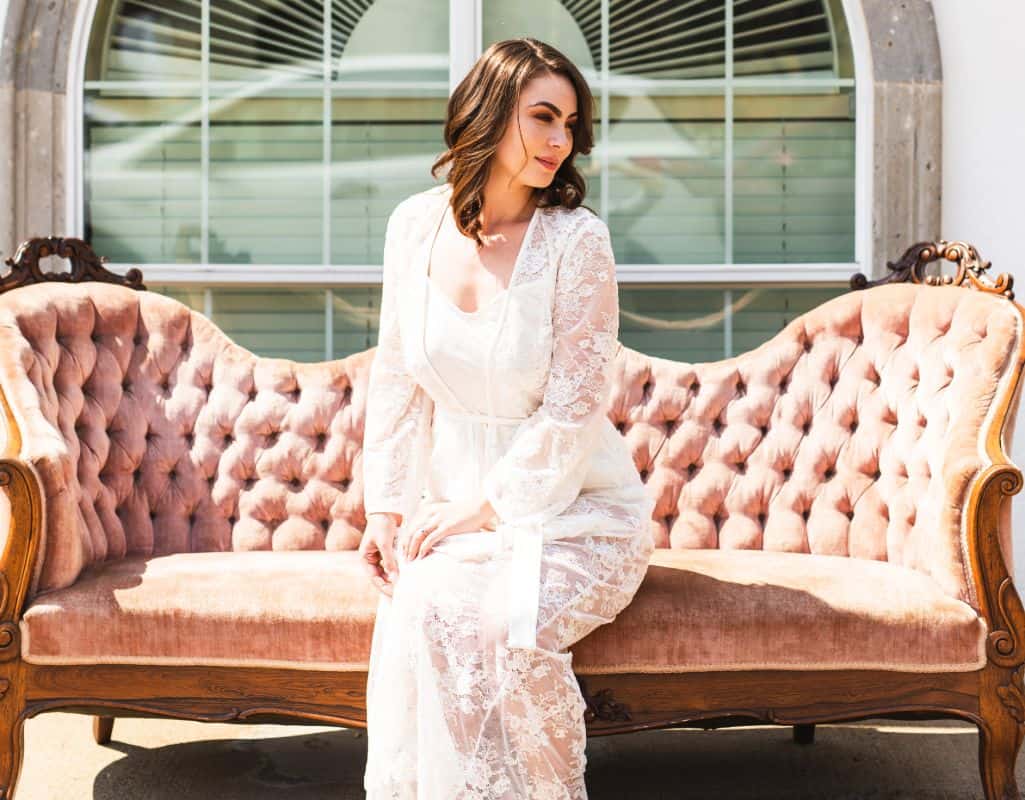 Don't be afraid to ask your dress consultant at the boutique to help you pick out dresses that best compliment you, also, it's always a good idea to look at dresses online before going so that you have an idea of the style you like.
And last but not least, the most important of all, have a blast! You only get to do this once, and it's a truly magical experience so have a good time with your girlfriends!
After shopping for your wedding dress, you could go and check all you need to know about wedding cakes.