Are you one of the many brides out there trying to figure out where to begin with your wedding cake? Are you wondering how much cake you actually need, how much it costs, or where to get one for that matter? Don't worry, many are in, and have been in your shoes, but I'm going to help you get the answers you need!
In a recent live interview with entrepreneur and wedding cake extraordinaire, Rachel of Blondie's Bake House, Serena Gifford of the Dallas Oasis, got us the scoop on all we need to know as well as the answers to all of our wedding cake questions! 
First things first, as we all know, everyone has been trapped at home since March, and this has caused a lot of stress to be put on brides this year, but Serena and Rachel got together during this interview to let brides know that YOUR WEDDING PLANNING DOES NOT STOP HERE. 
What You Need to Know About Tastings and How You Don't Have to Wait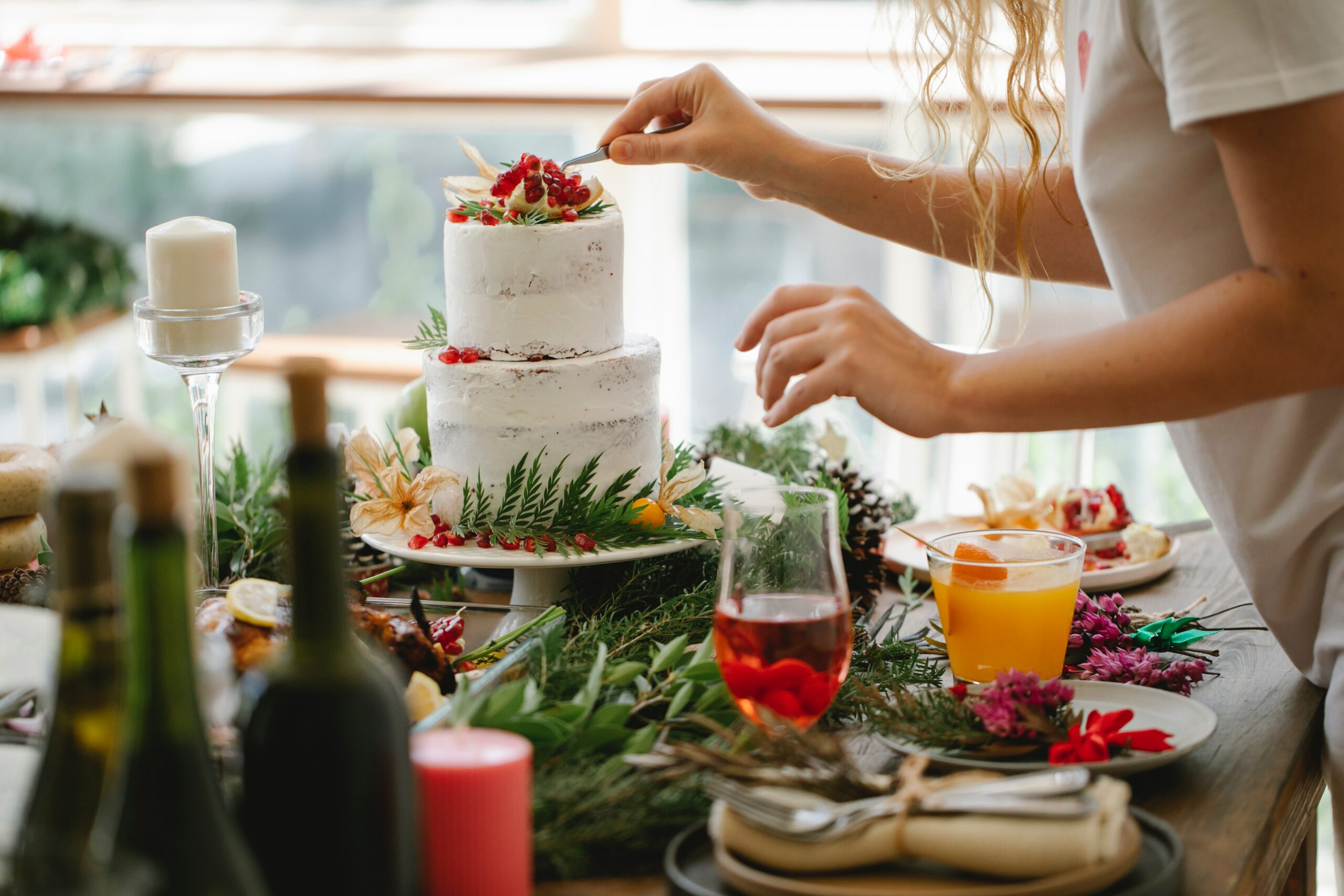 Rachel from Blondie's Bake House helps you keep your wedding planning on track in many ways when it comes to your cake! As a bride, by this point, you may or may not know that when you meet with a baker, you get to meet in person and discuss your vision for your cake, your baker will ask you questions and get an idea of the flavor and the design you want.
Since COVID-19 however, many brides have not been able to do this and it has caused a lot of frustration. Blondie's Bake House has planned around this and made a way for you to meet with her and get your cake tastings anyway!
Virtual Consultations
Rachel traditionally likes to sit down one on one with brides with a good cup of coffee and really get to know them. One of her favorite aspects of creating wedding cakes is getting to know the bride and groom to help create a completely custom cake to reflect their dream vision.
This is why she enjoys making cakes for weddings more than for any other event!
As of right now, though she can't meet one on one with a nice cup of coffee or tea, she is conducting phone interviews so that planning can continue! 
Carryout Tastings
Again, cake tastings are an exciting and extremely fun part of picking the perfect cake for you, and Rachel gets this. Rachel expressed that she loves the cake tasting part of the process, as she gets to work with the bride and groom and fulfill their needs and wants.
Currently, she is offering tastings for pickup, so if you're planning a wedding this year or for 2021, you can place your order, pick up your box of cake tastings and let Rachel know exactly what flavor(s) you want in your cake! 
How Many Tastings Does a Bride Get and How Much Does it Cost?
Serena – "Many brides have asked me about flavors for their tastings, they want to know, how many flavors they can pick for a tasting and how much does it cost?"
Rachel – "My tastings come with three flavors and I charge $40. The tasting comes with a dozen cupcakes with three different flavors of your choosing.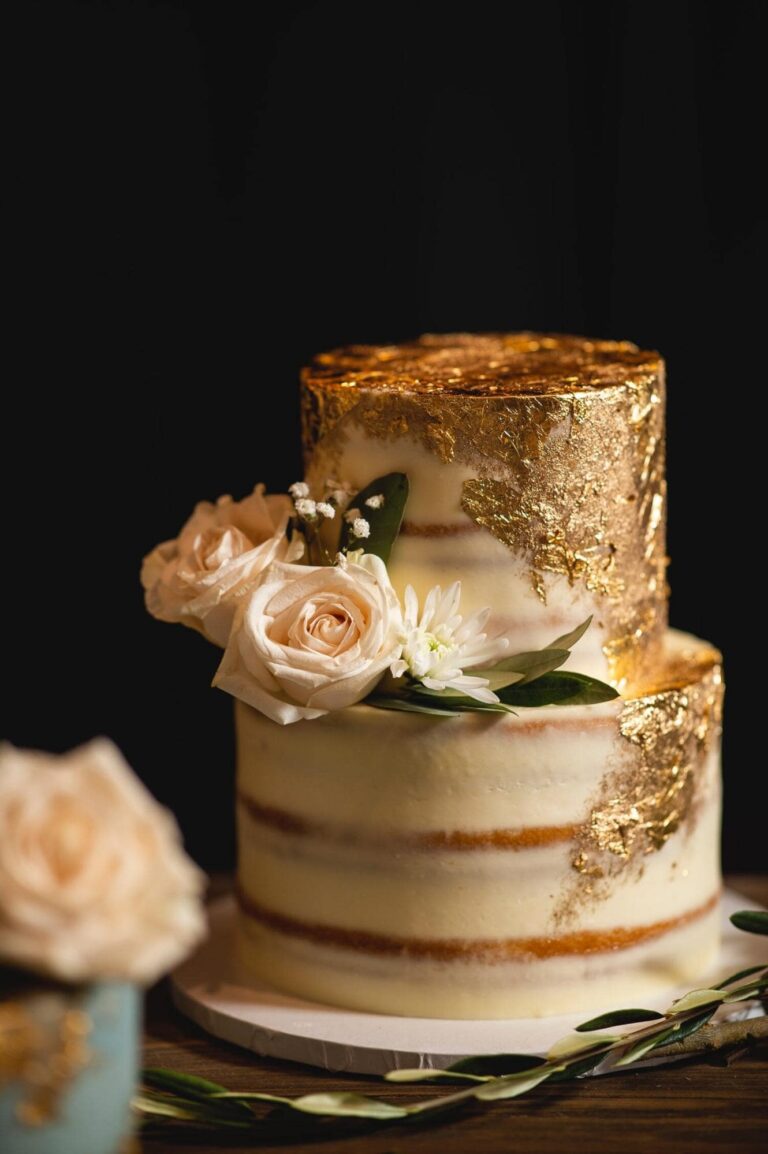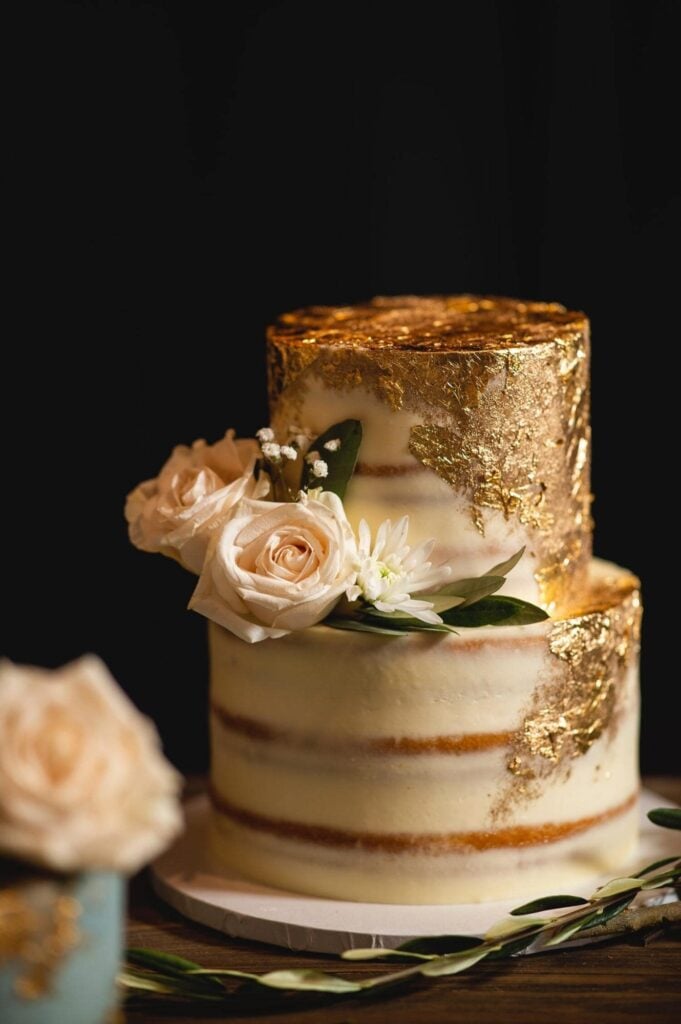 Brides can also add flavors for an additional charge. And so I've had one bride do six flavors before and THAT was fun––she wanted to try everything, and I love it when brides try crazy fun flavors. I've also had brides and grooms do two rounds of tasting boxes. They will give me a call and let me know that they want another tasting box and drop by to pick it up!
As far as deciding on a flavor, brides and grooms definitely have lots of time to choose their flavors. When it comes to a wedding, I don't need to have the flavors set in stone until two weeks before the actual day, so if you can't decide or have a last-second change of mind, don't worry, I've got it covered!"
Wedding Flavors
This portion of the interview was probably my favorite to listen to and watch; ALL the flavors and all the EXCITEMENT from both Serena and Rachel, had me wanting to plan a wedding just for the cake!
Serena – "I've had Rachel's cakes a lot, any time she comes to the Dallas Oasis, she always brings many different and unique flavors, which is horrible for me and my diet, because I seem to lose all self-control each time."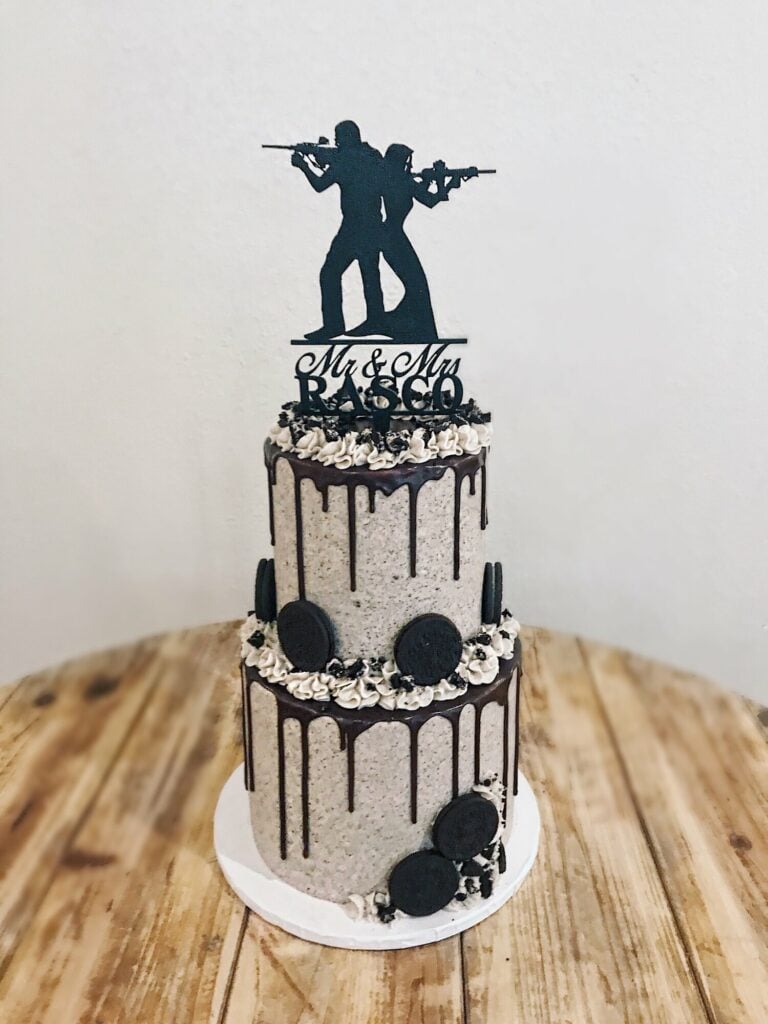 Rachel – "Absolutely, flavors are where it gets fun, because the sky is the limit when it comes to my flavors and I like to try all kinds of crazy things! Most of the time I suggest that brides and grooms try something out of the ordinary and out of the box. Especially for their cake tastings, because you know, if they like the unique flavors then we can go ahead and assume they're going to like the more of the ordinary flavors like vanilla and chocolate; so why not try something different to see if that's the route you want to take?"
And really encourage brides and grooms to try the alcoholic flavors because they're my favorite flavors to work with. I just think they're fun and delicious; I do a lot of champagne flavor––which I absolutely love, as well as chocolate and Bailey's."
Serena – "So what do you find yourself making the most for brides and grooms? Apart from chocolate and vanilla––you know, the basics, what are your most popular flavors for tastings and cake orders?"
Rachel – "Yeah! That's a great question. I find myself making a lot of cookies and cream, and white chocolate raspberry. Those are my two most popular flavors and I think they're amazing! But along with those two flavors, I always encourage my brides and grooms to try indie colada, tiramisu, creme brulee, and/or Italian cream. Those flavors will positively have you drooling!
Serena – "So what Rachel is saying, guys, is that she can do anything! Just tell her what flavor you want and she will make it happen! Not only this, if you don't know what flavor you're looking for she can also help you narrow it down and choose the perfect one for you!
When To Place Your Wedding Cake Order

Rachel says, "Twelve months from your wedding date is ideal, 7-8 months is cutting it close, and the closer you get, the less likely you'll be able to book me or another cake maker. Two months before is the limit, and by this point, there would be a rush fee, and even that can't guarantee your spot at a bakery. My recommendation is that you get your cake taken care of at twelve months or earlier!"
How Much Does a Cake Cost and How Much Do You Actually Need?
Serena – "One of my brides at the Dallas Oasis was asking me this week, how much a wedding cake is and how much do they need to feed their guests? I think this is an excellent question that a lot of brides would love to get a good answer to!"
Rachel – "So with cakes and with any other vendor, it's always going to depend on first of all, who you're going with. So I could give you a semi ballpark price for Blondie's Bake House, but that doesn't mean it's going to be anywhere near what another vendor might charge.
Blondie's starts around $4 a serving and it goes up depending on what kind of design you get. It can get expensive, but there are a lot of hacks around getting a stunning centerpiece cake, without paying for as much cake. For example, you can do fake layers, and something that is awesome that bakers don't really talk to you about is that, you can get a tall cake and it not have to feed a lot of people.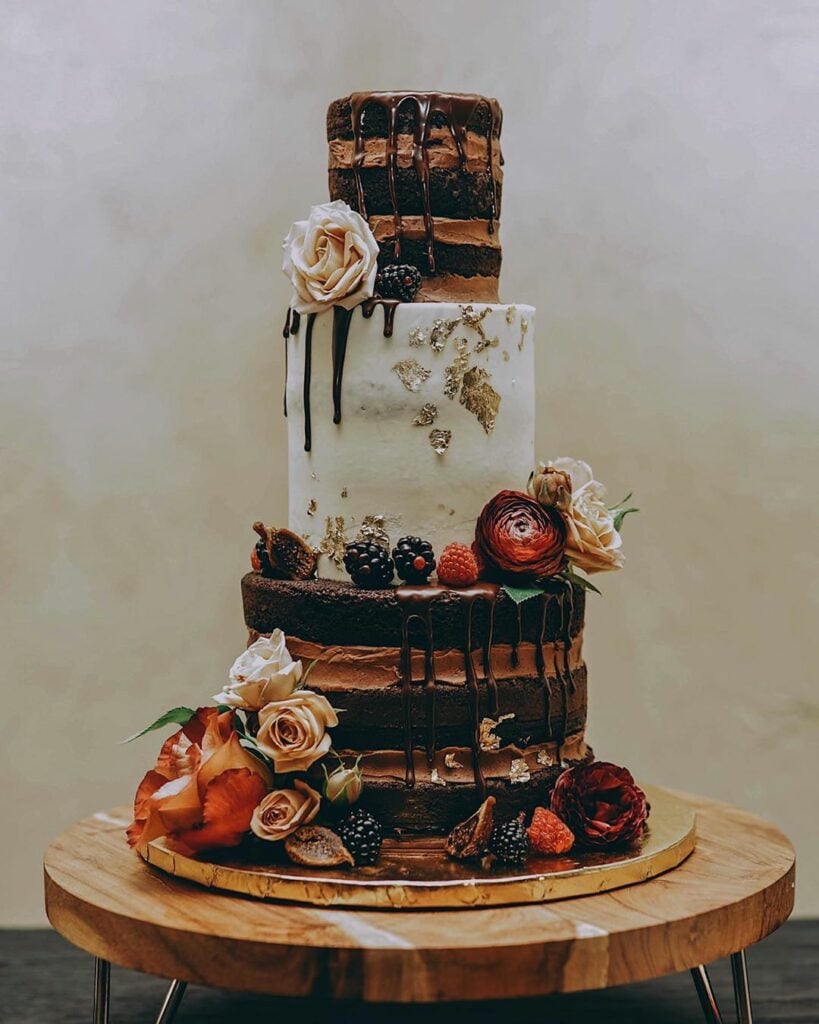 So you could do a four, six, eight, ten, twelve-inch cake, and have a five-tier cake that doesn't feed a ton of people, but it's still tall, you know?
You can also add thick separators for that extra height!
So my fee is $4 a serving, but unless I knew how many people you were feeding, I couldn't really give you a good estimate on exact cost without sitting down and talking over your whole day and all the details.
One thing to keep in mind though is that not all of your guests are going to eat, so this is something we can work out together once myself or another baker knows your guest count. We can determine exactly how much cake you really need so you don't have gobs of left-overs to take home later."
How to Choose a Design For Your Wedding Cake
Serena – "I had another bride ask me yesterday how to choose a design for her cake based on her color scheme and style that she's doing for the wedding. How do you go about choosing a design that matches and compliments the bride's vision and style? I know that you do custom design, so what would you tell her as far as coming up with the perfect cake for her color scheme, wedding theme, and style?
Rachel – "So what I really love is getting to know my brides! I always send my brides and grooms a questionnaire to really get to know them and to get an exact idea for the cake design. I ask brides what their style is––are they modern or romantic? Do they like a garden theme or any kind of theme at all? I then ask about colors and the mood they're going for. After I get a completed questionnaire, I will sketch up a few cakes before our consultation.
I love doing my designs this way because I am creating unique cakes for brides and grooms, ones that are not copied right off Pinterest and that have not been in a dozen other weddings!"
Can You Save The Top Layer for Your First Anniversary?
Serena – "Another question brides are asking is whether you can or should save the top layer of your cake for your first wedding anniversary?"
Rachel –  "So my friends actually did this. And I made their wedding cake; I was there when they ate it and I closed my eyes and I was like, okay, this is no reflection on me––do not take it out on me if it's gross, it is a year old!
I mean, if you're really sentimental and you really want to do that and then we will do it for you. We will give a box to your event coordinator the day of and they can wrap it up for you and you can freeze it and it will be edible a year later. Or what I highly recommend is that you grab one of my $ 20-anniversary cakes, which is a big discount on my small cakes, and it saves you the trouble of eating a freezer burnt cake.
Are Grooms Cakes Still a Thing?

Serena – "And just one last question for you today, Rachel, Brides want to know if grooms cakes are still a thing in 2020?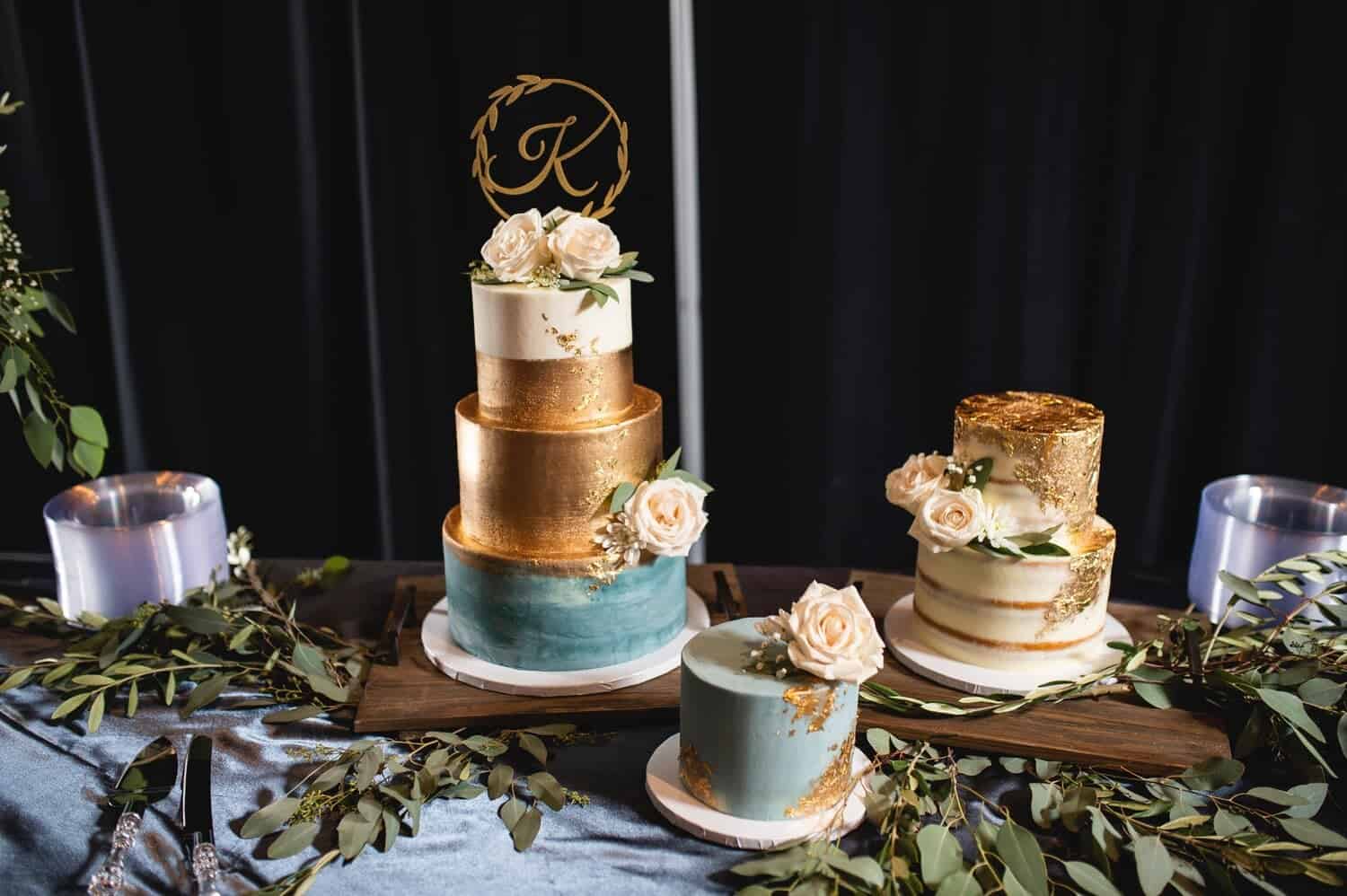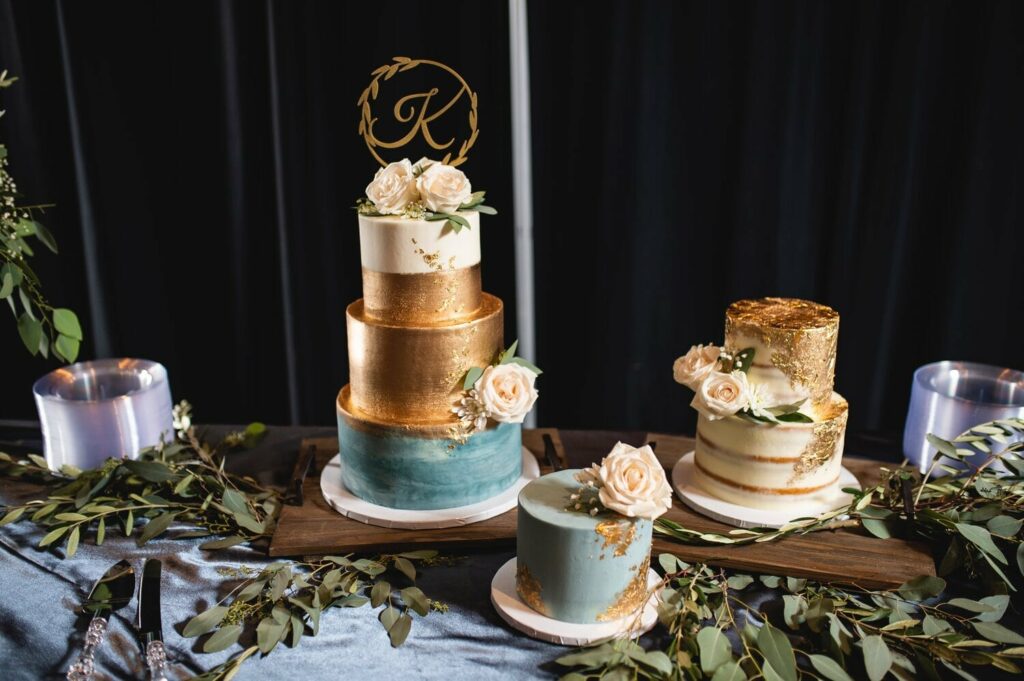 Rachel – "Okay. So I don't get grooms cake orders very often. I actually haven't seen a lot. There are the occasional grooms that actually want a cake. But a lot of the times the bride will take a little more charge there and she'll ask for a groom's cake but want it to match hers. So that's something that I've seen, you can get two cakes that echo your theme, but then the second, smaller cake, will be the flavor that the groom wants; so I would say, it is not very common right now."'
Wrapping Everything Up

This was an incredibly informative interview with a lot of invaluable information! So now all you need to do to get started is 1) know your guest count, and 2) reach out to Blondie's Bake House or a cake shop in your area and order your cake!