You've just said, "I Do," now your guests are eagerly awaiting your arrival at the wedding reception. This is the part where you get to dance, party, and celebrate all night long the fun wedding reception you have planned for, but you want to leave your guests with an impression, and to do that, you need a grand entrance that will really grab your guests attention, and get them excited to celebrate all day and night!
Here is the list of our top favorite 9 Grand Entrance ideas to inspire you and give you the ultimate grand entrance!
1. Sparkle Your Way In

I'm a huge fan of cold sparks, and if you've read any of my other blogs, you'll find that I recommend them a lot. They're essentially beautiful giant sparklers that don't burn you!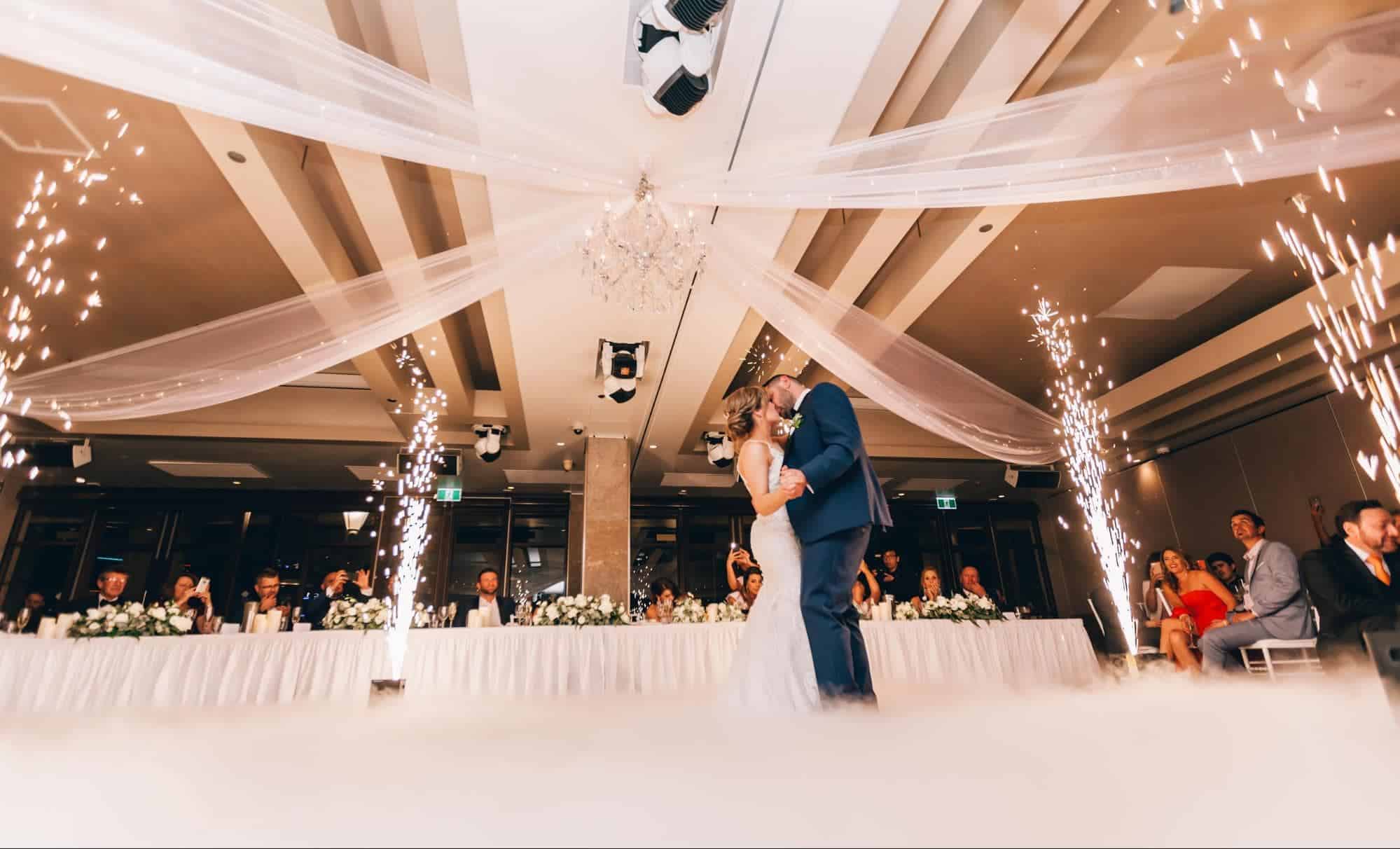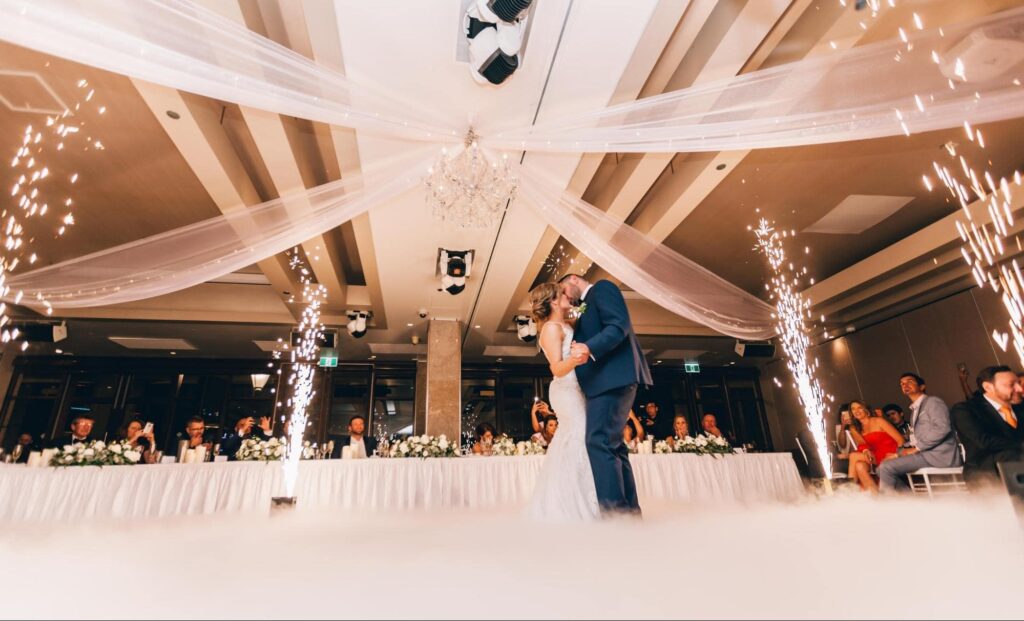 Dance, walk, or jump your way into your wedding reception with your pathway lined by them––they're beautifully stunning, attention-grabbing, and safe! This is a great way to make your entrance pop while creating the feeling of a magical evening. 
2. Dancing with Your Bridal Party

If you want to include your wedding party and add a high energy element to your wedding, get some of your favorite poppin' music going and dance your way into the wedding reception!
Enter the dance floor and have the whole wedding party get the crowd going as you dance to a choreographed dance. Add some spotlights to add a little flair to this grand entrance!
3. Hire Your Favorite Band

If you're looking for a wow factor, this is the way to go, after your bridal party has entered, cue your favorite band and make your grand entrance to the sound of someone famous serenading you and your guests!
This will make you and your guests feel like they are at a VIP party and they will not soon forget your wedding––this is a sure way to create a luxurious, yet fun, feel on your big day! 
4. Ask Your Venue

Often wedding venues will offer built-in grand entrance packages that you can choose from. From glass elevators to curtain drops, smoke machines, and more!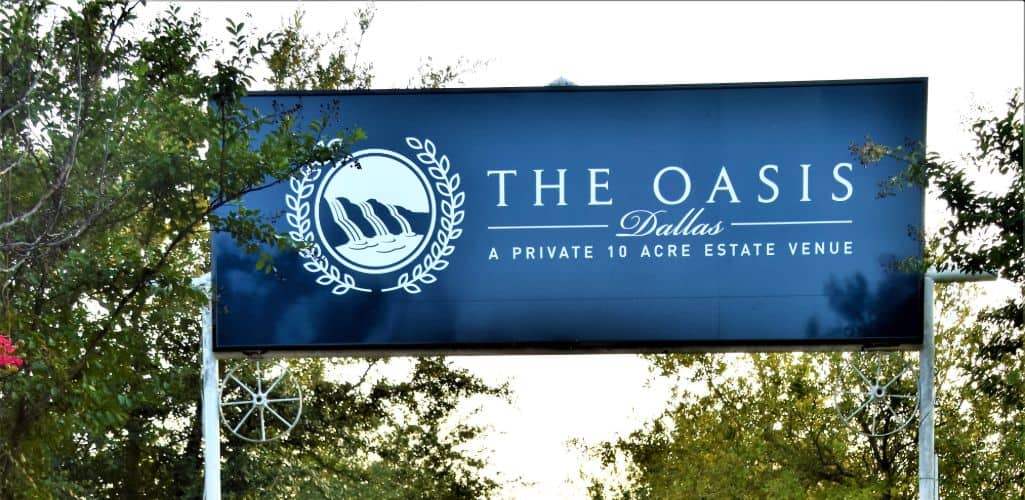 Dallas Oasis has the connections you need and can recommend, as well as put together packages for you that make it easy so you don't have to search for hours on end for the right grand entrance idea.
5. Add a Piece of You

If you like geeking out over books, movies, sports, or brands, you name it, incorporate it into your grand entrance. I recently saw a wedding where the bride and groom were massive hockey fans––they had their bridal party create a tunnel with hockey sticks and when they made it through, the Stanley Cup was waiting for them on a table in the middle of the room.
Maybe you're a Disney fan? Have some Disney characters show up and walk you and your fiance/new husband or wife to the dance floor. Get creative and have fun with it! 
6. Walk into a Romantic Shower of Rose Petals
Rose petals are romantic and classy. If you want to create a stunning and elegant grand entrance on your wedding day, let the rose petals rain down.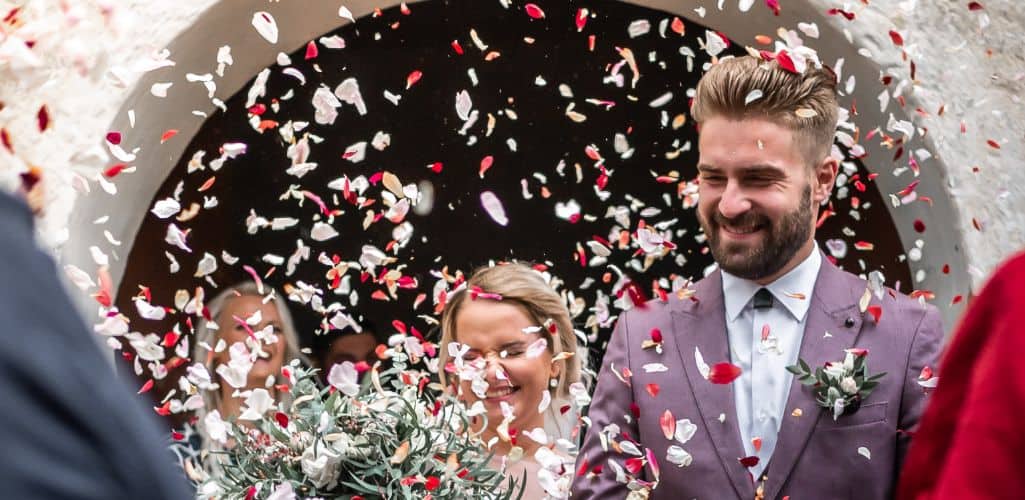 The colors will contrast with your white wedding dress to create an amazing display of colors!
7. Surprise Your Guests
If you're a fan of theater, this one's for you! 
Have all of your guests gathered at the door, waiting for your grand entrance, have your light team place all the lights on the door and then sneak your way to the dance floor where guests will be stunned to find you and your significant other on the dance floor with a spotlight.
Then tell a story through a choreographed dance!
8. Get Techy
Light engineers can do almost anything these days, I mean, have you seen Cinderella's Castle at closing time? Why not do the same as you walk in? Have your light engineer create a light show to remember!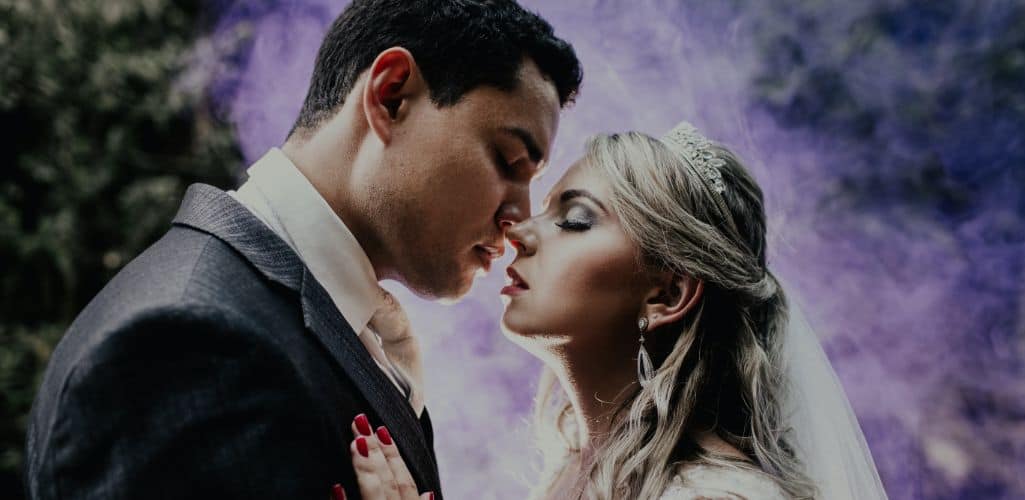 Throw in a confetti explosion and a fog machine to create the ultimate grand entrance with all the bells and whistles.
9. Silhouette Entrance

Create a dance silhouette on screen then enter the dance floor. Your guests will be utterly enraptured by your dancing silhouettes, then enter the dance floor and surprise them with a live dance!