Bridal showers are one of my favorite aspects of wedding planning because there is so much creativity and fun involved. There are so many different themes to choose from, and you get to have a good time with your girlfriends, opening presents, playing games, and celebrating your upcoming marriage without the pressure of making a grand entrance on your wedding day!
One of my absolute favorite parts of putting together a bridal shower though is choosing the party favors, they're just so cute, creative, and they are a great way to tell your guests, "thank you, for coming to celebrate me!" 
So because I couldn't contain my love for bridal shower favors, I've put together a list of 20 unique and trendy bridal shower gift ideas for you to choose from, and the best part is… they all have links! Which means you don't have to search around for look-alikes!
1. Mini Bottle of Champagne With Customized Labels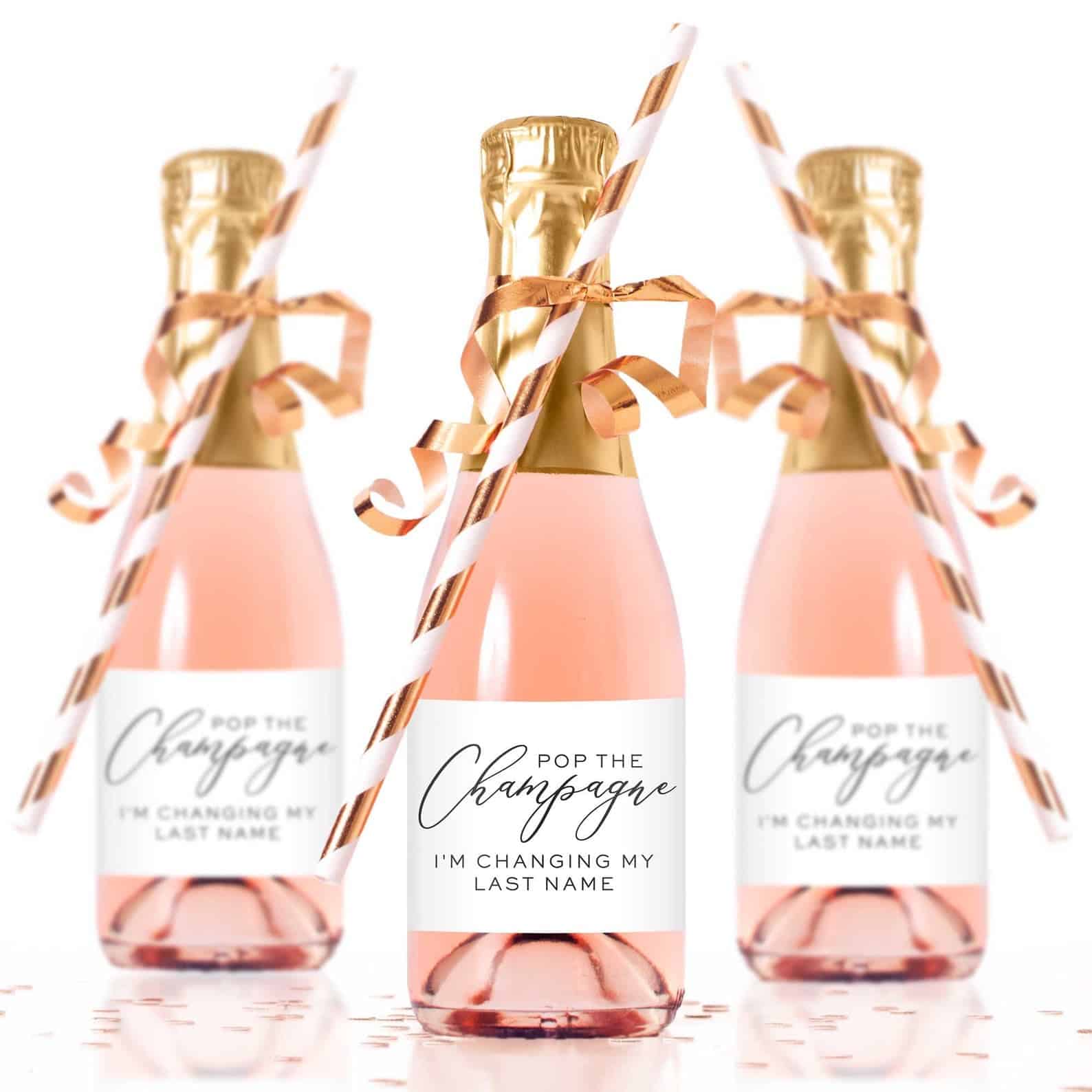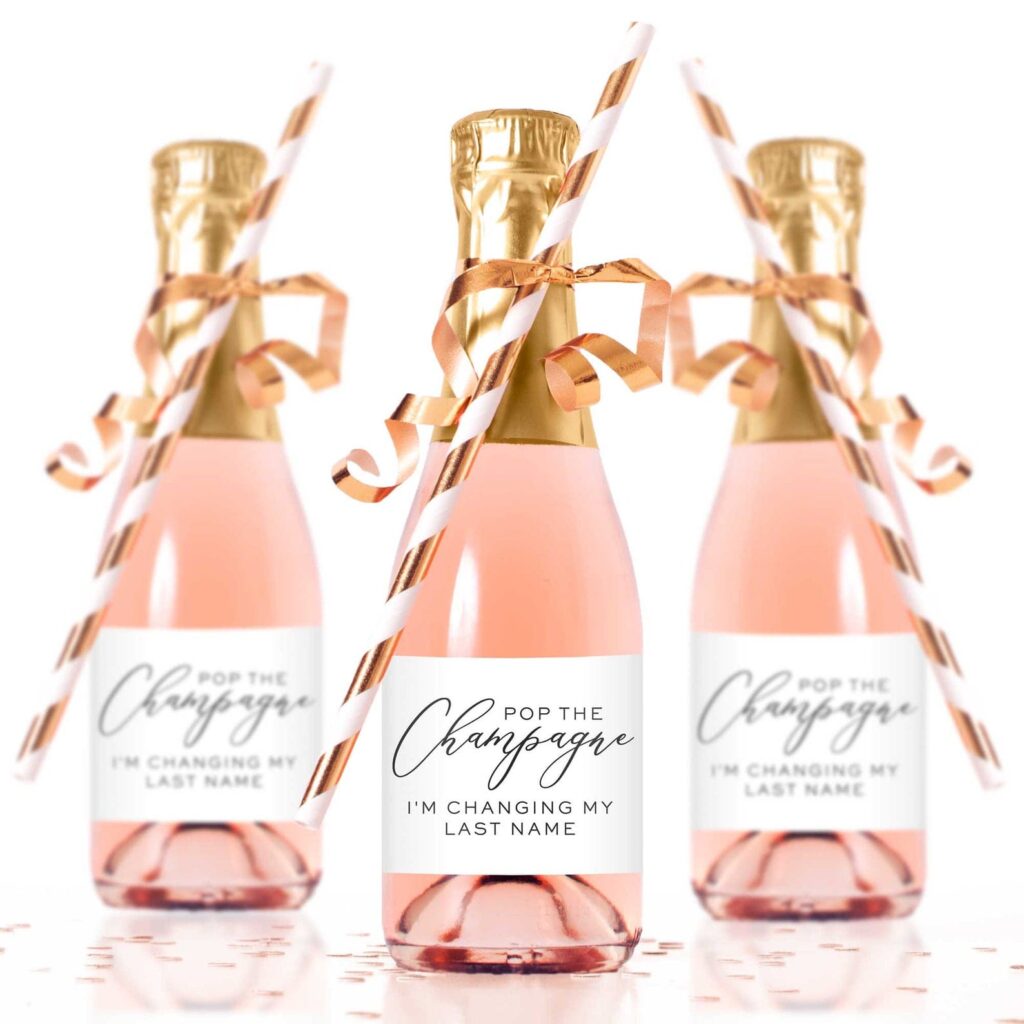 Labels by TeaAndBecky – Etsy
This is a really cute and classy way to send your guests off because champagne says classy, and the label says you put a lot of thought into their bridal shower gifts!
2. Personalized French Macaron Favors in Favor Box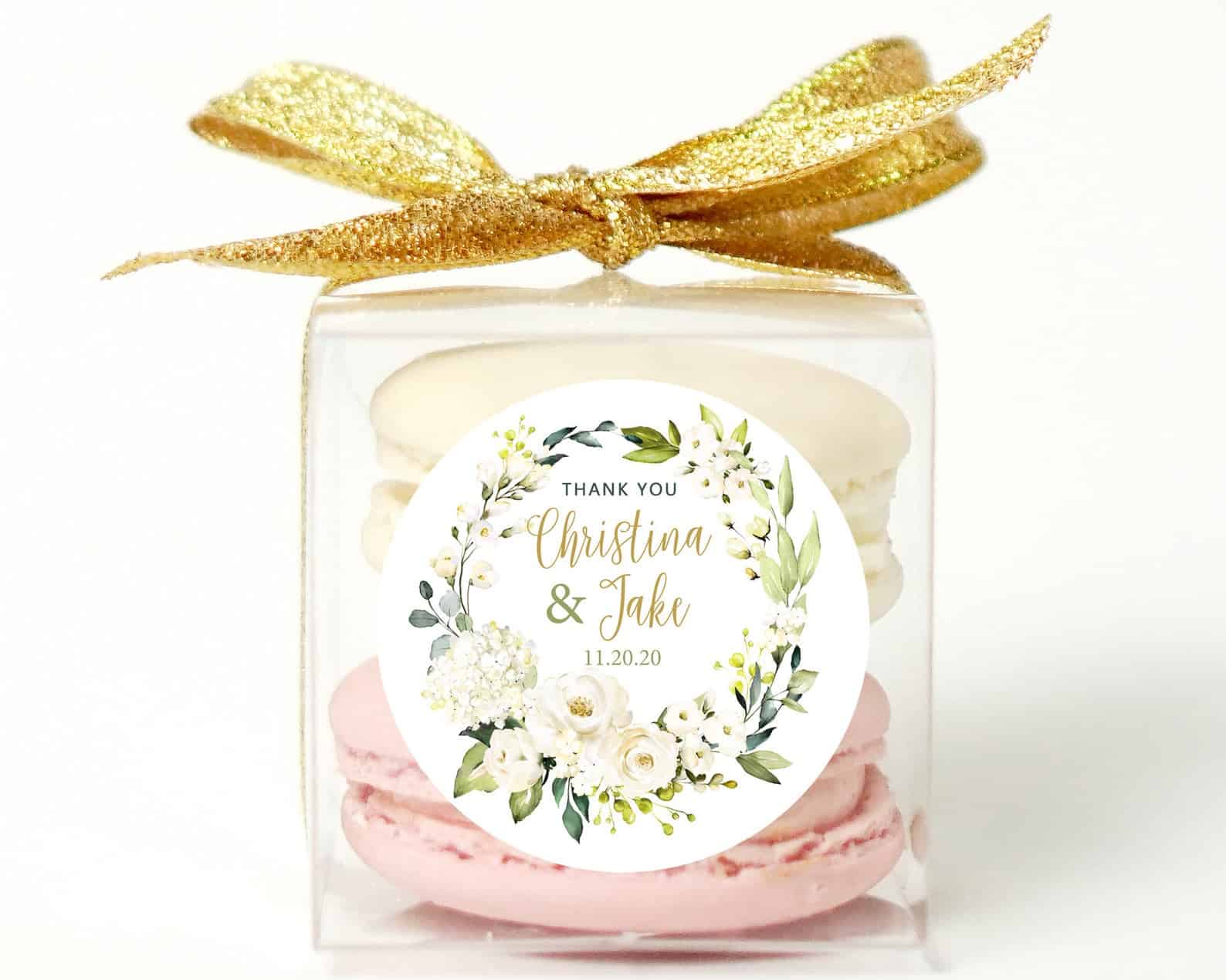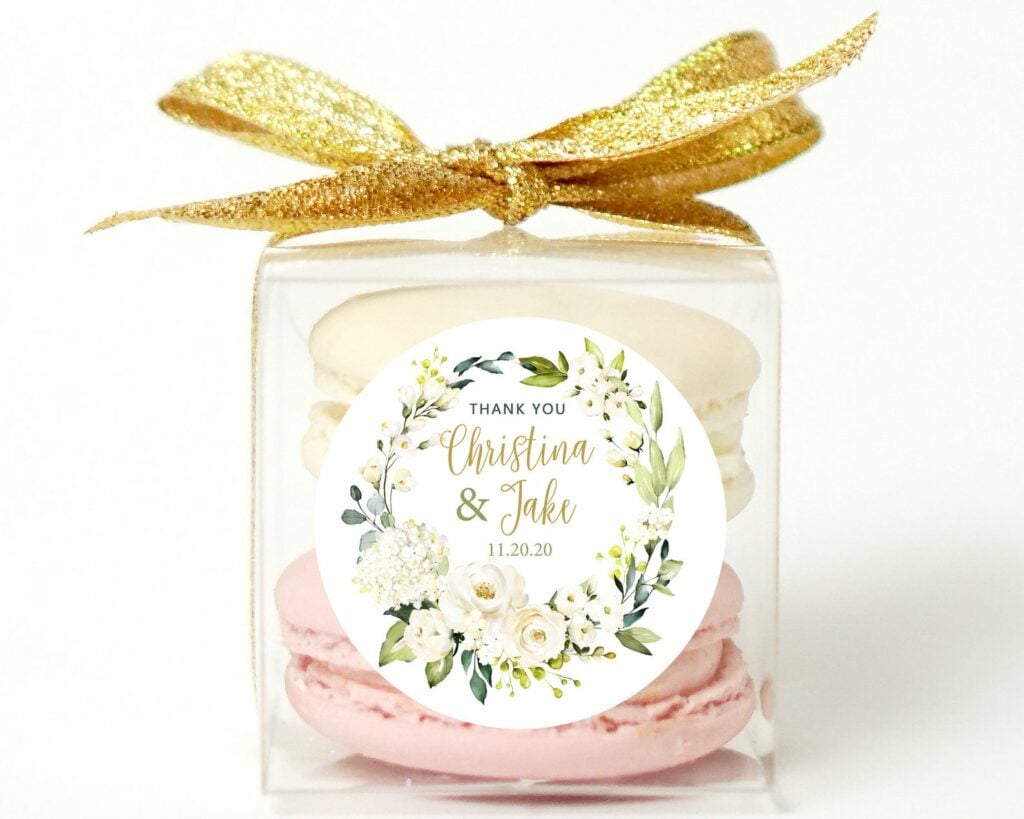 CookieboxStore – Etsy
Macarons are a fantastic route to go, especially for the French Elegance themed bridal shower. This bridal luncheon favor means that even after your guests have left the ultimate French experience, they get to have a taste of France later when they get home!
3. Luggage Tag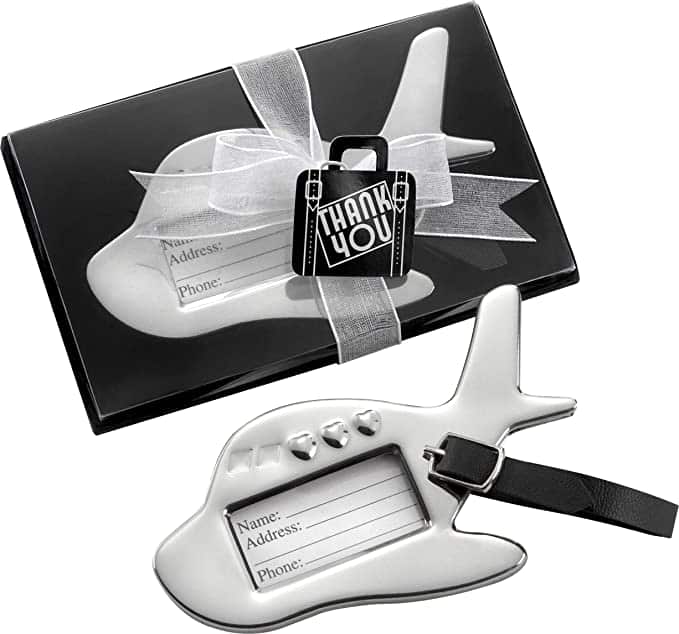 Kate Aspen Luggage Tag – Amazon
This party favor is one of the best bridal shower gifts for guests that will last forever. It lets your guests travel the world with the memory of your bridal shower forever!
4. Customizable Wine Tumbler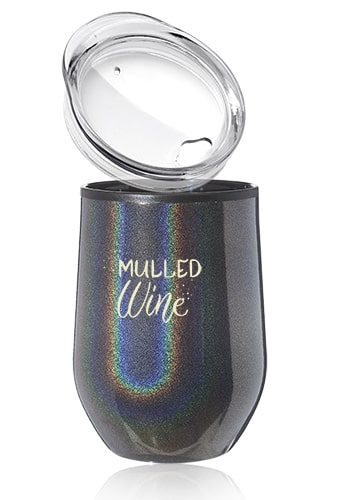 Who doesn't love wine? I love this one because it's so practical but also customizable, so you can say goodbye to your guests who will be able to use their party favor for a long, long time! (Also, did I mention its super cute?!)
5. Personalized Totebag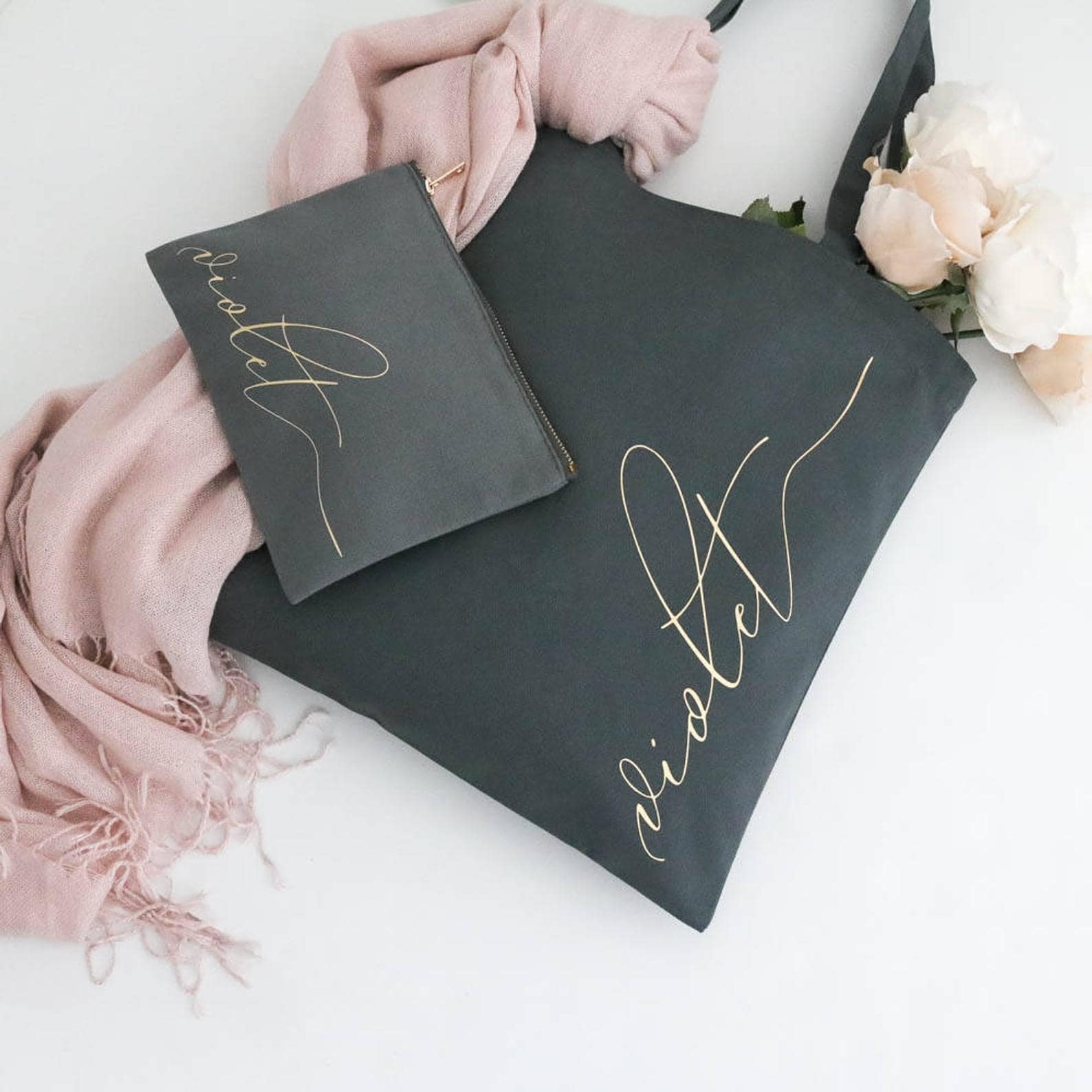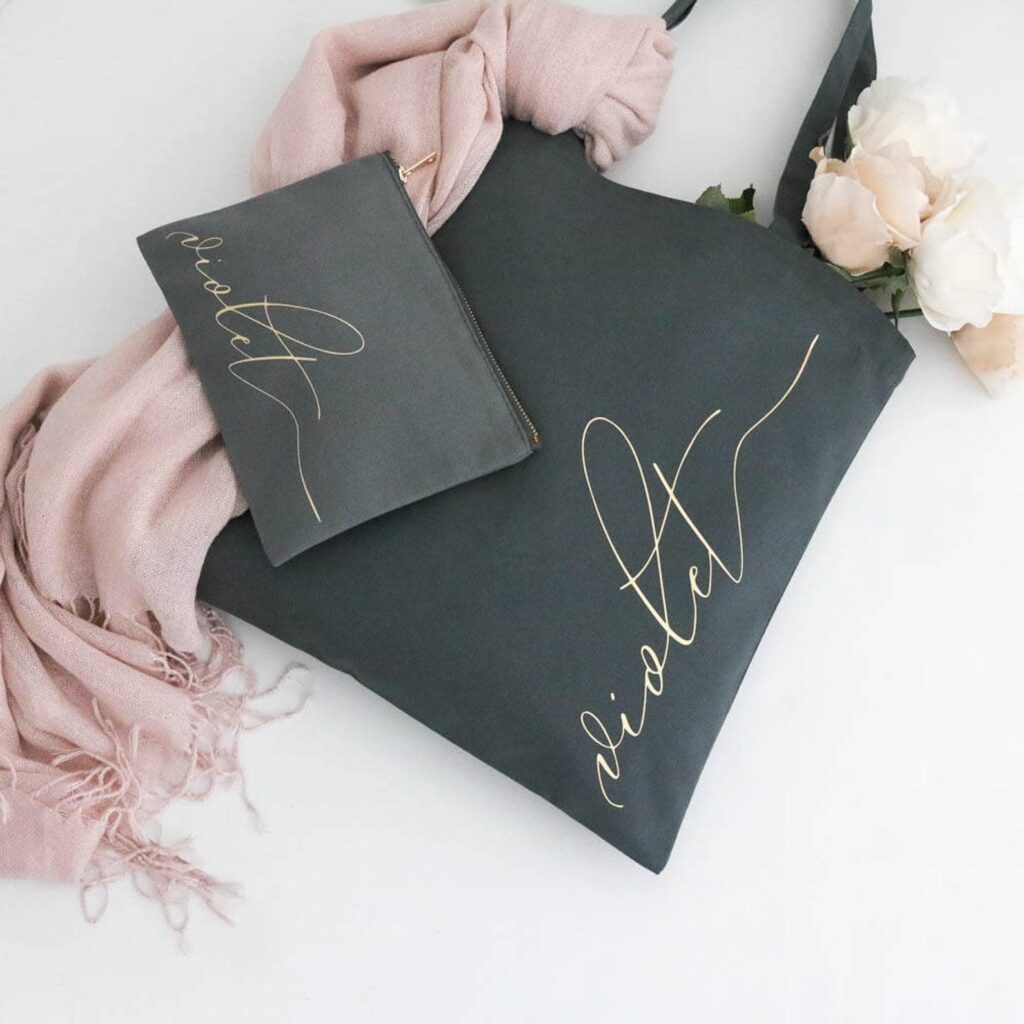 These tote bags are wonderful custom bridal shower favors. They are absolutely stunning and really say "thank you!" And the cool part is, you can customize them, to match the color and theme of your bridal shower!
6. Rice Krispy Treats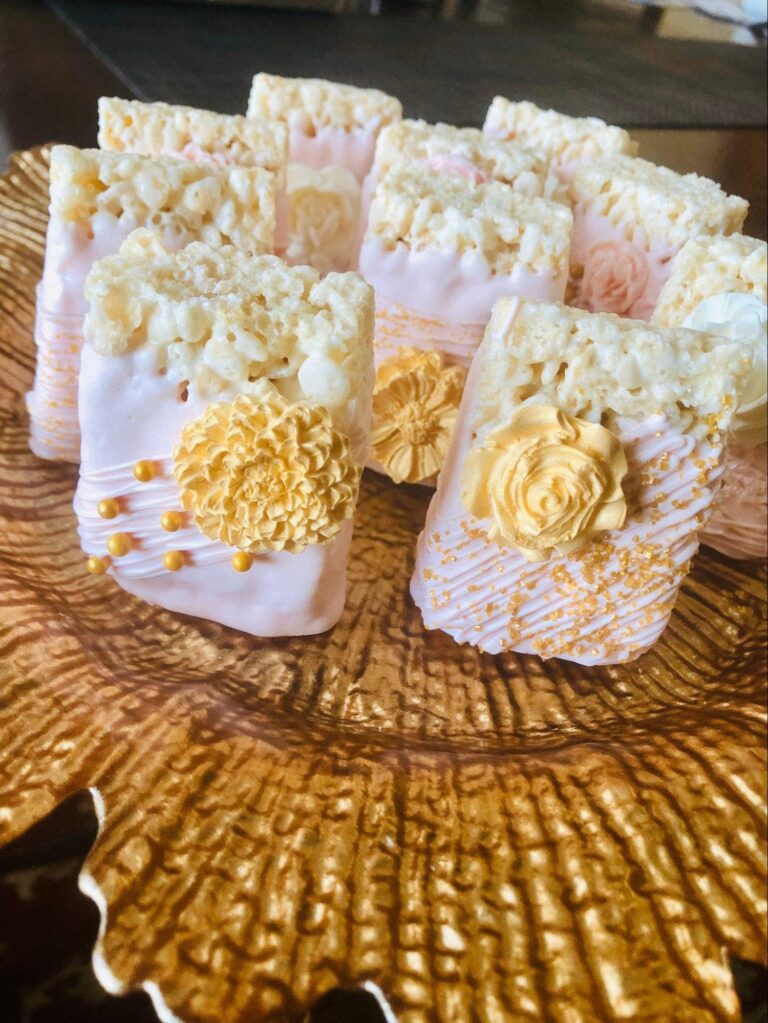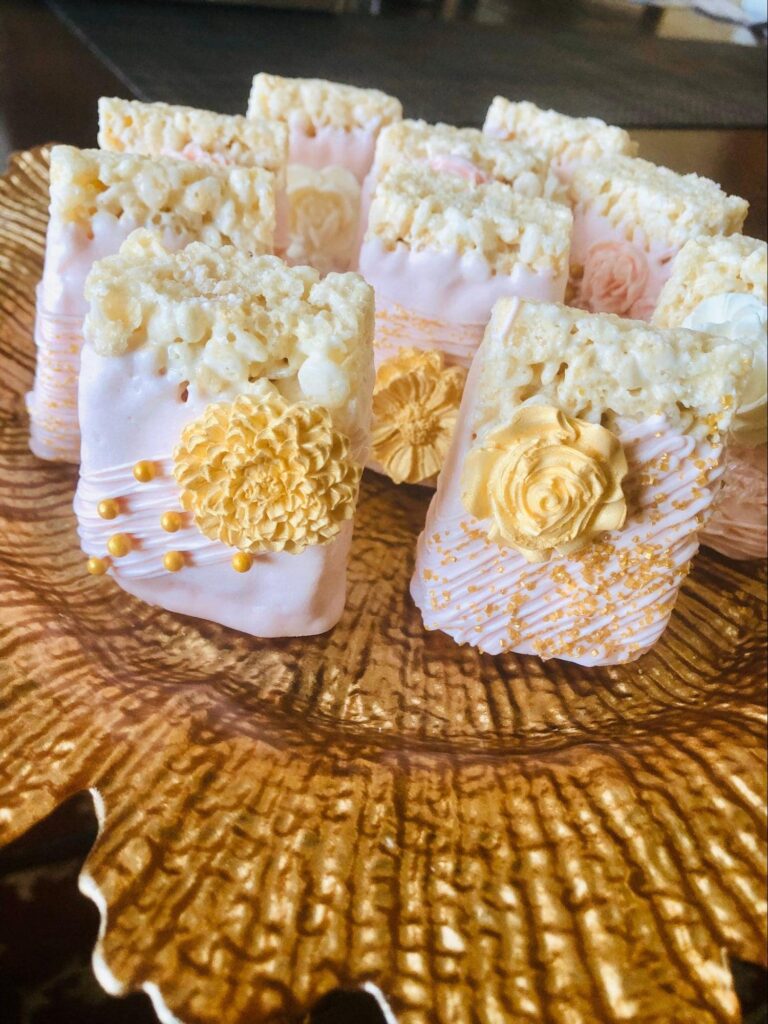 AddingAPersonalTouch – Etsy
These are gorgeous and tasty! Everyone loves a good sweet treat every now and then, even if they are on a strict diet, and this is a great way to cheat! See your gals off with these adorable little Rice Krispy Treats!
7. A Candle With Special Packaging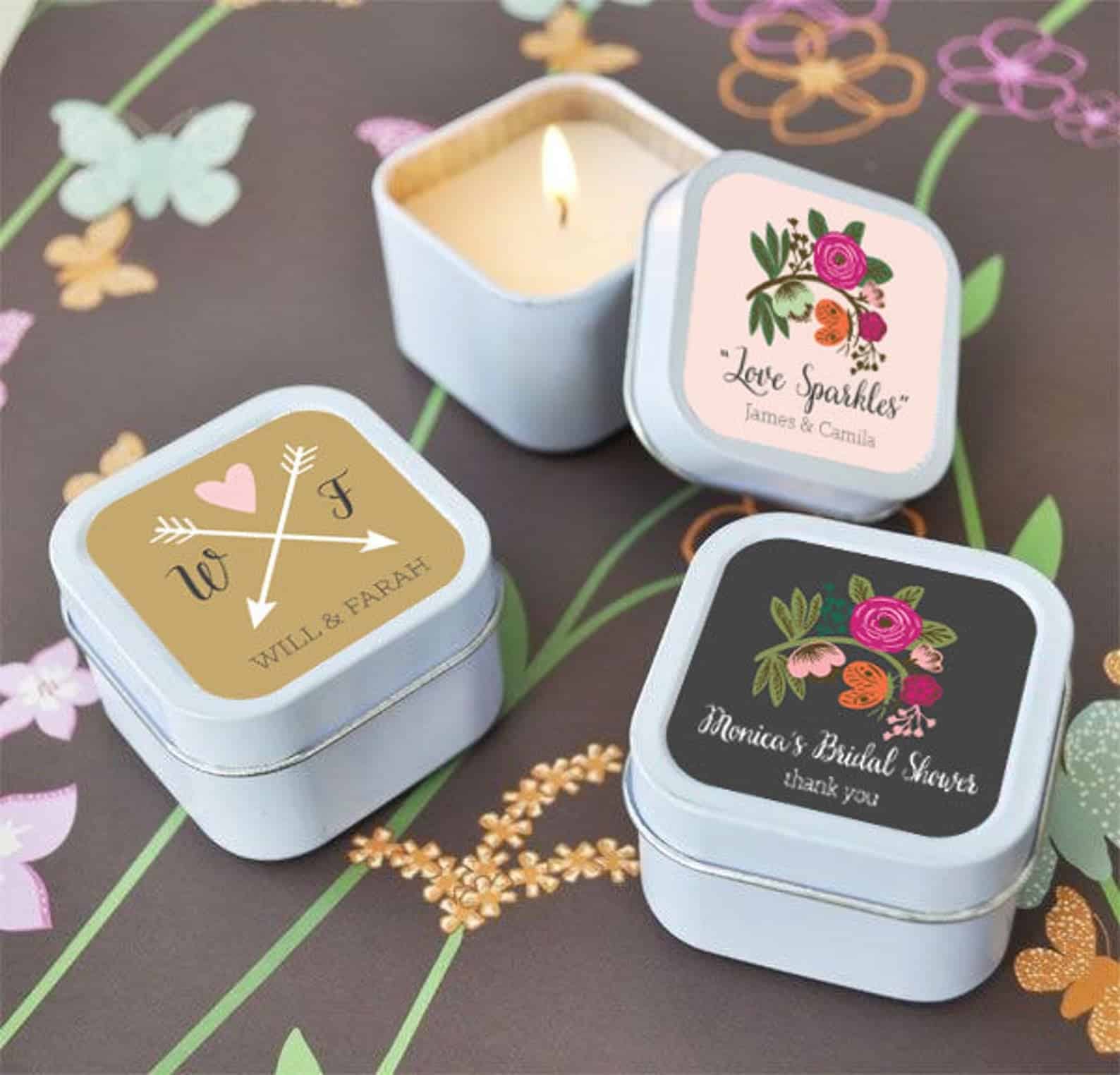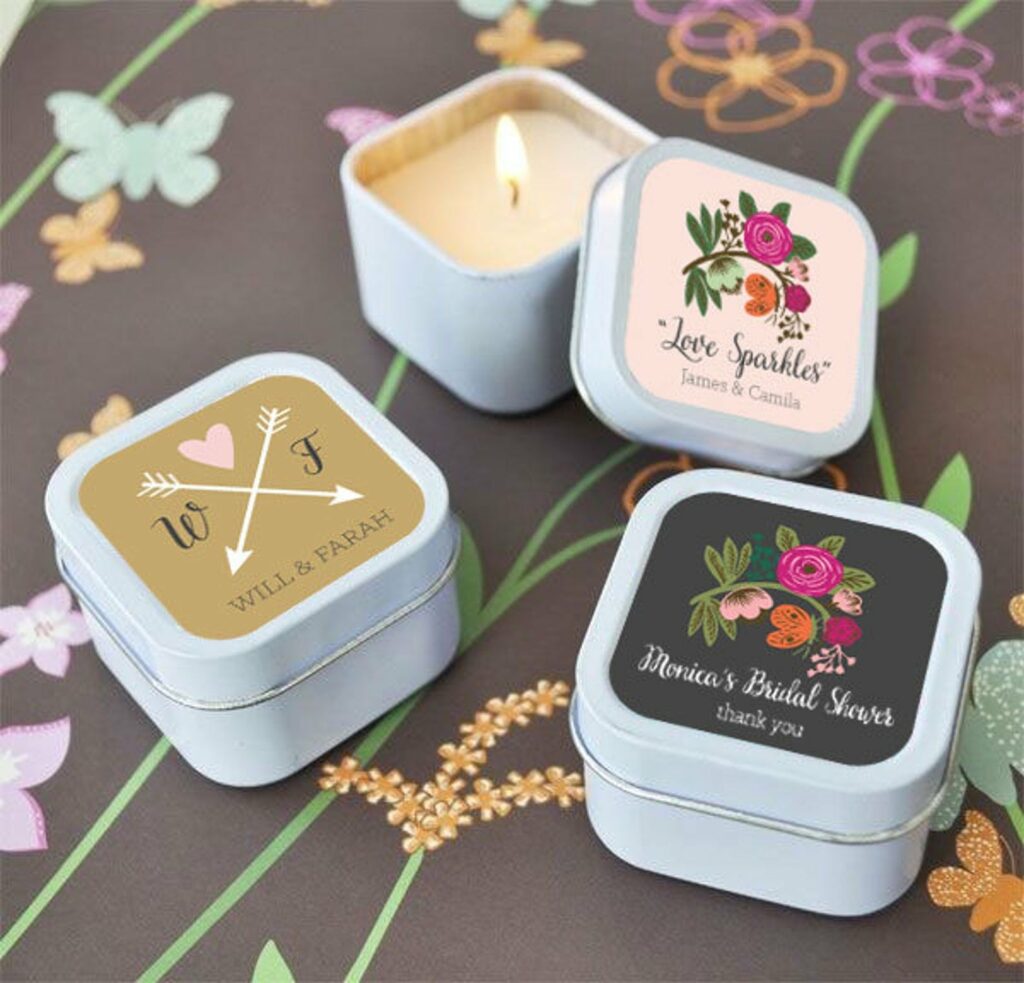 ModParty – Etsy
As a candle lover myself, this one had me swooning. I love love love this bridal shower decoration favor, especially since there are so many options to choose from, you can pick the scent, the label, and the color!
8. Personalized Koozie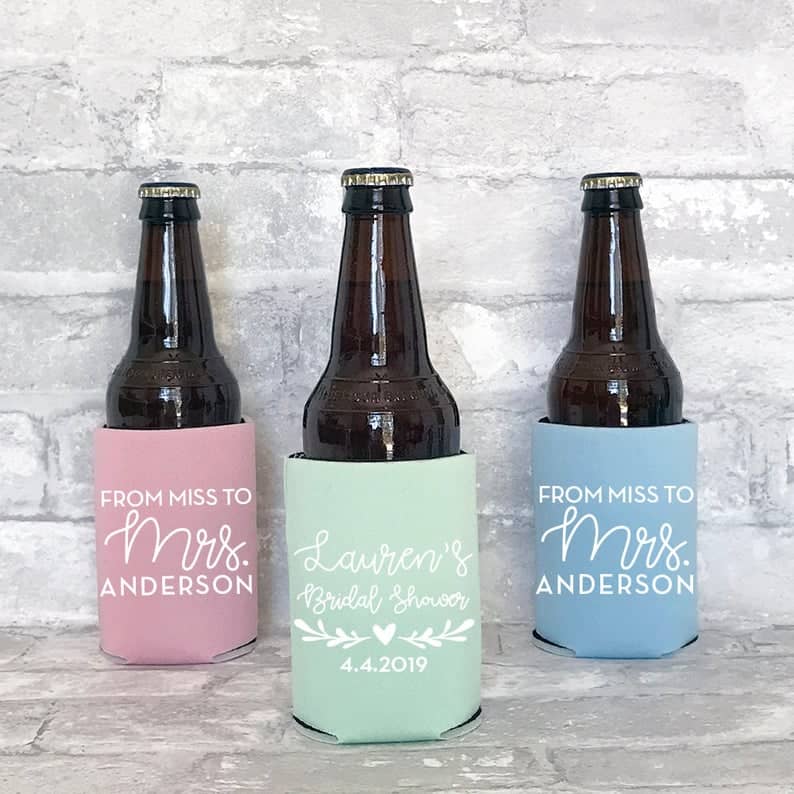 CelebrationEventsCo – Etsy
A personalized koozie is perfect for a Summer bridal shower (and makes great Texas-themed wedding favors)! Go ahead and throw one in for youself while you're at it, and enjoy a day by the pool with your own wedding koozie!
9. Box of Chocolate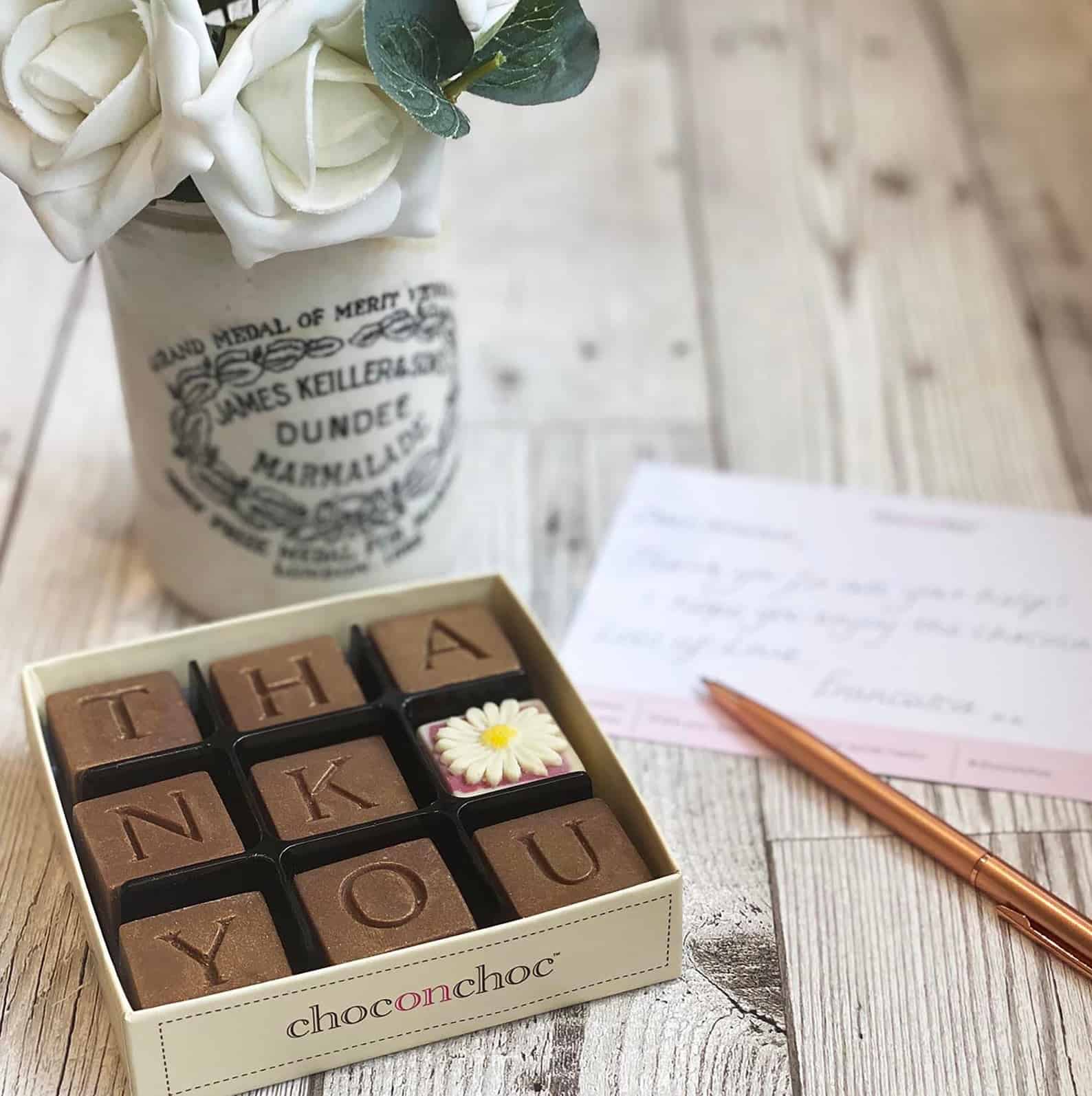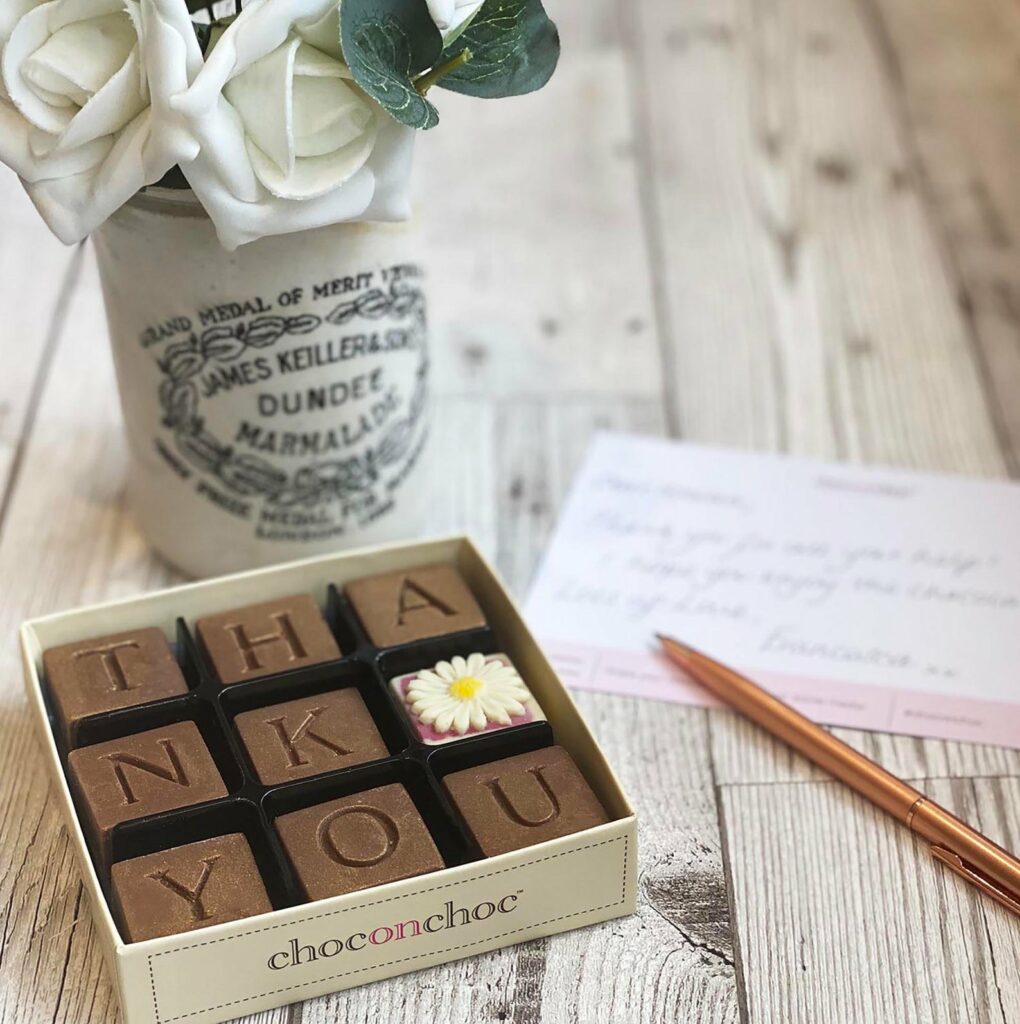 ChoconChoc – Etsy
It's simply a fact of life, young or old, girls love chocolate. And this favor does all the thanking for you!
10. Succulent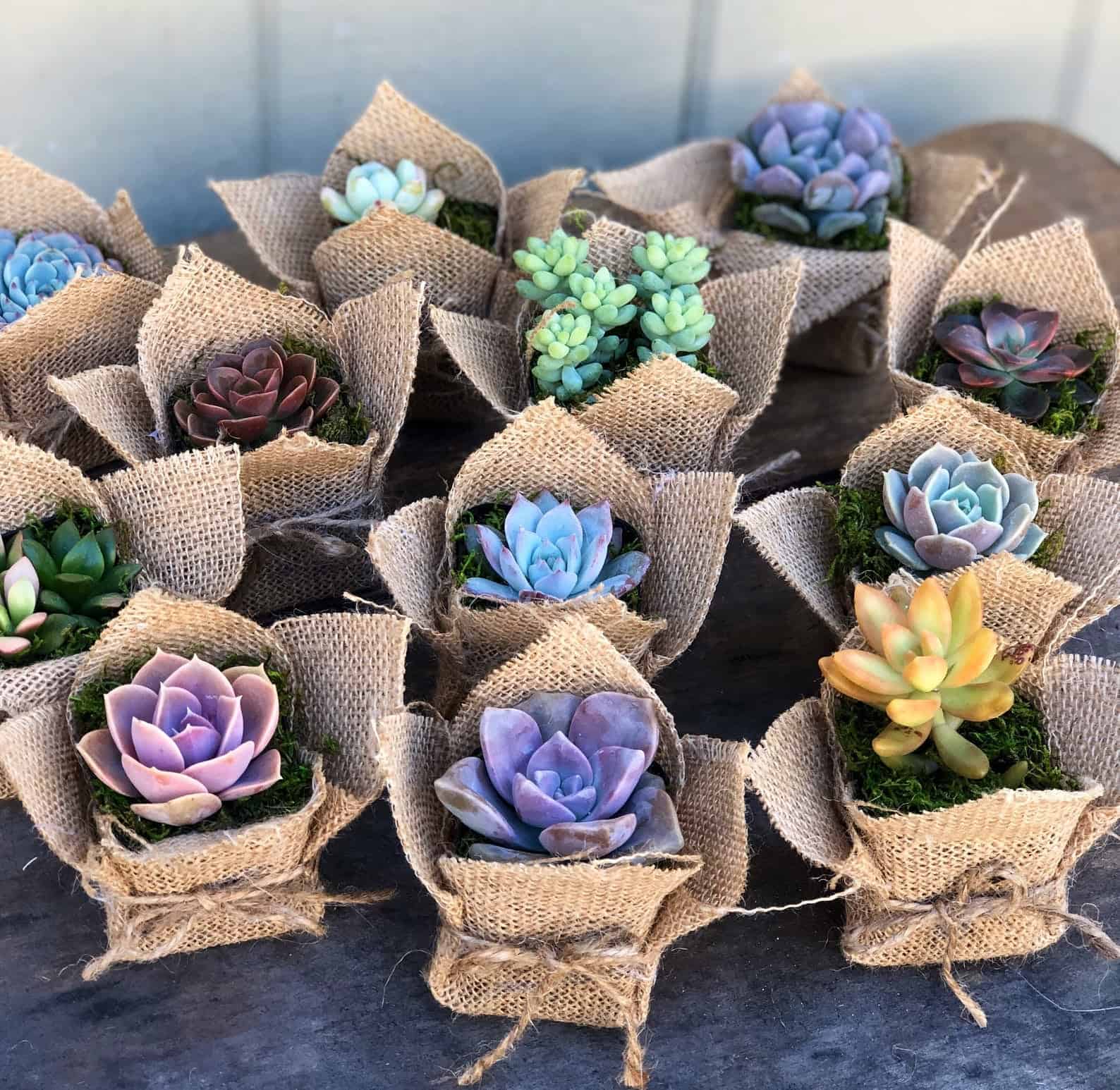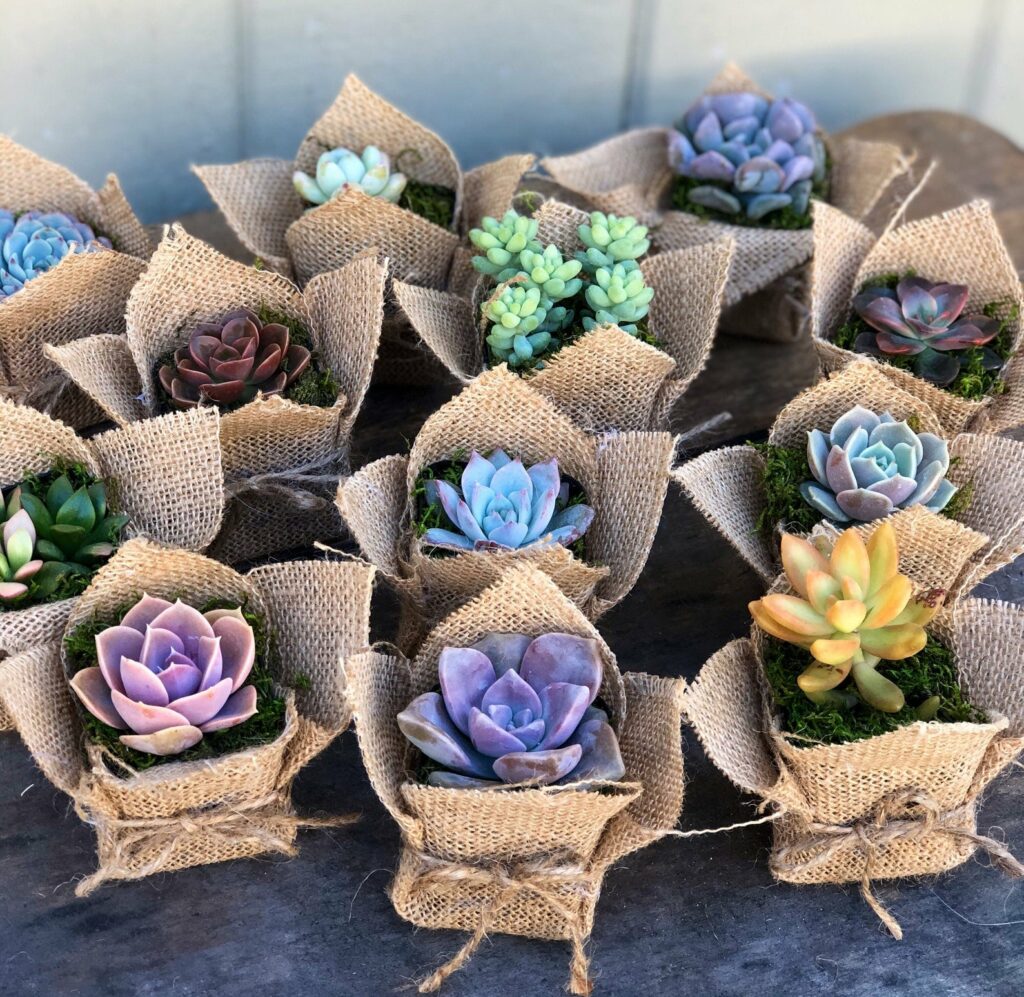 QueenofSucculents – Etsy
Succulents are positively popping right now. They're adorable, unique, and customizable to your wedding theme! So pick the option that's best for your celebration.
11. Bath Bombs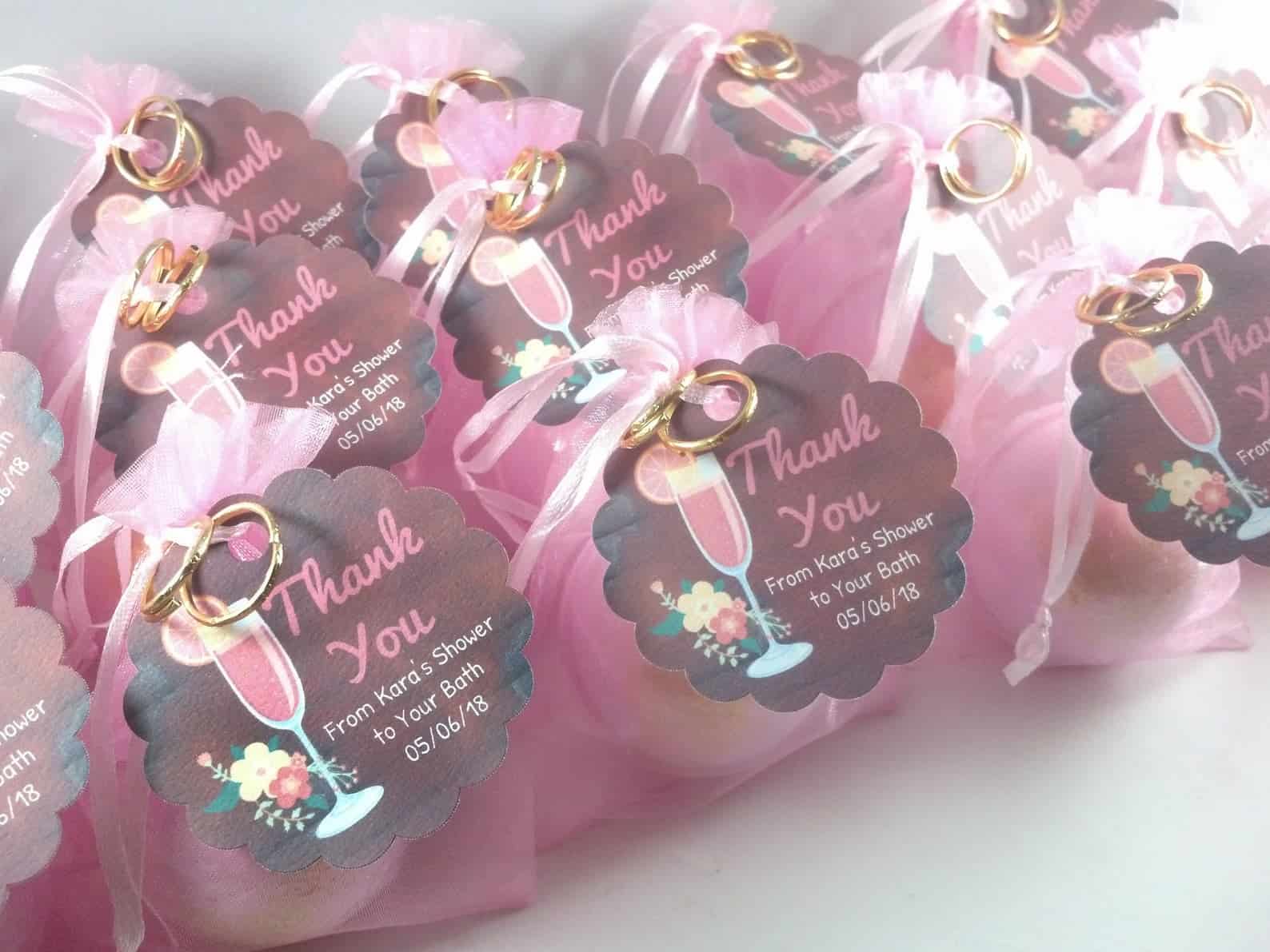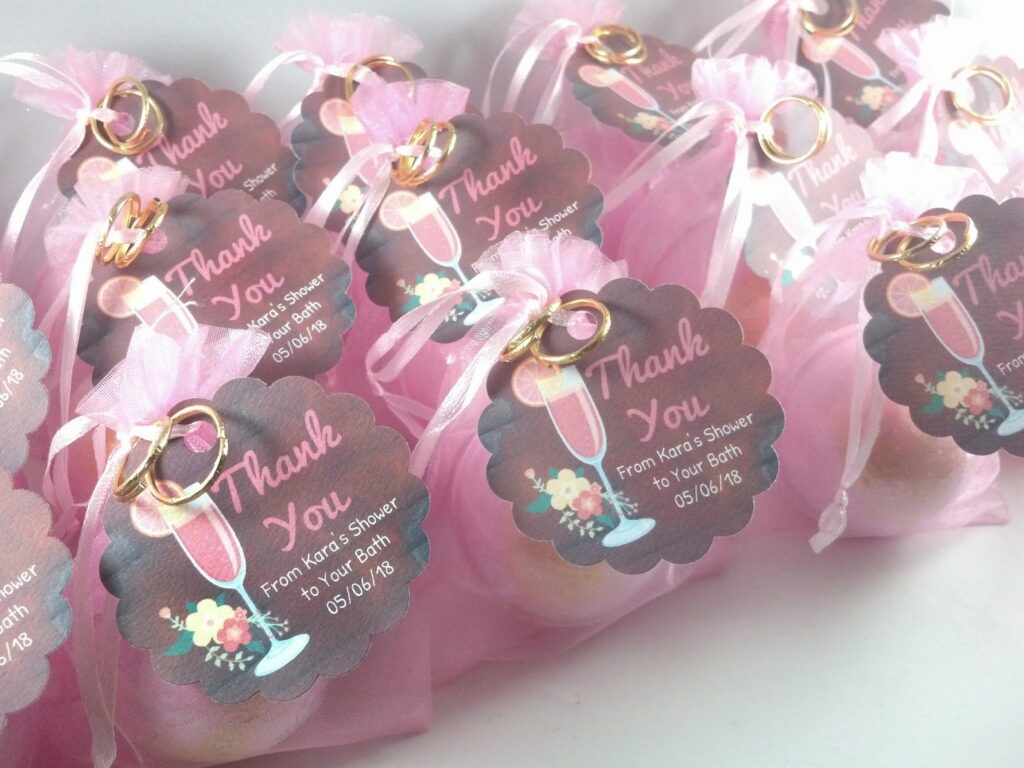 Bath bombs are a way to any girl's heart, not to mention the tags are catchy and cute! Tell your guests you care about them by sending them home with a gift that helps them relax!
12. Wine Bottle Stopper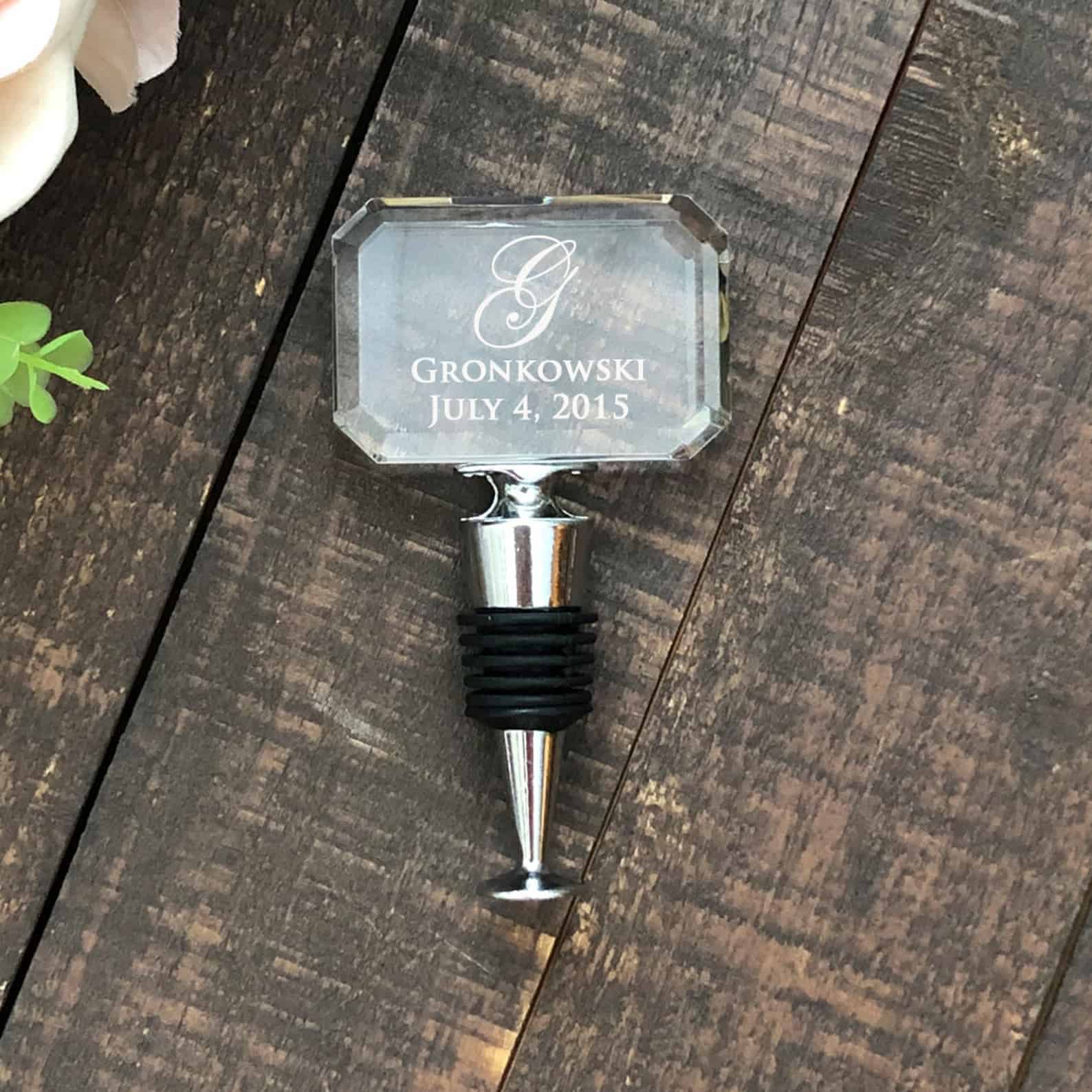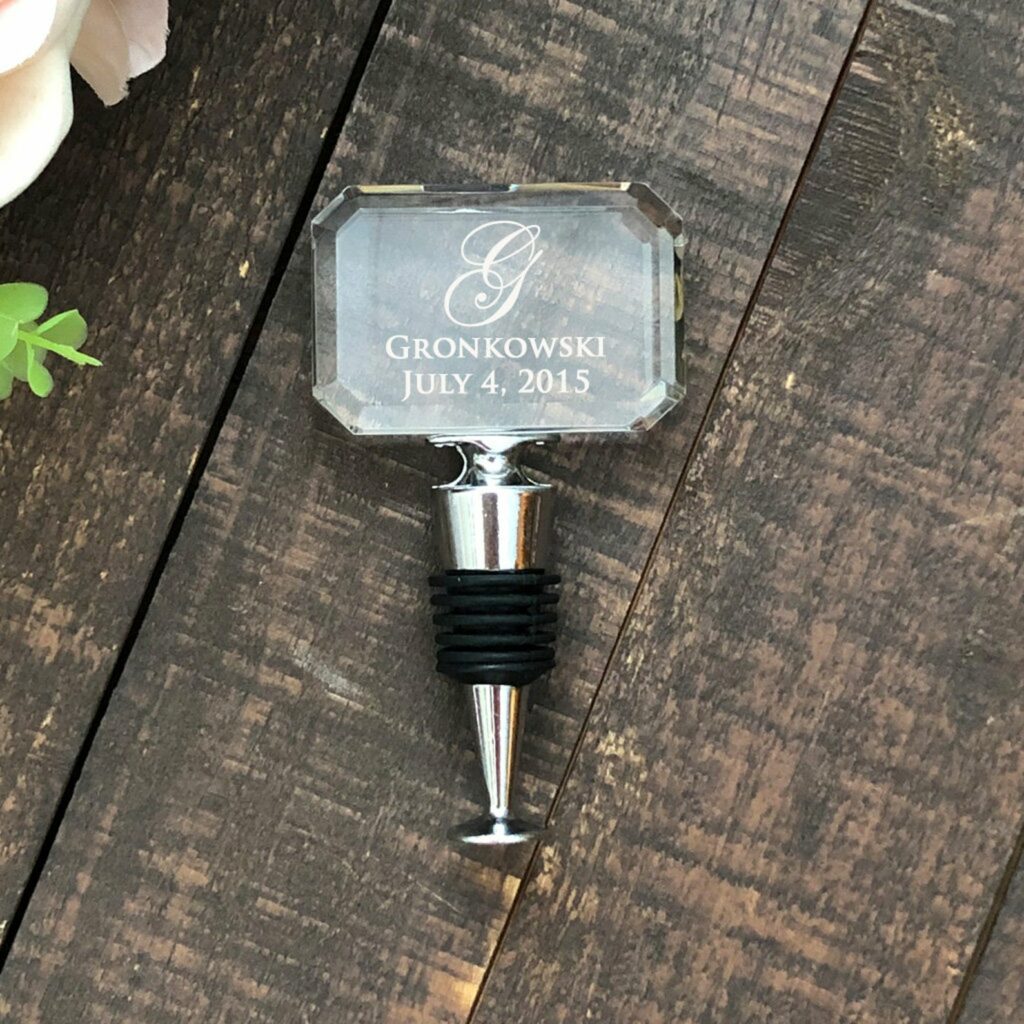 EverythingDecorated – Etsy
Honestly, I think classy is one of my favorite words; I just love all things classy. Classy weddings, classy, invitations, and yes, you guessed it––classy bridal shower party favors. So if you want to gift your guests something classy… well "PICK ME PICK ME!"
13. Personalized Soap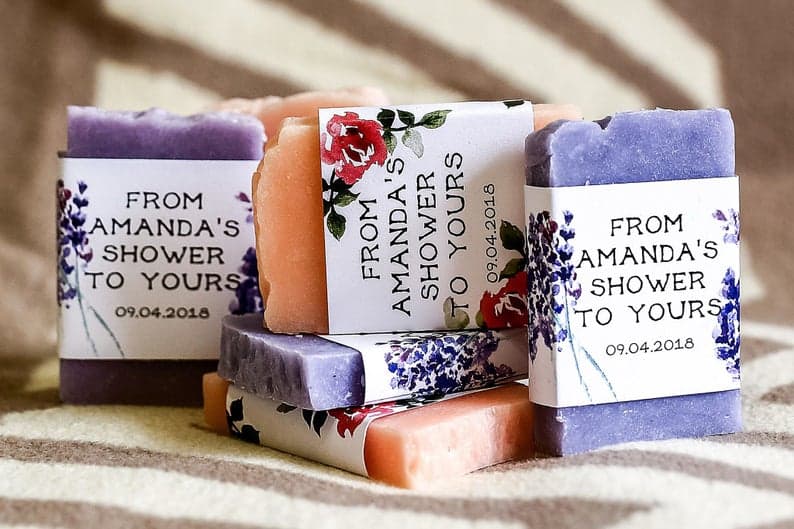 RusticJoySoap – Etsy
We have another pampering item here (because really, you can never have too many)! This soap is both beautiful, quirky, and smells amazing!
14. Unique Cookies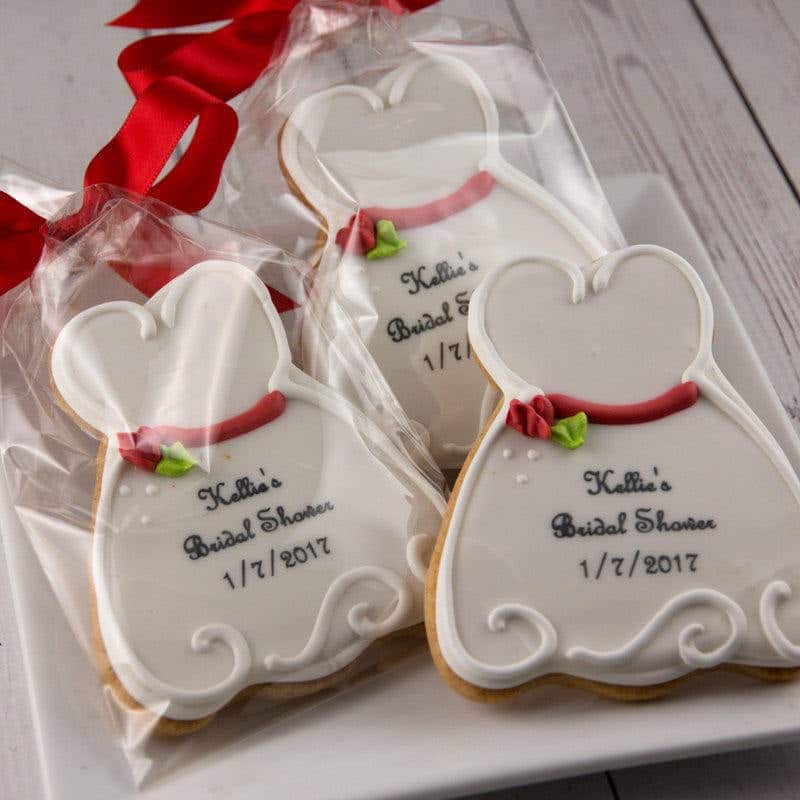 Bridal Shower Cookies – Etsy
Elegant and cute, give your guests a taste of your wedding aesthetic with these little beauties!
15. Mini Flower Pot and Seeds Kit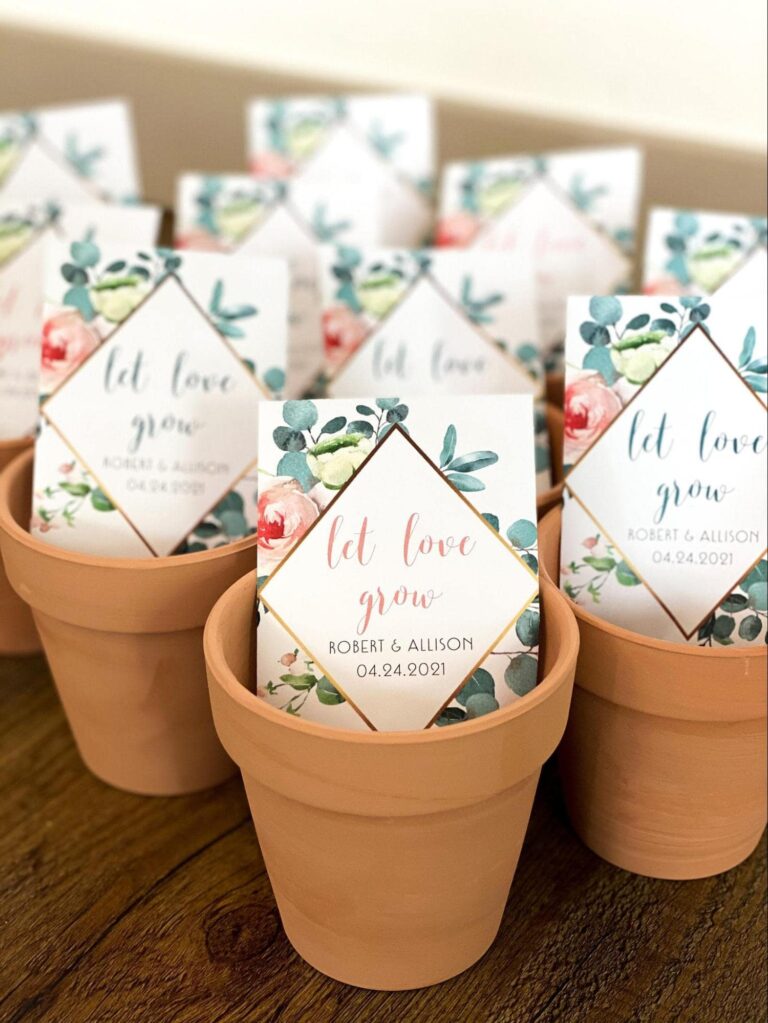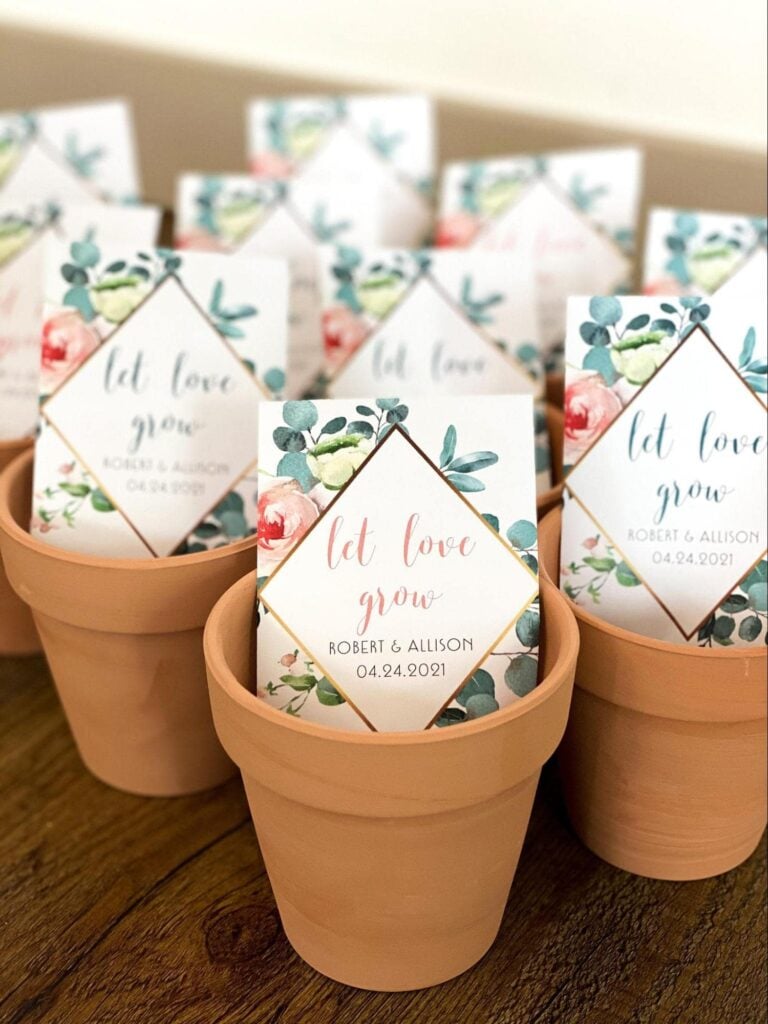 Let Love Grow- Custom Seed Wedding Favors – Etsy
Out of the 20 ideas I found and put together, this one is by far my favorite! I think it's positively adorable, and will give your guests something that will have them remembering your shower forever––this is definitely a standout party favor, and if you're going for a rustic, country theme, this one is for you!
16. Cute Pair of Personalized Socks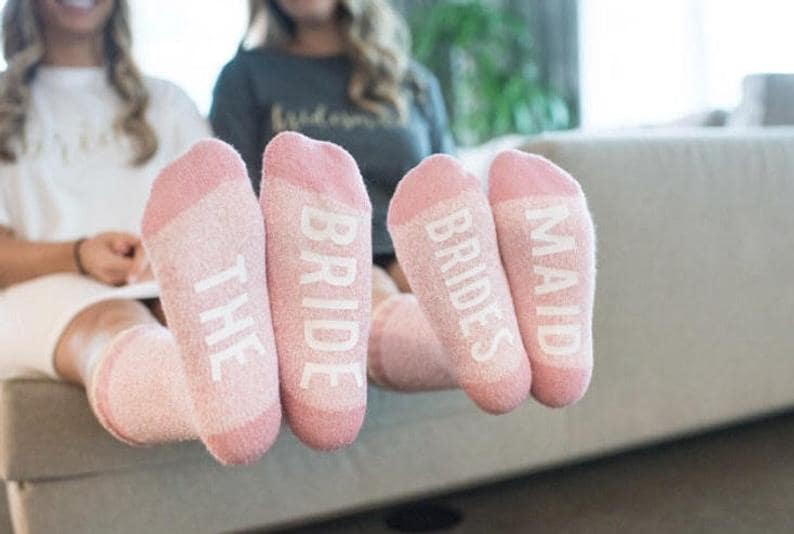 Custom Wedding Socks – Etsy
This is a comfy, cozy idea for guests, you can customize these socks to say whatever you want!
17. Customizable Wine Glass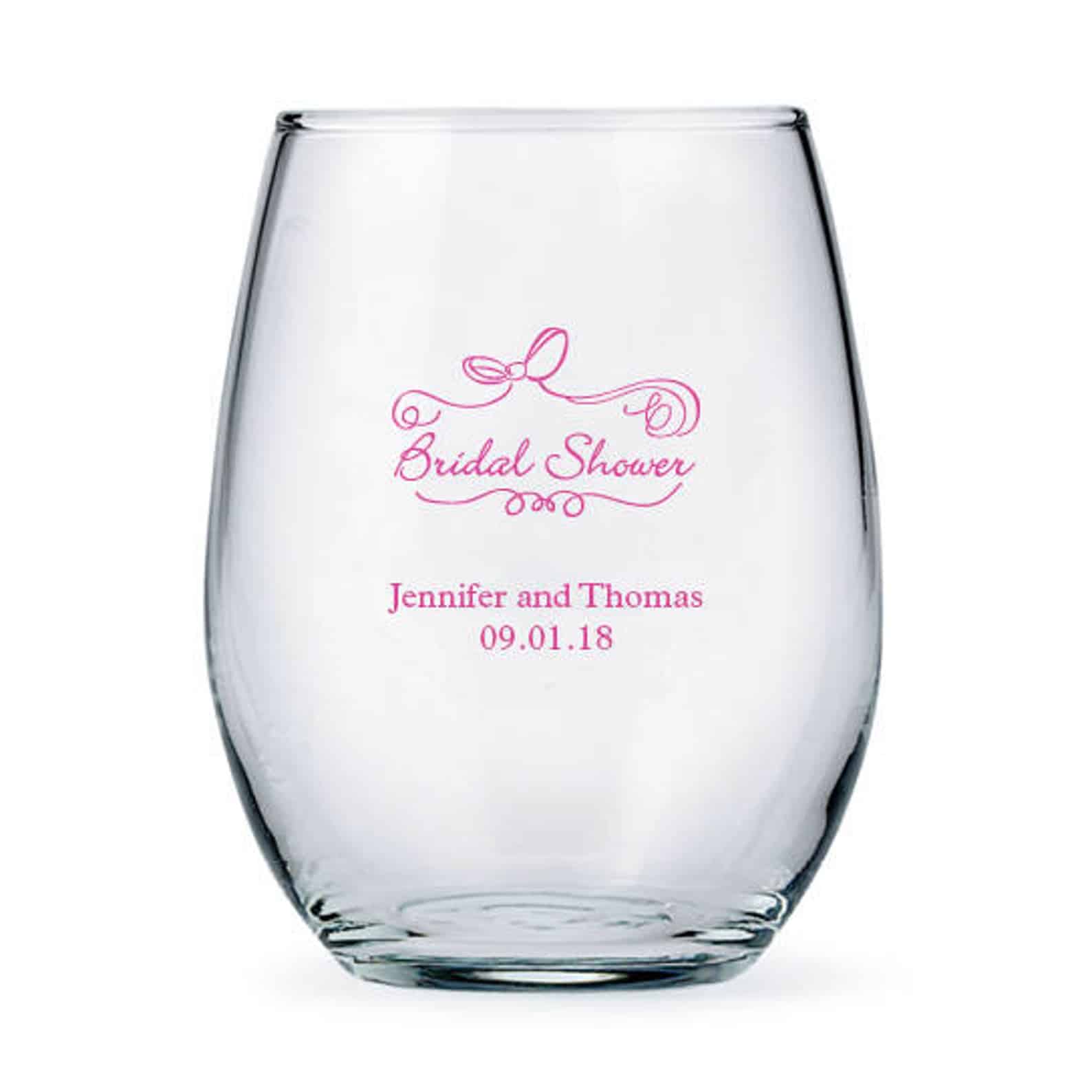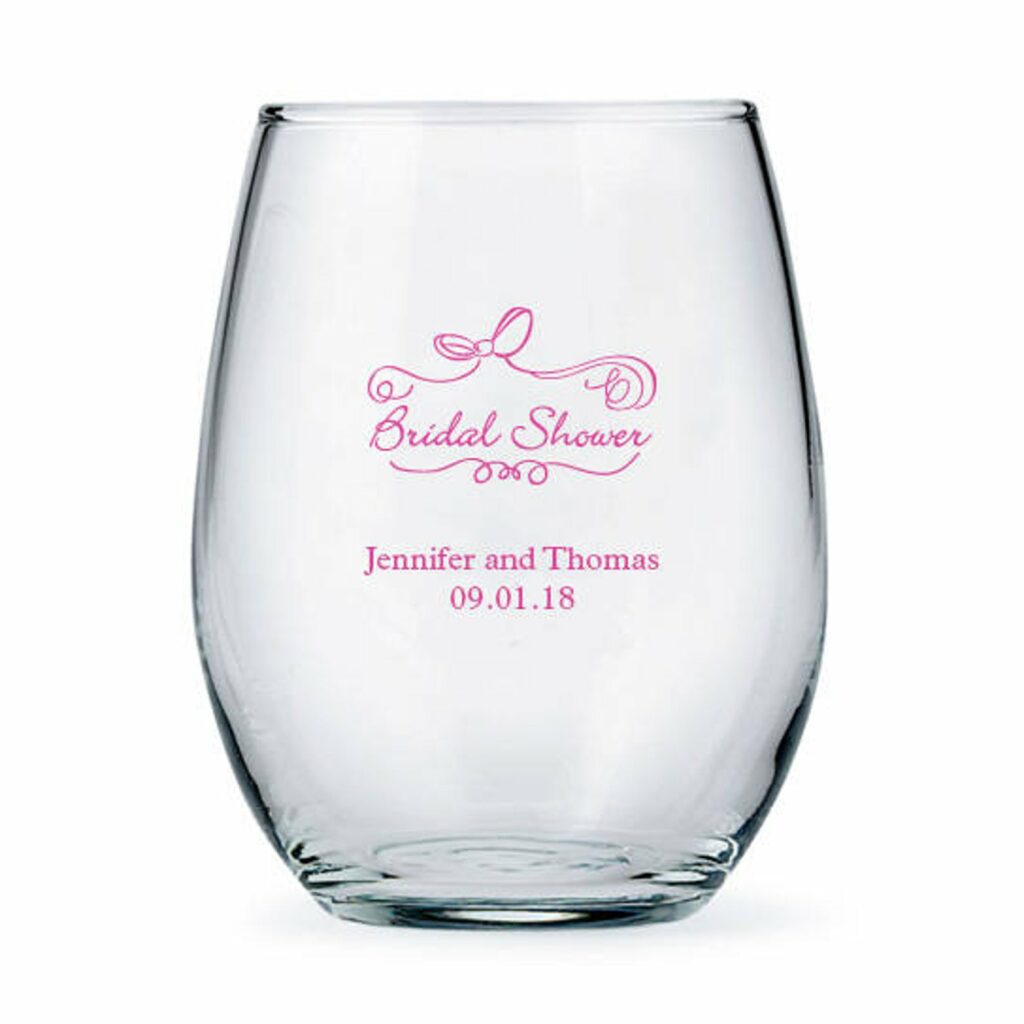 Custom Large Stemless Wine Glasses -Etsy
Again, a girl's gotta have her wine, so let her have it in this memorable wine glass!
18. Makeup Bag to Match Your Theme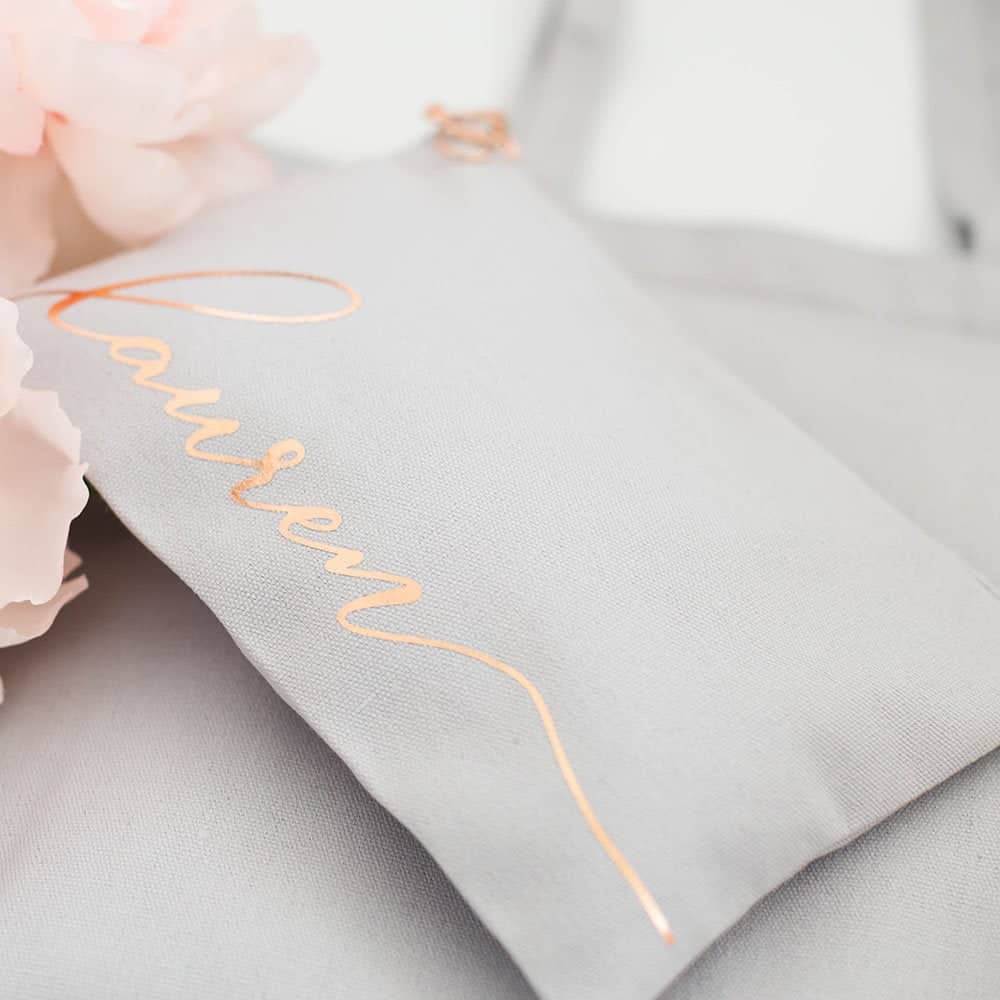 ThreeTwo1 – Etsy
This is a great idea and is very customizable, so that means you can put whatever you want on it!
19. Hot Chocolate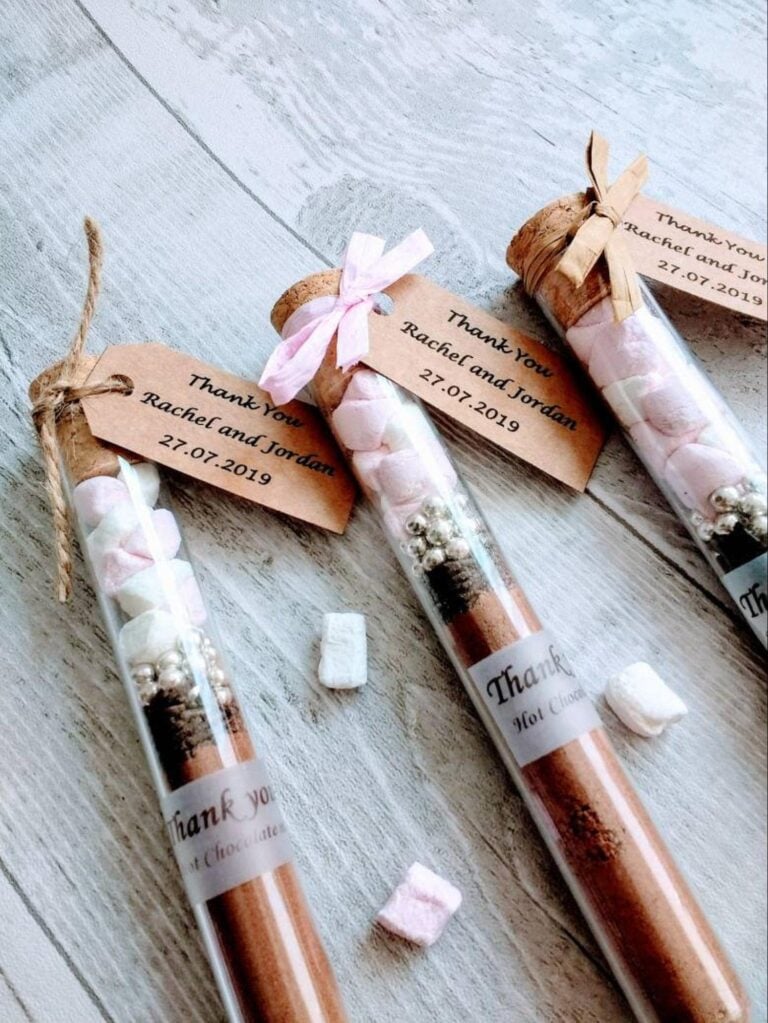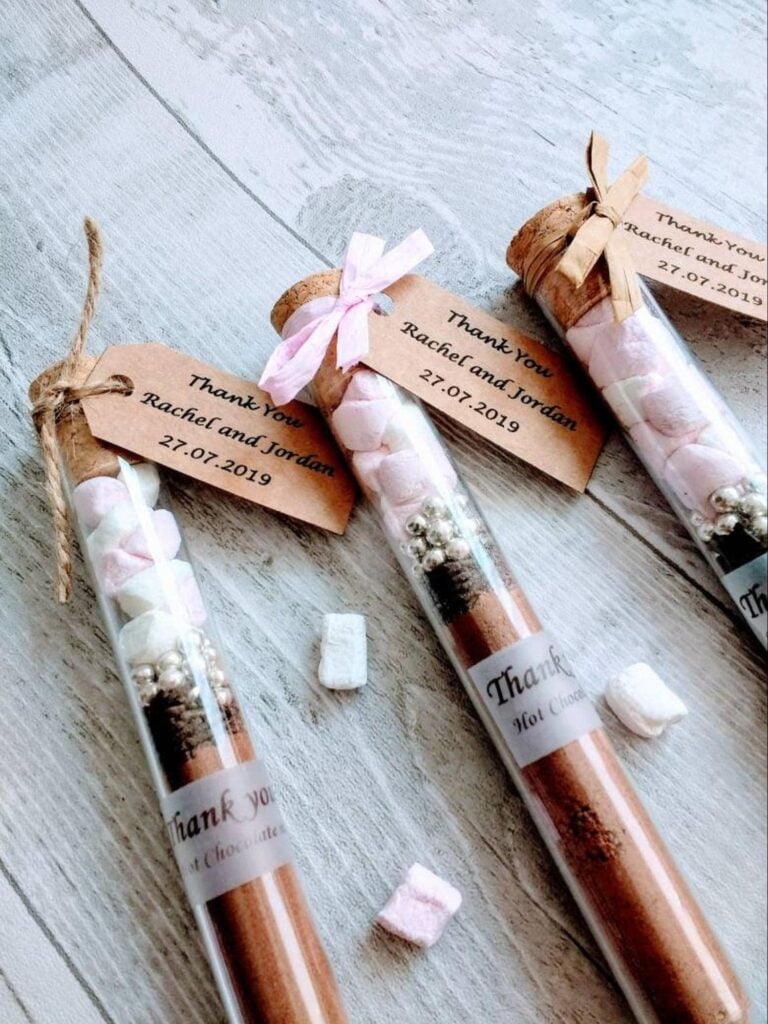 ThePureMoment – Etsy
Having a Fall or Winter bridal shower? This is a super cute way to say thank you! Your guests will remember you and your bridal shower as they're sipping some deliciously warm hot cocoa on a cold day!
20. Hot Tea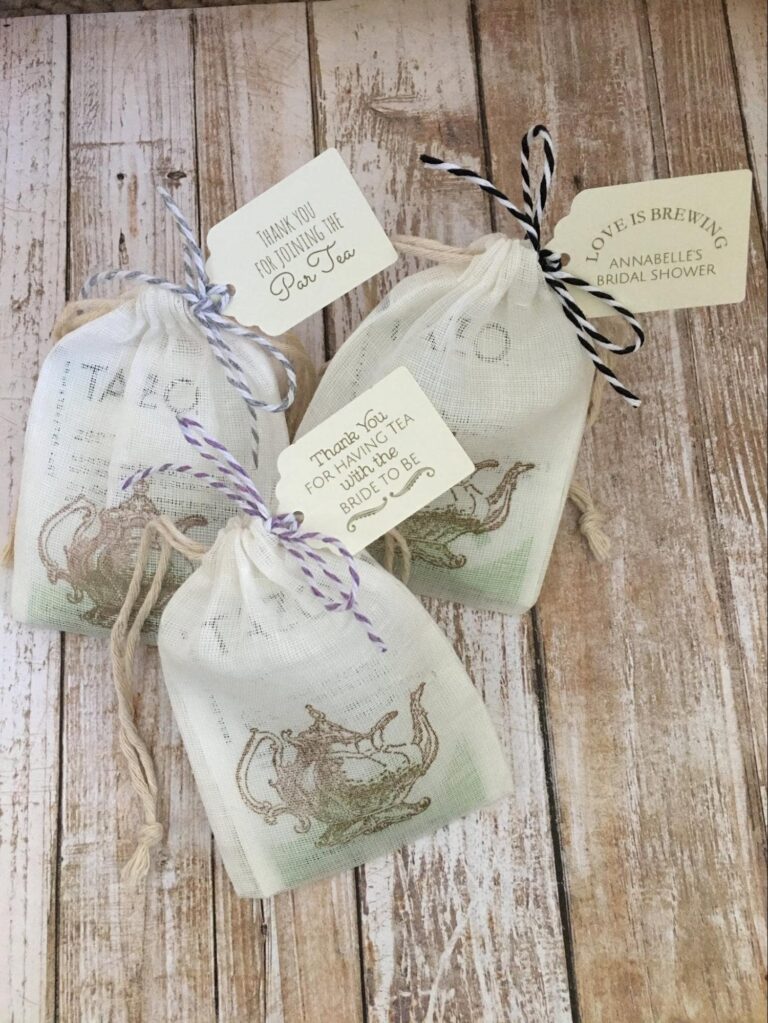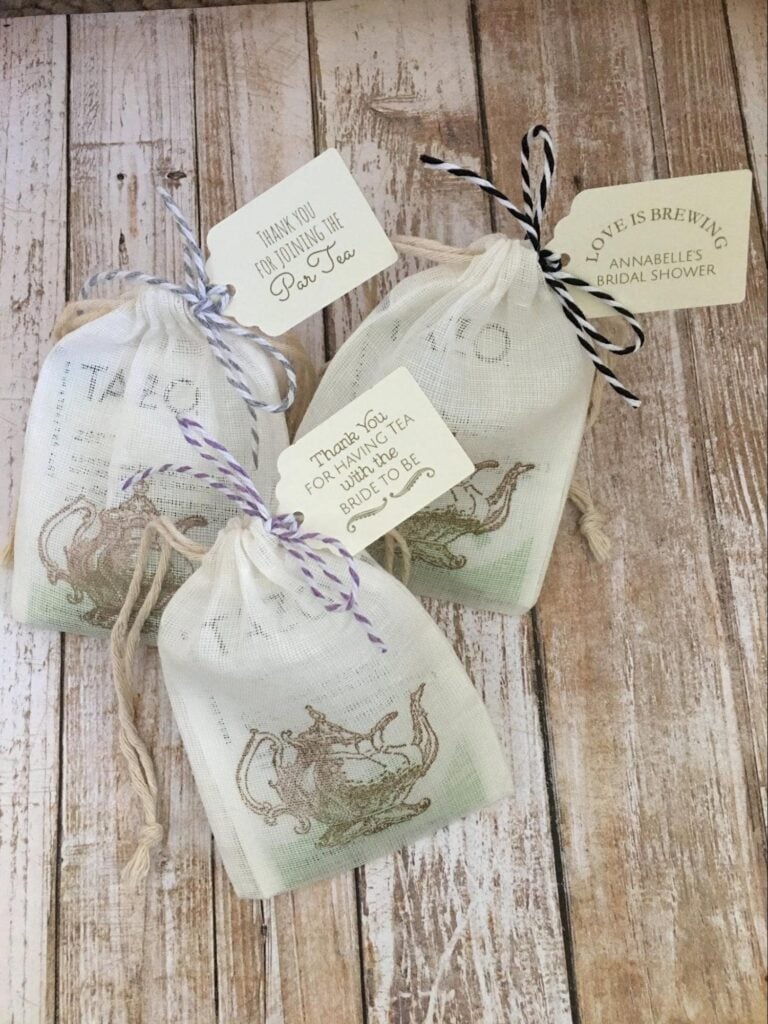 KraftandPoppy – Etsy
These are absolutely perfect! And for brides who want to have a tea party-themed bridal shower, these are the perfect way to end your tea party! This gift would fit a non-traditional bridal shower as well. Let the festivities continue even after guests have left!
That concludes our list of 20 cute and classy bridal shower favor ideas, if you're still trying to figure out your theme for your upcoming bridal shower, get inspired by this list of 11 Trending Bridal Shower Themes for 2020 and 2021! Don't forget to check out our blog for more great wedding inspiration and planning tips!
Dallas Oasis provides one of the most luxurious event venue in Dallas Forth Worth Area. You can book a tour with them to check if the place is right for your bridal shower.