When you're planning a wedding, it's important to know that the smaller details are just as important as the big ones. Every little detail creates the final work of art that is displayed for your guests to admire, and the little details that we're targeting in this post are your wedding stationery and invitations! 
Think of your wedding as a journey, when you send out that first save the date, your guests join you in the beautiful adventure towards your wedding day. Each invitation your guests receive is a glimpse into the big day that each person is eagerly anticipating.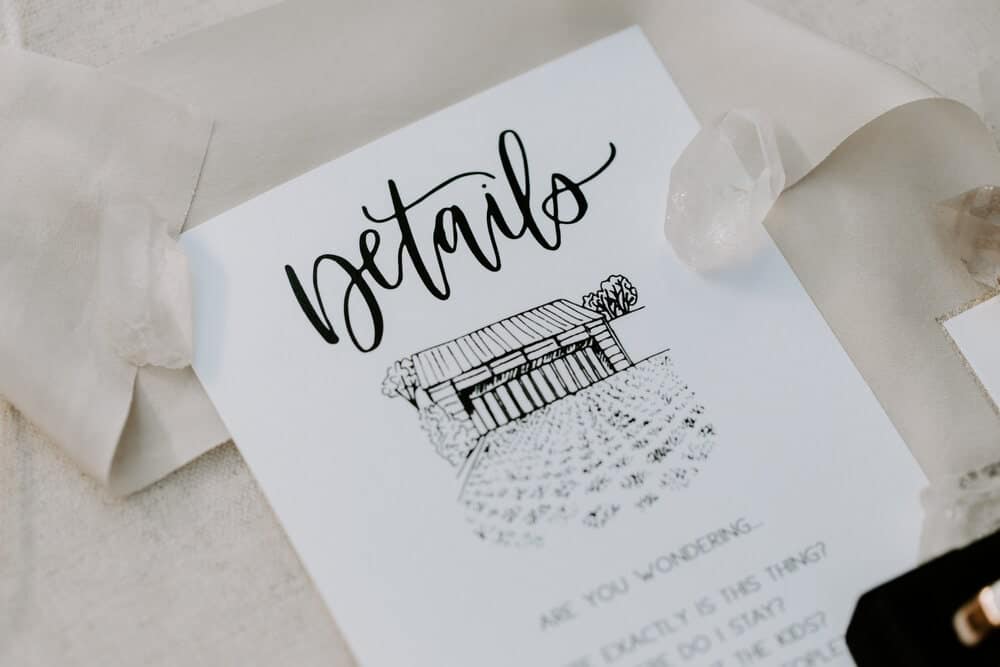 Then finally! Your big day arrives and you and your guests are beyond excited to celebrate your marriage! The fun wedding reception you planned out begins and guests start their search for their table, and when they find their seating they see that at each table are perfectly placed table numbers, menus, and beautifully detailed cards with the order of events.
Each of these carefully thought out details make your day come together beautifully and tells guests that they are at a luxury wedding with caring wedding planners. And to top it off, you have successfully taken your guests on a journey and told your wedding story!
This is why wedding stationery and invitations are important for your big day!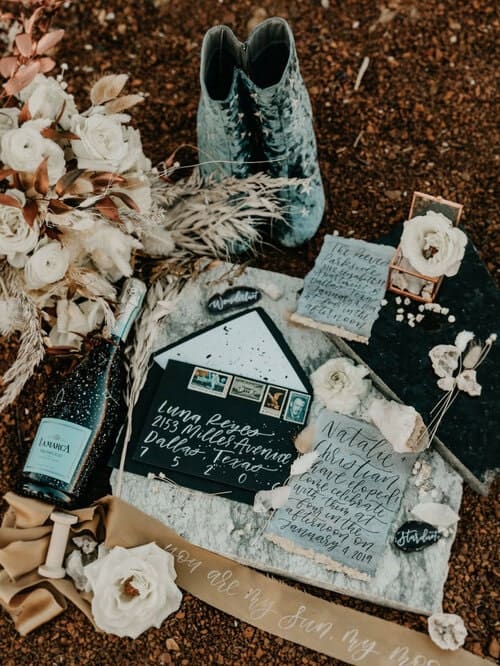 Bethany of Bethany's Letter Shop is a pro when it comes to wedding stationery, she's an entrepreneur who creates custom stationery for brides and grooms, she has tons of experience and great tips for us to learn from!  So let's take a look at some pro pointers from Bethany for ideas, inspiration, and what to do when deciding on your stationery and invitations.
Wedding Invitations
Wedding Invitations Are a First Impression
2020 has flung the door wide open to out of the box ideas, welcoming anything that pops and grabs attention––think things that have not traditionally been done. So when you're choosing your invitations, pick something that you won't see at another wedding, something that makes a statement and lands itself on your guest's refrigerator!
Bethany – "Your wedding invitations are your first impression." So when you're choosing stationery this is something to consider, what do you want to convey to your guests?
How exactly can you do all of this? Let's consult the pro!
Custom Invitations
Bethany – "So I've been asked a lot, why brides should choose custom stationery for their weddings, and the answer is that it's one-hundred percent one of a kind. You will not find custom invitations at the store or online anywhere."
Custom stationery is an amazing route to go for many reasons, one of which Bethany already named––it's unique and makes a statement, but it also looks good in a frame and gives guests a piece of who you are and what's important to you.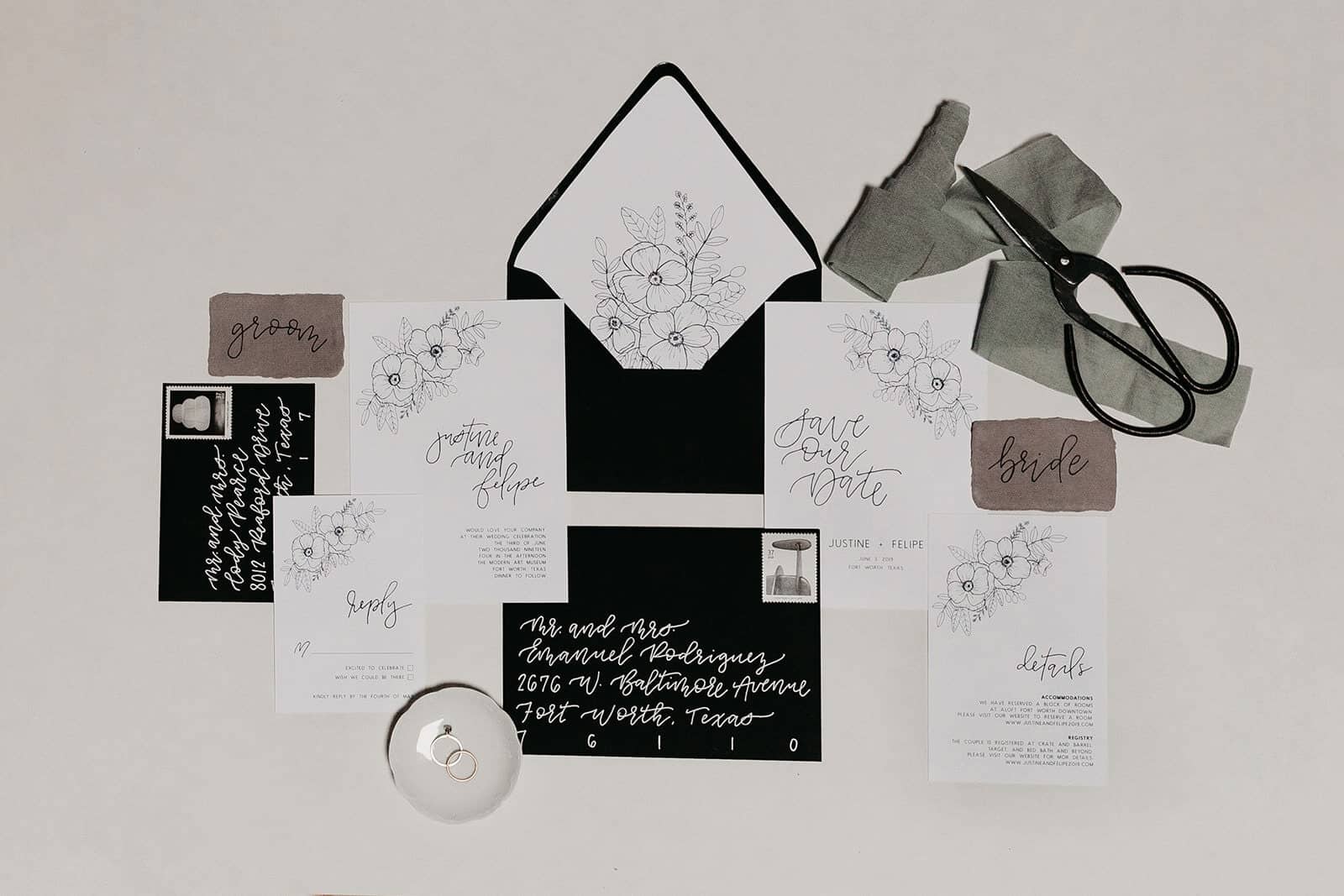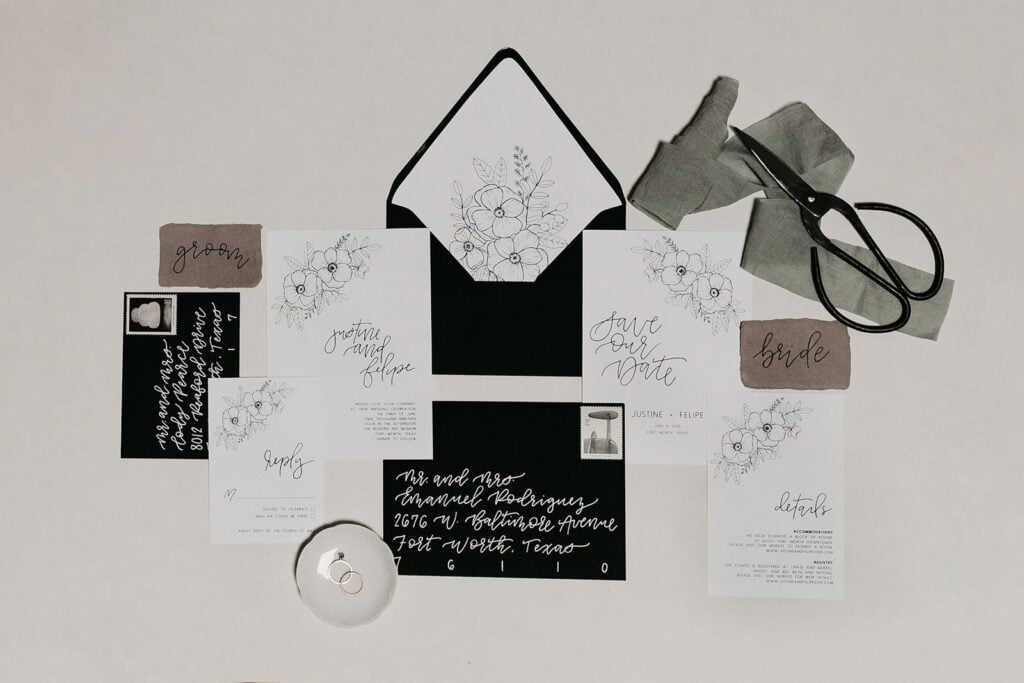 When you choose custom stationery, you can put whatever you want on it! 
Bethany – "At Bethany's Letter Shop I do whatever you can think of; if you wanted a map of your venue with directions on how to get there, or maybe you and the groom share a dog together and you want your dog on your details card, I can do it, and I love it! It's really fun to tell your story."
If your a bride and groom who likes the traditional black and white, or classic look, but still want to make a statement, keep the classic look but add a touch of customization to set it apart from all the other look-alike invitations!
So there you have it, go custom to get something that doesn't fit the traditional mold and really wows your guests!
Tip: When you choose your invitations, think of how it will give guests a sneak peek into your wedding day. Do the colors match the rest of your wedding? Is your wedding rustic, vintage, or luxury? Have your invitations match so guests can get excited about attending!
Tips for Your Other Stationery Needs
Your other various stationery needs are important and fun too! Just like with invitations, you can get crazy, creative, and personal with each piece.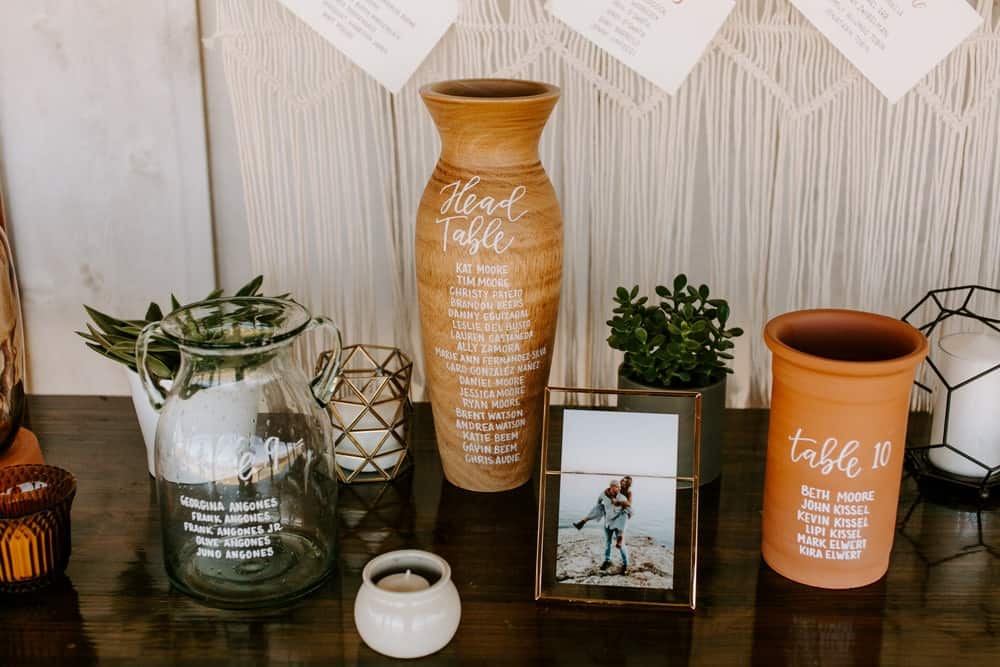 Bethany – "In one wedding I did in the past, my bride wanted vases and pots for her seating chart! The tablet was full of pictures of the bride and groom and the vases and plants, it was very boho, and it was amazing. I hand wrote on each vase and pot something different. Each had different guest names and cute sayings; it was one of my favorite pieces that I've done because it was so out of the box and fun!
And another fun wedding I just recently did in December was for a bride and groom who were mega Harry Potter fans so they wanted to have a Harry Potter wedding theme. I ended up turning their seating chart into the Marauders Map––it was so much fun to create give the bride and groom what they envisioned."
A Few Pro Tips Before You Go

Meet with your potential designer as soon as possible! Bethany recommends you order your stationery no less than 2-6 months before your wedding day. Designing wedding stationery is a detailed process and will need some time to make edits and changes if you're unsatisfied with the first draft.
Most stationery vendors do not provide both day-of services (seating charts, menus, etc.)  AND save the dates and invitations, but some do. To save yourself some time and trouble looking for multiple vendors to get it all done, order your prints from Bethany's Letter Shop because she does it all for you in ONE PLACE. This means you don't have to pull your hair out explaining your style and vision again and again, and then trying to get the second vendor's design to perfectly match the first. One designer, one place––that's all you need!
That's it for now, keep checking in for more articles like this one!