There are lots of details to cover when planning a wedding, and one of those details that many brides and grooms don't think about is the wedding stationery, more specifically food menus for your wedding reception.
So here are a few tips to help you go in the right direction, as well as some gorgeous ideas to get you inspired! Let's get started!
Tip Number 1: Determine How Many Courses You Want to Serve

A traditional wedding menu has three courses, appetizer (soup/salad), main course, and dessert, but ultimately it's your choice to add to, take away, or change things up! For example, if you really want to wow your guests, up the number of courses. Some weddings and events go up to twelve courses!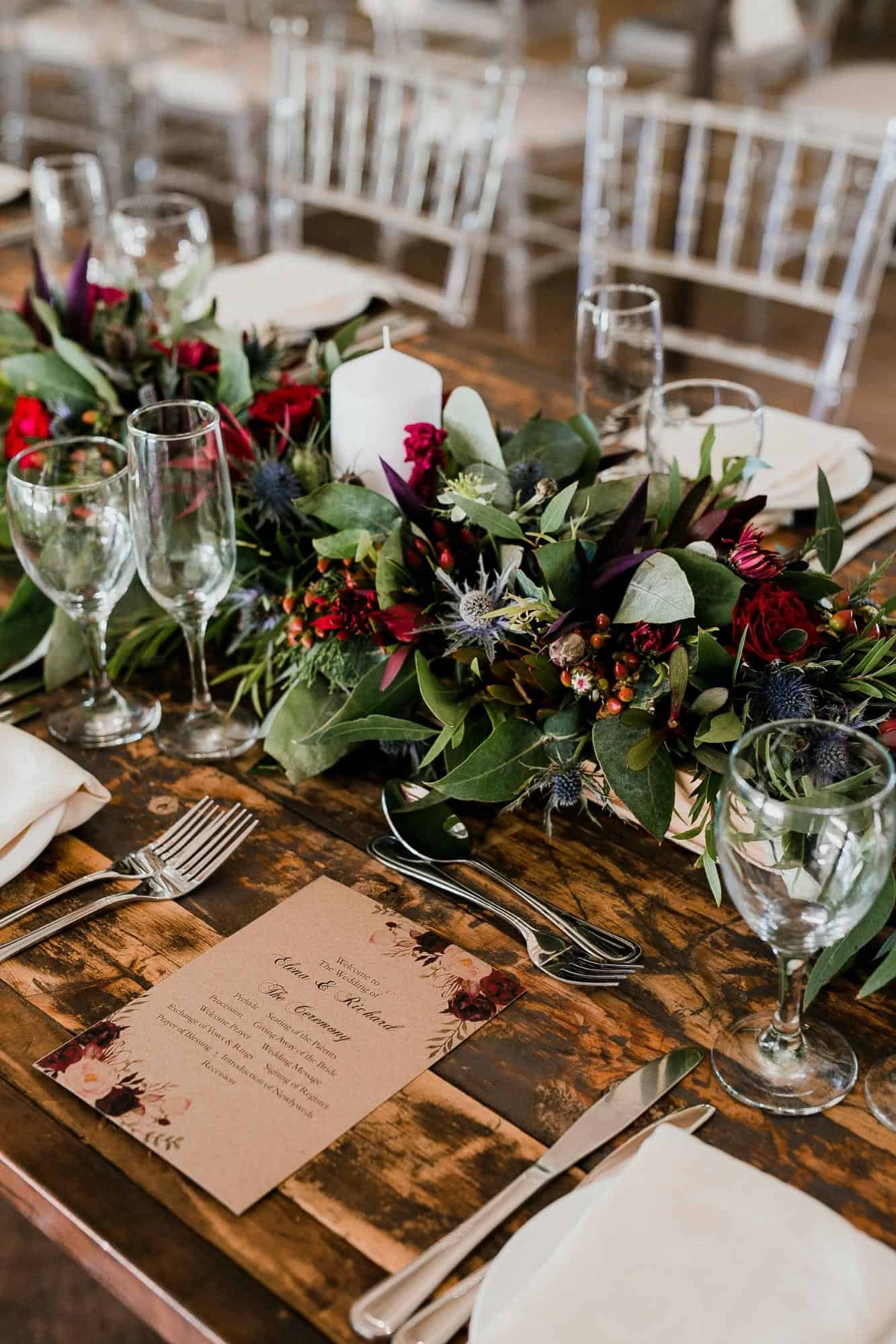 Apart from the number of courses, there are so many ways you can go with the first course to change things up. A lot of people generally choose soup and salad, which is always a win, but if you want to change things up  try instead, mixing fresh or dried fruit with some of your favorite seafood, or maybe some bruschetta? If you want some really tasty and creative ideas for your first course, check out our blog––Wedding Menu: 10 Ideas for Your First Course. 
Pro-Tip: Another thing to consider when you're putting your menu together is whether you want your guests to have to chance to order which food they want, or simply serve them and they have the choice to eat or not eat.
Step 2: Choosing Your Food
The next step in creating your perfect wedding menu is deciding on what kind of food you want to serve! And this part is really fun and exciting!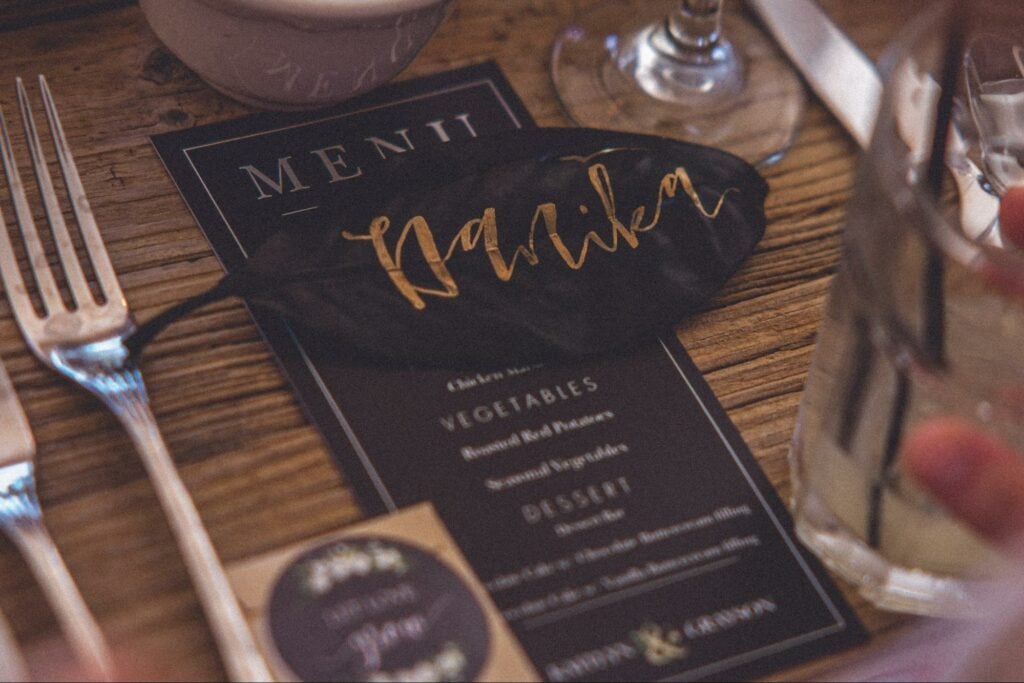 The key when choosing the food for each course is to keep it all within the same theme or type of food. For example, serving spaghetti for one course and lime tacos for the next will create a disorderly and incongruent feel. Make sure if you decide on Italian as the food you serve, you stick with it throughout the meal! 
For some tasty wedding food inspiration, check out our other blog: Wedding Food Ideas: 10 Delicious Meals for Your Wedding Menu
Step 3: Choose Your Menu Stationery
Now that you've determined your food and dessert choice, it's time to pick your stationery! This part is really fun because you can make your menus beautiful and unique. One of the Dallas Oasis' favorite vendors, Bethany's Letter Shop, is a great example of how creative you can get with your wedding menus!
Bethany creates unique custom designs for brides and grooms who want to step outside of the norm and create something special! You can make your menus custom or use a template, the choice is yours!
Step 4: Extra Tips and Tricks From the Pros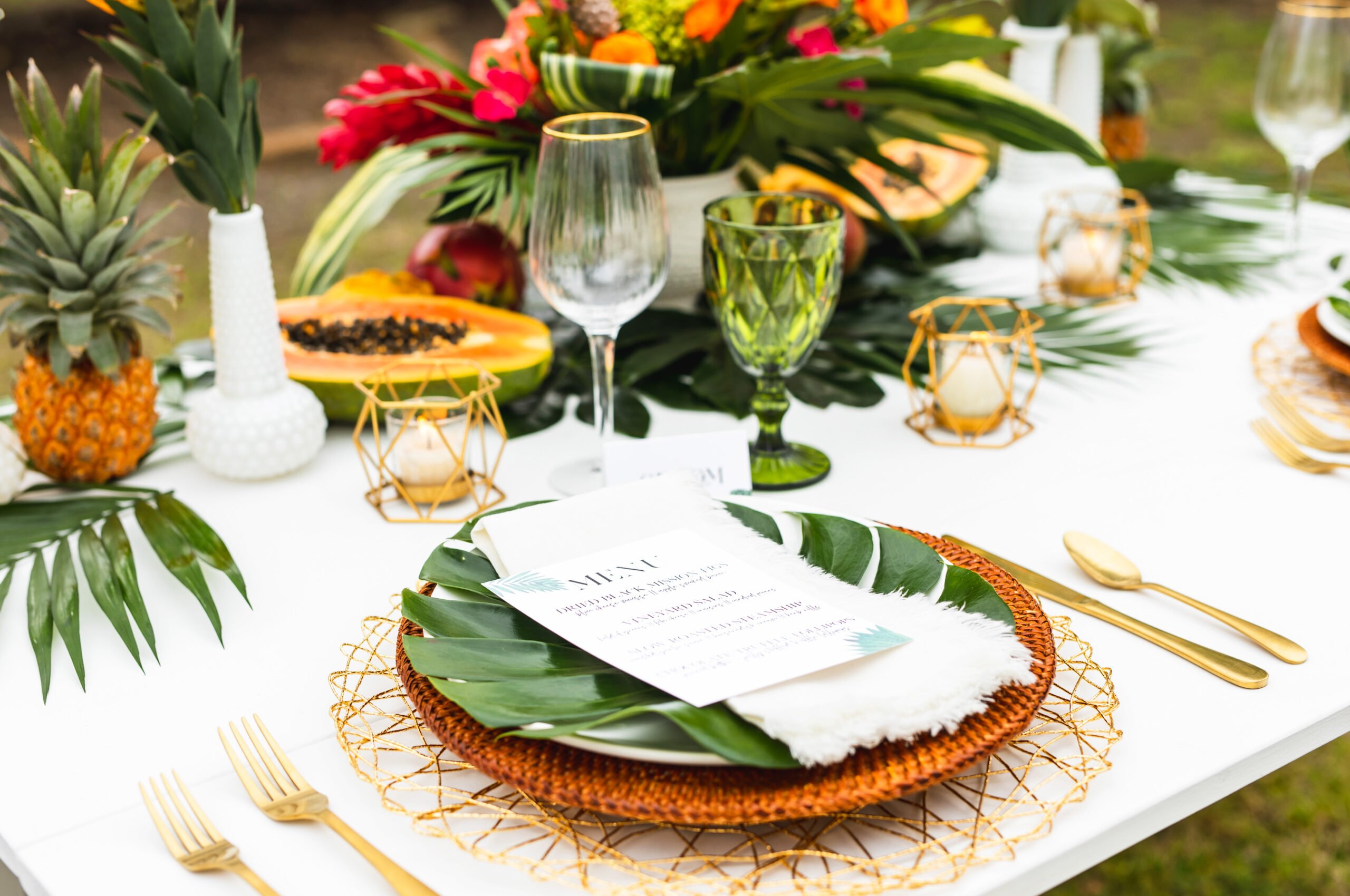 Before you leave this blog to get started on your wedding menu, here are just a couple of things to think about.
Way more people are eating alternative foods these days, so when you put your menu together it's always a good idea to give your wedding guests the option of gluten-free, vegan, and/or vegetarian. Check out these blogs for alternative food ideas: 10 Vegan and Vegetarian Food Options to Add to Your Wedding Menu & 8 Gluten-Free Food Ideas for Your Wedding Menu
And the last tip we have for you is to be sure you make it YOU! Don't settle for less, always know all your options so that you can have the wedding of your dreams!